Bali Crete
This page may contain affiliate links, see our disclaimer here.

---
Five  Sandy Coves 
On the North Coast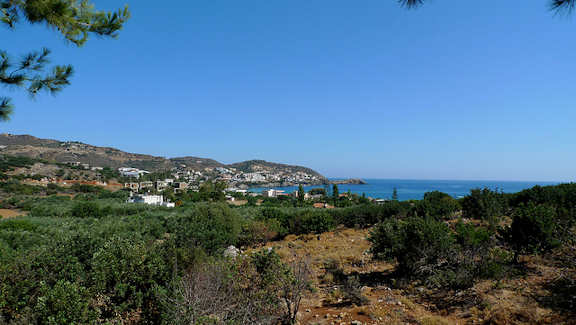 Bali Crete  Μπαλί is located on the central north coast of the island in between the two capital towns of Rethymnon and Heraklion, part of Rethymnon region. It is 34 km from Rethymnon, 50 km from Heraklion and 100 km from Chania Airport.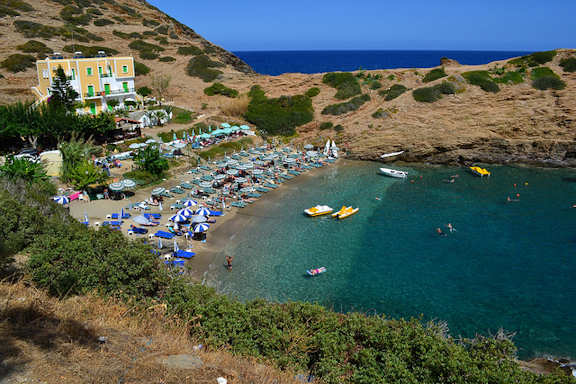 Bali Crete
The peninsula juts out away from the coast and faces east, creating a natural bay with many curves and shallows.
Bali Μπαλί has many cove beaches – creating the little inlets of Livadi, Kouskouras, Limani (main harbour of Bali), Varkotopos and Karavostasis. These are all protected by the rocky peninsular and the calm seas are perfect for children; young families find these waters very relaxing.
The steep rocky sides of each cove make for good walking and lovely views over the bay to Mount Kouloukonas (known as the Talean Mountains), part of the Psiloritis Range and the coastline to the east. If you are not planning on steep walking, ensure you book a place close to the water's edge.
---
Bali Crete - Local Specialities
| | |
| --- | --- |
| | Traditional Cretan food and produce in locally owned store Gaia – proudly run by the Loukakis family who supply their local olive oil and many other beautiful traditional local products such as raki, honey, herbs and essential oils. |
---
Clear Waters for Diving...
Diving is great in these clear waters and Angelos and Corinne at the Hippocampos Dive Centre on Bali Beach will help you out with introductory dives as well as Scuba courses.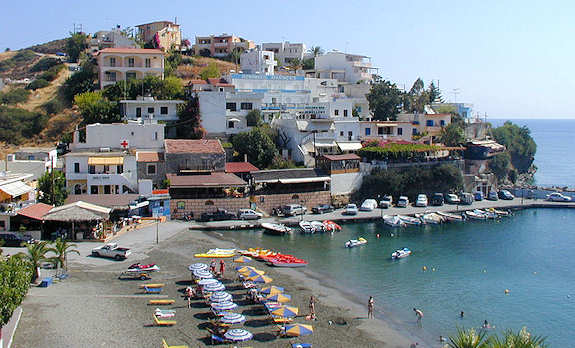 ---
Exploring Around Bali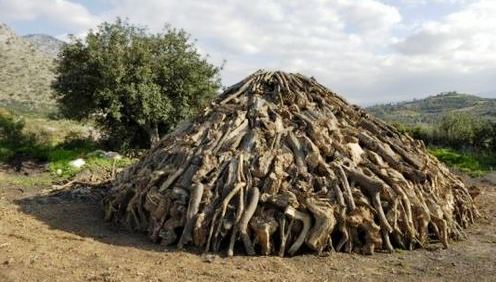 Inland are wild mountains of Crete, forests and hills to explore, hike or climb Mount Kouloukonas, see Zoniana Cave, and the freshwater spring and village of the same name, also the other inland villages of Perama, Axos, Livadia, Aimonos and perhaps unravel the myth of Talos. The ruins of ancient Axos show the city to which Bali was linked centuries ago, as it was the port for ancient Axos from Minoan times.
Near Angeliana visitors can see handmade natural personal care products such as soaps, herbs, essential oils, and creams made in the Athos Workshop, after a lovely drive in the country you will be welcomed by Manolis and Paraskivi
---
Accommodation Rethymnon
Near Bali Beaches
There are plenty of small apartments on each beach of Bali, and handy shops, tavernas and cafes. Remember that Bali beaches sit about 2 km from the national road, if you are travelling on the local bus you will need to take this into account, make sure the bus you catch actually stops in Bali beach not just near it on the main road.
The Stone Village Hotel Rethymnon
Stone Village (above) – sits 1.1 km inland from the beach and 600 m from the national road, in a leafy, stunning, fresh, green garden, this really is like a beautiful local Cretan village with warmth and friendliness - making it feel like you are being welcomed into a long lost cousin's village. You may never need to leave the grounds as there is a pool (above) and restaurant and plenty of entertainment for the kids, but the location makes it perfect for the beaches of Bali and also for exploring Crete.
Check availability and prices at the Stone Village...
---
Uphoria Villas Rethymnon
Uphoria Villas – (above) these villas are so stylish and they are 2.3 km from the beaches of Bali. The peace and quiet and their stylish architecture makes them a wonderful choice. They are ideally located for exploring the whole island of Crete, being just 2 km from the national road. A car is recommended if staying here. Despina is a wonderful host.
Check availability and prices at the Uphoria Villas...
Melissa Villa overlooking the bays at Bali, Crete
Melissa Villa overlooks the bays yet is sheltered and private, with a pool and wide terrace perfect for outdoor dining on summer evenings. This villa sleeps 6 guests in comfort with traditional materials used in a modern built home. Situated in the countryside just inland from Bali, this villa makes a great central location to visit all of Crete with  a vehicle. Explore on day trips west to Chania and Rethymnon town, and east to Heraklion or Agios Nikolaos. Come back home to comfort at this well-equipped home at Bali Crete.

---
Bali Crete Diving
Angelos the dive instructor shows us some beautiful seahorses in the grass beds off Bali...
Map of Beaches