Rethymnon Beach

This page may contain affiliate links, see our disclaimer here.

---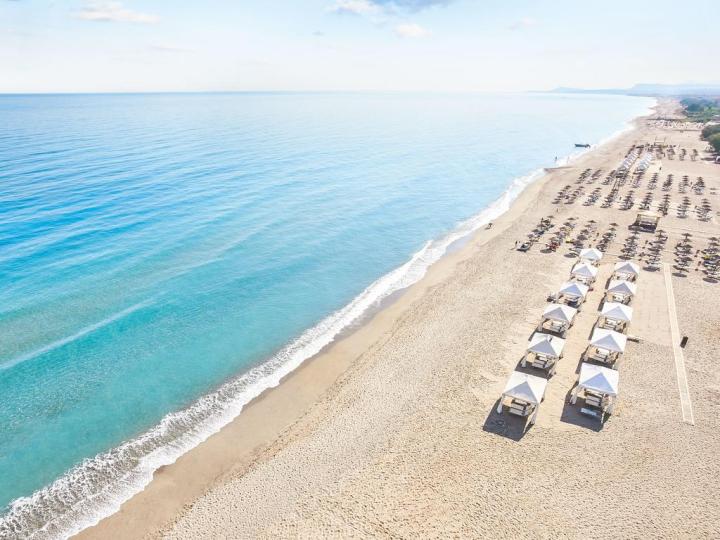 Rethymnon Beach lies to the east of Rethymnon town in the central west of Crete in Greece.
This beautiful beach stretches for 13 km and is lined with hotels, apartments and resorts. There are plenty of tavernas, cafes and convenience stores here, and it is only a short walk to the old town of Rethymnon, along the pleasant esplanade of Sofokli Venizelou.
The waters are beautiful turquoise turning to deep indigo, as there are shallow areas for youngsters and deeper areas for adults. Various spots have life guards with towers.

With views across the bay to the old town with its small harbour and ruined Venetian Fortezza atop a small hill overlooking the Cretan sea, and the old lighthouse, this wide sandy beach is ideal for holidays combining sea and history, sun and cultural experiences, sand and Cretan cuisine.
Make no mistake, this is a busy town beach with umbrellas, showers, equipment and water sports. This is a very popular holiday destination, great for kids of all ages, perfect for families.

The beach is organised with sun loungers and umbrellas in many areas.
Rethymnon Beach Activities

Rethymnon Beach - perfect for parasailing and lots of other water activities

Rent a jetski, banana boat ride, parasailing experience, water ski ride or 'crazy sofa' ride with Popeye Watersports at the marina on Sofokli Venizelou.
Lottie Watersports offers flyboard or hydroflights, boat and jet ski hire as well as cave boat trips by speed boat, leaving from the beach near the the marina on Sofokli Venizelou. You can also go nuts on the banana or sofa ride.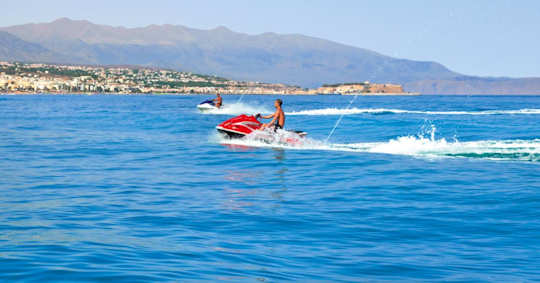 Jet skis at Rethymnon Beach, Crete, with the old town and fortezza in the background

Go parasailing or kite surfing off this beach with Ikarus Watersports (bright parasail pictured above) based at Baja Beach Club, 12 Chiou St, Platanias, which also has pools, kids activities, water slides, a restaurant and bars. Rent gazebos or sun loungers in luxury.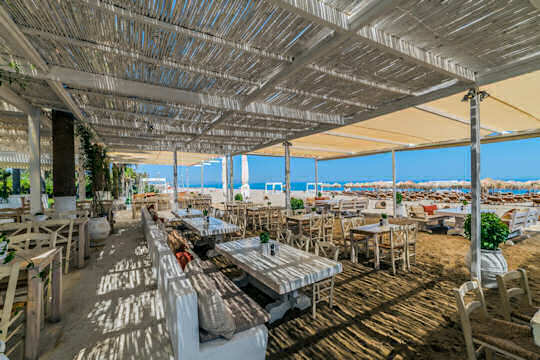 Grab some shade or a cool drink at the Baja Beach Club, Rethymnon Beach
---
Accommodation  on
Rethymnon Beach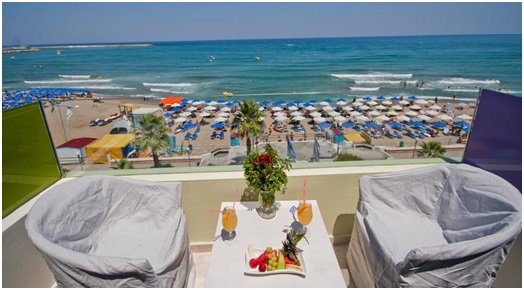 View from a room at Palm Beach Apartments over the beach

Palm Beach Apartments are located on Rethymnon Beach across the road from the beach. This family-run hotel has good quality rooms with lovely views, all beach equipment, and its own cafe-bar on the ground floor. From here stroll 1.5 km to the Old Town of Rethymnon easily and enjoy the historic and cultural centre of town. This hotel is 69 km from Chania Airport.

Sofokli Venizelou 66, Rethymnon



---
Creta Palace on Rethymnon Beach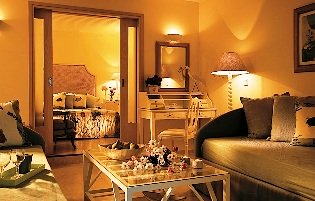 Creta Palace - five star luxury

Creta Palace Resort is one of the best hotels on Crete, sitting on beachfront of this marvellous sandy beach, it offers quality five-star accommodation with 10 in-house restaurants, cafes, bars, 2 pools and a day spa. This hotel is 4 km from town. This resort is 71 km from Chania Airport.
Choose from bungalows or suites dotted about in the gardens or guestrooms in the central hotel. Relax as there are plenty of activities organised for the children. Visit the organic farm that grows the food for all the restaurants here - Agreco Farm - about 6 km inland - to see the whole growing process, be a farmer for a day, bake bread, pick vegetables and visit the animals at the petting zoo. Enjoy fresh traditional Cretan food at the farm taverna.

Missiria, Rethymno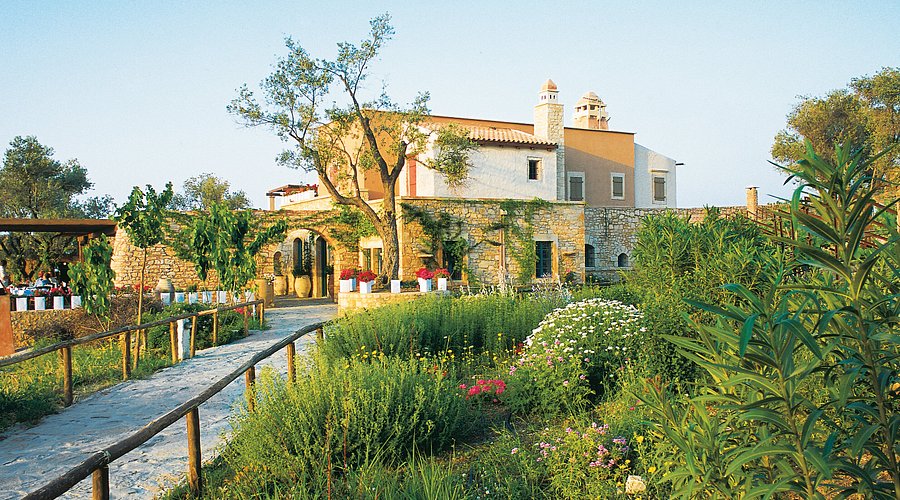 Agreco Farm visits can be organised through the hotel, or you can visit independently between 11.00 and 22.00 daily
Elixir Day Spa - at Creta Palace - treat yourself to some pampering massages, body wraps and facial treatments. Try an ayervedic style massage on the beach. Pure bliss.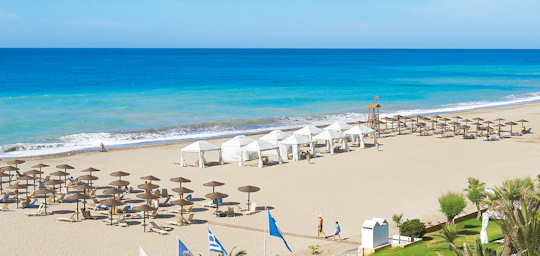 A special event party at the Caramel Resort on Rethymnon Beach
---
Exploring the Old Town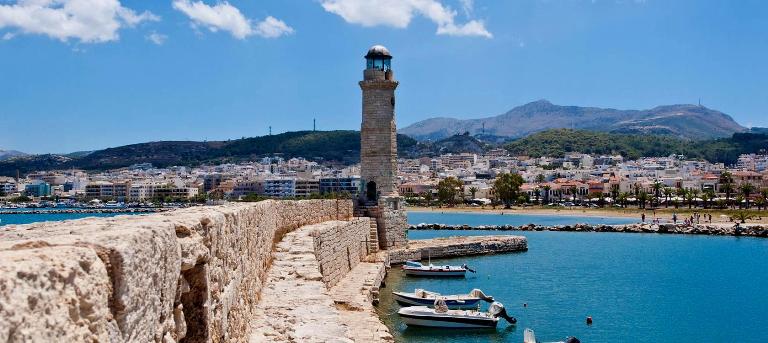 View to Rethymnon Beach from the old harbour with lighthouse

Enjoy the highlights of the Old Town of Rethymnon:
The characteristic narrow streets
The tightly packed little Old Venetian Harbour
The tiny Rimondi Fountain on the north end of Petichaki Square

The Venetian Loggia
The ruins of the Venetian Fortezza
The Porta Guora or Great Gate which formed the entrance to the old town

The Minaret of the Nerantze Mosque
The Historical and Folk Museum

Rethymnon Old Harbour and pirate ship
---
Day Trips Around the Region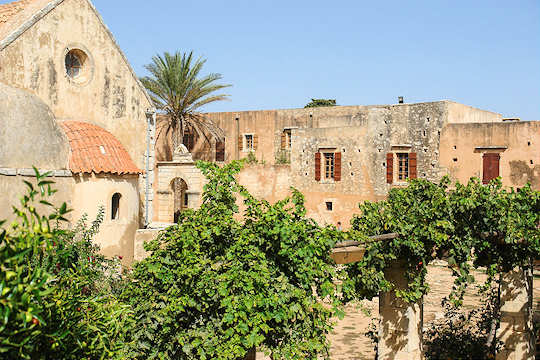 Arkadi Monastery is 22 km inland from Rethymnon Town

Explore around the Rethymnon Region:
---
Tavernas and Restaurants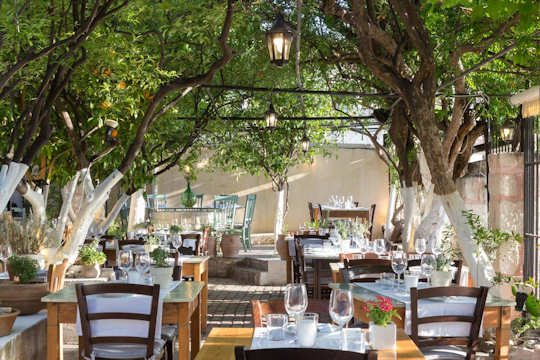 Lemonokipos Restaurant, Rethymnon, the name means 'Lemon Garden'

Restaurants along the beach side:
Le Dome - traditional Greek food and great service
Seperi - modern Greek food, great for vegetarians
Petit Fleur - an experience with Mediterranean cuisine

The Living Room Cafe - a funky cafe-bar by the marina
Prassin Aloga - for Cretan cuisine and seafood on the walk into town

For beach bars you can relax at Baja, Copacabana, Bora Bora and Cactus.
In town you can't go past:
Lemonokipos - Greek food in a relaxed courtyard

Veneto - set in the atmospheric courtyard of a restored Venetian mansion, this is one of the best restaurants on the island

Avli - a bar, restaurant, enoteca, grocery store and suites show the modern creative flair of this historic location mixed with design nous
Mesostratis Taverna - a traditional taverna with live folk music

---
Turtle Conservation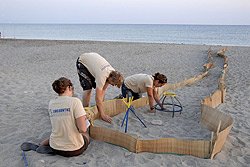 The Loggerhead Turtle Caretta caretta - classified as a vulnerable species by the UN - uses Rethymnon Beach as a nesting ground, so please be aware of conservation efforts to protect the turtle nesting sites, the turtles and the hatchlings.

---
Getting to Rethymnon Beach

This beach lies 1 km to the east of the town centre.  Arrive here via ferry or flight into either Chania or Heraklion, although Chania is slightly closer. Rethymnon town is 65 km from Chania and 82 km from Heraklion.
Then take a hire car or bus, see timetables below. The beach starts about 2 km from the bus station, therefore, depending upon where on the beachfront you need to get, it is best to get a taxi for under €10 to your destination.

See the location of this beach on this map:


---
Be a Pirate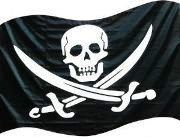 The legendary Pirate Barbarossa was active in these seas long ago. Today you can take a ride on the Black Rose pirate ship, which is just like a real Spanish galleon, and cruise and snorkel on the beautiful local beaches. See the pirate caves where the treasure was stashed. The cruise leaves Rethymnon Harbour at noon, mateys! All aboard me 'arties! Argghh.
Pirate Cruise from Rethymnon - 3 hours
---
Getting Here
Take a 1 hour flight from Athens to Heraklion with Aegean Airlines or Olympic Air, with many flights available per day.
Or take a 9.5 hour overnight ferry from Pireaus port of Athens to Heraklion port.
More on flights and ferries below.
Car hire in Crete is a really good idea as it is a large island 60 km by 260 km. There is so much to explore.
When you book with our car rental partners - Rental Centre Crete - you are supporting a local company with excellent service and an easy online booking procedure. We are sure you will be well looked after by the team. Choose from hybrid or non-hybrid vehicles.
---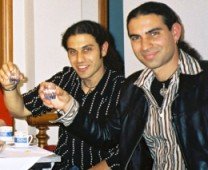 "We trust you have enjoyed these tips from the team at We Love Crete. Evíva!"
Contact us with further questions or feedback. We love to hear about your travels in Kríti and Greece. Let us know of any updates or additions, errors or omissions. Help us make this website the best it can be. Kaló Taxidí!

---