Pirate Barbarossa Crete

This page may contain affiliate links, see our disclaimer here.

---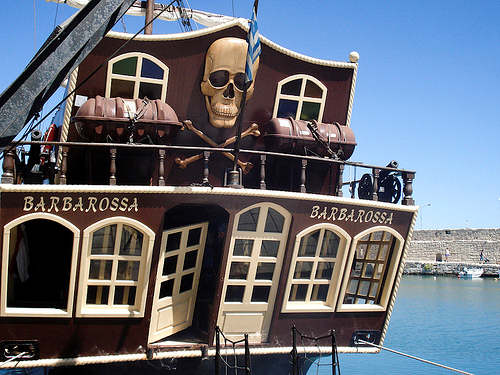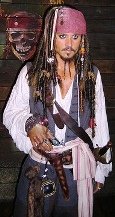 Pirate Barbarossa Crete and Davy Jones locker, mysteries and legends of the deep, undead buccaneers, the Black Swan, a treasure of Aztec gold and Captain Jack Sparrow...What has Johnny Depp got to do with Crete?

Whilst Geoffery Rush plays Captain Barbossa in the films Pirates of the Caribbean, the real Barbarossa was infamous for violent attacks, pillaging and stealing treasures, ruining townships and generally wreaking havoc in the Mediterranean. Oh yes, that is what pirates do, isn't it? But two very different seas in two very different parts of the world, many years apart.

---
Who is Barbarossa the Pirate?
Pirate Barbarossa was in fact two men, brothers, they were unwelcome visitors to Crete in the late 16th century with attacks on
Sitia
Rethymnon
Chania
Kastelli-Kissamos
Spinalonga

Paleochora and many other towns
The Barbarossa brothers were Aruj and Chayrad'din, both born in Lesbos, and roamed the waters of the Mediterranean as corsairs.
For centuries the kingdoms of Algeria, Morocco, Algiers, Tunis and Tripoli engaged in a system of state-sponsored piracy, capturing ships in Mediterranean waters and attacking coastal European villages. They used the victims as slave labour in their home ports.

The Barbarossa brothers were infamous for their domination of the trading lines across the Mediterranean. They had ports all along the Barbary Coast in the north of Africa. In later life, they had ruling powers over Algeria with direct line to the sultan and part of Ottoman domination of the region.
Fighting against Christians and Christian corsairs, it is said that Aruj was captured by the Knights of St John and later killed by Spanish crusaders in 1518.
It is hard to say that these Barbarossa's ever got anywhere near the Caribbean, but why let that get in the way of a good story?



What does barbarossa mean?
The two brothers were named after the elder - both named after the older's red hair and beard - barba means beard and rossa means red - in Italian.
Destruction of Selino Kasteli in Paleochora - Pirate Barbarossa Crete
The Venetians built a fortress on the peninsula in south-eastern Crete, on the spot where the town of Paleochora now sits. The fortress was named 'Castel Selino' or 'Selino Kasteli' or Selino Castle Κάστρο Σελίνου and built in 1282 by a Venetian Duke. The region still gets its name 'Selino'. Pirate Barbarossa destroyed the fortress and wiped out the settlement in a famous attack in 1539. It is thought that pirate ships would hide in the coves and harbours of nearby Gavdos island.


---
Pirate Barbarossa Crete
Forts, Caves & Hideouts

Pirate Barbarossa Crete - small hidden coves, caves for treasure, sneaky mist-covered harbours; these are all stock in trade for pirates. The imagination runs wild in Crete with so many such harbours and caves dotted all over the island, and on smaller islands just off her coast. The Venetian forts built to withstand the attacks of pirates stand in silent testimony to the violence of history across the Mediterranean.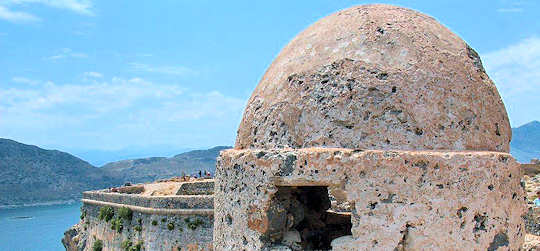 Gramvousa Γραμβούσα - an old fort was a lookout for pirates and corsairs coming into the shallow waters off Cape Tigani.
The view from Imeri Gramvousa back across Balos Lagoon to Cape Tigani and the island of Crete is now seen by adventurous travellers on the lookout for turquoise waters and savouring a swim in calm waters, not Venetian soldiers on the lookout for corsairs and fearing for their lives.



Agioi Theodoroi Islands - Άγιοι Θεόδωροι - a safe bay and a deep cave, perfect for hiding out and hiding treasure. These two islands sit just off the north coast of Chania opposite Platanias and Agia Marina beaches. Forts were built here in 1583 by the Venetians to ward off pirate attacks.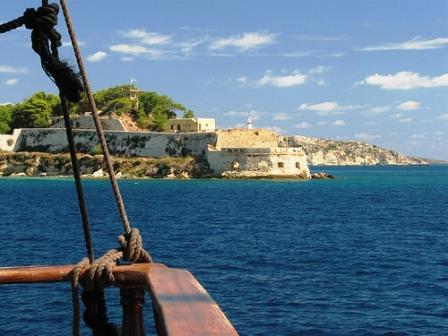 Pirate Barbarossa Crete - the Venetian fort at Souda was one of the last forts to hold out against pirates and corsairs in the violent attacks.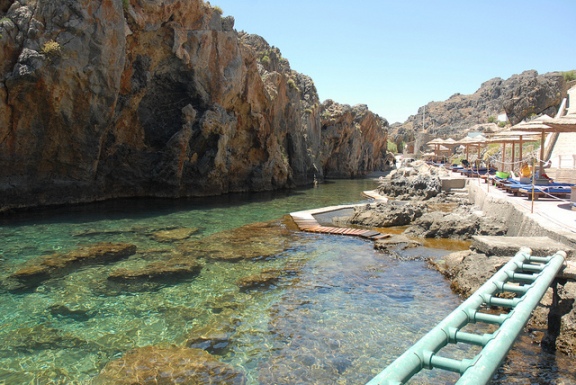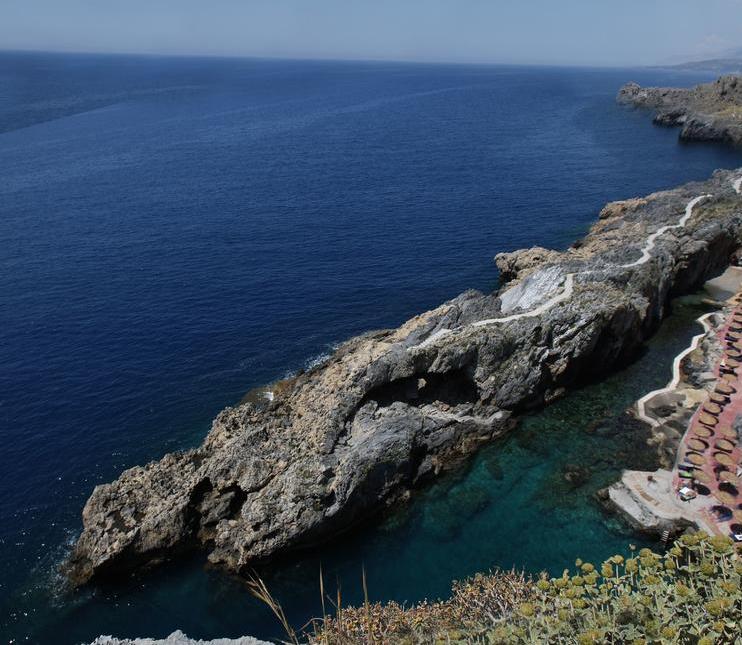 Pirates Fjord - Πειρατικό Φιόρδ - the tiny yet deep sheltered harbour in southern Crete is named 'Pirates' Fjord' and made a great hiding spot for a boat in those violent times. Today the rocks are landscaped and umbrellas line the shore, and modern pirates receive a warm welcome at the hotel just metres from the beach.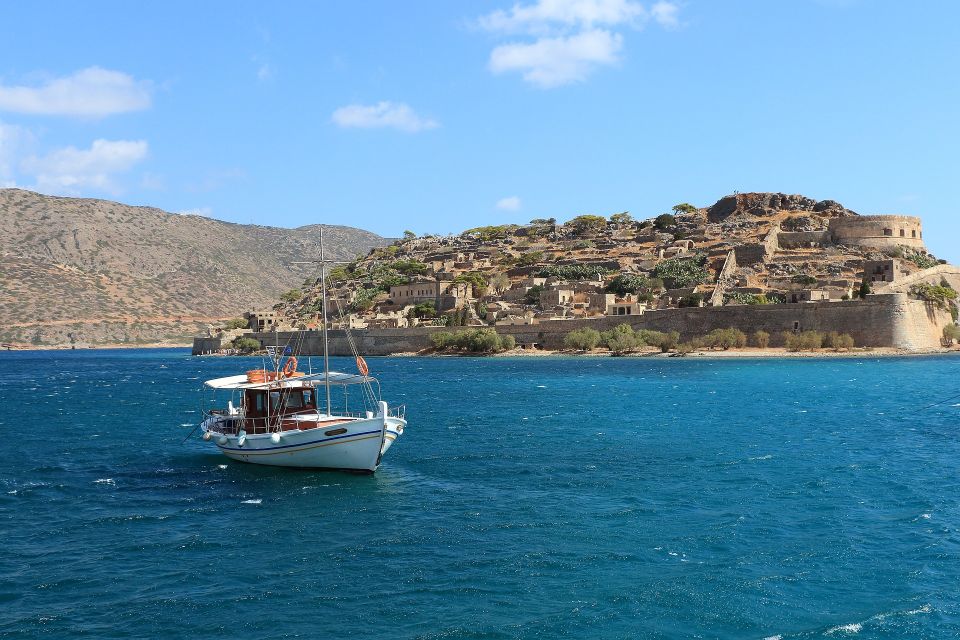 Pirate Barbarossa Crete - the Venetian fort at Spinalonga Σπιναλόγκα sat at the entrance to the sheltered Bay of Elounda - and protected this area from pirates.


Koufonisi Island Κουφονήσι - the unpopulated small island of Koufonisi is 5.5 km south of Cape Goudero in eastern Crete . With sheltered bays and caves, there is no doubt it was used by pirates during the 16th Century. There are also Hellenic, Roman and Minoan ruins on the island, and deserted, sandy beaches.

---
Pirate Barbarossa Crete
Cruises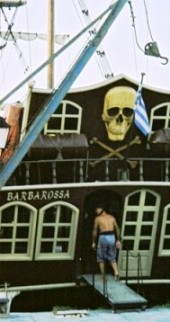 Pirate Barbarossa Crete
Today there is a pirate boat moored in Rethymnon harbour with dress-up pirates ready to take you and your family for a cruise. You might just see some local turtles while you are there on the open sea. Lucky for us, these days there are no real pirates to attack while we are enjoying a cruise.
The scary pirates will help you aboard the 28 metre 'Barbarossa' replica Spanish galleon to take you on a cruise to Camerola Rock Arch, the bay of Gerapotamos, including the pirate caves on the way, swimming and snorkelling.

This is a 3 hour cruise perfect for all the family.


---
Getting Here
See modern day Pirate Barbarossa Crete in Rethymnon and Makrigialos.
Arrive from Athens, Greece on a 1 hour flight with Olympic Air or Aegean Airlines. No parrots allowed.
Arrive into Chania port or Heraklion port from Pireaus port of Athens on an overnight ferry with a trip duration of 9 hours.
More details of flights and ferries below.

Car hire in Crete is a really good idea as it is a large island 60 km by 260 km. There is so much to explore.
When you book with our car rental partners - Rental Centre Crete - you are supporting a local company with excellent service and an easy online booking procedure. We are sure you will be well looked after by the team. Choose from hybrid or non-hybrid vehicles.
---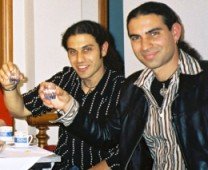 "We trust you have enjoyed these tips from the team at We Love Crete. Evíva!"
Contact us with further questions or feedback. We love to hear about your travels in Kríti and Greece. Let us know of any updates or additions, errors or omissions. Help us make this website the best it can be. Kaló Taxidí!

---