Chania Greece
This page may contain affiliate links, see our disclaimer here.

---
Chania Greece - Χανιά or Xania is a region of Crete island in Greece. The capital town with abundant history is also called Χανιά.


The Old Town

Chania Greece – The Old Town
The old town of Chania shows the architecture of its mixed history, Venetian mansions next to Turkish baths and cathedrals next to mosques. Highlights of the old town:
The narrow streets and lane ways
Local craft and art studios
Boutiques and jewellery studios
The small Venetian harbour
The Venetian Lighthouse
Fort Finca
The Mosque of the Janissaries
The Great Arsenal
The Fortezza
Restaurants by the Venetian harbour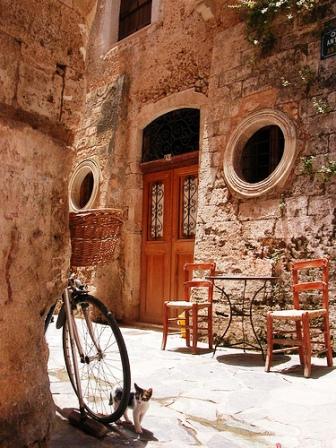 ---
Hand Crafted Knives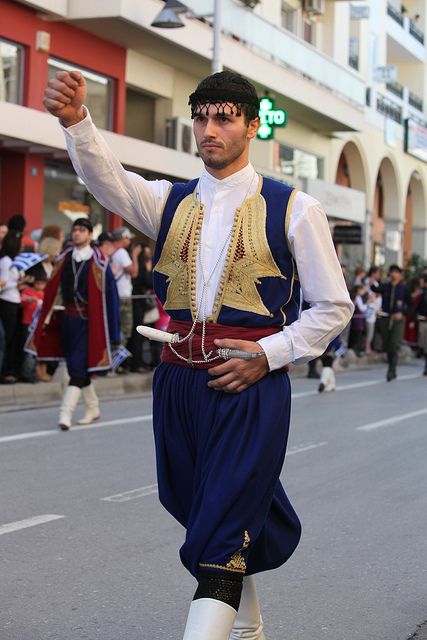 One of the most interesting crafts of Chania is knife-making. Knives are interwoven with the history of Crete, and until very recently every proud Cretan man carried a knife, and some of the women too, and plenty still do! So keep a look out!
Today you will see the beautiful knives in the traditional costume of Cretan men on special occasions. Here you will see a man in traditional dress with a foukari φουκάρι or Cretan dagger in his belt.

The intricacy of design and carving of the hand-crafted daggers and knives can be found on Maheradika Μαχαιράδικα or "knife lane" in Chania.
Find these crafts being made on Sifaka Street, a small street in the northern part of Splantzia quarter in the Old Town.
---
Accommodation
The Old Town
Many of the small boutique hotels or pensions are located on Odos Zambeliou. This is a lovely location as it is in the heart of the old town, close to everything yet set a little back from the harbour side.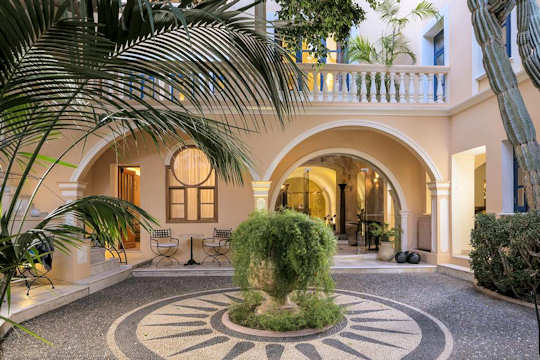 There are some marvellous hotels in Chania, one of our favourites is the restored mansion Casa Delfino because of its luxury and position. Just a hop and a skip from the harbour side, with great views from the rooftop bar.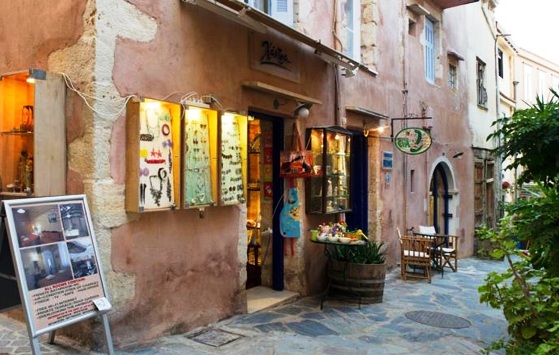 An affordable pension within the walls of the old town is Pension Eva. This handy location with lovely rooms at reasonable prices is much sought after.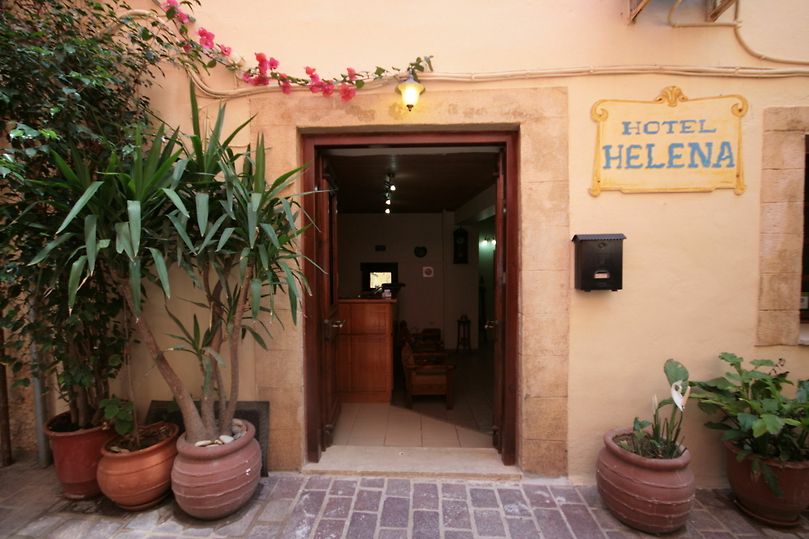 Also in the old town is Hotel Helena with views over the harbour at reasonable prices. Traditional architecture and fittings give you a feel for the culture of Crete.
"Great location and very friendly and helpful staff. Good size room facing the Old Venetian Port."
---
Dining in Chania Greece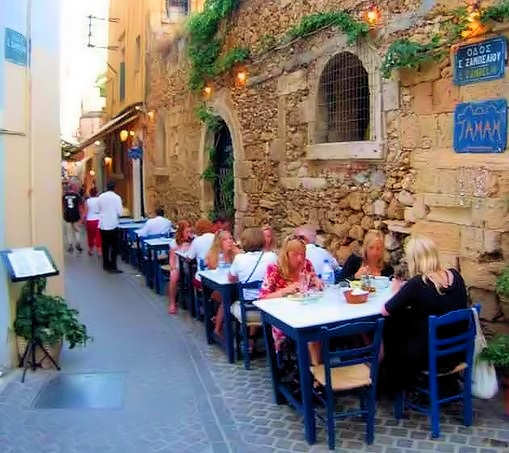 There are plenty of choices for dining in Chania, especially in the atmospheric old town. One taverna which is easy to miss and is personally recommended by the We Love Crete team is the delightful Tamam.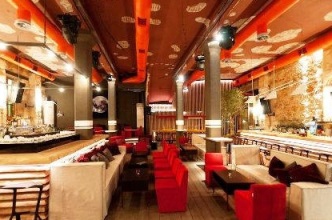 Sitting by the bay before or after dinner, you will be able to relax looking out over the yachts and the marina, past the lighthouse to the Mediterranean, from Nama Cafe Bar.
---
Chania Airport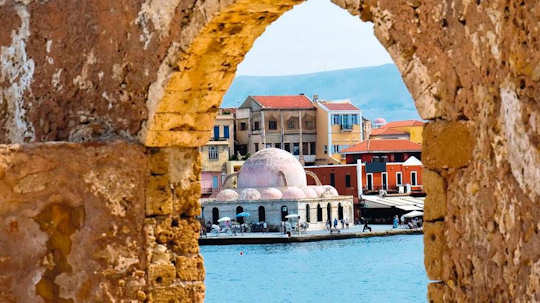 Chania old harbour - fort of the Janissaries
Chania International Airport is 15-50 minutes drive from the centre of Chania, there are bus, taxi and transfer services available. The distance is 14 km.

---
The Chania Region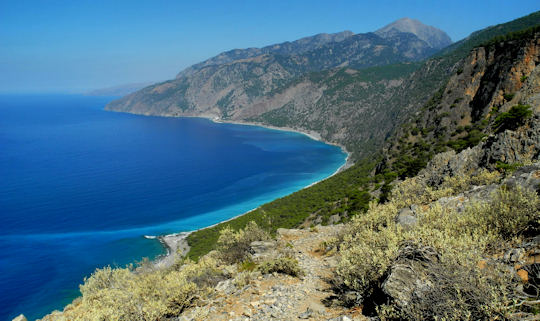 The south coast of Chania

Chania is a widely diverse region with extraordinary history, culture and ecological diversity to explore. Explore the coastal areas and inland areas of Chania by bus or by car.
All around this magnificent land covered with rolling hills, high mountains, rugged gorges, high plateaux and everything in between, there are tiny villages to explore, each rich in local customs and history. 
See our page about rural guesthouses in Chania
---
Exploring Beaches in Chania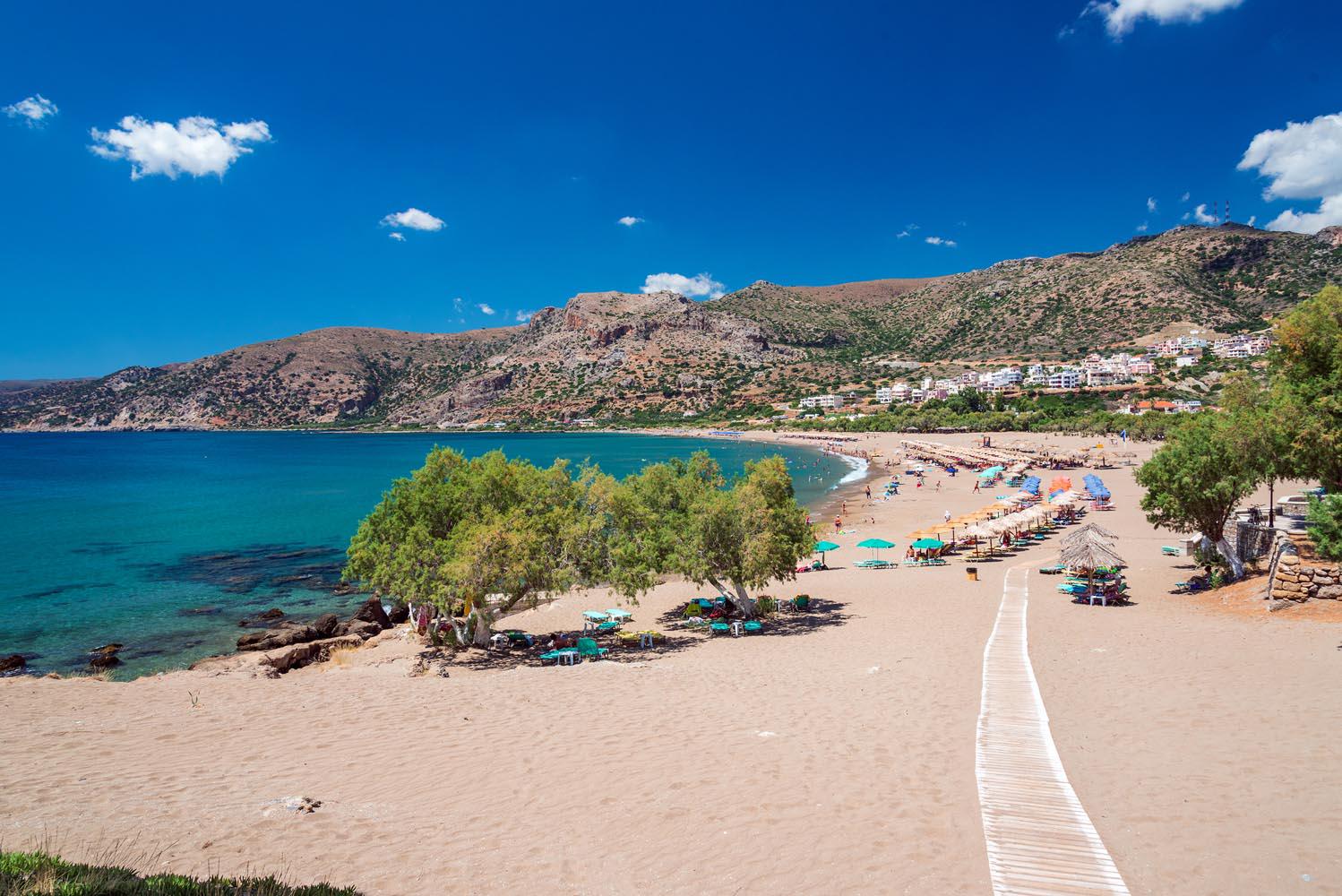 Chania Greece is the most western prefecture of Crete, the capital is located on the north coast. All around this beautiful region of Crete you will be able to discover many beaches, from busy town beaches next to Chania, to wild beaches with no permanent development. 
See our dedicated page about the beaches of Crete
---
Videos of Chania
Our video of Chania Town will entice you to visit.

A charming video featuring the old town of Chania Greece, the White Mountains, Balos Lagoon, Samaria Gorge and many other beautiful characteristic places of this western province of Crete.
Have you ever been an armchair traveller? Dreaming of being in Crete whilst stuck in your freezing winter somewhere? You might relate to this beautifully crafted video featuring an 'everyman' and one of the most famous beaches in Crete - that is Stavros Beach...see if you can watch it without tapping your feet! Explore the countryside of Chania in this wonderful dreamscape.
The rich history of Chania town and region are featured below.
---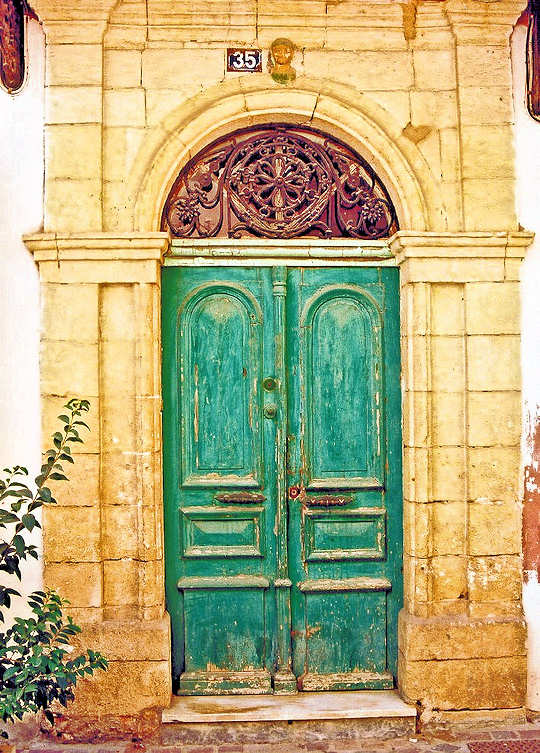 Venetian doorway in Chania old town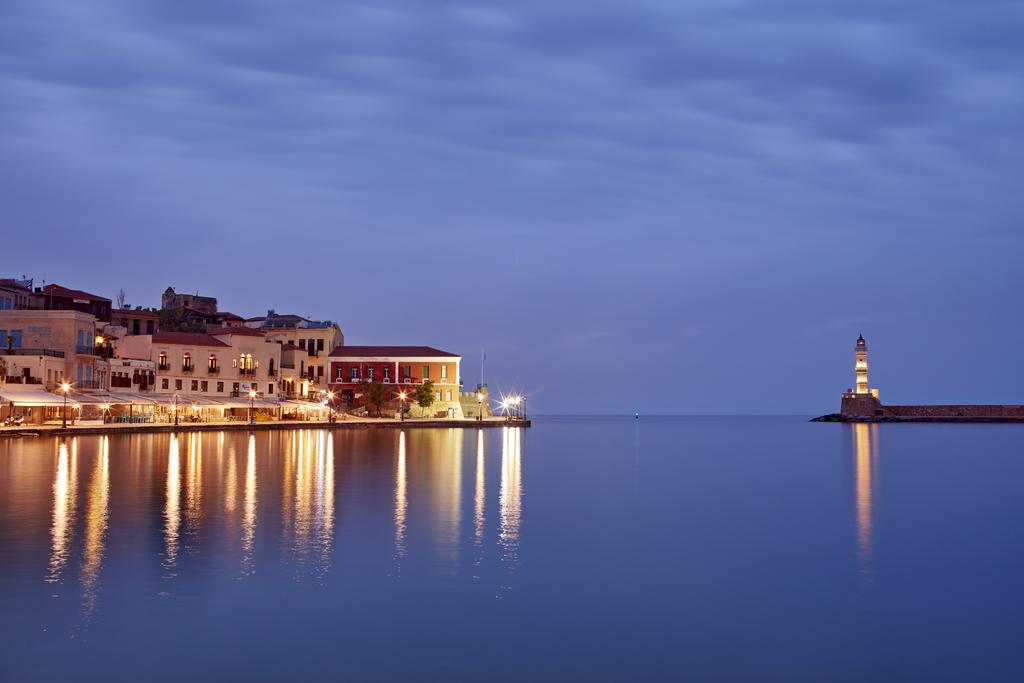 Old harbour and lighthouse at dusk - Chania Greece
---
Experiences
As a cultural capital there is just so much to explore here, take some time with a knowledgeable local to explore your passions.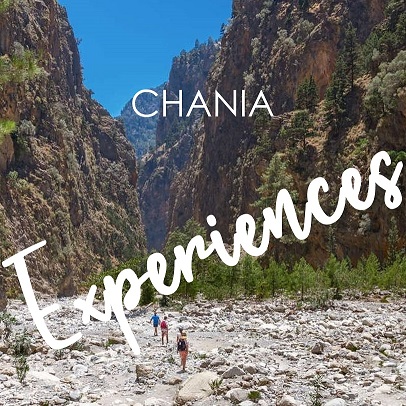 Chania Greece - experiences from visits to local villages, to vineyards, to long hikes in the mountains, take your pick of activities to get to know Chania.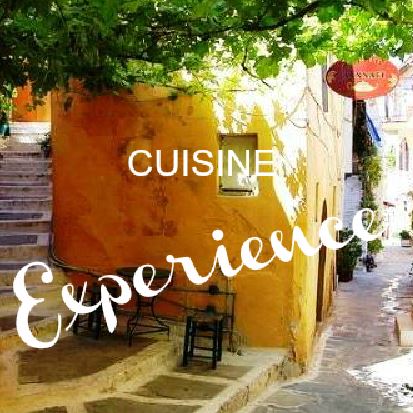 Street Stories of Chania Morning Tour with Samples of Raki and Mezedes - visit the local food markets and walk for 4 hours through the gastronomic highlights of this fascinating historic town, visit the old Jewish and Ottoman quarters and taste the local white spirit or raki. Enjoy mesedes which are little appetisers, part of the Cretan diet which is one of the healthiest in the world. Find out why.
---
Getting Here
Take a 1 hour flight from Athens to Heraklion with Aegean Airlines or Olympic Air, with many flights available per day.
Or take a 9.5 hour overnight ferry from Pireaus port of Athens to Heraklion port.
More on flights and ferries below.
Car hire in Crete is a really good idea as it is a large island 60 km by 260 km. There is so much to explore.
When you book with our car rental partners - Rental Centre Crete - you are supporting a local company with excellent service and an easy online booking procedure. We are sure you will be well looked after by the team. Choose from hybrid or non-hybrid vehicles.
---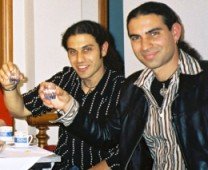 "We trust you have enjoyed these tips from the team at We Love Crete. Evíva!"
Contact us with further questions or feedback. We love to hear about your travels in Kríti and Greece. Let us know of any updates or additions, errors or omissions. Help us make this website the best it can be. Kaló Taxidí!

---