A Trip to Crete

This page may contain affiliate links, see our disclaimer here.

---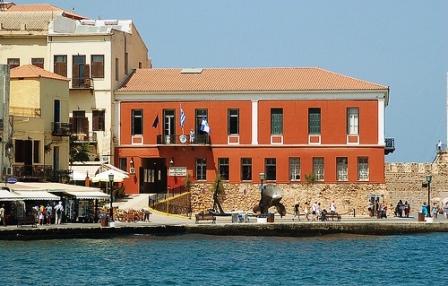 A Trip to Crete - many visitors ask their travel questions and we are more than happy to help


Bonjour, I am looking to spend about a week in in Crete in the first week of June. I wish to visit mainly war museums, Askifou museum, Spinalonga, Elounda, Agios Nikolas plus other sites, so I assume I either need a car or to travel by bus & spend nights in different places.
Below are the places I would like to visit. I can extend the holiday up to about 10-12 days if you think that would be easier:

Spinalonga

Elounda and Agios Nikolaos

War museum Askifou

War Caves

Commonwealth Graveyards

War Shelter of Platanias


Maritime Museum in Chania harbour

Santorini
Karina

A Trip to Crete
A Customised Itinerary

Yiasas & Bonjour Karina,

Your itinerary sounds wonderful and you can certainly achieve it within the timeframe, however we always suggest more time! This is so that you are not rushed and can experience the true Greek way of life, and of course, be open to serendipity along the journey.
When visitors want to see both the west and east of the island, we generally say it is best to set aside 10 days. Then you could have 2 days in Santorini. Of course it is flexible and you can amend the itinerary below, which is just a suggestion.
We suggest you arrive into Chania and depart from Heraklion to Santorini. In this way,  you will see the west of the island, then move over to the east then come back to Heraklion, ready to depart on the morning ferry to Santorini.
This can all be better with a car, especially for Askifou, or you could choose a car for just one day, and take the buses, which are very good, frequent and reliable. We have prepared your itinerary with a hire car in mind. Please let us know if you need more information about the buses.
As we are not sure what style of accommodation you prefer, we have suggested mid-range small hotels and guesthouses, full of local character.
June is a good time of year to visit Crete, with temperatures not too hot and not too many crowds. Spring weather and lots of flowers. If you have any further questions please let us know.
Day One
Arrive Chania port or airport
Pick up your hire car
Stay in Chania Old Town
Visit the Maritime Museum
Visit the Folklore Museum
Stay at Pension Eva
Day Two
Day trip to Askifou Plateau 100 km return
Visit War Museum in Kares, see towers & caves
Perhaps visit Georgioupolis Beach or Lake Kournas on return journey
Stay in Chania Old Town
Stay at Pension Eva
Day Three
Rest day from history
Visit Balos Lagoon, Falasarna Beach or Elafonisi Beach
Relax at beach or explore the Old Town
Stay in Chania Old Town
Stay at Pension Eva
Day Four
Visit the Allied Cemetery at Souda Bay 10 km return
Visit Platanias war shelter 22 km return
Visit beaches at Maleme, Platanias and Agia Marina
Maleme also has a war museum
Stay in Chania Old Town
Stay at Pension Eva
Day Five
Drive from Chania to Rethymnon 65 km
Explore Old Town of Rethymnon
Stay for lunch
Drive from Rethymnon to Archanes Village near Heraklion 94 km
Stay in Archanes
Stay at Villa Archanes
Or drive from Rethymnon to Agia Pelagia Beach 60 km
Stay in Agia Pelagia
Stay at Aquarius Apartments
Day Six
Early visit to Knossos Palace archaeological site (10 km from Archanes, 25 km from Agia Pelagia)
Allow 2 hours for the visit
Drive from Knossos to Agios Nikolaos and Elounda 66 km
Stay in Elounda or Plaka
Stay at the Island Seaview Apartment

Day Seven
Rest day by the beach
Stay at the Island Seaview Apartment
Day Eight
Visit Agios Nikolaos and Spinalonga Island
Stay at the Island Seaview Apartment
Day Nine
Visit Spinalonga Island or beaches
In the afternoon drive to Heraklion 66 km
Drop off your hire car
Stay in Heraklion town near the port
Stay at the Hotel Lato (very convenient to the port)

Day Ten
Ferry to Santorini – depart Heraklion port 8.40am
Arrive 10.25am
Stay in Fira
Stay at the Gallatia Villas
Day Eleven
Enjoy Santorini
Stay at the Gallatia Villas
Day Twelve
Take a ferry or flight from Santorini to Athens
Flight information here
Ferry information here

---
Information for Your Trip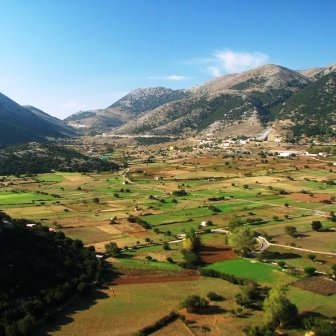 Askifou Plateau is 50 km from Chania town in the White Mountains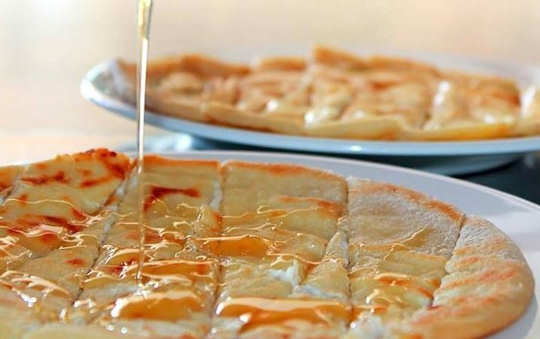 Try a Sfakian pie whilst in the region - with plenty of local honey
---
Your Itinerary in Pictures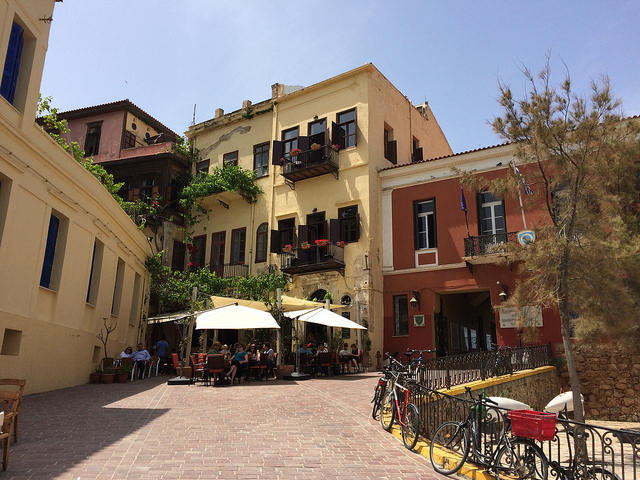 Stay in the Old Town of Chania as it is full of atmosphere and close to all the museums you want to see.


Ile de Crete - aujourd'hui, certains quartiers datant de la période vénitienne sont encore intacts, ainsi que des quartiers juifs ou turcs très bien conservés.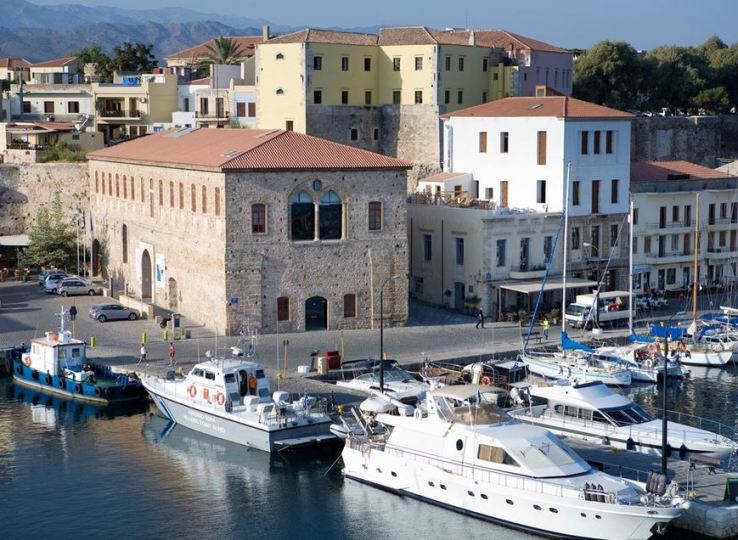 Chania Crete - the old harbour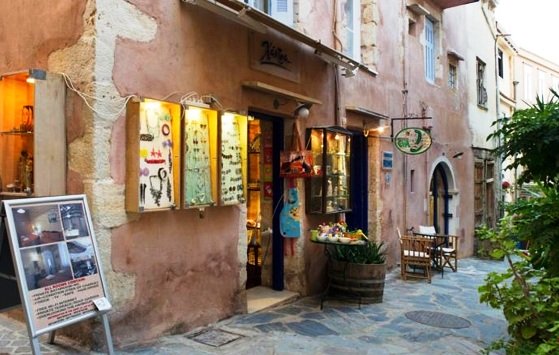 Pension Eva in the small laneways of Chania

En longeant de l'intérieur les murs de la ville, vous pourrez apercevoir de charmantes ruelles.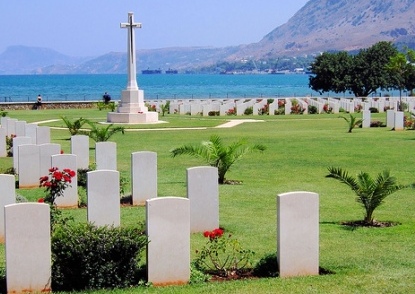 The Allied War Cemetery is at Souda Bay, close to Chania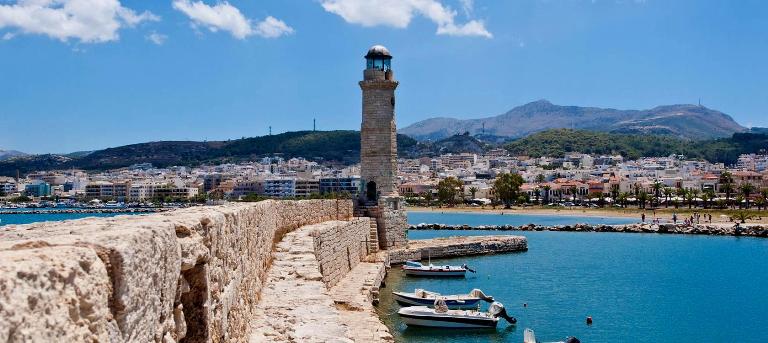 The Venetian Old Harbour and Lighthouse in Rethymnon

A Trip to Crete - stroll through the old town to the Venetian Fortezza on the point which provides a wonderful view back over the town to the mountains, then stroll to the tiny Old Harbour for a seafood lunch amongst the hubbub. Try Zefyros there or En Plo on the seaside next to the Fortezza, for a bit more space with a seaside view.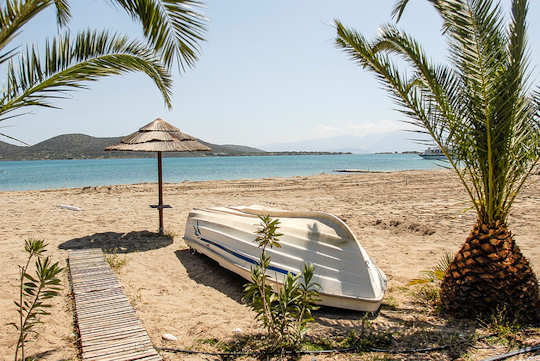 Elounda is a lovely sandy beach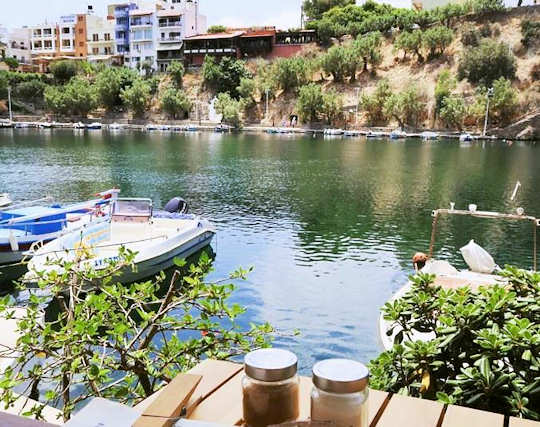 Visit the cafes around Lake Voulismeni in Agios Nikolaos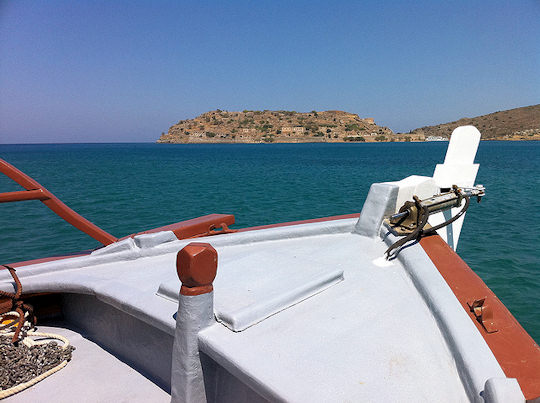 Take a local boat across from Plaka to Spinalonga Island and absorb the history of this mysterious place

A Trip to Crete - Spinalonga Island holds such a fascination for modern travellers who like to delve into its secrets since the times of pirates, to Venetian and  Turkish conquerers and to the unimaginable suffering of those isolated here in the leper colony between the years of1903 to 1957.

A modern novel outlining this dramatic history entitled simply "The Island" caught so much attention worldwide that it was made into a tele-drama, made in Greece and Crete "To Nisi - Το Νησί".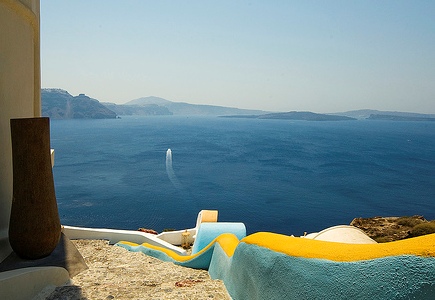 Views are everywhere in Santorini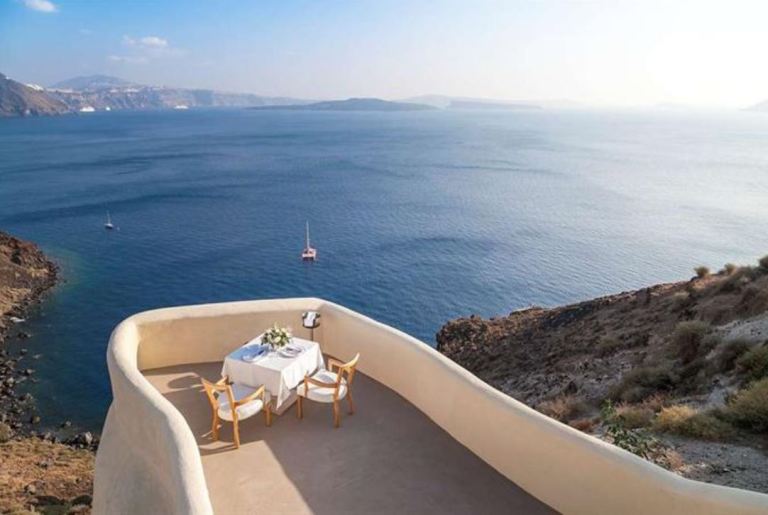 Mystique Boutique Hotel in Santorini
---
Getting to Crete

Take a 1 hour flight from Athens to Heraklion with Aegean Airlines or Olympic Air, with many flights available per day.
Or take a 9.5 hour overnight ferry from Pireaus port of Athens to Heraklion port.
More on flights and ferries below.
Car hire in Crete is a really good idea as it is a large island 60 km by 260 km. There is so much to explore.
When you book with our car rental partners - Rental Centre Crete - you are supporting a local company with excellent service and an easy online booking procedure. We are sure you will be well looked after by the team. Choose from hybrid or non-hybrid vehicles.
---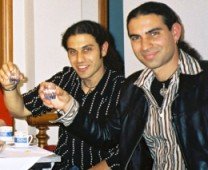 "We trust you have enjoyed these tips from the team at We Love Crete. Evíva!"
Contact us with further questions or feedback. We love to hear about your travels in Kríti and Greece. Let us know of any updates or additions, errors or omissions. Help us make this website the best it can be. Kaló Taxidí!

---