Your Trip to Crete
12 Days by Car

This page may contain affiliate links, see our disclaimer here.

---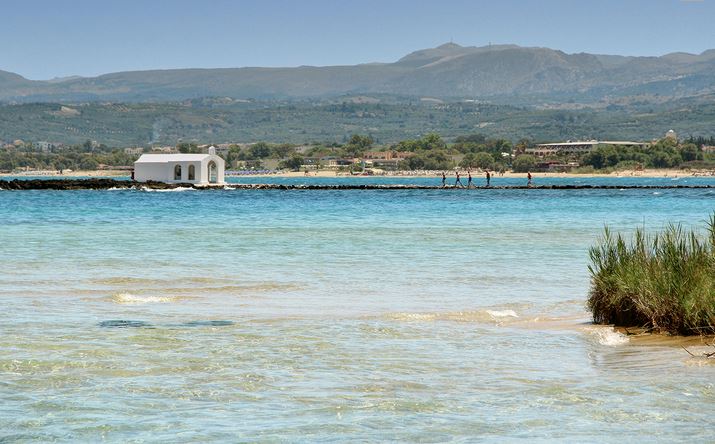 Your Trip to Crete 12 Days - East and West

Suggested route
---

Bob from USA said


"I've been reading the incredible information on your website as I plan a 12 day trip to Crete. I must say I am a bit overwhelmed. I did read the 12 day itinerary and was surprised that Chania was given 1 day. We are flying in from Athens and will return to Athens. So now I am really confused. I need some help with planning a 12 day trip to Crete with combination of relaxation and fun for a couple.

We would like to visit both sides of the island. Heraklion, Agios Nikolaos, Rethymnon and Chania have been the regions I have explored and seem to get the most attention for planning but I am opened to branch out further East and west to experience Elafonissi, Balos and Vai Beach.

We are interested in hiking the Samaria gorge. Although we are intrigued with a lot of the out of the way places in your books - we also was to have time to just hang out and not spend our entire trip traveling in the car. Any feedback on places to stay that are near the beach or have a pool would be helpful. No need for fancy resort however we do prefer a nice place to stay. Also - when planning - is it best to start West (Chania) and go East or start more central (Heraklion) and explore the east first. Need some help with the logistics of renting a car and dropping off?"


---
Your Trip to Crete
12 Days by Car


Your Trip to Crete 12 Days - East and West
Yiasas Bob
Your trip to Crete sounds exciting and it is our pleasure to offer a few suggestions below.
You said that you are arriving into Heraklion on 18 June and fly out to Athens on 29 June, giving time to visit Crete for around 12 days. In Crete you would  hire a car and want to stay in 2 locations in hotels with a pool and use these as a base for exploring, but not moving around too much.

With a love of relaxing at the beach, enjoying good food, and exploring a great deal, this will be a varied trip around Crete.
Your 'wish list' of destinations in Crete is:
Agios Nikolaos
Elounda
Sitia
Vai Beach
Knossos + Archaeological Museum
Heraklion
Rethymnon
Chania
Samaria or Imbros Gorge
Perhaps Platanias Beach
Balos Lagoon
Elafonisi Beach
See our suggestions below, of course all final bookings are your decision and these are provided for your interest. Information pages are also included below.

Accommodation
We have made suggestions for 2 locations in Crete within your budget of EUR130-175. The links provided go through to programs where we do make a small income, at no extra cost to you, so if you can book via those links, please do so.

June
This is a good month to visit Greece, as the weather is still warm but not crazily hot. Minimum temperatures are 18°C and maximum average is 28°C. and the water temperatures are great for swimming. Summer tourists have not yet arrived. More space for you and easier to explore. We would recommend booking in early, however, for your accommodation in late June.
Crete
We suggest arriving into Heraklion Airport HER and departing via Chania Airport CHQ. This will prevent doubling back too much. In the east we have suggested staying 5 nights on Ammoudara Beach just 5 km from Agios Nikolaos.
We have included 1 night in Chania Old Town because you said you wanted to perhaps stay at a nearby beach. We do love Chania town, so if you want to stay longer, it would be most enjoyable.

We have included 5 nights in the west of the island close to Chania. We have suggested Agia Marina Beach which is only 10 km from town, so you could easily visit the town for dinner. We have measured distances from Agia Marina. From here you can depart via Chania Airport.
Each self-drive day trip is just a suggestion, you can take a rest day, do a partial or a full day trip; the choice is yours. If you do follow our suggestions, you will see all the places on your wish list.

Insurance
Please arrange your most important travel insurance for door to door coverage, see insurance information here.

---
Your Trip to Crete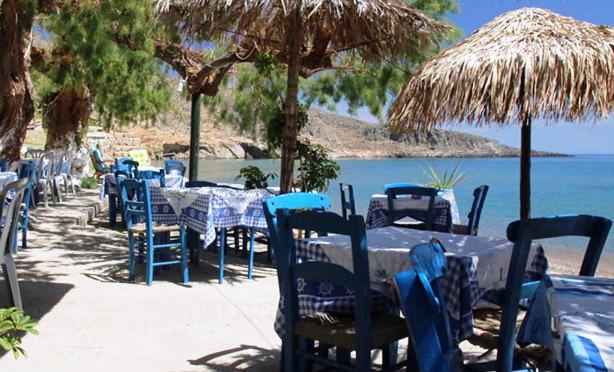 Akrogiali Taverna on Kato Zakros Beach, Crete
Your Personalised Itinerary

Your Trip to Crete - 12 Days - East and West

Day One - Tues 18 June
Arrive Heraklion Airport
Pick up your rental car
Drive east to Agios Nikolaos and Ammoudara Beach 67 km
Stay at Ammoudara Mediterranean Villa or Panorama Villas at Ammoudara Beach
Stock up on food from Agios Nikolaos, for upcoming day trips

Day Two - Wed 19 June
Relax by the pool or visit nearby beaches of Mochlos, Pachia Ammos and Istron 60 km round trip
or self-drive day trip to Sitia, Toplou Monastery & Winery and Vai Beach
143 km round trip
Stay at Ammoudara Mediterranean Villa or Panorama Villas

Day Three - Thurs 20 June
Self-drive and boat trip
Take a boat to either Chrissi Island or Spinalonga Island
Drive to Elounda 60 km round trip then boat to Spinalonga
Drive to Ierapetra 30 km round trip then boat to Chrissi
Stay at Ammoudara Mediterranean Villa or Panorama Villas

Day Four - Fri 21 June
Self-drive day trip to Zakros Gorge, Zakros Palace and Kato Zakros Beach
180 km round trip
Stay at Ammoudara Mediterranean Villa or Panorama Villas

Day Five - Sat 22 June
Rest day
Dinner at a taverna on Mochlos Beach
or stroll and dine in Agios Nikolaos
Stay at Ammoudara Mediterranean Villa or Panorama Villas

Day Six - Sun 23 June
Self-drive across to the west
Drive from Ammoudara to Knossos Archaeological Site
Visit early to avoid the crowds
Get a 'Skip the Line' ticket with local guide
Drive on to Heraklion centre to visit the Archaeological Museum
Then on through Rethymnon to Chania town
Direct route would be 210 km
Visit some beaches along the way, Agia Pelagia, Panormos, Bali
For Dinner in Chania try Kouzina EPE
Stay within the walls of the Old Town
Stay at Alcanea Boutique Hotel or Casa Delfino

Day Seven - Mon 24 June
Explore the old town of Chania
Lunch by the harbour
Museums, local cuisine and wine and historic old town in the afternoon
Stock up on snacks and food for lunches for day trips
Drive on to Agia Marina Beach 10 km
Stay at Vergina Beach Hotel or Farm House in Orange Grove

Day Eight - Tues 25 June
Day trip self-drive and boat
Balos Lagoon
30 km each way to Kissamos town
Boat trips leave from the harbour
Dinner at a seaside taverna on Kissamos Bay
Stay at Agia Marina Beach
Stay at Vergina Beach Hotel or Farm House in Orange Grove

Day Nine - Wed 26 June
Rest day
or Drive to Georgioupolis Beach 92 km
Visit inland Lake Kournas 5 km and Argiroupolis Village
92 km round trip
Dinner at Horiatiko paradosiaki taverna
Stay at Agia Marina Beach
Stay at Vergina Beach Hotel or Farm House in Orange Grove
Day Ten - Thurs 27 June
Take an organised day tour to Samaria Gorge
or a self-drive hike to Agia Irini Gorge
Drive to Agia Irini Village 88 km round trip
Hike Agia Irini Gorge 7 or 12 km
Lunch in Sougia Village by the sea
Taxi back to your car
or an organised day tour to Agia Irini Gorge
Lunch by the seaside at Sougia village
Stay at Agia Marina Beach
Stay at Vergina Beach Hotel or Farm House in Orange Grove
Day Eleven - Fri 28 June
Self-drive day tour to Elafonisi Beach
126 km round trip
Stay at Agia Marina Beach
Stay at Vergina Beach Hotel or Farm House in Orange Grove
Day Twelve - Sat 29 June
Drive from Agia Marina to Chania Airport 30 km
Drop off your hire car at Chania Airport
Depart for Athens - flight duration 1 hour
Fly Olympic Airlines or Aegean Airlines Chania code is CHQ
Stay at Sofitel Athens Airport to rest before long haul flight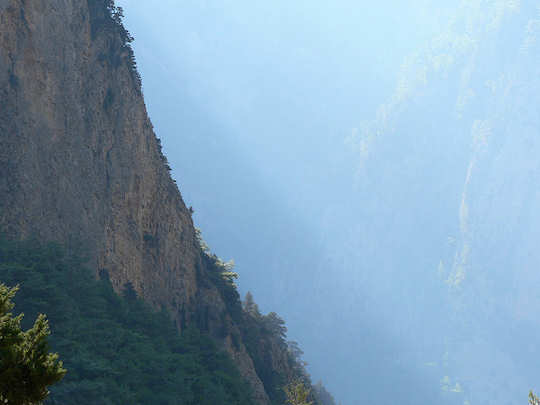 Samaria Gorge in Chania Crete
---
Local Food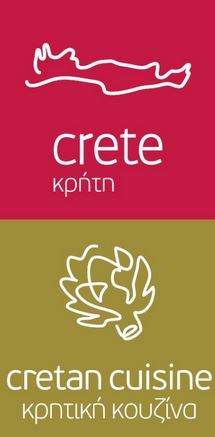 Of course, you will ask the locals for the best local taverna, and paradosiako food, when you want to experience traditional Cretan food.
Also, be aware that there is a certification for restaurants serving the authentic Cretan diet.
On this handy website you can look for Cretan Diet Quality Restaurants

---
Map of your Holiday
Your Trip to Crete - East and West - here is the outline of your trip through Crete, showing the route from the airport to each location in blue and day trip ideas in purple.
Tip: use Heraklion HER Airport for arrival and Chania CHQ Airport for departure.

---
Your Trip to Crete
Information Pages for Your Trip
Your Trip to Crete - East and West - contacts in case you need them.

Airports

East Crete

Central & West Crete
---
Crete 12 Days
Your Holiday in Pictures
Your Trip to Crete - East and West - experience the journey and plan your trip

Eastern Crete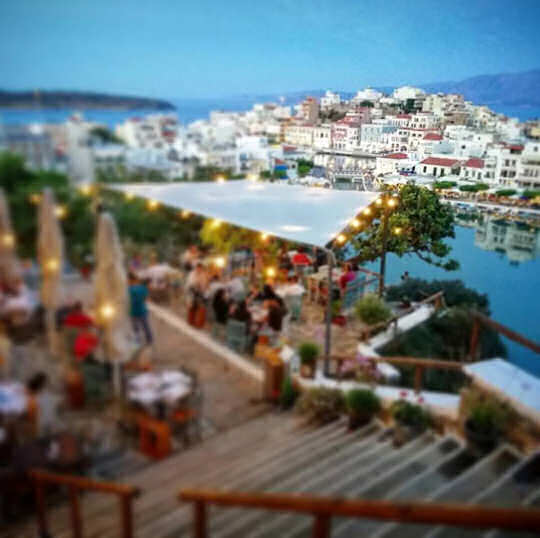 Agios Nikolaos sits on a lake and harbour overlooking Mirabello Bay in eastern Crete, after a hard day of travelling, cool off at Gioma Meze Bar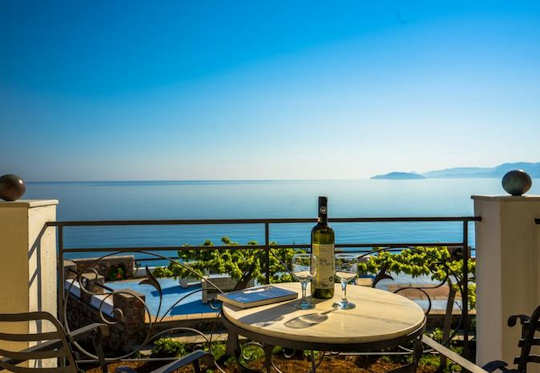 The view from Panorama Villas over Mirabello Bay
Ammoudara Mediterranean Villa - Ammoudara Beach Lasithi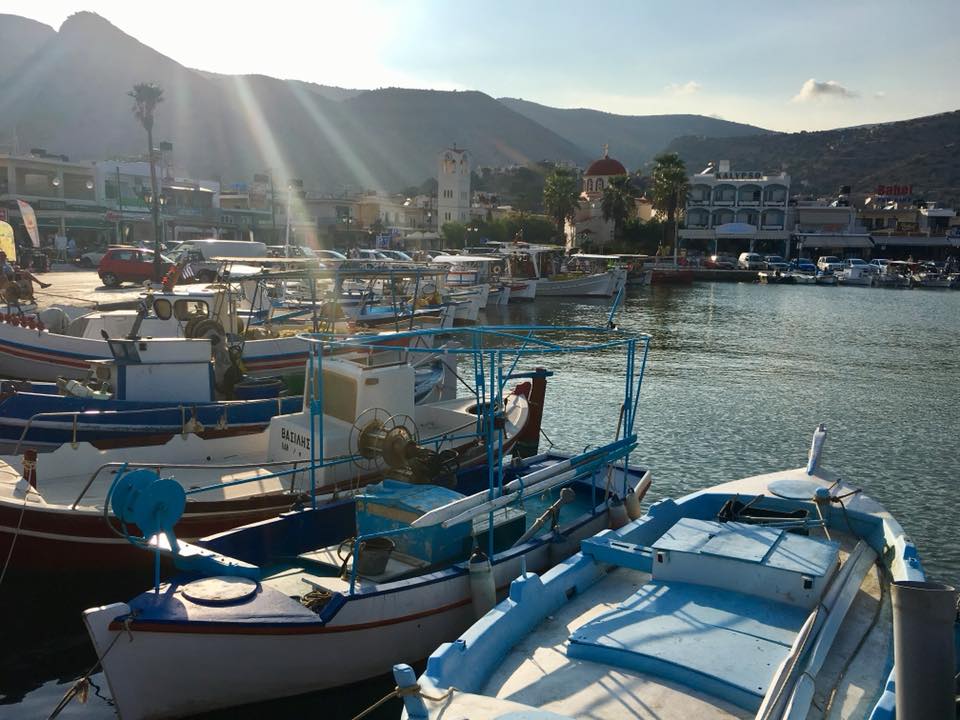 Elounda harbour - take a boat from here to Spinalonga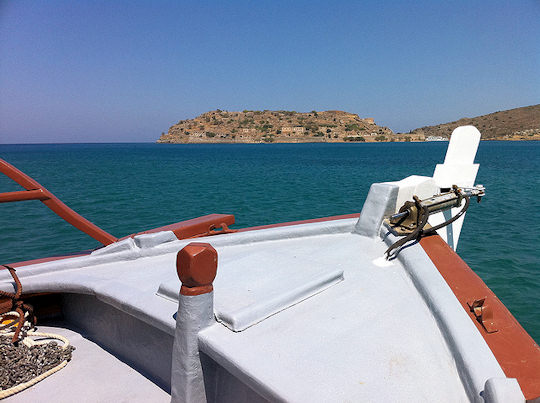 Visit the island of Spinalonga near Elounda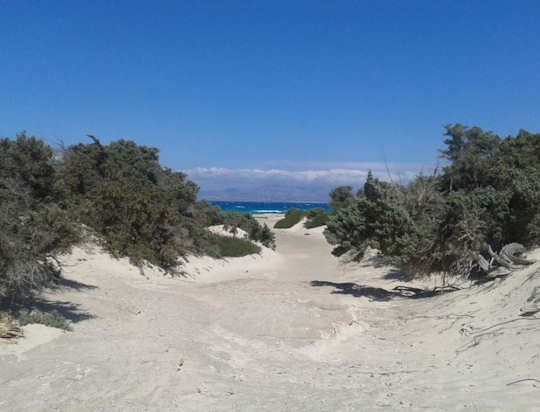 The island of Chrissi is uninhabited, it is reknowned for its white sand and turquoise waters, take a boat trip here from Ierapetra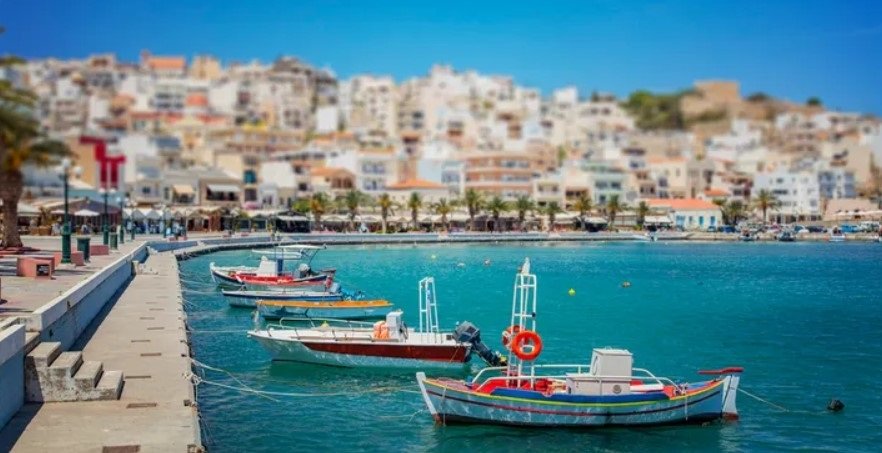 Visit the very Greek town of Sitia on a day trip in eastern Crete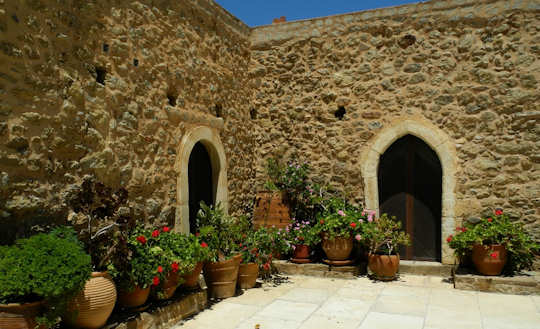 Absorb the history of Crete at Toplou Monastery and then learn how well the monks know how to make wine (very well!)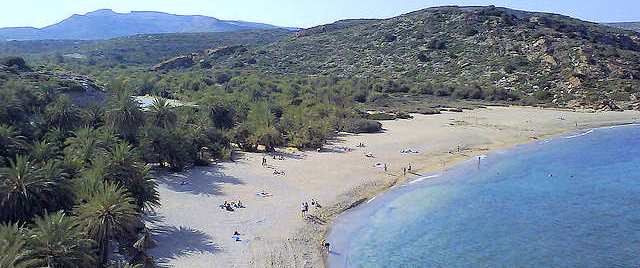 Visit Vai Palm Forest and Beach at the eastern tip of Crete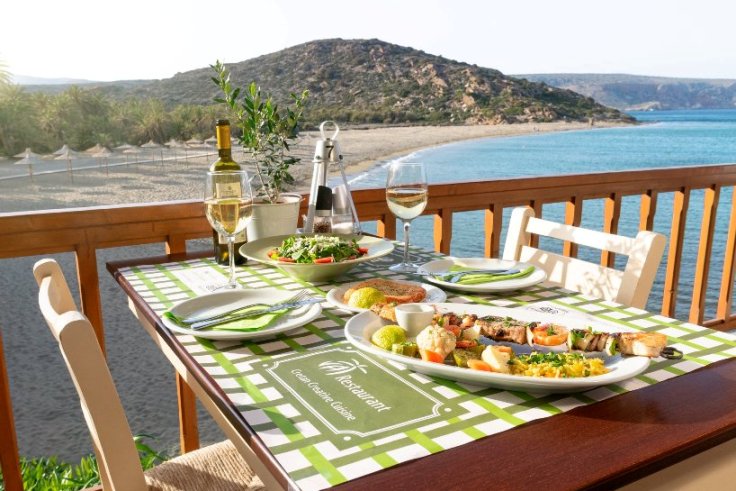 Experience Cretan creative cuisine at Vai Restaurant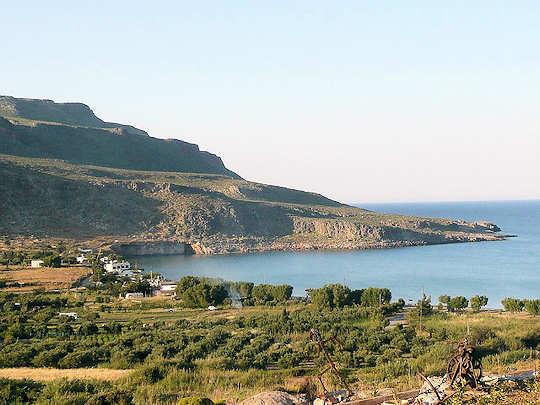 Kato Zakros in eastern Crete is remote and quiet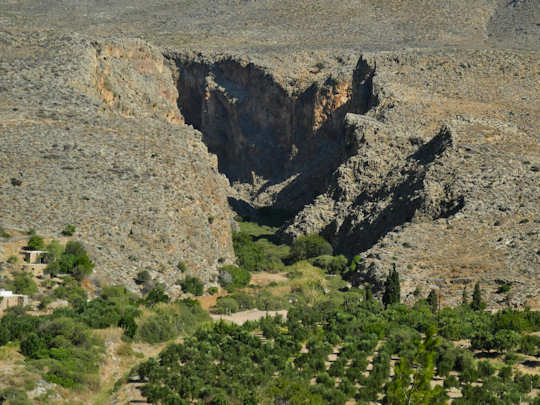 Zakros Gorge or 'The Gorge of the Dead'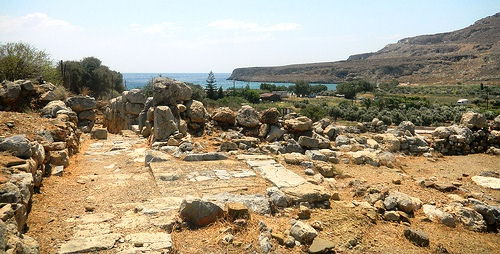 The ruins of Zakros Palace are close to the bay in Kato Zakros
Central and Western Crete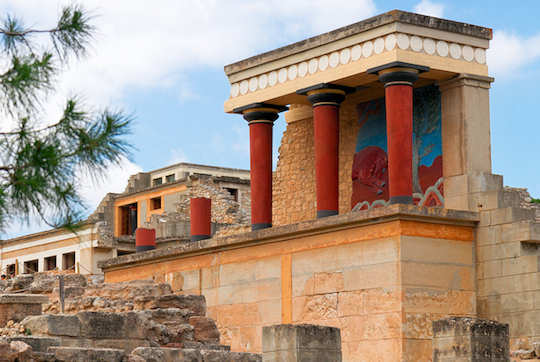 The ruined Knossos Palace is the finest example of Minoan architecture on the island, and is partially reconstructed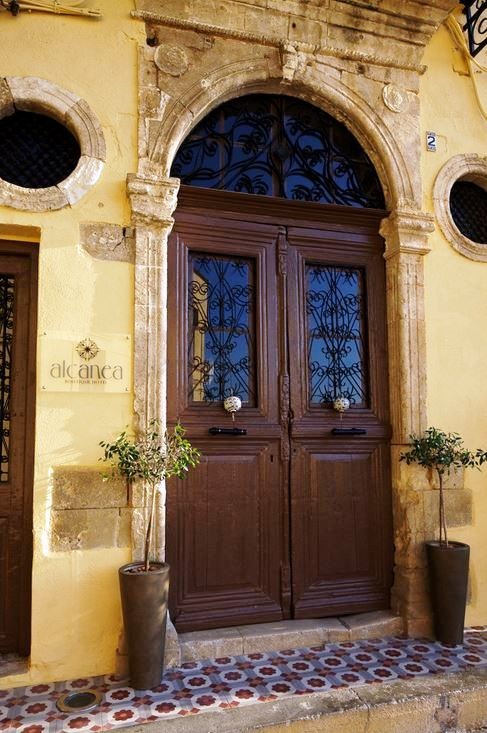 The Alcanea Boutique Hotel sits on the limani in Chania Old Town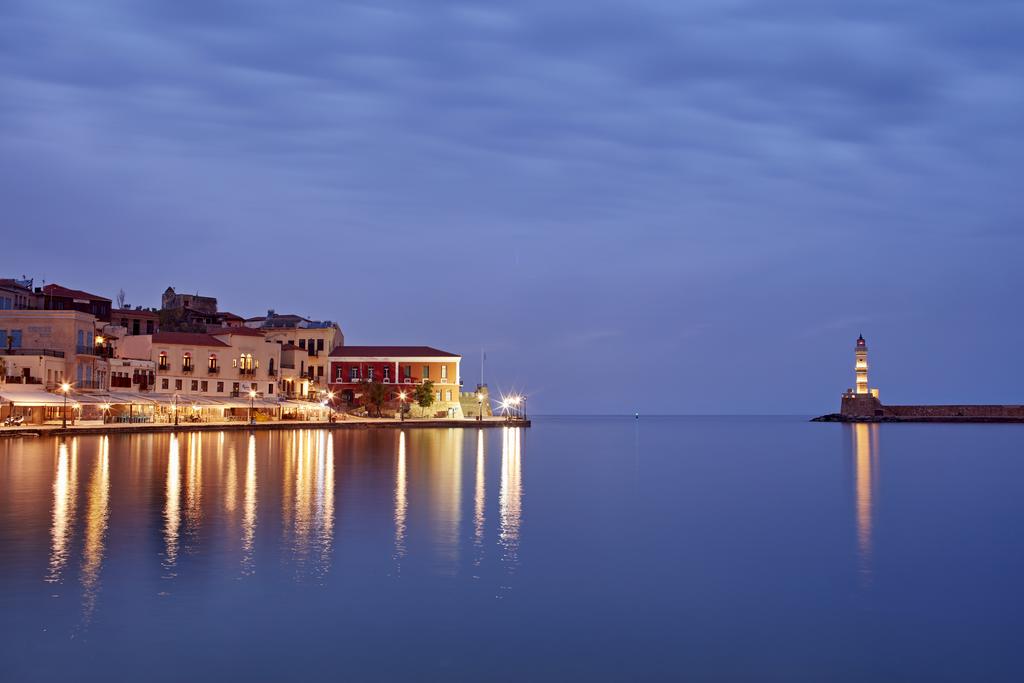 Enjoy the romance of the old town of Chania.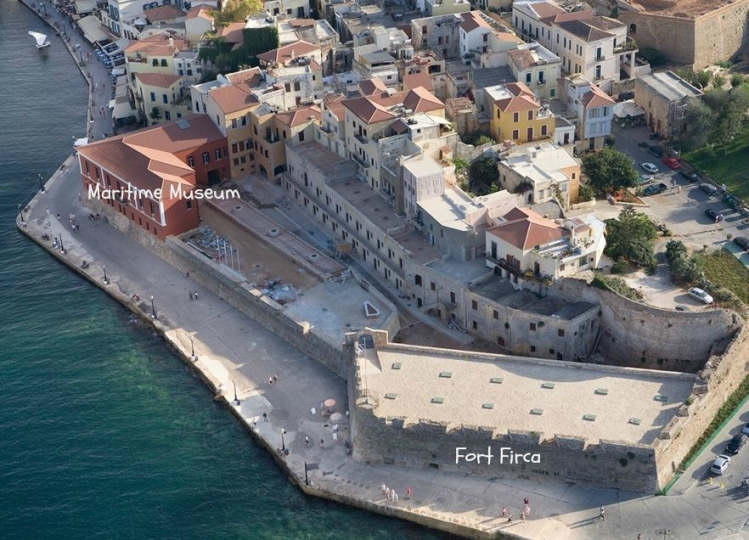 Explore the Old Town of Chania - Fort Firca and the Maritime Museum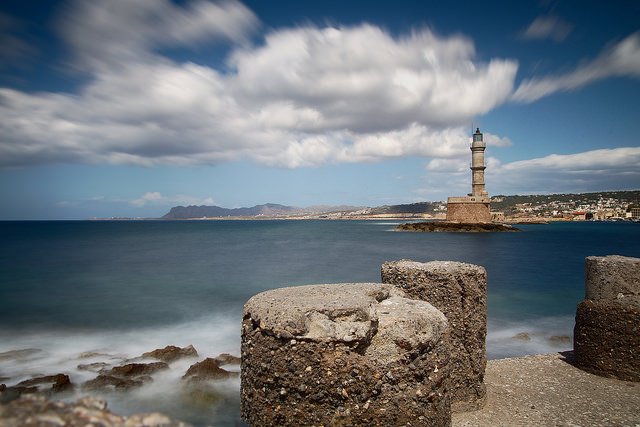 See the Venetian Lighthouse from the old harbour of Chania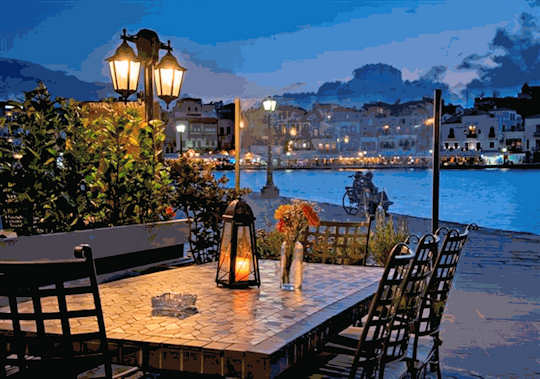 Dine by the harbour in the old town, this is Palazzo al Mare in Chania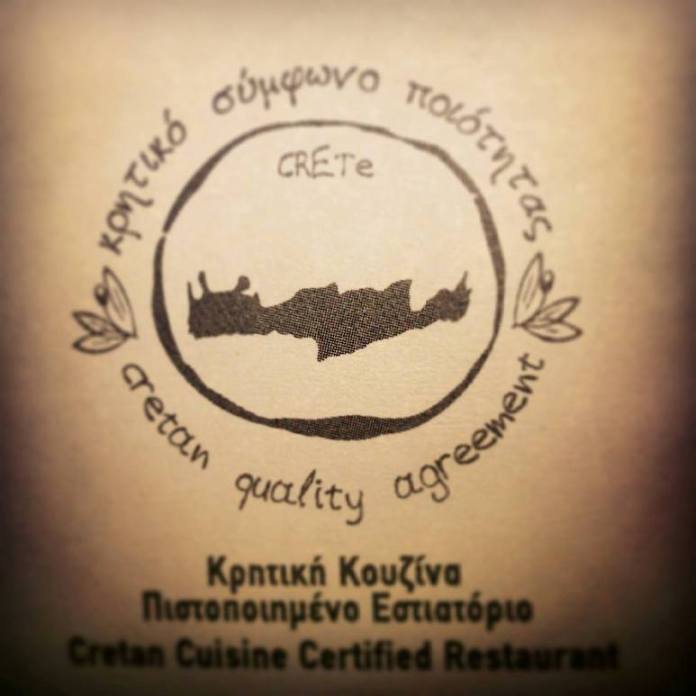 Cretan cuisine Quality - keep a look out for authentic local food tavernas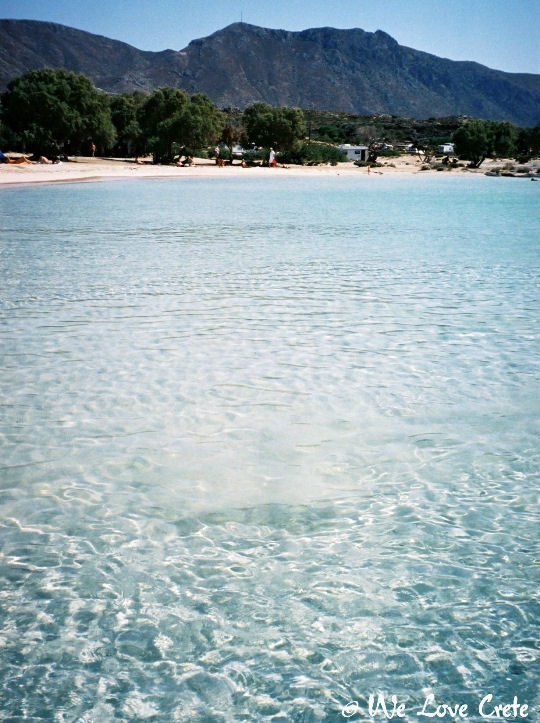 A day trip; Elafonisi Beach is a protected natural area

Another day trip! Balos Lagoon is exquisite with turquoise waters - get there from Kissamos in the north west of Crete
Vergina Beach Hotel in Agia Marina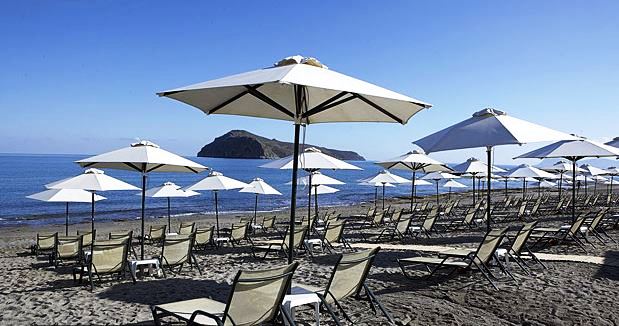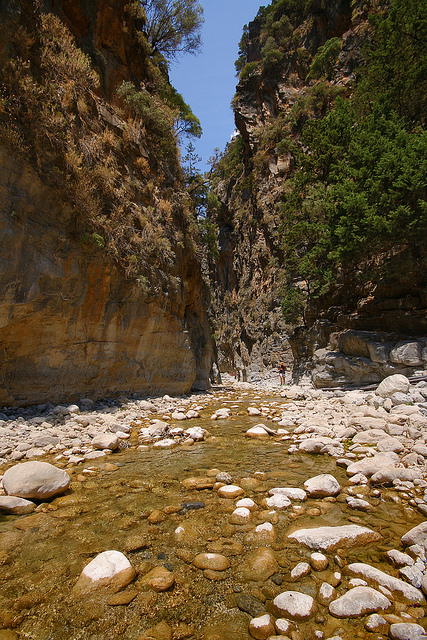 Take a rock-hopping hike through Samaria Gorge for 16 km

Samaria Gorge is best visited on an organised day tour. It is quite a challenging walk and you need good moderate fitness. There are quite a few boulders to cross over.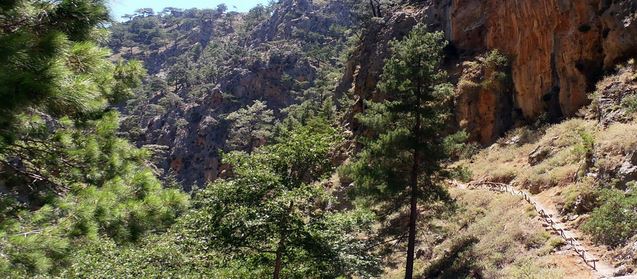 Agia Irini Gorge is a smaller, less crowded hike than Samaria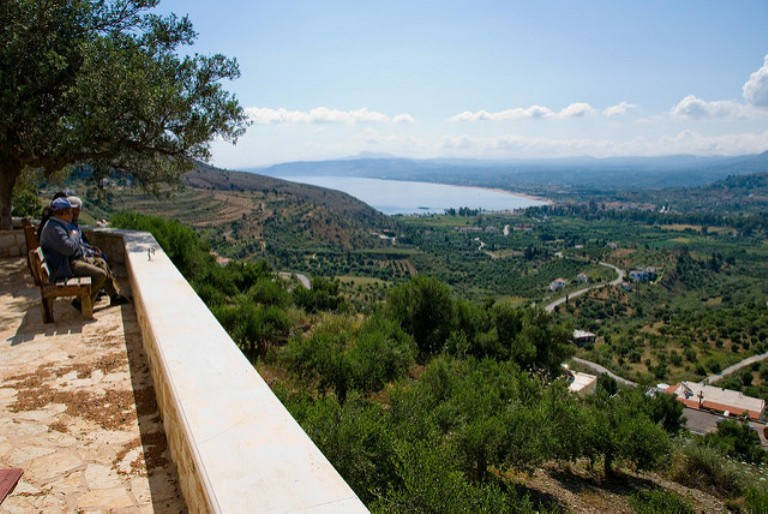 Visit Georgioupolis Beach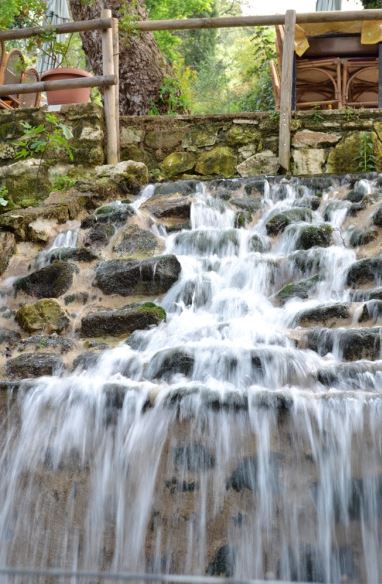 Enjoy the cooling streams and waterfalls in Agyroupolis, inland from Lake Kournas and ideal for a relaxing lunch
On your trip to Crete choose to relax and visit this cooling village in the hinterland.


---
Harry at Rental Centre Crete for Car Hire; a local business with online booking, transparent charges and good service, Harry and his team will look after you.
Ph:+30 2810 240120
E: info [@] rental-center-crete[.]com
Giannis Taxi Driver Guide if you ever want someone else to do the driving or if you ever get stuck, call Giannis Bertakis.
Ph: +30 694 985 0006
E: bertos990 [@] hotmail[.]com


We trust you enjoy your trip to Crete and our itinerary suggestions

Kalo Taxidi!  Καλό ταξίδι!  Bon Voyage!
The We Love Crete Team
---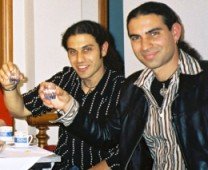 "We trust you have enjoyed these tips from the team at We Love Crete. Evíva!"
Contact us with further questions or feedback. We love to hear about your travels in Kríti and Greece. Let us know of any updates or additions, errors or omissions. Help us make this website the best it can be. Kaló Taxidí!

---