2 Weeks in Crete

This page may contain affiliate links, see our disclaimer here.

---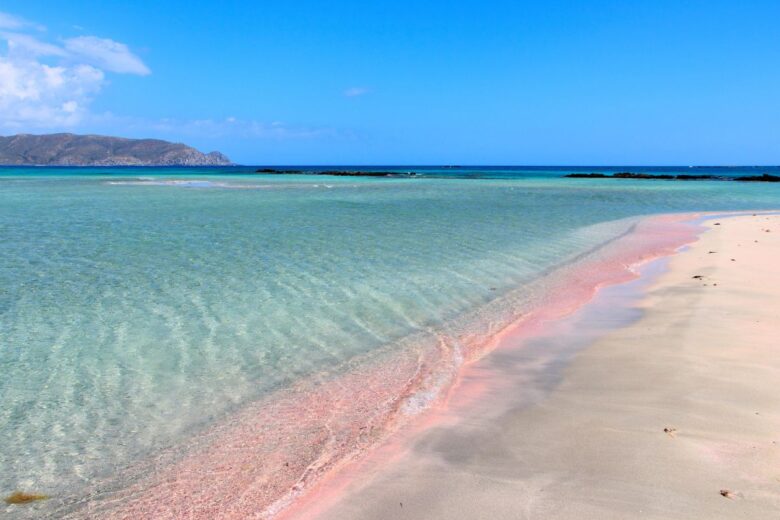 2 Weeks in Crete

Hi We Love Crete Team,
I am overwhelmed with so much information on Crete. My boyfriend and I would love to visit Crete in May this year (first 2 weeks of May - our dates will be May 1-14). I have read so much about the western side of Crete and I would love to explore there. Some places that we would love to see are: Elafonisi Kreta, Gramvousa and Balos Islands, Samaria Gorge and probably Knossos Palace, Rethymnon and Chania.
Are these all possible in 2 weeks time? We will most probably arrive at Heraklion airport so one night in Heraklion would be nice as well to see the museum.
I hope this is not too much to ask but information on independent travel is quite limited so I need your help with making a sample but manageable itinerary for our trip. Driving is not an option for us. Only buses and public transport is possible for us. So can you please help us with a sample itinerary for 2 weeks using buses and public transport?
I would really appreciate it. Thank you so much.
All the best,
Janina
---
Elafonisi Kreta by Bus

2 Weeks in Crete
Yiasas Janina,
Your holiday in Crete in May sounds wonderful already.
Yes, this itinerary is possible within 2 weeks in Crete, we have put together a suggested trip plan for you and your boyfriend below. It would probably be most convenient to arrive via Heraklion airport HER and depart via Chania airport CHQ. In this way you wouldn't have to back track too much.
The Samaria Gorge is a challenge to do with local buses, but it can be done, as long as you take your time. This is because it is a one-way walk which ends at a remote coastal village with no roads. So you need to take the ferry out. Many companies organise this as a one-day walk and organise all the transport. But you can do it yourselves.
Both Balos Lagoon and Elafonisi Kreta also have day tours to visit them, but we understand you want to do it yourselves, so we have put these notes below.
With all buses in Crete, there is a driver and a ticket collector. This is really helpful because you can talk to the ticket collector about your journey and request your drop off point. They will always help you out and let you know when to get off.
For independent travel such as this, you are going to need a backpack and to pack light. Generally, less than 12 kg is a good idea, but it depends on your frame and fitness. Because you are going to walk the Samaria Gorge (16 km) you will need to pack with this in mind.
As we do not know what your accommodation preferences are, we have suggested some mid-range places below. Of course in each location there are budget and luxury options available.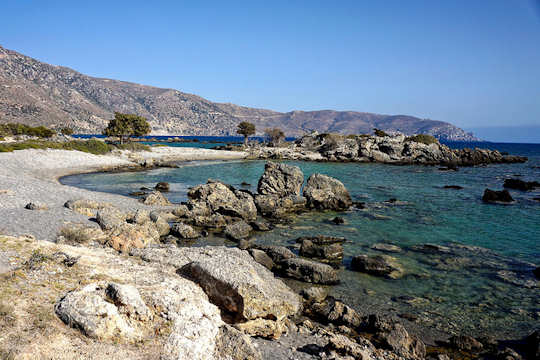 ---
Your Personal Trip Plan

2 Weeks in Crete

Day One - 1 May
Arrive Heraklion Airport
Take local bus into town
Stay at Mirabello Hotel
Day Two - 2 May
Visit Knossos Archaeological site early in the morning
Take the local bus No 2 from 1821 Avenue (blue city buses)
Allow 2 hours to visit
Take same bus back (20 -30 minutes)
Lunch in Heraklion town - visit the Koraii district
Afternoon visit to the Heraklion Archaeological Museum
Allow 3 hours to visit
Dinner (we suggest Peskesi)
Stay in Heraklion
Stay at Mirabello Hotel

Day Three - 3 May
Take the local bus to Agia Pelagia from Bus Station A (near port)
Or choose to stop at Bali Beaches or Panormos
These are all on the main road - take the bus marked 'Heraklion to Rethymnon'
Stay Agia Pelagia - Andy's Plaza
Stay Bali - Studio Joanna
Stay  Panormos - Captain's House
Day Four - 4 May
Bus to Rethymnon town
Stay within the walls of the old town
Stay at Afrodite Hotel
Day Five - 5 May
Take the bus from Rethymnon to Georgioupolis
These studios are right on the beach out of the village of Georgioupolis but within walking distance
Stay at Poseidon Studios
Day Six - 6 May
Bus from Georgioupolis to Chania town
Stay within the walls of the Old Town
Stay at Pension Eva
Day Seven - 7 May
Early bus from Chania to Omalos
Walk the Samaria Gorge 16 km to Agia Roumeli
Stay Agia Roumeli
Stay at the Gigilos Hotel
Day Eight - 8 May
Take the ferry from Agia Roumeli to Sougia
Stay in Sougia
Stay at Galini Studios
Day Nine - 9 May
Take the ferry from Sougia to Palaiochora
Stay in Palaiochora
Stay at Aris Hotel or Haris Studios
Day Ten - 10 May
Day trip to Elafonisi Kreta
Boat trip with Captain Manos: www.boattrip.gr
Stay in Palaiochora
Stay at Aris Hotel or Haris Studios
Day Eleven - 11 May
Visit Palaiochora beaches or Gavdos Island
Stay in Palaiochora
Stay at Aris Hotel or Haris Studios
Day Twelve - 12 May
Take the local bus from Palaiochora to Kastelli-Kissamos
Stay at Delfini Hotel Apartments
Day Thirteen - 13 May
Visit Balos Lagoon
Local motor scooter hire or boat trip
Boat trip with Cretan Daily Cruises from Kissamos Harbour
Take local bus from Kissamos to Chania
Stay in Chania
Stay at Pension Eva
Day Fourteen - 14 May
Bus from Chania town to Chania Airport
Depart Chania Airport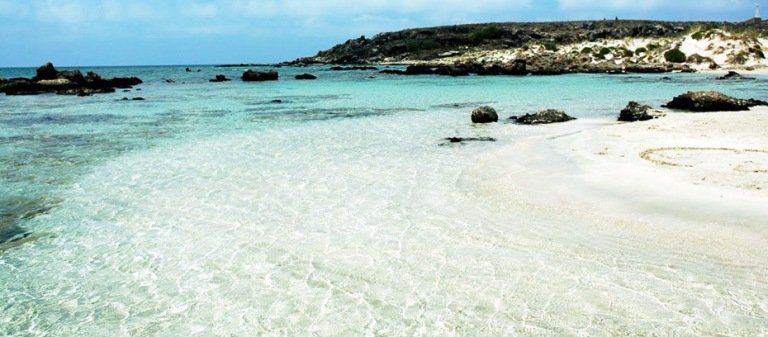 Elafonisi Beach has clear turquoise waters and fine sand
---
2 Weeks in Crete
Information Pages
Information pages you will need for your trip to Crete.

---
Getting Here
Take a 1 hour flight from Athens to Heraklion with Aegean Airlines or Olympic Air, with many flights available per day.
Or take a 9.5 hour overnight ferry from Pireaus port of Athens to Heraklion port.
More on flights and ferries below.
---
Your Holiday in Pictures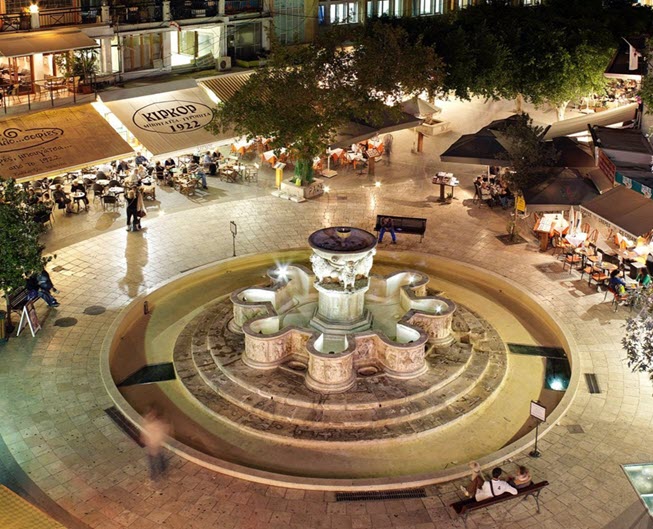 In Heraklion visit the 'Liondaria' Fountain and enjoy the hubbub of the pedestrian streets and cafes.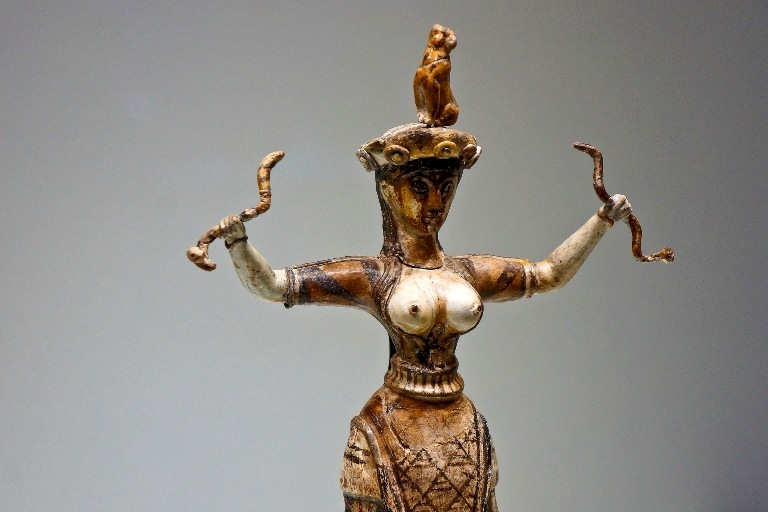 Visit Heraklion Archaeological Museum to see the impressive finds from all over the island - including the Minoan Snake Goddess statuette.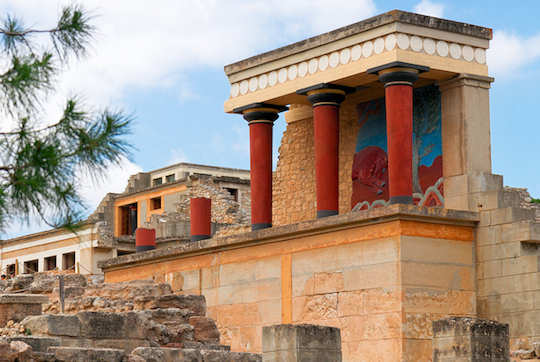 Visit Knossos Palace to uncover the stories of one of the oldest civilisations in Europe.

The budget Mirabello Hotel is handy to the centre of town, to the old port and modern port, as well as to the bus stop. The rooftop view looks over the sea.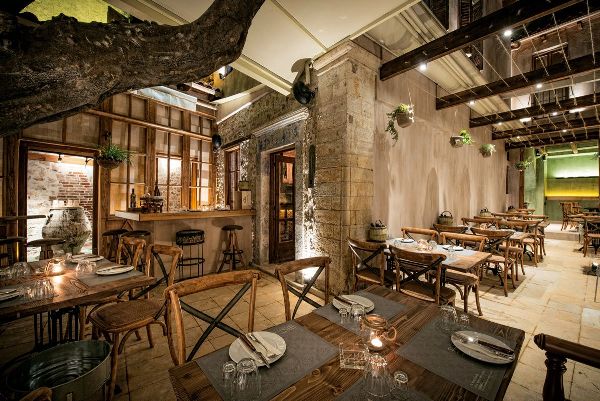 Visit Peskesi Restaurant in Heraklion to enjoy traditional food with modern style, based on pure local ingredients.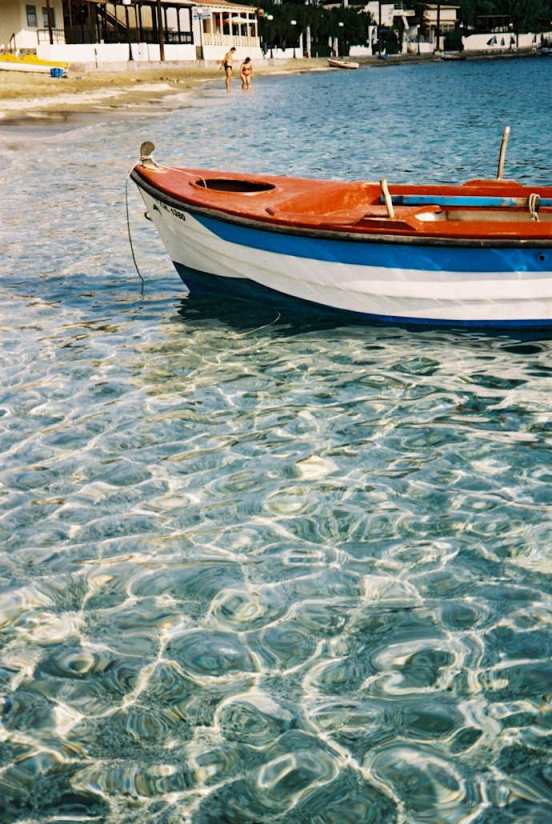 Enjoy the clear waters of Agia Pelagia on your way to Rethymnon from Heraklion.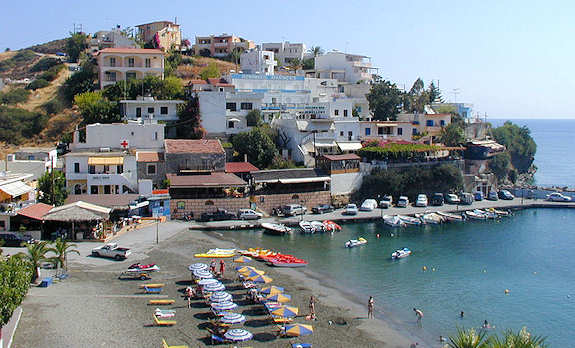 At Bali in Crete there are 5 pretty coves to choose from.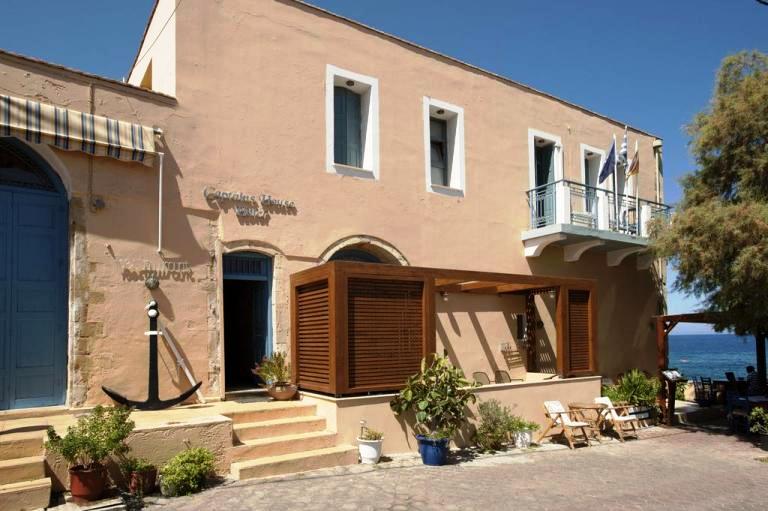 Captain's House in Panormos is right next to the sea.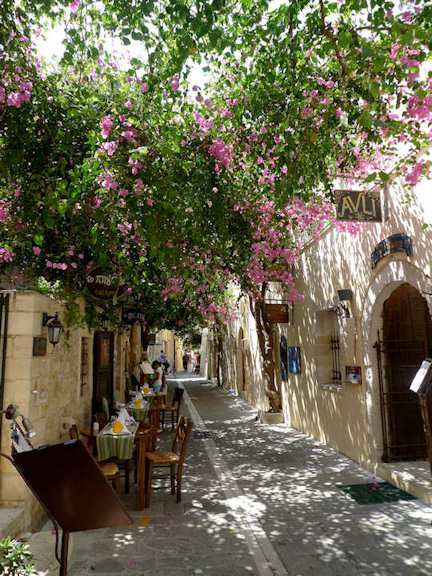 Enjoy the narrow streets of Rethymnon Old Town.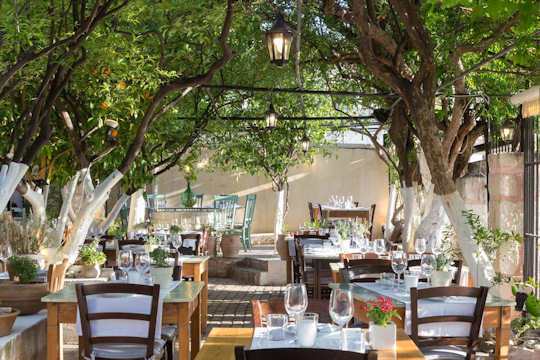 Dine at Lemonokipos Restaurant in Rethymnon in the relaxing courtyard under the lemon trees.


Georgioupolis Beach is wide and sandy.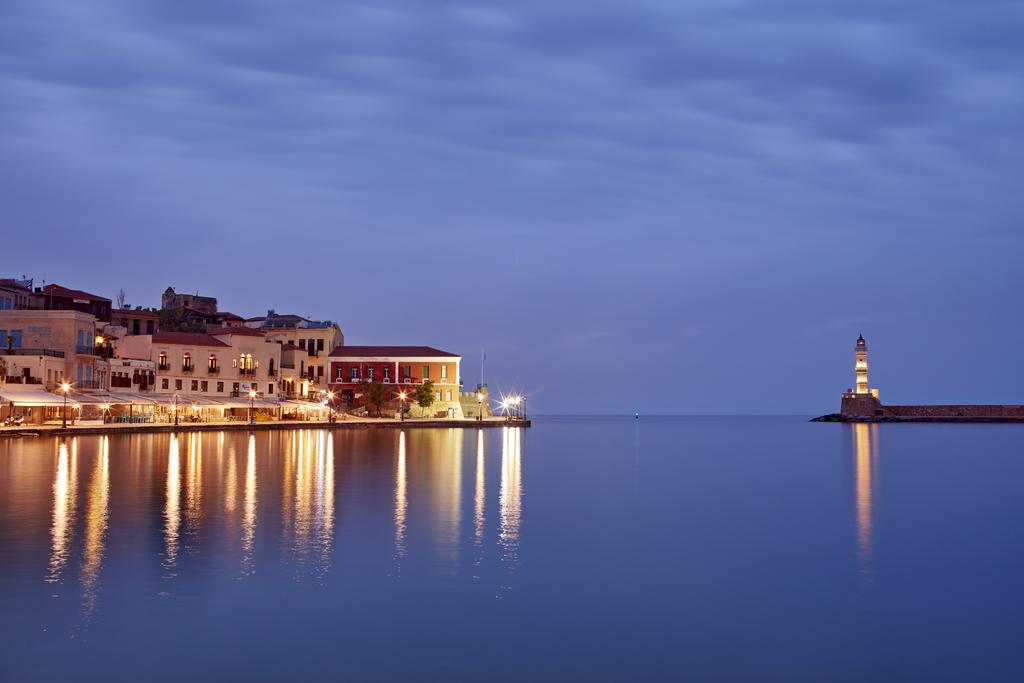 Enjoy the romance of the Old Harbour at Chania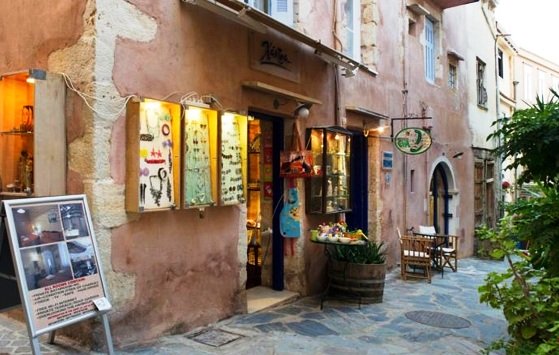 Pension Eva is a small cosy pension located in the narrow streets of the Old Town of Chania. See the entrance on the left just past the boutique, next to the old wine barrel.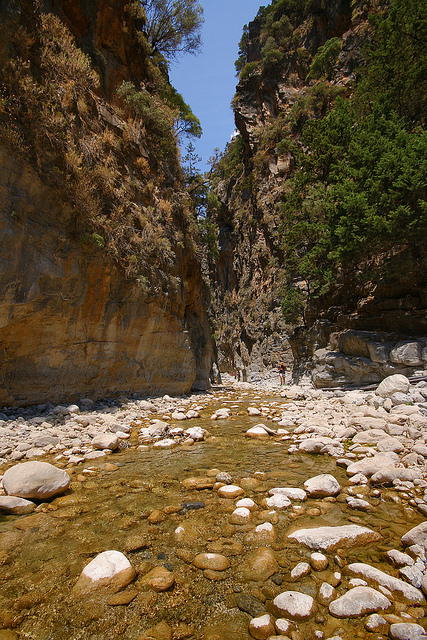 Hike the Samaria Gorge - get into the heartland of Crete.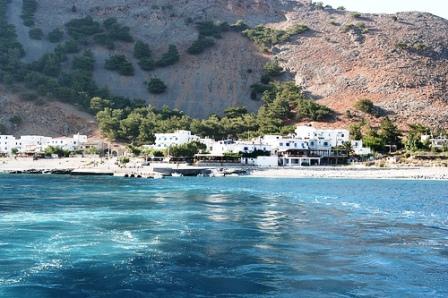 Stay at Agia Roumeli and take the ferry out the next day.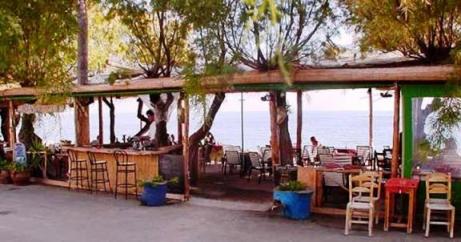 Enjoy laid back beach side tavernas in Sougia, on the south coast of Crete, get there by ferry.

Take the ferry to Palaiochora, which sits on a peninsula surrounded by beaches.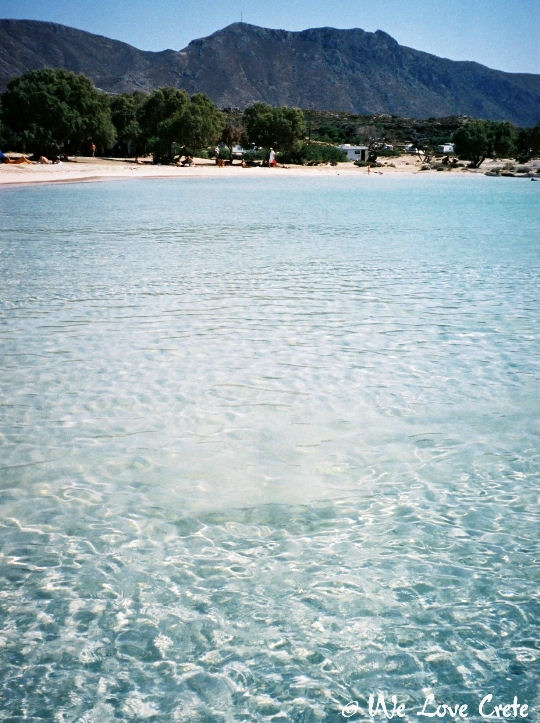 Visit Elafonisi Kreta easily from Palaiochora, enjoy the pure natural environment and crystal clear waters.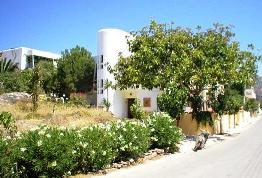 The family-run Aris Hotel in Palaiochora provides a warm welcome with true Cretan traditional hospitality. Arrange your trip to Elafonisi Kreta from here easily.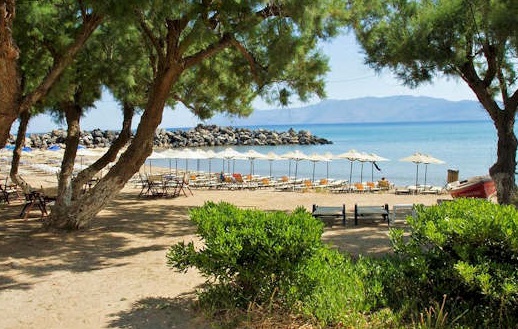 Kastelli-Kissamos is a very Greek town surrounded by many beaches.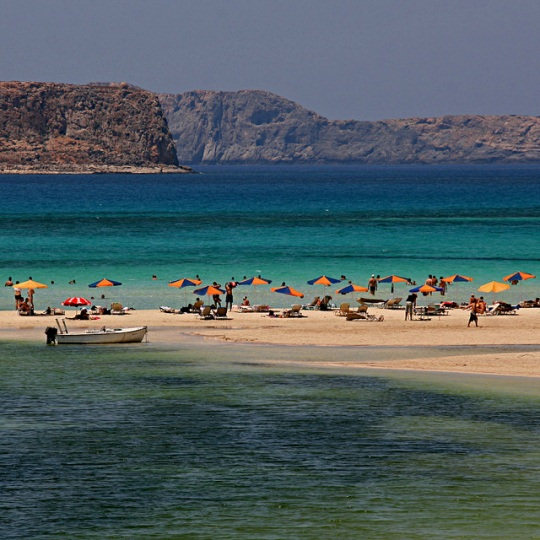 Visit the extraordinary Balos Lagoon by boat from Kissamos. Enjoy the azure waters and wide open spaces.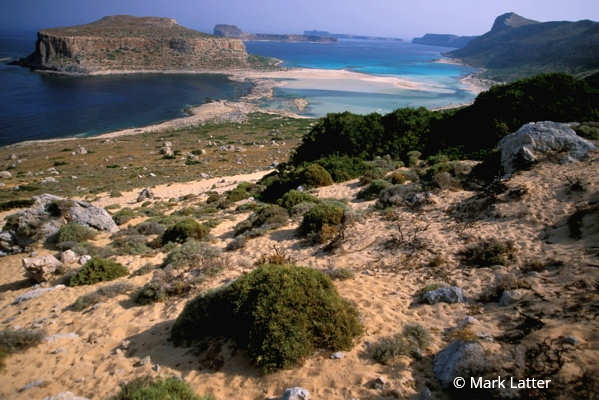 The shallow sandy lagoon is protected by Gramvousa Islet.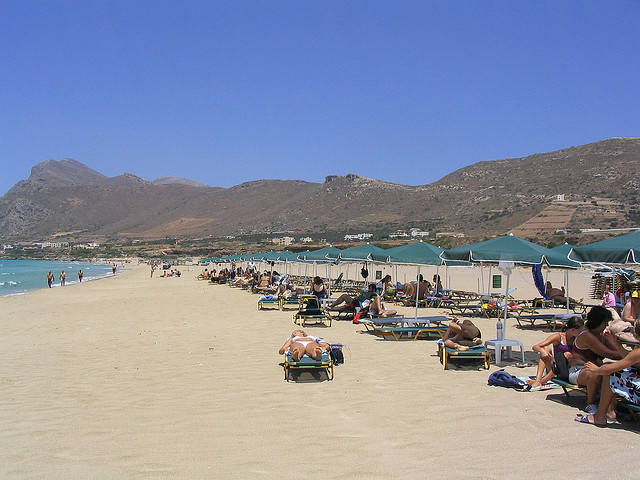 Visit the wide sandy beaches of Falasarna easily from Kissamos by bus