Crete Santorini Naxos
A Greek Family Holiday

This page may contain affiliate links, see our disclaimer here.

---
Visit a traditional Cretan farm

Crete Santorini Naxos - a family holiday

Hi, what a great site! My family is travelling to Greece August 24th - September 6th. We are thinking to spend the 25th in Athens and take an over night ferry to Crete to the port in Chania on the 26th. Between myself, wife and kids we have a range of desires for this trip.
I am interested in visiting Elafonisi and Matala. My wife wants to explore the Minoan ruins and my girls (7 and 11) want to spend a day at the Water Park. We were thinking to spend 5 days on Crete and then move on to Santorini or Naxos for another 4 days. I'm thinking maybe we should give Crete our full attention and visit the Cyclades on another trip.
Would you have any suggestions for an itinerary that could make everybody happy not be too rushed and balance culture and nature? Also do you think we would be better off renting a car or using public transportation?
I spent a good bit of time travelling through the Greek islands myself in the 80's and I loved the smaller less touristed islands. I'd love to be able to stay for some part of our trip someplace that is authentically Greek and share that experience with my family. Any suggestions would be greatly appreciated.
Thanks in advance, Tony
---
Crete Santorini Naxos


Hi Tony, you have a wonderful family holiday planned and certainly the children will remember this trip very well.
You have set aside a good amount of time and we believe it will be possible to see Crete, Santorini and Naxos, without being too rushed.
Because you have chosen Elafonisi Beach and the Limnoupolis Water Park (see details below), this means you have chosen the west side of the island. We generally advise visitors to choose either west or east and concentrate on that side of the island to make it more relaxing.
Departures for Santorini and Naxos leave from Heraklion, this is also the location of Knossos and the closest port to Matala. So you will concentrate on the west then the centre of the island.
We are not sure if you would leave the kids for the day at the Water Park, and perhaps head off to Elafonisi for the day, or accompany them to the Water Park. We have included both options below.
Another option instead of the water park is the Agreco Farm which gives the experience of a farm for a day and has the Kri Kri local goats for the kids to see (photo above) - loads of activities etc. It is located outside of Rethymnon town at Adele. www.agreco.gr
We are not sure if you would stop at Santorini, but it seems a shame to be so close and not visit – even just for one night. We have included this option.
So, we have created an itinerary below for you based on your ideas. Of course it is only a suggestion.
We have chosen mid-range accommodation as you are a family. There are, of course, many options in each place. Remember this is high season so you must book ahead.
This itinerary is completely possible with public transport and day tours. However, it is also possible with a hire car, which of course will provide greater flexibility.
Crete Santorini Naxos - Your Personalised Itinerary
Day One – 26th August
Arrive Chania port
Taxi to Chania town (early check in or drop bags at hotel)
Explore Chania Old Town and harbour
Stay Chania
Stay at El Greco Hotel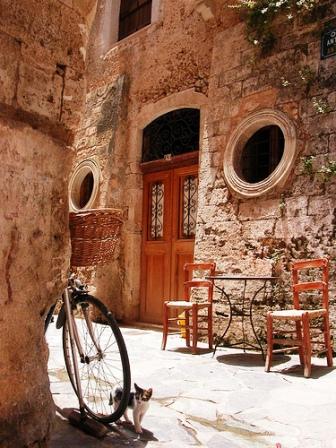 Day Two – 27th August
Day Trip to Elafonisi Beach / Water Park
Stay Chania
Stay at El Greco Hotel
Day Three – 28th August
Day Trip to Elafonisi Beach / Water Park
Stay Chania
Stay at El Greco Hotel

Day Four – 29th August
Depart Chania
Arrive Heraklion
Visit Knossos (2 hours)
Visit Archaeological Museum Heraklion (1-2 hours)
Stay Heraklion
Stay at Mirabello Hotel
Or stay in Arhanes Village
Stay at Arhontiko Studio

Day Five – 30th August
Depart Heraklion
Visit Minoan site of Phaistos
Arrive Matala
On the beach in Matala
Stay Matala
Stay at Nikos Hotel

Day Six – 31st August
On the beach in Matala
Stay Matala
Stay at Nikos Hotel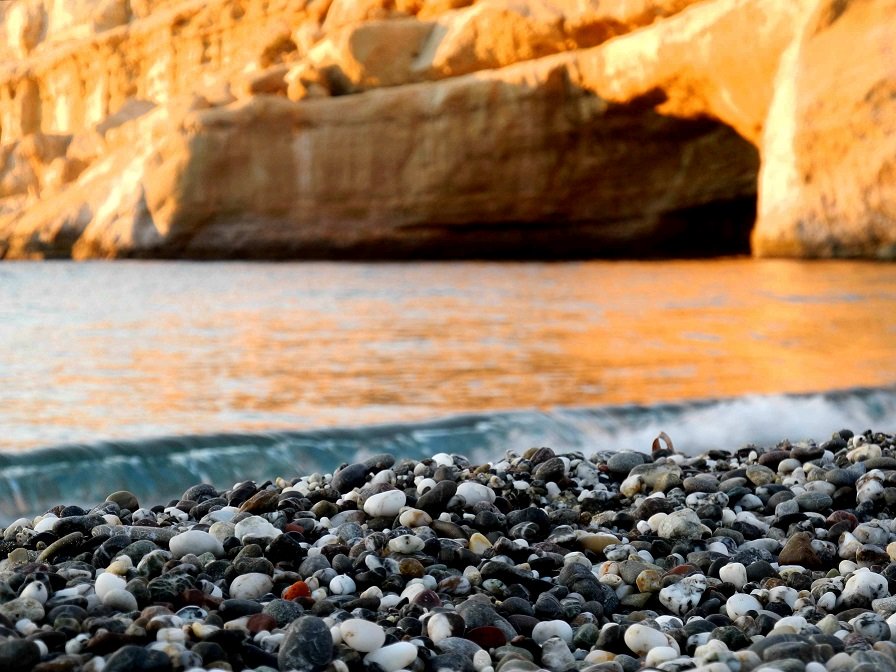 Explore the ancient caves at Matala Beach, Crete
Day Seven – 1st September
Depart Matala
Arrive Heraklion
Depart Heraklion via Ferry
Travel to Santorini (2 hours)
Stay Santorini
Stay at Villa Elkaza

Day Eight – 2nd September
Depart Santorini for Naxos (2 hours)
in Naxos
Stay at Plaza Beach Hotel, Plaka
Day Nine – 3rd September
in Naxos
Stay at Plaza Beach Hotel, Plaka

Day Ten – 4th September

In Naxos
Stay at Plaza Beach Hotel, Plaka

Day Eleven – 5th September
In Naxos
Stay at Plaza Beach Hotel, Plaka

Day Twelve – 6th September
Depart Naxos to Athens (to Pireaus or Rafina Port - less than 4 hours)



Crete Santorini Naxos
Limnoupolis Water Park is located at Varipetro, 8.2 km inland from Chania, Crete. It is a day park full of pools of all sizes, rides, slides and fun for the whole family. Take the local bus, a pre-booked taxi or your own hired car. Spend the whole day or combine it with a drive into Theriso Gorge and see Theriso Village.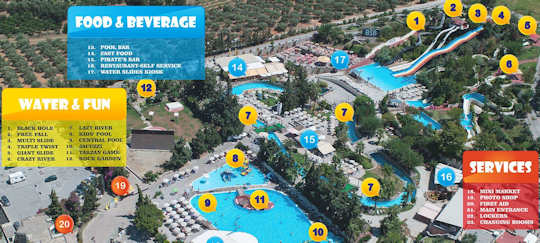 Limnoupolis Water Park near Chania, Crete
---
Information Pages
Crete Santorini Naxos - information pages for your holiday are below.

---
Explore the Caves at Matala

Crete Santorini Naxos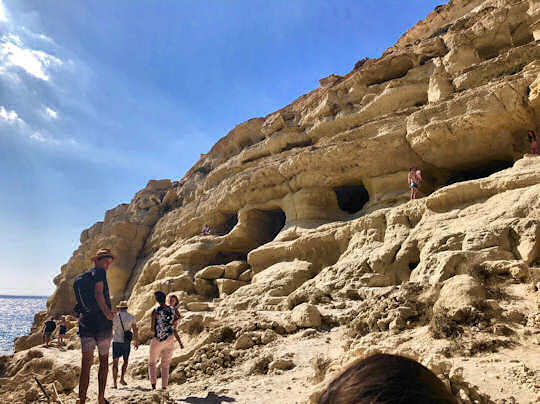 This sparkling bay and fascinating caves make a perfect day out for the family.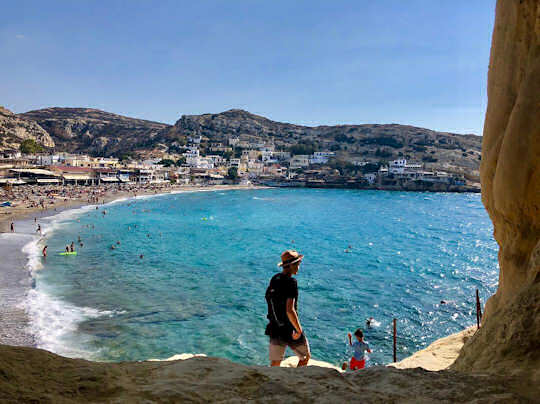 The small cove of Matala has a beautiful beach with clear waters which are good for swimming and snorkelling. The sand and pebble beach is beautiful and has views to the peninsula with its unusual rock formations and caves.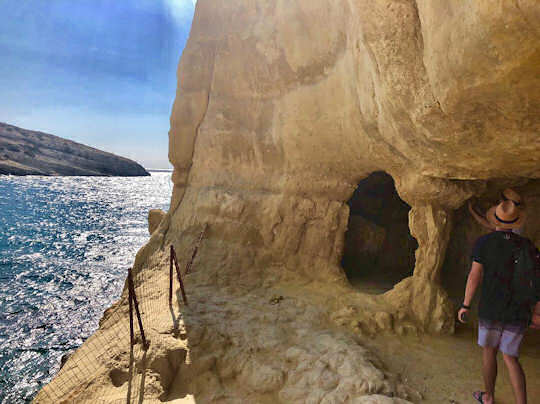 Keep young children close, but let them explore these intriguing caves where history comes alive.

Explore the Beaches of Santorini
Crete Santorini Naxos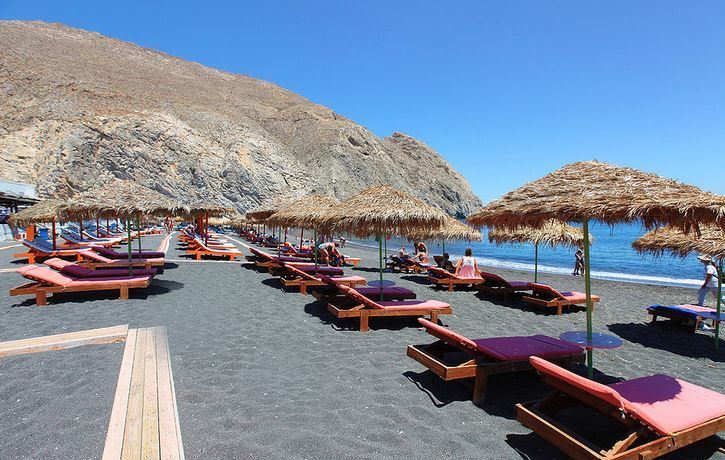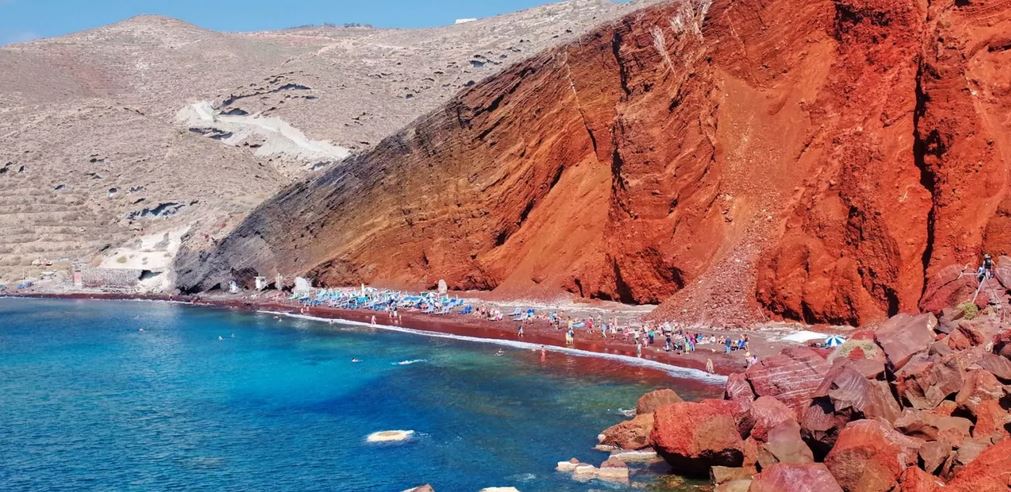 ---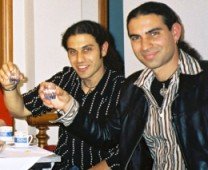 "We trust you have enjoyed these tips from the team at We Love Crete. Evíva!"
Contact us with further questions or feedback. We love to hear about your travels in Kríti and Greece. Let us know of any updates or additions, errors or omissions. Help us make this website the best it can be. Kaló Taxidí!

---