Chania Sougia Samaria Loutro Knossos

This page may contain affiliate links, see our disclaimer here.

---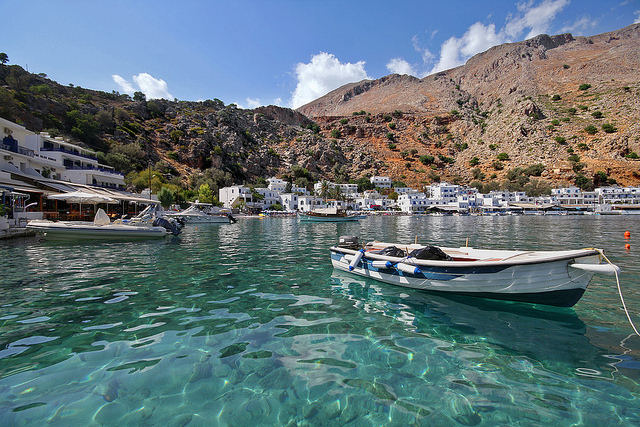 Chania Sougia Samaria Loutro Knossos - many visitors ask us their questions and we are more than happy to help. We answer our visitors' questions.



Chania Sougia Samaria Loutro Knossos
Hi, we plan to visit Crete for 2 weeks, arriving in Chania on the 28 September and departing from Heraklion on 13 October. We have booked first 3 nights in the Doge hotel in Chania old town; that is all so far.

We had originally thought of doing a self-guided 8-day walking tour, we have now decided to arrange our own itinerary, as we want to have rest days in between, to explore the places we stay. I have done so much reading now, I am not sure what is best. Could you please help us with some suggestions?

Our thoughts are - after Chania go to Agia Irini gorge and then stay two nights in Sougia, go to Omalos and walk the Samaria Gorge, then stay two nights in Agia Roumelli, walk to Loutro and stay a couple of nights and then go to Sfakia.

We plan to go to Knossos, probably at the end, when we be in Heraklion. After Loutro, we thought maybe we would visit Rethymnon and we are open to suggestions. Apart from enjoying the natural beauty with walks and swimming etc., we love to absorb the local culture and spend time in local villages. We also would like to see some of the historical sights.

Our other question is how to get our baggage from place to place if we are organising our own walks in between? Any suggestions? We thought we might have to leave our main luggage in Chania and just take enough for the 6 or 7 days we will be walking from village to village or maybe someone can transport it?

All suggestions welcome as we are very open to any ideas.

Many thanks

Maddie

Balos Lagoon is a hidden pirate cove
---
A Customised Itinerary for Crete Including Walks


Yiasas Maddie,

Thank your for your questions about Greek Island Crete. This is a very interesting itinerary and we can understand your dilemma about luggage. Perhaps just pack your backpacks light and easy enough to carry on a walk. Or leave your luggage in Chania and return to it. We have put the return to Chania in the itinerary below.

After walking Agia Irini Gorge you will be on the coast. So from there it is best to take the ferry to Agia Roumeli, which places you at the coastal 'end' of the Samaria Gorge. The other option is to walk back up the Agia Irini Gorge and get a bus to Omalos Plateau, which is very difficult even in summer season and in October will be nearly impossible, which only means you could book a taxi for this section. Still, the easiest solution is to take the ferry and walk from Agia Roumeli up into the Samaria Gorge for as long as you like, then return. A different way to experience the Gorge, but just as beautiful. We have put it the simpler solution in your itinerary below.

After experiencing the south coast it will be nice to explore Rethymnon, one other destination then Heraklion. We have chosen Agia Pelagia as it is a beautiful beach between these two towns. However you could choose a rural village such as Archanes or Margarites. It is your choice.

In each place we have chosen mid to high accommodation options. Of course there are many different options in each place. As October is after the high season it is expected and easy to negotiate a decrease on your room rates. Just ask politely and be persistent and realistic.

The bus timetables in October are generally less frequent than summer. Do not trust the timetables online as they still may show summer frequencies. Always check first. Check at your hotel or phone the bus company – most of the time someone will speak English. More about the bus info here

Chania Sougia Samaria Loutro Knossos - please see our suggestions below.
Day One - 28 Sep
Arrive Chania
Stay Doge Traditional Hotel

Day Two - 29 Sep
Explore Chania Old Town
Stay Doge Traditional Hotel

Day Three - 30 Sep
Explore  some exquisite beaches – Gramvousa & Balos Lagoon
Pre-booked day tour to Gramvousa and Balos Lagoon
Stay Doge Traditional Hotel

Day Four - 1 Oct
Leave luggage at hotel
Take walking packs
Bus to Agia Irini Gorge (it goes twice a day in high season – double check the times in Oct)
Walk the gorge 12 km
Arrive Sougia
Stay Santa Irene on the beach

Day Five – 2 Oct
Relax at beach Sougia
Stay Sougia
Stay Santa Irene on the beach

Day Six – 3 Oct
Ferry to Agia Roumeli
Walk part Samaria Gorge and return
Arrive Agia Roumeli
Stay Hotel Gigilos

Day Seven – 4 Oct
Relax at beach
Stay Agia Roumeli
Stay Hotel Gigilos

Day Eight – 5 Oct
Walk coastal path to Loutro 13 km
Stay Loutro
Stay Niki Studios

Day Nine – 6 Oct
Relax at beach
Stay Loutro
Stay Niki Studios

Day Ten – 7 Oct
Take ferry to Chora Sfakion
Take bus from Chora Sfakion to Chania
Pick up left luggage
Stay Chania or
Take bus to Rethymnon
Stay Rethymnon
Stay Palazzino di Corina

Day Eleven – 8 Oct
Explore Rethymnon Old Town
Stay Rethymnon
Stay Palazzino di Corina

Day Twelve – 9 Oct
Bus Rethymnon to Agia Pelagia
Relax at beach
Stay Agia Pelagia
Stay Out of the Blue Resort

Day Thirteen – 10 Oct
Relax at beach
Stay in Agia Pelagia
Stay Out of the Blue Resort

Day Fourteen – 11 Oct
Bus Agia Pelagia to Heraklion
Explore Heraklion town
Stay Lato Hotel

Day Fifteen – 12 Oct
Pre-booked day tour to Knossos
Or take the local bus and visit Knossos
Visit Heraklion Archaeological Museum
Stay Heraklion
Stay Lato Hotel

Day Sixteen – 13 Oct
Depart Heraklion
---
Chania Sougia Samaria Loutro Knossos
Information Pages for Your Trip

Greek Island Crete - info pages for planning your journey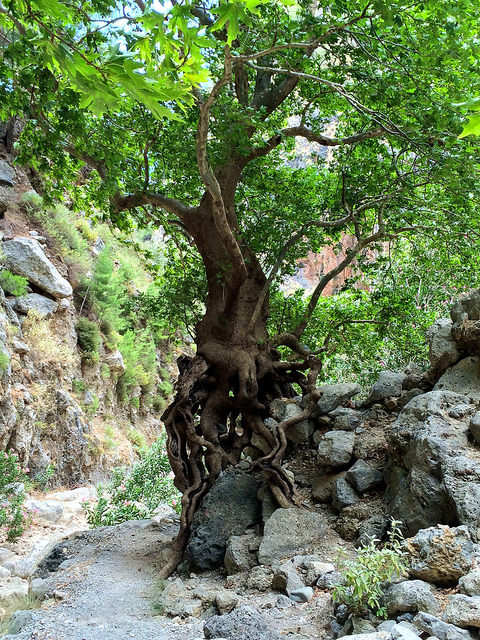 Agia Irini Gorge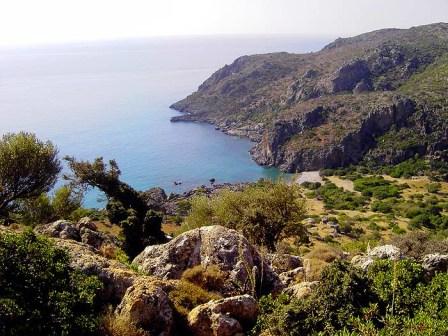 Lissos Ancient Site, near Sougia
---
Chania Sougia Samaria Loutro Knossos
Your Itinerary in Pictures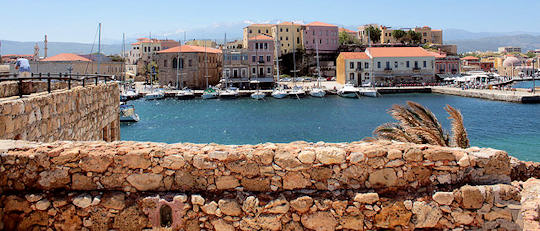 Greek Island Crete - Looking over Chania Harbour to the White Mountains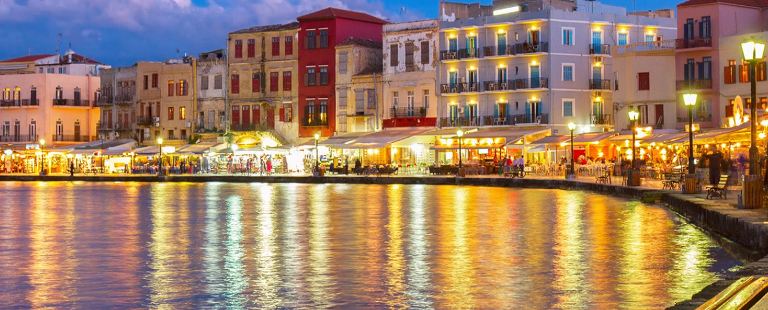 Chania Old Town - the lights on the limani at dusk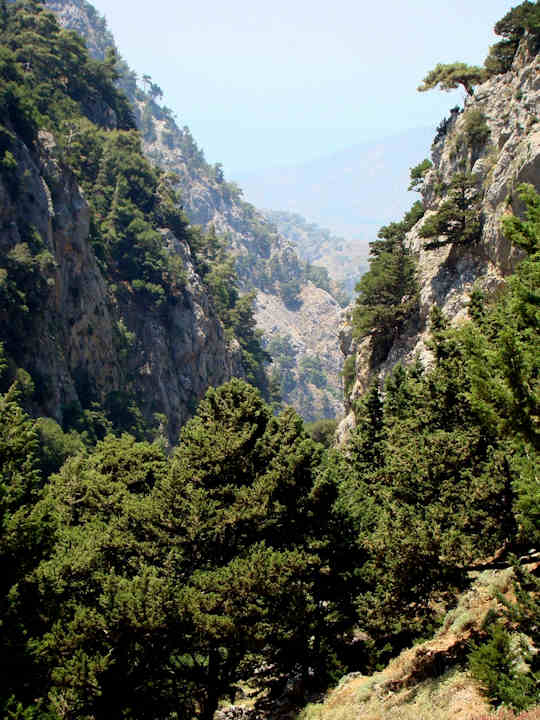 Agia Irini Gorge is a 12 km hike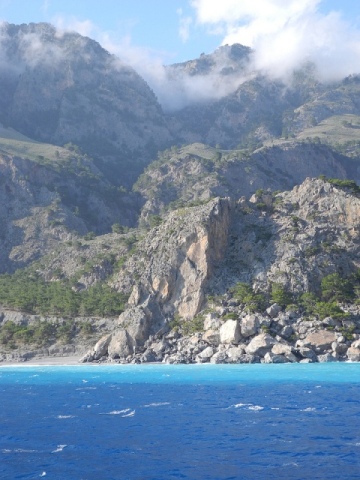 Take a ferry along the south coast of Crete - view the White Mountains falling into the sea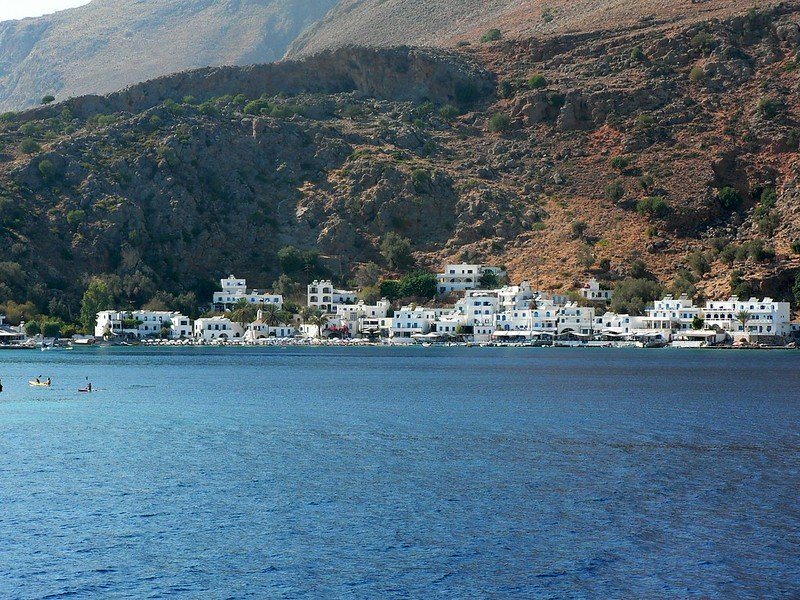 Arrive at Loutro by foot or by sea only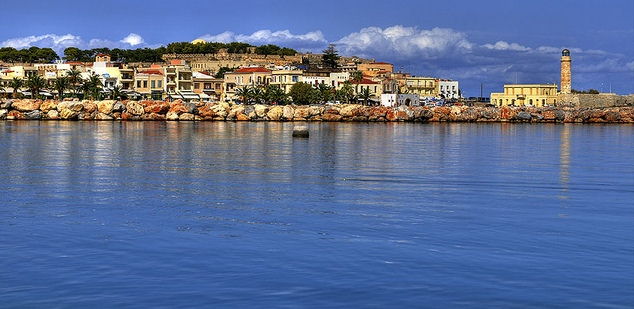 Rethymnon Harbour and Old Town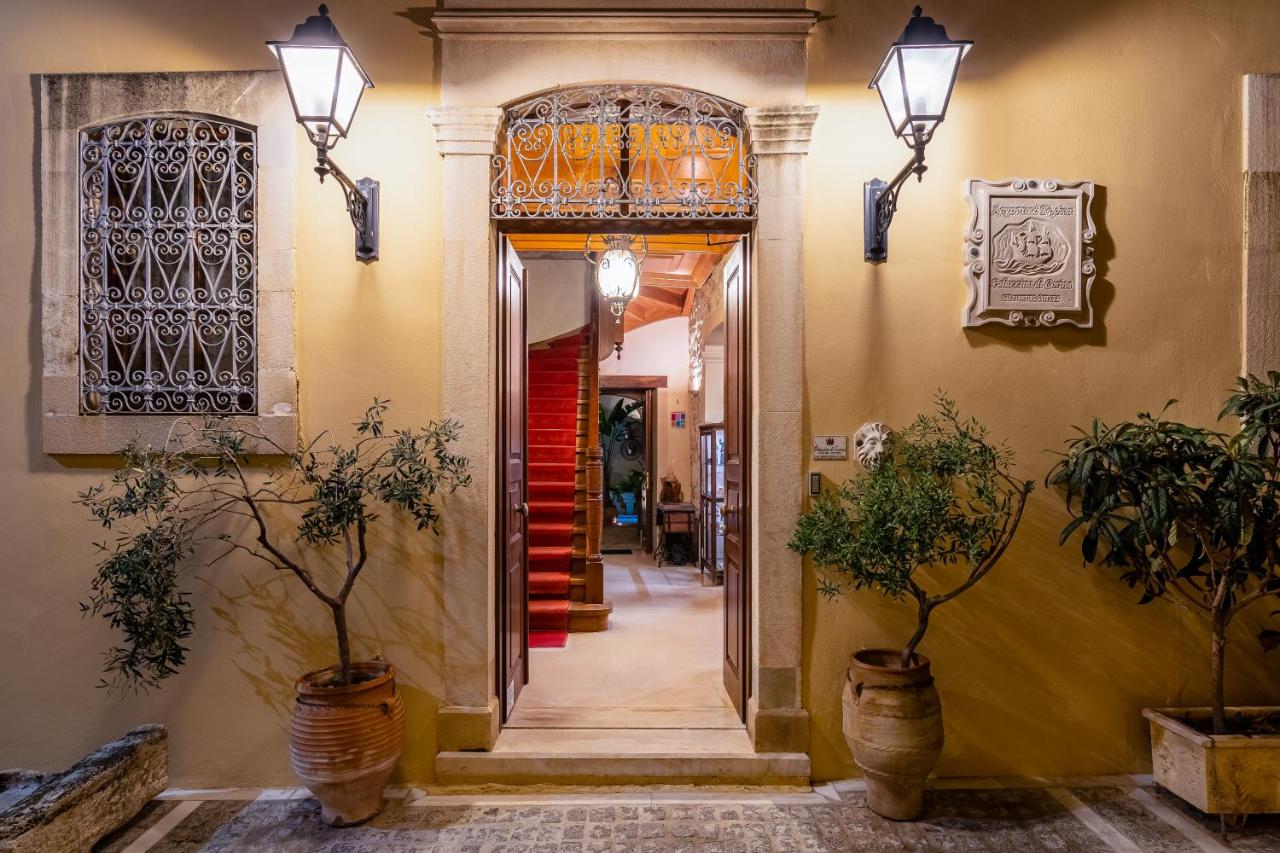 The Palazzino di Corina (above) is a traditional-style, atmospheric guesthouse within the walls of the Old Town of Rethymnon, Greek Island Crete.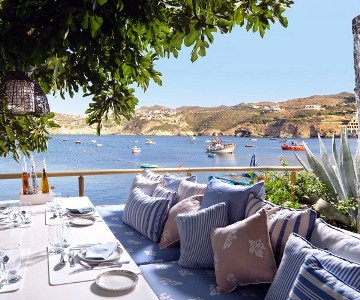 Sit at this outdoor restaurant at the Out of the Blue Resort overlooking Agia Pelagia Bay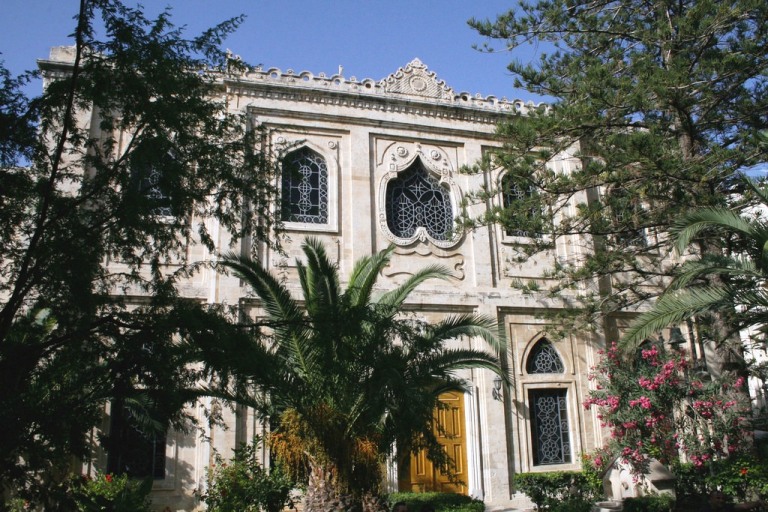 Heraklion has some lovely plateias, pedestrian streets and churches to discover
Greek Island Crete - some helpful tips for your own planning - amend these ideas to suit your own - this will allow your own independent travel experiences in Kriti.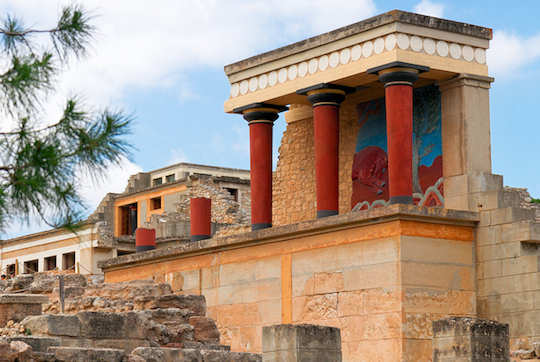 Knossos Palace archaeological site is partially reconstruted showing an idea of what it might have looked like in ancient times
---
Getting To Crete
Take a 1 hour flight from Athens to Heraklion with Aegean Airlines or Olympic Air, with many flights available per day.
Or take a 9.5 hour overnight ferry from Pireaus port of Athens to Heraklion port.
More on flights and ferries below.
Car hire in Crete is a really good idea as it is a large island 60 km by 260 km. There is so much to explore.
When you book with our car rental partners - Rental Centre Crete - you are supporting a local company with excellent service and an easy online booking procedure. We are sure you will be well looked after by the team. Choose from hybrid or non-hybrid vehicles.
---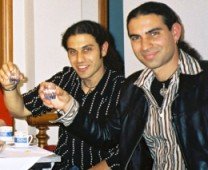 "We trust you have enjoyed these tips from the team at We Love Crete. Evíva!"
Contact us with further questions or feedback. We love to hear about your travels in Kríti and Greece. Let us know of any updates or additions, errors or omissions. Help us make this website the best it can be. Kaló Taxidí!

---
Chania Sougia Samaria Loutro Knossos