Crete to Mykonos Ferry

This page may contain affiliate links, see our disclaimer here.

---
A Honeymoon Itinerary


Crete to Mykonos Ferry
A Trip in Crete - We Answer our Visitor's Questions
From Crete travel to Mykonos with 10 nights in Greece, flying in from Rome to Athens then to Crete, by ferry to Santorini and then by ferry to Mykonos this will be a honeymoon to cherish always.

"Hi, I just love your site. As part of our honeymoon, my partner and I will be flying from Rome to Greece on 29 May and want to spend 10 nights in Greece visiting Crete, Santorini and Mykonos.
What are your suggestions on how we do this?"
Emily, Australia


---
10 Nights in Crete, Santorini & Mykonos


Yiasas Emily,
Well, you have ten nights to see three of the most beautiful islands in Greece for your romantic honeymoon. How exciting! Here are our tips.
Stay four nights in Crete. With four nights, focus on one geographic area of Crete because it is quite big. The west of the island is very beautiful, so this is the focus below.



| | |
| --- | --- |
| | We have looked into the flights directly from Rome - you need to fly from Rome to Athens, then we would suggest Chania airport in the west. The journey time, depending on your transfer in Athens airport, is approx. 5 hours. We suggest Aegean Airlines for this route. |
Tip - use Chania Airport CHQ


Then later you could fly from Heraklion to Santorini, travel to Mykonos by air and then take a flight back to Athens.

So, the air part of your trip would be as follows:
Rome - Athens - Chania ≠ Heraklion - Santorini - Mykonos - Athens - onwards.
We would suggest one night in the Old Town of Chania just after your arrival, which is very romantic, then a day trip to Elafonisi Beach. Then we suggest you stay in the beautiful Elia Guesthouse & Spa in the little village of Ano Vouves, which is inland yet not far from beautiful beaches.
After two nights there you could make your way to the coastal village of Agia Pelagia which is not far from Heraklion, where you need to take a flight or ferry to Santorini. 5 km from Heraklion is the historic site of Knossos Palace, which is not to be missed. You could do this as a day tour from Agia Pelagia, or self-drive.
A suggested itinerary with accommodation options is below. This itinerary can be travelled via taxi, public transport and transfers or with a hire car.
For pre-booked taxi transfers we suggest our partner Crete Cab. For hire car we suggest our partner Car Rental Centre Crete, where Harry and his team will look after you.
Crete to Mykonos Ferry
There is no direct ferry from Crete to Mykonos. The route would be from Heraklion in Crete to Thira (Santorini) then by ferry on to Mykonos. This is a very common route and you would not need to leave the ferry.
Sailings leave many times a day from Crete to Santorini and on to Mykonos and the crossing time would be around 4-5 hours.

---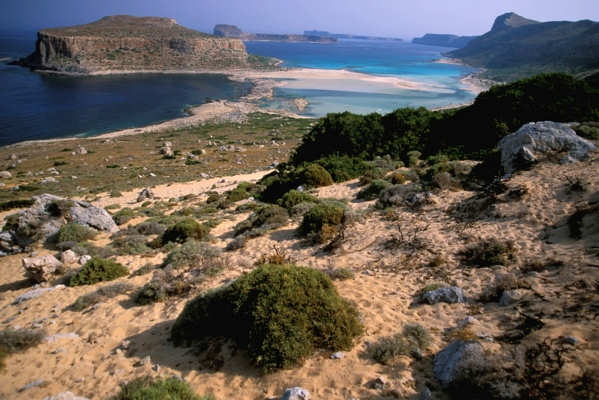 Balos Lagoon - walk in the wild side of Crete
---
Crete to Mykonos Ferry
A Personalised Itinerary

Day One - 28 May
Arrive Chania Airport, take taxi to old town 15 km
Stay at Casa Delfino
Day Two - 29 May
Day Trip to Elafonisi Beach
Or Day Trip to Gramvousa & Balos Lagoon
Stay among the olive groves at Elia Guesthouse & Spa

Day Three - 30 May
Relax at the spa for couples, or in the countryside or  at the beach
Visit Kissamos or Falasarna Beach
Visit ancient olive trees at Ano Vouves
Stay at Elia Guesthouse and Spa
Day Four - 31 May
Travel to Agia Pelagia 145 km
Stay at Out of the Blue Resort
Choose a Guesthouse or Bungalow with Garden or Sea View for total privacy
Possible visit to Knossos Palace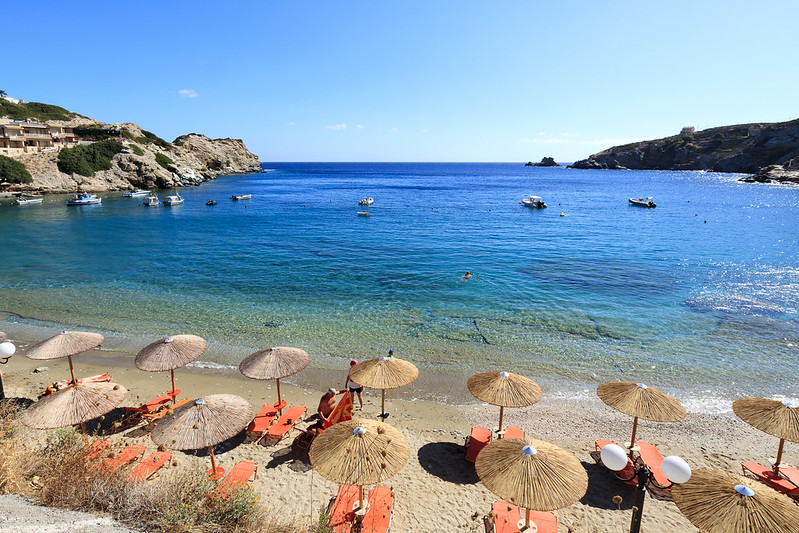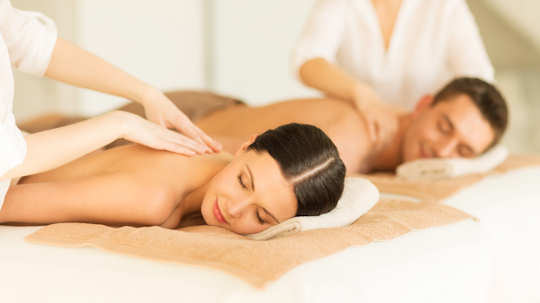 Day Five - 1 June
Enjoy the beaches at Agia Pelagia
or arrange a couple's massage on one of the resort's private beaches
Possible visit to Heraklion town or touring around the region
Stay at Out of the Blue Resort (pictured above)

Day Five - July 2
Ferry to Santorini (under 2 hours)
Depart 8.30am arrive 10.30am
Stay in Oia with magnificent views
Stay at Mystique Boutique Hotel (not to be missed)
Day Six - July 3
Stay in Santorini
Stay at Mystique Boutique Hotel
Day Seven - July 4
Stay in Santorini
Explore Red Beach, Black Beach or take a vineyard tour
Stay at Mystique Boutique Hotel
---
Travel to Mykonos

Day Eight - July 5
Early morning to explore Santorini
Depart 10.45am travel to Mykonos on ferry – arrive 1.05pm
Explore Mykonos Chora
Stay at Christina Studios

Day Nine - July 6
Explore Mykonos Island
Stay at Christina Studios
Day Ten - July 7
Enjoy Mykonos in the morning
Depart to Athens by ferry 2 hours 15 minutes
Depart 14.40 arrive 16.55
Or Depart from Mykonos Airport to Athens by air 40 minutes
There are five departures per day
See our tips for Athens here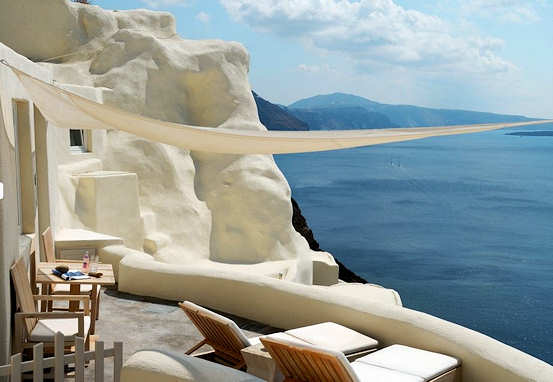 Soak up the views and the unique architecture of Mystique Boutique Hotel in Santorini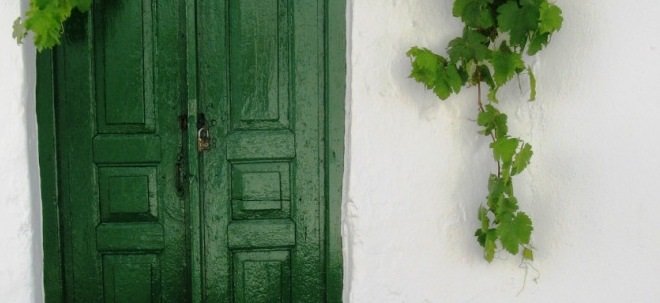 Explore the back streets of Mykonos Chora

Crete to Mykonos Ferry

Travel from Crete to Santorini and travel to Mykonos on your Greek Island hopping holiday or honeymoon with our partner Direct Ferries.
Mykonos is an extraordinary town on a small yet beautiful island. Enjoy your days shopping, visiting cafes and admiring the narrow laneways in Mykonos Chora. Sit by the little harbour and visit Little Venice, gaze at the famous windmills. Did you know they featured at the end of the first Bourne movie?
See our tips for cafes and restaurants in Mykonos here.
Mykonos can get very busy in summer, the narrow lane ways get too crowded. For this reason it is better to visit in shoulder season such as spring and Autumn. I visited in September and enjoyed exploring the architecture at my leisure. I discovered this little courtyard below, which is pristine and historic during the day and the entrance to a nightclub during the night!
This green doorway is a feast for the eye with its green tendril of grapevine against the white wall. Who lives behind it?
Another discovery in the back lanes was the outdoor cinema, a must for movie lovers...so romantic. The little church next to Little Venice is also very romantic

We wish you a memorable honeymoon full of little special moments, love and understanding as you get to know one another amidst the beauty of Crete, Santorini and as you travel to Mykonos...
| | |
| --- | --- |
| | Happy Honeymoon! Ευτυχισμένο Μήνα του Μέλιτος |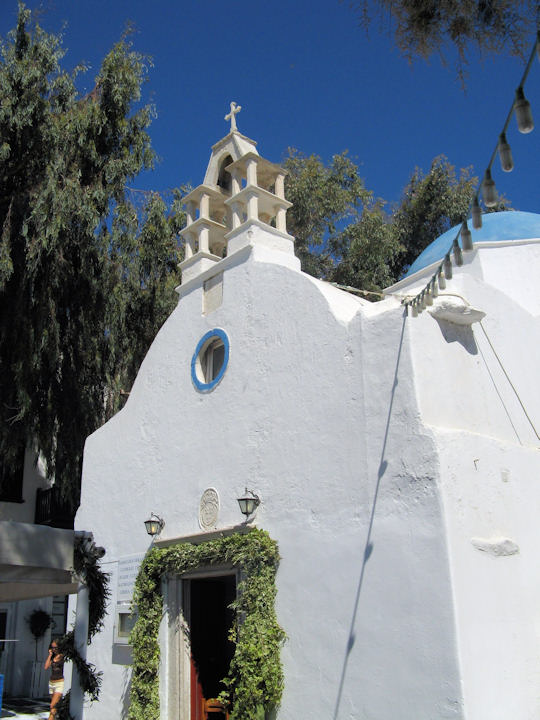 Sweet little church in the courtyard of Little Venice, Mykonos (Catholic Church)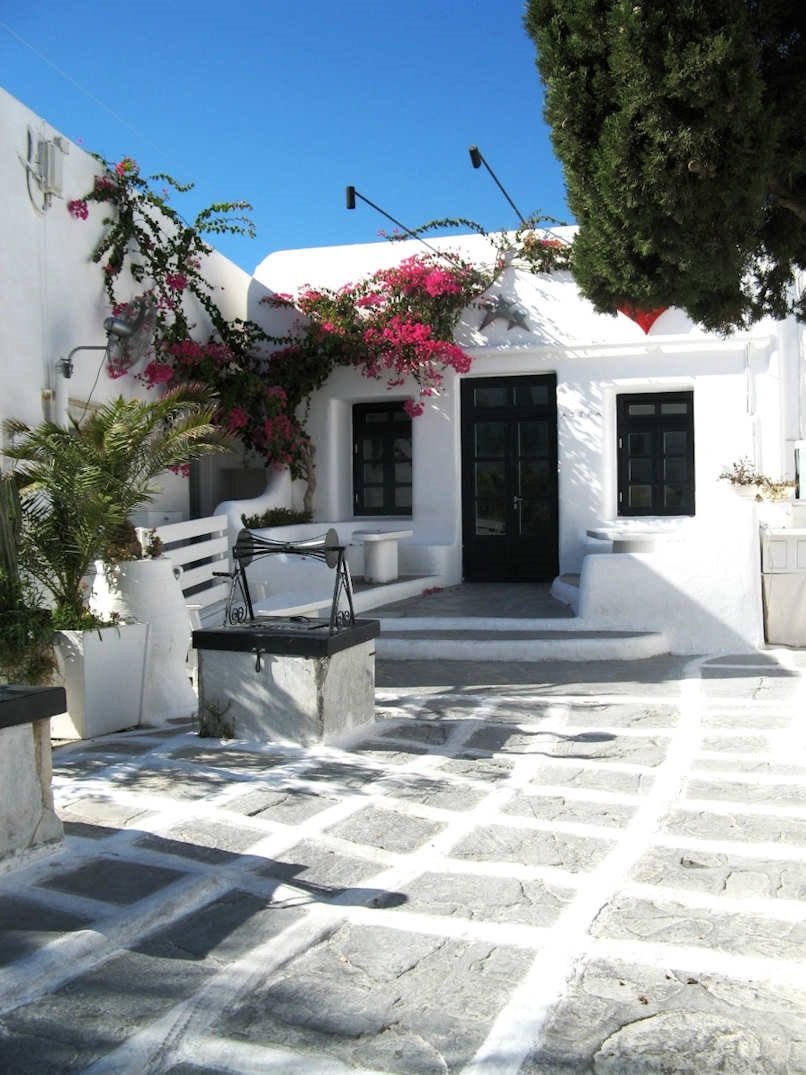 Mykonos courtyard with old well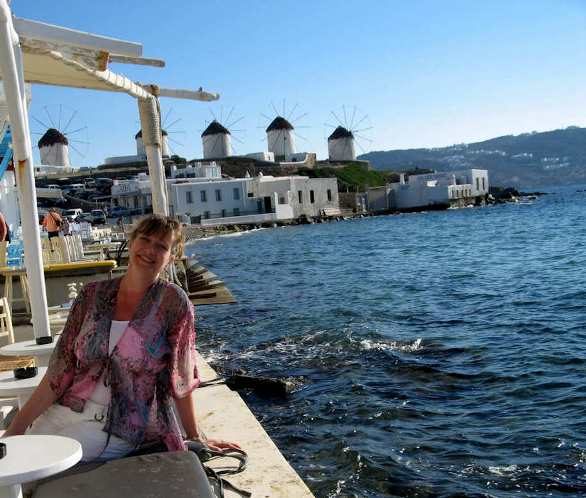 The view from Scarpa Bar in Little Venice, Mykonos, close to the water and front row for the windmills!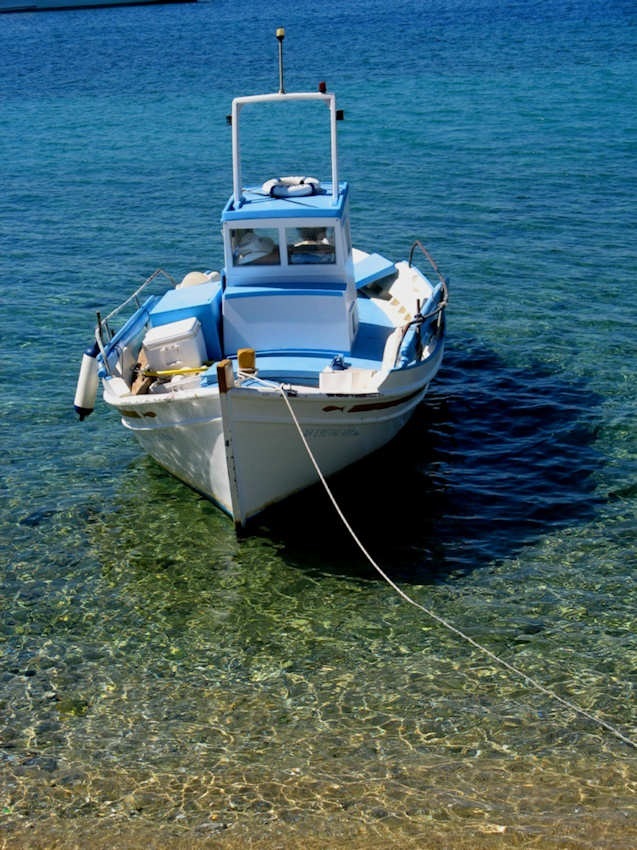 Stunning views are everywhere as you walk around Mykonos Chora
Ferries to and from Mykonos

---
Car Hire in Crete
Car hire in Crete is a really good idea as it is a large island 60 km by 260 km. There is so much to explore.
When you book with our car rental partners - Rental Centre Crete - you are supporting a local company with excellent service and an easy online booking procedure. We are sure you will be well looked after by the team. Choose from hybrid or non-hybrid vehicles.
---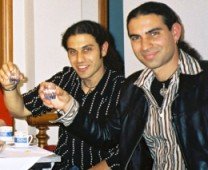 "We trust you have enjoyed these tips from the team at We Love Crete. Evíva!"
Contact us with further questions or feedback. We love to hear about your travels in Kríti and Greece. Let us know of any updates or additions, errors or omissions. Help us make this website the best it can be. Kaló Taxidí!

---