Crete Matala and Rethymnon

This page may contain affiliate links, see our disclaimer here.

---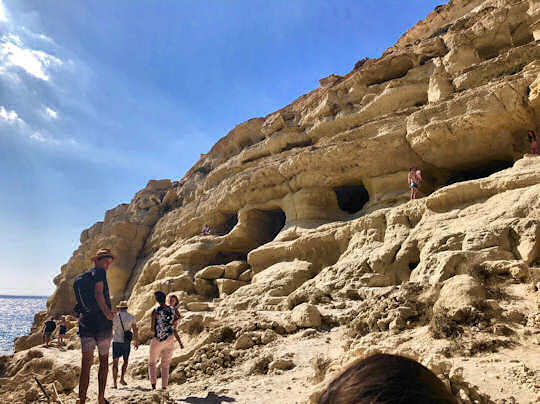 Crete Matala and Rethymnon - a question from a traveller, we provide a personalised trip plan.


A Question from Kay of Australia
We know we want to spend most of our time in Crete, we don't need to spend more than one night in Athens (we have been there before). Can you get from Matala to Rethymnon without having to backtrack to Heraklion? We are interested in beaches, wine, olive oil, small villages and experiencing local culture.


---
Trip Summary


Rethymnon Old Harbour
Crete Matala and Rethymnon
Well, Kay you have a good amount of time to explore Crete, and yes, you can see Heraklion, Matala Beach, Rethymnon and Chania within this timeframe.
June - July
This is the end of spring coming into summer and is an ideal time to visit Crete. The weather will not be too hot and the summer tourism season not yet in full swing. However, we do suggest that you book ahead for your accommodation.

The average high temperature in June is 24°C and average low 18°C, with an average sea temperature of 24°C. In July the average high termperature is 26°C and average low is 22°C, with an average sea temperature of 26°C. More on Heraklion weather here

Athens to Crete
Considering the plan, we suggest you fly from Athens to Heraklion (search for ATH to HER), this trip takes only 1 hour and will get you a whole day ahead rather than the ferry trip of 8.5 hours. Information for flights with Aegean Airlines or Olympic Air are below - there are many flights per day.

Bus vs. Car
It is possible to do this whole trip within Crete on the buses, (more bus info here), but it might be a bit tricky to enjoy the hinterland, local culture and villages without a car. The backroads from Matala to Rethymnon are very pretty, and there are lots of little villages to explore. Best done with a car. Hire car info here

Accommodation
We are not sure what price range of accommodation you would prefer, so we have stuck to medium prices. There are loads of options that you will see as you click through the suggestions with our accommodation partners. We tend to choose small, family-run places in convenient locations. So, if you want to choose an alternative, we suggest that you choose something in a similar location.
---
Personalised Itinerary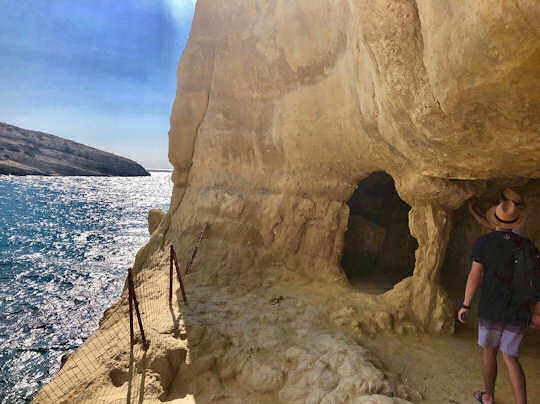 Ancient caves and transluscent Matala Bay
Crete Matala and Rethymnon - your personalised trip plan:
Day One - 25 June
Arrive Athens
Transfer directly to Heraklion HER - flight time 1 hour
Stay in Heraklion
Stay at the Veneziano Boutique Hotel

Day Two - 26 June
Consider the Hop On Hop Off Bus
Visit Knossos Palace, get there early, allow 2 hours
Lunch in Heraklion town
Visit the Archaeological Museum
Stay in Heraklion
Stay at the Veneziano Boutique Hotel
Day Three - 27 June
Pick up hire car
Drive to Phaistos Palace archaeological site 58 km
Drive to Matala 12 km
Enjoy the beach
Stay in Matala
Stay at the Nikos Hotel

Day Four - 28 June
Visit surrounding beaches
Red Beach, Kommos Beach, Kalamaki Beach, Kokkinos Pirgos
Stay in Matala
Stay at the Nikos Hotel
Day Five - 29 June
Visit surrounding villages or stay on the beach
Pitsidia, Vori, Kamilari
Visit a Raki Distillery at Georgiladakis Rakokazano, or visit the Zachiaroudakis Winery
Stay in Matala
Stay at the Nikos Hotel
Day Six - 30 June
Drive from Matala to Meronas 64 km
Take detours and a picnic - enjoy the hinterland, the Amari Valley, villages and olive groves
Stay in Meronas
Stay at Meronas Eco House

Day Seven - 1 July
Drive from Meronas to Rethymnon 54 km
Drive via Arkadi Monastery, Margarites Village and Parachakis Olive Oil Farm
Stay in Rethymnon Old Town
Stay at Afrodite Apartment

Day Eight - 2 July
Enjoy the Old Town
Eat seafood on the waterside
Stay in Rethymnon Old Town
Stay at Afrodite Apartment
Day Nine - 3 July
Drive from Rethymnon to Chania 62 km
(perhaps drop off hire car)
Enjoy the Old Town
Stroll by the Venetian Harbour
Enjoy galleries, museums and boutiques
Stay in Chania Old Town
Stay at Madonna Studios
Day Ten - 4 July
Relax in the Old Town or enjoy a full day experience
(If you book an experience, you can drop the hire car off one day in advance)
Samaria Gorge, Balos Lagoon, Elafonisi Beach or Gourmet Experiences
Stay in Chania Old Town
Stay at Madonna Studios
Day Eleven - 5 July
Transfer to the airport or airport bus
Depart from Chania CHQ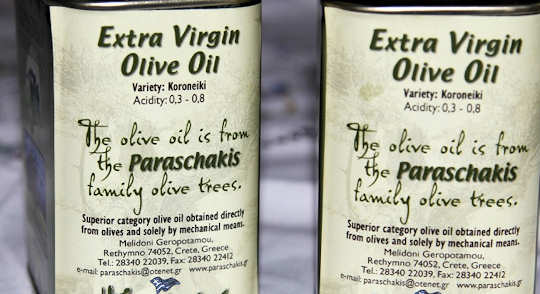 Olive Oil from the Paraschakis family in Rethymnon, Crete
---
Crete Matala and Rethymnon
Experiences
Crete Matala and Rethymnon - after you drop off your hire car you may want to take a guided experience from Chania town...we highlight three of the most extraordinary locations in Crete...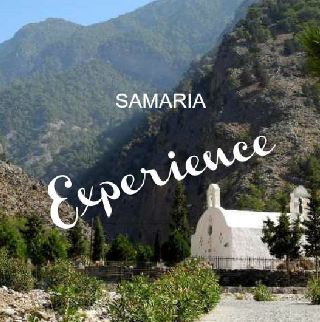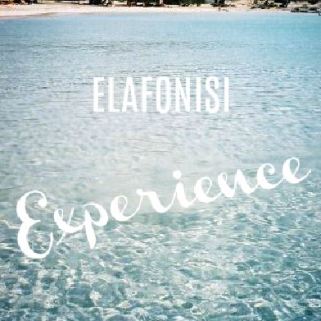 Soak up the pure natural goodness on an Elafonisi Beach experience beginning and ending in Chania town. See the stunning Topolia Gorge, enjoy the rugged hinterland, get plenty of time to relax on the various islets and coves at Elafonisi (one of our favourite places in Crete) and try traditional Cretan cuisine at a local taverna. A 10 hour full day.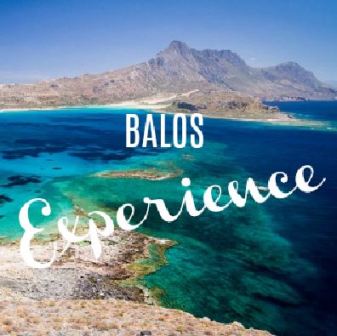 Balos Lagoon and Gramvousa Islet conspire to create wild beauty, see the Lagoon on a full-day experience from Chania. This includes pickups and drop offs from Chania town, the boat trip to see Gramvousa and the Venetian Fortress, and time to swim like a dolphin at Balos Lagoon. An 8 hour full day.

---
Crete Matala and Rethymnon
Information Pages for Your Trip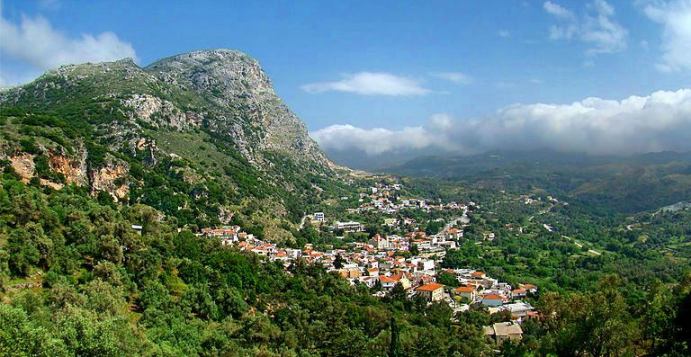 ---
Crete Matala and Rethymnon
Getting Here
When you book with our car rental partners - Rental Centre Crete - you are supporting a local company with excellent service and an easy online booking procedure. We are sure you will be well looked after by Harry and his team. Choose from hybrid or non-hybrid vehicles.
---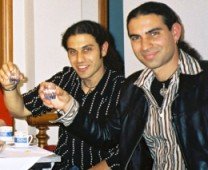 "We trust you have enjoyed these tips from the team at We Love Crete. Evíva!"
Contact us with further questions or feedback. We love to hear about your travels in Kríti and Greece. Let us know of any updates or additions, errors or omissions. Help us make this website the best it can be. Kaló Taxidí!

---
Crete Matala and Rethymnon