Holidays Crete
Chania Travel Questions & Answers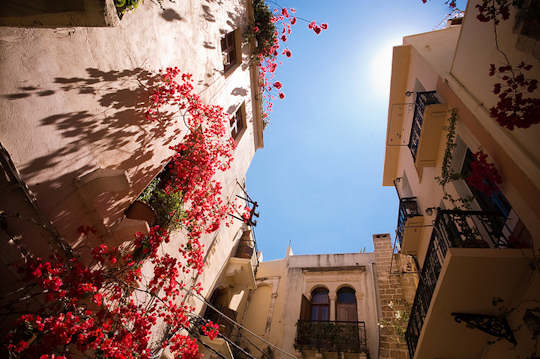 Holidays Crete - Chania Old Town
Chania Travel - here are all the answers to your questions about visiting Chania in western Crete. So simple and easy to explore, close to the international airport at Chania, the beaches, villages and mountains are fascinating and vast, there is so much to see in this corner of Crete...


---
Chania Town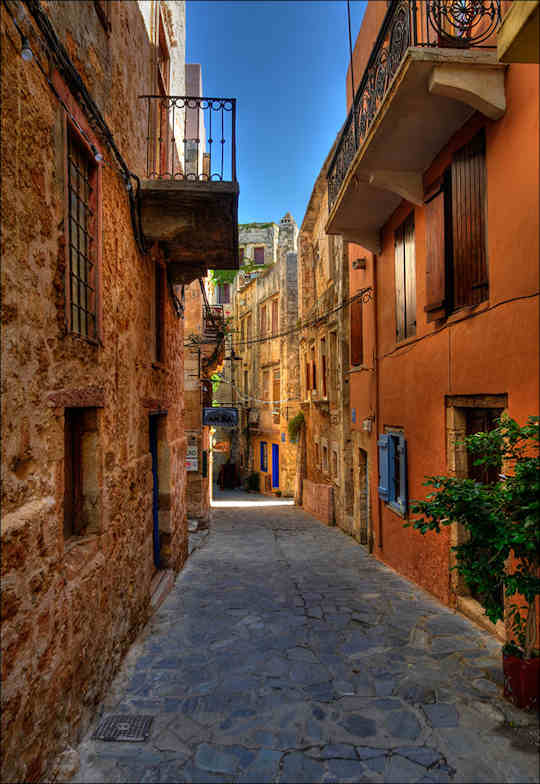 Dissolve into the character of Chania...
Holidays Crete - the capital of this region is Chania Town or Xania Χανιά, on the north coast of Crete. This is a thriving modern town, with a beautiful old zone, full of history, adding the poetry of the cross-roads of time to your visit, with narrow laneways, museums, the old harbour and hammam bath houses to explore...spoil yourself at cafes, tavernas, bars and nightclubs, boutiques and studios all at world class quality.

---
Beaches On the North Coast



To get to the beaches along the north coast, take the local blue buses, which depart from 1866 Square, just opposite Chalidon street.

Local bus information here...

Agia Marina Beach - a busy sand and pebble beach just 10 km west of Chania town.

Maleme Beach - a pretty sandy beach 14 km west of town.

Beaches at Kastelli Kissamos - a small sized town on Kissamos Gulf with a variety of beaches both east and west.
Falasarna Beach - a wild beach on the north-west of the island, with five coves to choose from.

Balos Lagoon and Gramvousa Islet can be reached by boat from Kissamos or if you are adventurous, take a 4WD along the peninsula. This is a paradise of crystal clear water with white and pink sands, turquoise hues and wide open spaces...
To the east of Chania is the long, wide sandy beach of Georgioupolis, with the little white chapel of Agios Nikolaos in the harbour. KTEL buses travelling along the national road stop at this beach, so services are frequent.

---
Holidays Crete - On the South Coast



Elafonisi Beach - an undeveloped paradise on the south-west tip of Crete

Paleochora Beaches - a large village with loads of characters surrounded by south facing beaches and mountains coming down to the sea.

Sougia Beach - a tiny seaside hamlet on a remote beach on the south coast of Crete.
Agia Roumeli - at the end of Samaria Gorge, or the beginning, whichever way you approach, get there by ferry or walk in via the gorge.

Loutro - a sweet little wine glass cove with just a smattering of white washed buildings dotted around a turquoise bay.
Walking to Loutro - three different paths to explore the southern coast and arrive into the idyllic harbour of Loutro.

Chora Sfakion - also known as Sfakia, this is a small village which acts as a gateway to the southern inaccessible beaches and Samaria Gorge. Take the ferry from here to many of the southern villages and Gavdos Island...
---
Holidays Crete
Explore Chania



The White Mountains or Lefka Ori are the dominant mountains of the region, visible from Chania town and extensive across their mass, with numerous peaks, gorges and plateaux to explore.

Agia Irini Gorge - is 43 km from Chania town, walk from the village of the same name down to 

Omalos Plateau - high in the mountains on the way to Samaria, a rich fertile plateau ringed by mountains.
Samaria Gorege - the beginning of the gorge is 70 km from town, the famous walk is 16 km and ends in Agia Roumeli on the south coast, see more in our holidays Crete Q&A or Samaria Gorge Stories page....

Askifou Plateau - 50 km from town in the heart of Sfakia, this place has open spaces and high mountains as well as touching the historic heart of Crete.

---
Holidays Crete - Chania Villages
| | |
| --- | --- |
| | Kaliviani - a small village surrounded by farmland close to Kastelli Kissamos town, Balos Lagoon and Falasarna Beach, with several tavernas serving local food |
| | |
| --- | --- |
| | Theriso - a lovely village reached by a scenic drive through Theriso Gorge from Chania, just 18 km into the hills and you will discover a true Cretan village with a vibrant, rebellious history. |
| | |
| --- | --- |
| | Chora Sfakion - the gateway to the beautiful southern coast, this small village is surrounded by beautiful beaches and is the starting point (or ending point) for ferry trips to the southern beaches and Gavdos Island. |
---
Travel Questions
---
Do you have Tips or Questions for Travel in Chania, Crete?
Do you have a secret about beaches in Chania, or a tip for other travellers? Or perhaps a question that is not answered here?
What Other Visitors Have Said
Click below to see tips and questions from other visitors to this page...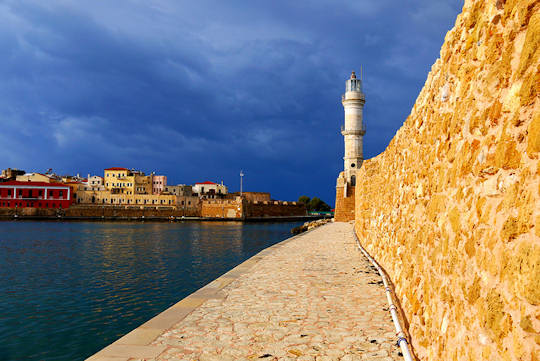 Chania Harbour, Crete
---
Holidays Crete
Trip Ideas

5 Days in the West of Crete – by Car or Motorcycle

This handy mini-booklet is designed for those travellers that want to get away from the tourist hot spots into the real Crete, and compiled by the team at We Love Crete.

Lots of our visitors wrote to us to say 'What can I see in 5 days?' or 'I only have five days in Crete!'


With ideas for routes on back roads, this e-booklet can be used to plan your own trip, and go your own way, and your own time, of course we suggest taking much more than five days!

Together with the e-book for the east of Crete, you can combine the two routes and see both sides of the island, not compromising on major highlights, but seeing out-of-the-way places.




---
Holidays Crete
Buses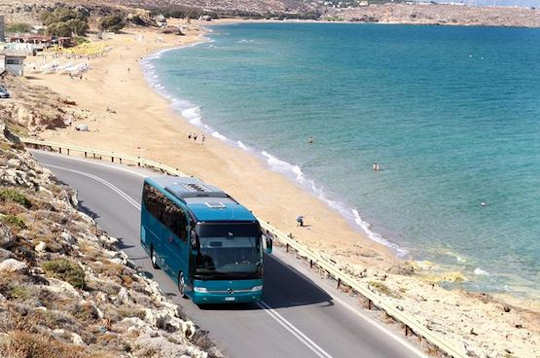 Buses in Crete are very modern and comfortable
Buses in Crete are reliable, punctual, convenient, clean and modern. The company or cooperative that runs the buses is called KTEL.
There is a bus station in each major town with plenty of information as to how to get where you want to go, and online services too. The bus stations have luggage storage and cafes. We have travelled all over Crete by bus and never had any hiccups, quite the opposite, we found the drivers and ticket collectors on each bus are really, really helpful and it is a great way to travel to see the island.
Even tiny villages has bus services, it is just that the buses are not very frequent. Be sure to check the timetables for return buses before you leave. Here is more information about the buses in Chania region...

---
West Crete by Bus e-Book
Many web visitors asked us how to get around Crete by bus - so we have put together this little booklet with options for 5, 7 or 10 days around the west of Crete...

West Crete by Bus - with a live link map, accommodation suggestions, bus information and plenty more. We sort out all the timetable guesses for you and show you how to navigate around some of the most beautiful places in Crete by local buses.

---