Holidays to Crete

See the West and East in 12 Days

Holidays to Crete - the view over Kato Zakros Beach from Terra Minoika Villas

Holidays to Crete – A Traveller Question and Customised Itinerary
Dear team at We Love Crete,

Thank you so much for creating this web site, it is so much better than the travel books.

You already helped me a lot with your suggestions on which other islands to combine with our trip to Crete and how to get to Peloponnese from Crete. I am still figuring out where we will go after Crete, but want to plan our time on Crete so that I can make reservations for the car and rooms.

We will be in Greece for 19 days and would like to dedicate a significant part of that time to Crete, I was thinking about 12-14 days, but we are very flexible. We love beaches (swimming), old towns and villages that are real and where we can meet the locals, nature (preferably places that are green/have trees rather than bare). We don't like resorts, organized beaches, party towns, etc, we want to explore Crete, there are plenty of beach resorts and bars closer to home J.

We also would like to avoid crowds and places overrun with tourists that no longer feel real. Our favorite memory of Greece is a white sand beach on Naxos with a tavern and just a few people and the amazing historical sites at Meteora, Delphi and on the Peloponnese.

I am trying to build an itinerary where we do an lot of different things exploring towns, historical sites, hiking a bit, hopefully swim every day/most days, try to stay at a fewer places rather than move every day to feel "rooted" and try to break up the trip to avoid very lengthy drives. I would love to get your advice on the itinerary that will meet these goals and on the places to stay.

For accommodations, we have a family of 4 with 2 boys, 22 and 17 years old, we would like to stay at apartments/rooms/houses that are simple, not expensive, with nice owners, have at least 2 rooms with beds and a kitchen/kitchenette, and are quiet, character is always great. We would prefer to be close to the beach in most cases so that we can walk and swim in the morning before going on day trips and walk/drive to town in the evening to eat and stroll. This is not set in stone, it will be fun to stay in an old town/village to get a different experience.

We are flying into Heraklion on June 11, landing at 11 pm. I did not want to stay at Heraklion but given how late the flight is, we probably do not have a choice as it will be too late to rent a car and drive around midnight. What do you think and where do you recommend to stay?

I was thinking about renting a car the next morning and going to Knossos. Not sure if archeological museum will be open in June? After that I am not sure about the details of what would be the best sequence/route. I was thinking about:

1.    Staying a night or two at Matala to explore the historical sites close to it, Gortys and the Minoan sites

2.    Staying several nights at Rethymnon and exploring the city, driving to Amari Valley and Moni Preveli (on the way to or/and as day trips), Mona Arkadi and villages nearby

3.    Staying for a while at Chania ideally on or very close to the beach and close to town and driving to Falasarna, Elafonisi, taking the boat trip to Balos Lagoon and Gramvousa islet, hike either Samaria or Imbros or Agia Irini Gorge (which one do you recommend for beauty and less people?), what else?

4.    The south coast Sougia, Loutro sound great too, would be great to experience at least one or two of these villages and beaches, not sure if we should drive there (and then take a boat) from Chania or it is better to stay somewhere on that coast and explore from there, also not sure between around Chania, south coast and east of Crete where we should spend more time

5.    I wasn't sure if we should go to the eastern Crete and how much time to spend there vs. west and south, I am not looking to cover all of Crete, just would like to experience the most beautiful, unique, memorable and authentic places. If we go east, I was thinking about skipping Agios Nikolaos and around because of crowds and staying at Palekastro and driving to Vai beach, and Kato Zakros.

6.    Chrissi island sounds great, but I am not sure if it fits in terms of time and distances

7.    Also, where is Agia Fotini? I saw it on your web site, but could not find it on the map.

Most likely we will be going to Milos and/or Sifnos from Crete, we are flying out of Athens on Jul 1. Do you have advice on how to figure out the approximate ferry schedule so that I can reserve the accommodation?

I am very sorry for such a long, long email and so many questions, but I wanted to share my thoughts so that you could give us the best advice.

Thank you so, so much!  Your help is hugely appreciated.

Best,

Jasmina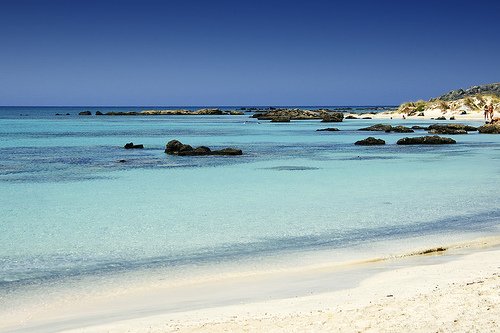 Elafonisi Beach at the western tip of Crete
A Customised Itinerary

Yiasas Jasmina,

Thank you for your kind words about our site and we are glad you are finding it a good resource for your holidays to Crete.

You have a lovely trip planned and we are happy to offer some suggestions below.

In 12-14 days you can certainly see both the west and the east of the island of Crete. We can suggest choosing a central place in the west for half the visit and another central in the east for the second half of your visit, and as you mentioned, taking day trips to explore the island with a car.

In the west, your good central point would be the town of Rethymnon, in the old town. You could choose to stay within the walls of the old town in a guesthouse or in a private home stay in the nearby countryside. We have included both options for you below.

In the east we have chosen Kato Zakros which is not all that central, however you will see the real Crete away from crowds. We have written an itinerary for 6 days in each, totaling 12 days so you can add days as you like.

We have incorporated your ideas and questions as follows for your holidays to Crete:

#1 Matala and Gortys and other Minoan site of Phaistos – this is suggested on Day 7

#2 Rethymnon to explore the city – this is suggested on Days 2 to 6

#2 Moni Preveli, Moni Arkardi and Amari Valley – these are suggested on Day 5

#3 Staying in Chania – this is suggested for a day visit only on day 6

#3 Visiting Falasarna, Elafonisi, Balos and Gramvousa

#3 Samaria or Imbros or Agia Irini Gorge – it is best to take a day tour to Samaria because of the logistics

#4 Sougia and Loutro are accessible by ferry, your time limit does not allow a visit along the south west cost by ferry. To do this one would need to take buses or taxis from the departure and arrival points of the ferries. To best see this area would need at least 3 days. Instead we have included some of the southern beaches in the itinerary below.

#5 We agree that it is not imperative to visit eastern Crete, however if you do you will experience a much quieter, more rustic and authentic island life. Kato Zakros is especially beautiful from the towns you have mentioned, we think you will like it.

#6 Chrissi island is unique and very different, a boat trip from Ierapetra could be possible but it is quite a drive from Kato Zakros, consider fitting this in on your return and staying at a beach near Ierapetra.

#7 Agia Fotini is a tiny beach in the south of Rethymnon region, see it on this map of Crete beaches:


Itinerary for the West

Holidays to Crete - Day One - June 11
Arrive Heraklion 11pm
Taxi from airport 10 Euro 15 minutes
Stay near old harbour in Heraklion
Lato Boutique Hotel

Day Two – June 12
Hire car – delivered to hotel
Visit Knossos 6 km
Allow two hours for the visit
Visit Archanes village for lunch 10 km
Drive 95 km to Rethymnon
Stay within the walls of the old town, Rethymnon
Stay budget Hotel Afroditi
Or mid-range Casa dei Delfini 
Or the exquisite Avli Lounge Apartments
or stay in a rural holiday home - Villa Petra - this would be a good central home for the next five nights

Day Three – June 13
Explore town in the morning and a beach in the afternoon
We suggest the beach at Panormos 22 km or Plakias 36 km to the south
Stay Rethymnon

Day Four – June 14
Day tour to Samaria Gorge – pre-booked with all transport taken care of
Bus – walk – ferry – bus
It is really busy in June but worth the trip and because of the one-way direction of the walk, the transport logistics are difficult (for Agia Irini as well) so best to do an organized trip for that
Pre-booked day tour to Samaria Gorge
Stay Rethymnon

Day Five – June 15
Self-drive day trip to Moni Arkardi 22 km and Amari Valley half day and beach half day
Perhaps Preveli Beach 35 km or Agia Fotini (east of Preveli on the south coast)
Stay Rethymnon

Day Six – June 16
Full day self-drive to see Chania town as well as Balos Lagoon or Elafonisi
Or take a pre-booked tour to Balos Lagoon and Gramvousa
Or a pre-booked tour to Elafonisi
Stay Rethymnon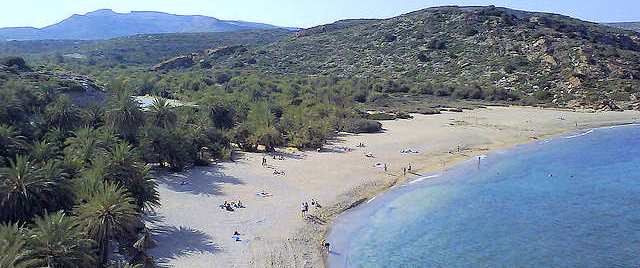 Vai Beach Crete
Itinerary for the East

Holidays to Crete - Day Seven - June 17
Drive from Rethymnon to Gortys, Phaistos and Matala
150-200 km depending on the route
Stay in Matala
Stay Iliaki Pension

Day Eight – June 18
Drive from Matala to Agios Nikolaos 130 km
See Malia Palace Minoan site en route
Drive from Agios Nikolaos to Kato Zakros 112 km
Lunch in Mochlos
Stay in Kato Zakros
Stay at Terra Minoika Villas

Day Nine – June 19
Visit Vai Palm Beach and local beaches
Stay in Kato Zakros
Stay at Terra Minoika Villas

Day Ten – June 20
Visit Kato Zakros Gorge and Minoan site
Stay in Kato Zakros
Stay at Terra Minoika Villas

Day Eleven – June 21
Relax at beach
Or you could drive to Ierapetra and join a boat trip to the island of Chrissi
We suggest you relax a while
Stay in Kato Zakros
Stay at Terra Minoika Villas

Day Twelve – June 22
Drive from Kato Zakros to Heraklion Airport 170 km for departure


Holidays to Crete - Tip - the best place to check about the opening days and times of the Heraklion Archaeological Museum is the Odysseus website, which is the government cultural website. Also check with your hotel prior to heading off for the day, as you want to be sure.

Matala Bay
Holidays to Crete Information Pages

Holidays to Crete - West





Holidays to Crete - East





Zakros ruins
---
Holidays to Crete
Your Itinerary in Pictures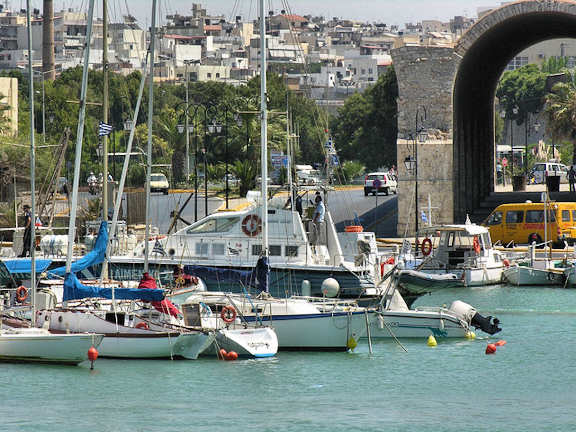 Heraklion is a bustling capital town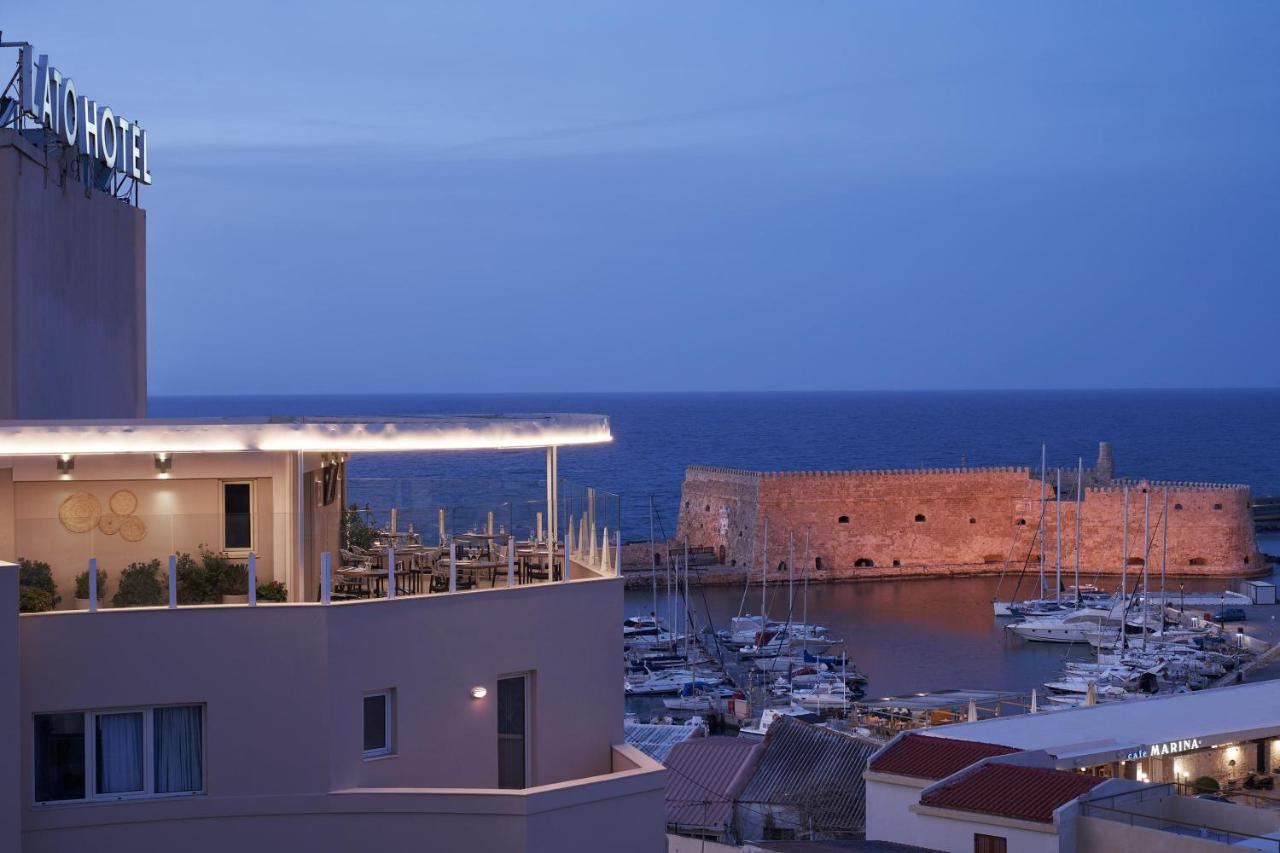 Stay at the modern Lato Hotel overlooking the old port in Heraklion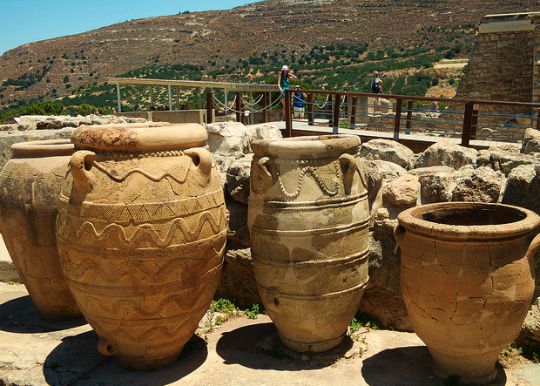 Allow 2 hours to visit Knossos Palace
| | |
| --- | --- |
| Arhanes Village in the countryside near Knossos | Relax in Arhanes for lunch after Knossos |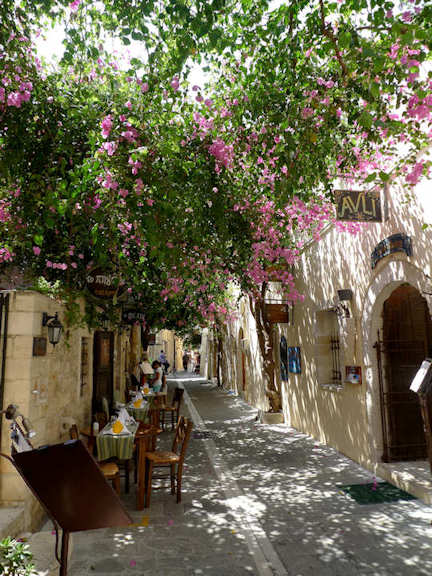 The atmospheric streets of the old town of Rethymnon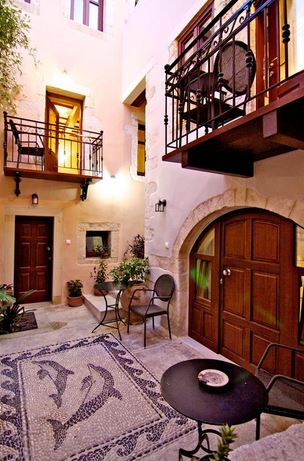 Holidays to Crete - Casa dei Delfini in Rethymnon Old Town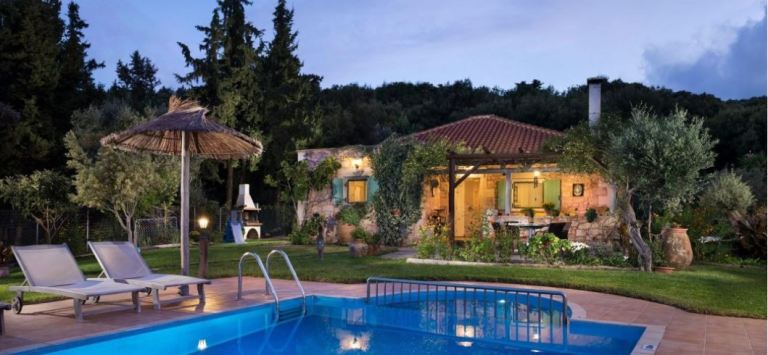 Traditional Villa Petra is more like a home than a villa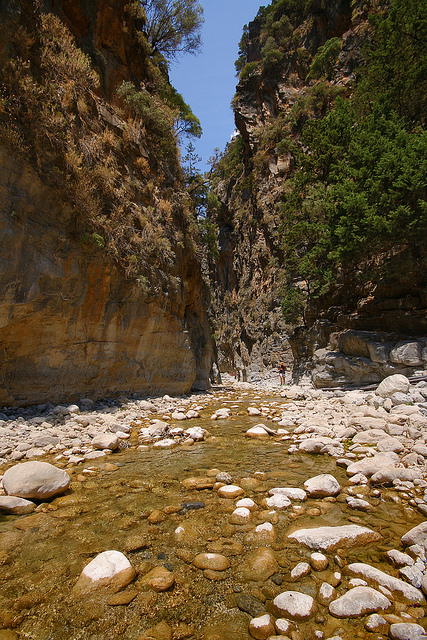 Visit Samaria Gorge on a day tour from Rethymnon Town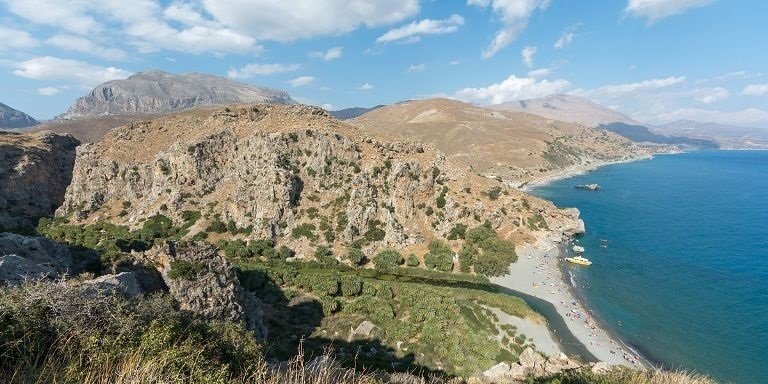 Preveli Beach - on the south coast of Rethymnon
Agia Fotini is tucked away on the south coast of Crete, eat by the sea at Agia Fotia Taverna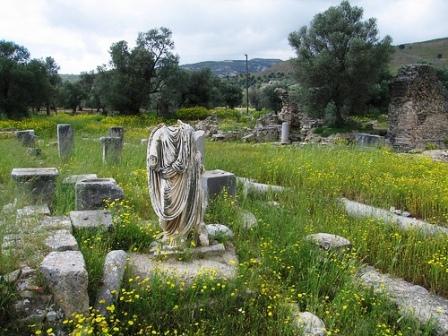 Holidays to Crete - you will lose your head! (Roman ruins in Gortyna)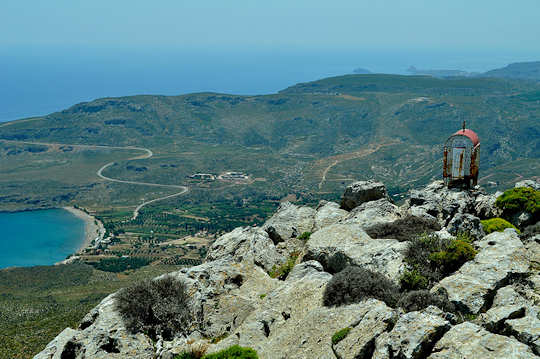 Holidays to Crete - Kato Zakros Bay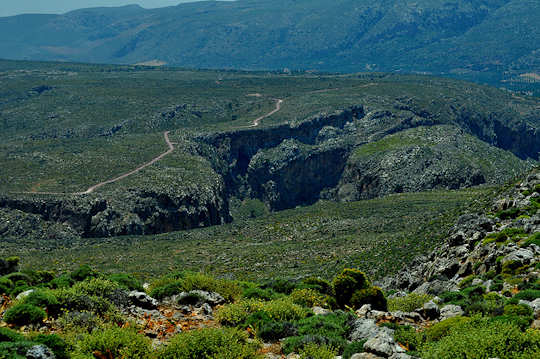 Zakros Gorge in Eastern Crete
We have chosen Terra Minoika in Kato Zakros for your accommodation in eastern Crete because the owners Stella and Elias have a wealth of knowledge of the region and will certainly make you feel very welcome - the buildings of traditional stone and wood will give you a true feeling of the locality, for unforgettable holidays to Crete.