Vritomartis
A Mythical Cretan Goddess
This page may contain affiliate links, see our disclaimer here.

---
Vritomartis Βριτόμαρτις has many names.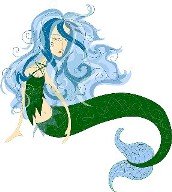 She is the beautiful mermaid spirit or Goddess, or the real mermaid, or nymph or Βριτόμαρτις or Dikte, Diktynna or Δίκτυννα, depending where your beliefs take you...
Cretan Mythology can be seen as distinct from Greek mythology, however in the study of King Minos, Ariadne, Britomartis and many other Gods and Goddesses, the distinction over thousands of years has become blurred.
Minoan civilisation began as far back as 5000 BC on the island of Crete. So there is a lot of history and storytelling and myth; truths and half-truths and forgotten wisdom that accompany these tales. Her stories appear as early as Homer's writings.
The stories of Britomartis go something like this.


"She was a nymph, she was the daughter of Dictynna or she was Dictynna, or she invented hunting nets which are called diktia. She was called the Nymph of Gortys.
She was the daughter of Zeus and Karme. Or she was the daughter of Ariadne. She came from the town of Gortys in Crete or from Tarra.
She was a Minoan Goddess of mountains and hunting.
She was alluring and beautiful and was desired by King Minos. Some say she ran and hid from King Minos and in an attempt to escape him, she fell into the sea, but was caught in fishermen's nets and saved. To show her gratitude she became their protector.
Some say she fell from Mount Dikti, the highest mountain in Eastern Crete, and was thus named after that mountain.
She was known as the 'Lady of the Nets'.

Some say she fled from Crete to Aegina where she was known as Aphaia and worshipped as a local deity for fertility and earthly cycles".
In Minoan seals, coins and rings she is shown with a demonic nature, carrying the Cretan double-headed axe and followed by wild animals.
What we do know is that she was found on coins discovered in the drowned city of Olous, which is now in the Bay of Elounda, and can be visited by snorkelling, much like a mermaid, in that beautiful bay.
Who is to know the truth? And who is to know and what imagery will touch our hearts now in this modern time, perhaps when we take some time out to swim in the beautiful blue waters of Crete, if we are really quiet and alert, we might see a mermaid swimming by in the crystal clear waters, and if we are lucky, we could ask her.
---
Greek & Cretan History & Mythology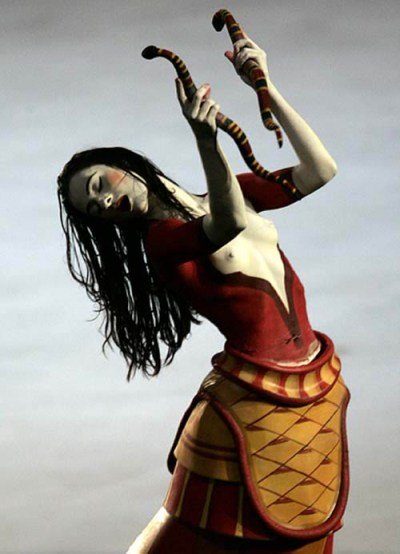 This figurine dates from 1650 BC and was found at Knossos, just 5 km from modern Heraklion town. It can be seen in the Heraklion Archaeological Museum.


The island is full of stories for history buffs and lovers of Greek and Cretan Mythology. There are many theories about the Snake Goddess, who was a Minoan Goddess. Minoan goddesses or dancers in a female worshipping culture, are little known. Britomartis came after this culture, during the Hellenistic period.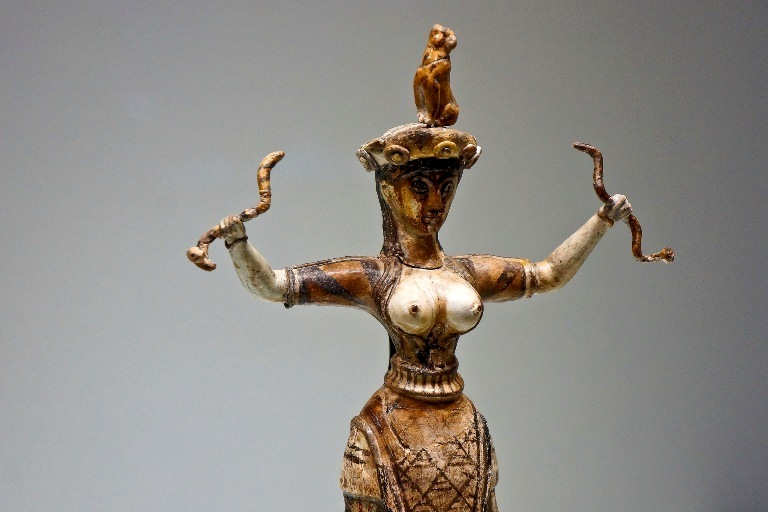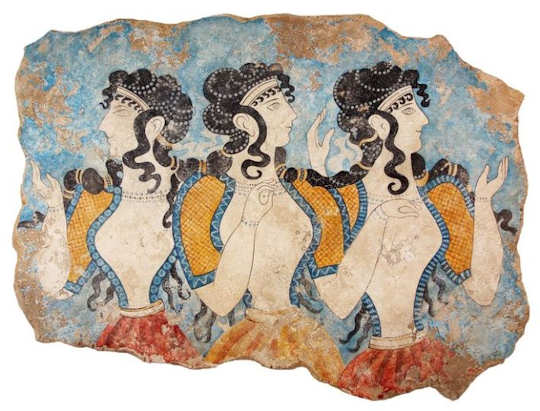 ---
Vritomartis Naturist Resort

A modern Vritomartis Goddess on Filaki Beach

The small Cretan village with a nearby resort named Vritomartis in the south of Crete are named after this Goddess. This naturist resort on a beautiful coast is isolated and remote, scenic and private.
It is located 2.3 km from the town of Chora Sfakion Χώρα Σφακίων, in the region of Sfakia. The nudist beach is open for those not staying at the resort.

Call it nudist, call it naturist, the beach and pool areas are 'clothing optional', the resort has been operating since 1989 in one of the remotest corners of Crete, with small and beautiful beaches named Filaki, and Agios Charalambos at Ammoudi recognised clothing optional beaches in Crete.


Filaki Beach
Open from mid April to late October, the Vritomartis Cretan Naturist Resort offers hotel rooms and bungalows, a pool, restaurant, many activities and tours, and sits just by beautiful southern naturist beaches. Peaceful and relaxed, expansive views and stunning sunsets.
The 3 star resort offers 85 comfortable rooms and bungalows, a bar and a restaurant. Buses connect guests to the beach and local town which has many more bars, tavernas and cafes. Boat trips are arranged to the many wonderful, sandy, naturist beaches along the coast.

Vritomartis Resort is close the castle and beach at Frangokastello, and close enough for visitors to explore the surrounding areas:
Aradaina Gorge
Agios Pavlos Beach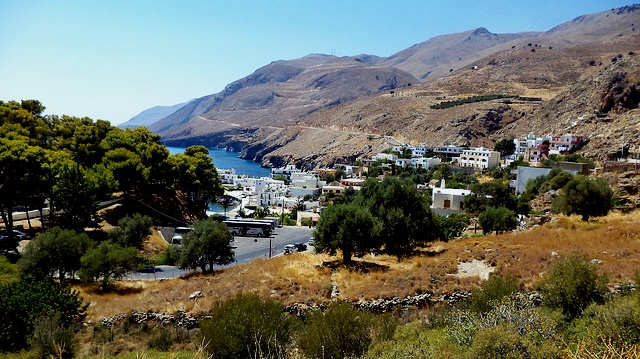 The village of Chora Sfakion is also known as Sfakia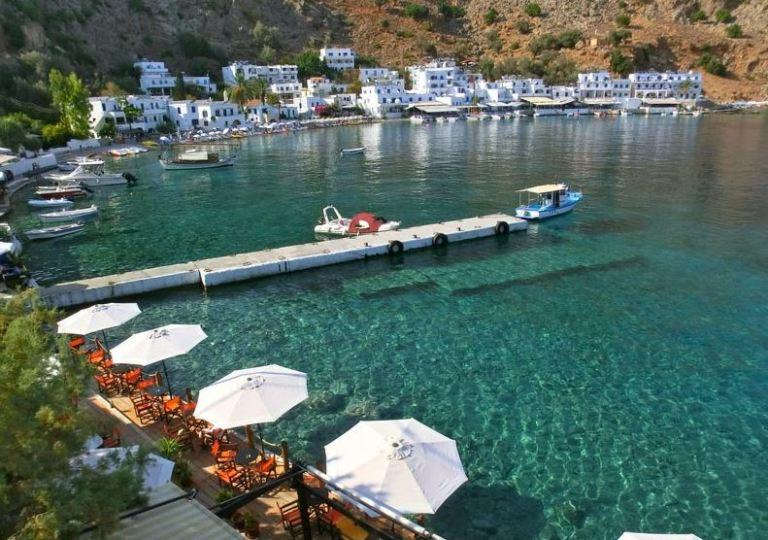 Visit the white and blue seaside hamlet of Loutro by boat or ferry, or walk in from Chora Sfakion.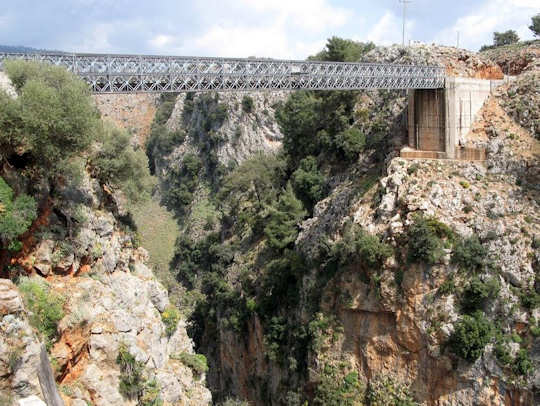 Aradaina Gorge, Crete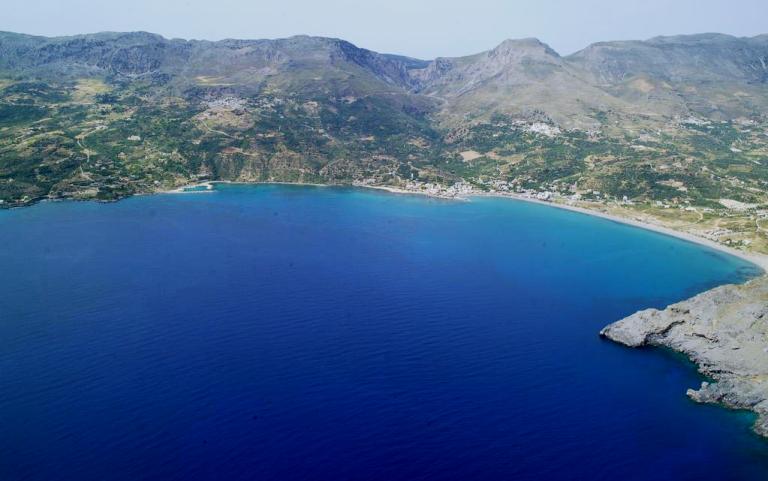 Plakias Bay
---
Getting Here
To see more seal stones and coins of ancient Crete, Goddess artwork of the Minoan cultures, and of the Hellenistic and Roman periods, visit the museums in these capitals:
Heraklion Archaeological Museum - Cnr of Xanthoudidou and Hatzidaki Streets in Heraklion town
Rethymnon Archaeological Museum - Chimarras, Old Town
Chania Archaeological Museum - 28 Chalidon Street, Chania town
To get to Vritomartis Resort it is best to hire a car and drive through wonderful mountain scenery:
80 km from Chania Airport, this trip takes 1.5 hours, drive via the national road to Vrisses then turn south and travel through the villages of Askifou, Imbros and find the resort just before the town of Chora Sfakion

150 km from Heraklion Airport, this trip takes 2.5 hours, drive the national road west along on the north coast through Rethymnon and turn south at 107 km, just after Georgioupolis and just before Vrisses, and travel through the villages of Askifou, Imbros and find the resort just before the town of Chora Sfakion
Car hire in Crete is a really good idea as it is a large island 60 km by 260 km. There is so much to explore.
When you book with our car rental partners - Rental Centre Crete - you are supporting a local company with excellent service and an easy online booking procedure. We are sure you will be well looked after by the team. Choose from hybrid or non-hybrid vehicles.
---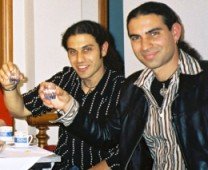 "We trust you have enjoyed these tips from the team at We Love Crete. Evíva!"
Contact us with further questions or feedback. We love to hear about your travels in Kríti and Greece. Let us know of any updates or additions, errors or omissions. Help us make this website the best it can be. Kaló Taxidí!

---