Where to Stay in Crete

This page may contain affiliate links, see our disclaimer here.

---
The team at We Love Crete show you where to stay in Crete for any budget. Rural getaways or a beachside shack, a writer's escape in the hills or a town break with plenty of romance and style.

This is the largest Greek island, 260 km long by 60 km wide with hundreds of beaches, four major towns, mountain ranges, olive groves, gorges, valleys, vineyards and so much to see...
Our tips are for independent travellers booking their own travel, making their own way and living the dream - freedom of travel!
Great places to stay across the whole island, east and west, north coast and south coast. Arrive in the west by the airport or ferry port at Chania. Get to the east by the airport and ferry port at Heraklion.
Are you travelling solo or as a couple? With a large family group? We have tips for accommodation for all sizes and styles of travel below.
Town Breaks
Where to Stay in Crete - in our four cosmopolitan towns of Chania, Rethymnon, Heraklion and Agios Nikolaos, you will find the culture, hubbub, history, food, wine, dining, cafe life, night life, shopping, museums and so much more. Each town has its own character and we are so excited to share our top tips for accommodation in each town centre...

| | |
| --- | --- |
| | In Chania stay in the old town at Alcanea Boutique Hotel on the harbourside. This charming hotel has only 8 rooms, opens onto the fascinating streets of the old town where you can get lost exploring. View across the water, a restaurant on the ground floor, design style, great local knowledge from friendly staff with true Cretan hospitality. |
| | In Rethymnon stay inside the walls of the old town at Mythos Suites close to everything, yet in your own oasis of calm. This traditional building has modern comforts, charm and is an authentic Rethymnon experience. The feel of this place shows you the best of Rethymnon. |
| | In Heraklion stay near the old port, the new port, the shopping square and market at the Lato Hotel. We choose this hotel for its great location and consistently great service. We love the views over the old harbour and the fortress, and its convenience. Walking distance to everywhere in downtown Heraklion. |
| | In Agios Nikolaos stay centrally at the Hotel du Lac, with stunning views over the lake. Be right in the middle of the restaurant and cafe scene, step out onto shopping streets, stroll around the lakeside, across the bridge and to the harbour... |
Where to Stay in Crete
Beachside Dreaming
Where to Stay in Crete - by the beach and by this we mean directly on the beach or at less than 1 km from the beach.

| | |
| --- | --- |
| | In Chania in the west stay right on the beach at The Old Beach Hut on Keramotis Beach, a small unpopulated beach perfect for a romantic getaway. This has to be the most stylish beach shack on the island, we love it for its raffish style and quiet location, just 16 km from Elafonisi Beach. |
| | Discover the palm forest oasis at Preveli Beach, stay away from it all on the south coast...Preveli Rooms are a good budget option located directly on the beach. A short 5 minute walk from the palm forest and river mouth, this small guesthouse provides peaceful surrounds with complete sea views. |
| | Travel to the ancient site of Matala Caves, and stay right on the water at Matala Caves Seafront Apartment on Matala Beach, full of history and fun, surrounded by other great beaches. |
| | In the east of Crete, get right away from everything to the tiny cove called Kato Zakros. These outstanding Terra Minoika Villas are the labour of love by Stella and Ilias. We love their stone and wood grounded Cretan resonance, location and quiet. |
Where to Stay in Crete
Hillside Hideaways
Where to Stay in Crete - get away from it all in the mountains and foothills.

| | |
| --- | --- |
| | A community and a story of faith, determination and courage, Milia Mountain Eco Resort is a true Cretan experience for those wanting to get off the grid and into a sustainable, abundant life. |
| | In the hills above Plakias, stay in this character-filled home near the village of Mariou, with views to the southern seas, write your next novel or just chill out...the Mariou House is built of stone and wood in the traditional Cretan style, sleeps 6 guests in 3 bedrooms with two bathrooms. We love it for the peace and quiet, elevated aspect and connection to the village. |
| | In the southern hills lies a small village called Kapetaniana. Twenty or more of the village homes have been restored with pride to create a unique village community Thalori Retreat will iron out all your wrinkles and give you an experience of living in a Cretan village, in the Asterousia Mountains, overlooking the Libyan Sea. |
| | High in the eastern Dikti Mountains is the Selakano Forest. Just on the edge of the forest, in a remote and wild location, is Pezoulia Mountain Guesthouse, modern villas in a rustic setting. Get plenty of fresh air here and turn your phone off! |
Where to Stay in Crete
Glamourous Style
Where to Stay in Crete - to treat yourself and your loved ones, and experience the dazzling quality of hospitality on Crete.

| | |
| --- | --- |
| | In Chania Old Town, treat yourself to the style and charm of Casa Delfino, in the heart of the tiny laneways that make up the palaiá póli. We love this restored mansion, we love its courtyard, authentic feel and wonderful location, so close to the harbour and restaurants. |
| | Caramel Boutique Resort sits directly on Rethymnon Beach; a modern glamorous experience of quality. Think about this resort for your family celebration, engagement party, wedding or for your next romantic weekend away. Full spa facilities complete the picture. |
| | Out of The Blue sits on one of the prettiest beaches in Crete - Agia Pelagia. This leafy garden resort lies on the peninsula and offers private beaches, multiple restaurants and access to the vibrant seaside village with local tavernas, cafes, bars and great seafood restaurants. |
| | At Elounda Beach Hotel and Villas you will be located in one of the prettiest bays in Crete - Elounda. The village and surrounding area are wonderful to explore, as is Spinalonga Island. Only 9 km from Agios Nikolaos, if you can drag yourself away from the spa! |
Where to Stay in Crete
For Solo Travellers
Where to stay in Crete - in villages - Cretans are famous for their filoxenia - φιλοξενία - a word we do not have in English but which roughly translates as 'hospitality'. The concept runs far deeper and means that there is great honour in treating guests well. Solo travellers will be able to experience this if they get off the beaten track to small villages. A unique experience awaits those bold enough to start a conversation or ask for a room. Here are some lovely villages to visit as a solo traveller in Crete.

| | |
| --- | --- |
| | Kaliviani village is located in the west of the island, an easy bus ride from Chania and close to Kissamos. Enjoy the slow pace of this agricultural village. |
| | Archanes is a large village quite close to the town of Herakion. It is a busy hubbub in the centre of the wine region. This is a great location to base yourself as a solo traveller, with the best of both worlds, village life and city life, at your doorstep. This village is very close to the ancient Minoan Palace of Knossos. |
| | Vori village has been recognised as a historically significant village. Enjoy the community and agriculture here in the south. This village is inland but close to many beaches. |
| | In Kritsa village, you will discover traditions and see modern life as well. Tour groups visit the village during the day to enjoy its unique white houses. After they have left, you can enjoy this thriving village in the mountain foothills, and explore Kritsa Gorge. Being not too far from Agios Nikolaos, again this is a good balance for a solo traveller. |
For Couples
For Families
| | |
| --- | --- |
| | A home away from home just minutes from the beach, set in an olive grove, Villa Petra is perfect for a family, with 3 bedrooms, 2 bathrooms, a big kitchen, a pool and plenty of room to play surrounded by country charm. The town of Chania is close, there are villages and beaches nearby, best visited with a car. |
| | Want to get together with the whole family or your extended family? See our suggestions here for large villas for family groups of 8+ |
Budget Places to Stay in Crete
Where to stay in Crete on a budget, stretch your money out and stay longer in Kriti! We have plenty of tips for budget stays all over the island.

---
Getting Here

When you book with our car rental partners - Rental Centre Crete - you are supporting a local company with excellent service and an easy online booking procedure. We are sure you will be well looked after by Harry and his team. Choose from hybrid or non-hybrid vehicles.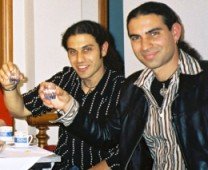 "We trust you have enjoyed these tips from the team at
We Love Crete. Evíva!"
Contact us with further questions or feedback. We love to hear about your travels in Kríti and Greece. Let us know of any updates or additions, errors or omissions. Help us make this website the best it can be. Kaló Taxidí!