Vegetarian Greek Recipes

This page may contain affiliate links, see our disclaimer here.

---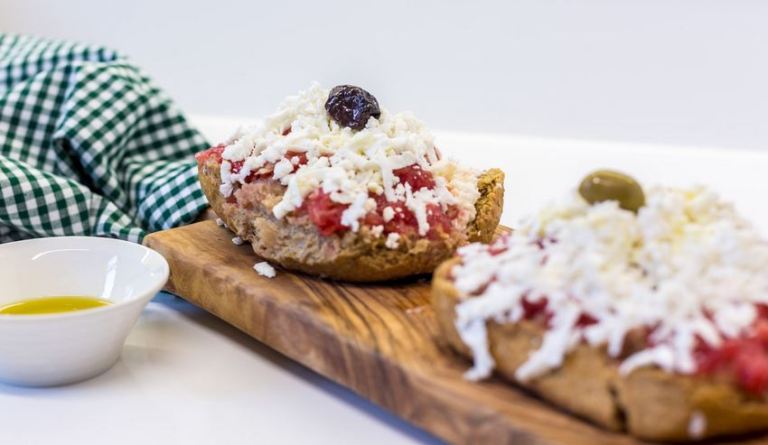 Vegetarian Greek Recipes - part of the everyday life of Greek food. We have been vegetarians for many years and find plenty of wonderful dishes amongst the Greek food choices. Cooking at home and travelling in Greece, it is very easy to be a vegetarian and enjoy a healthy, varied diet, not to mention to enjoy the tastes of sublime combinations.


---
Vegetarian Greek Recipes
Spanakopita

Spanakopita
Spanakopita Σπανακόπιτα is a favourite Greek food, the word means 'spinach pie' from the word spanáki for spinach and píta for pie.
Spanakopites are very common in Crete and you can find great fresh bakeries in downtown Chania, Rethymnon or Heraklion serving hundreds of these delicious pies each day. These are good places to find them if you are travelling and need a snack for breakfast or something to take in your picnic for the day.

Our grandmother makes wonderful spanakopites, always from fresh ingredients, and she does not take the short cut of modern filo pastry; our yiayia makes her own pastry, which is out of this world.

Depending what part of the world you live in, you can find fresh green leaves known as 'english spinach', or 'silverbeet', and fresh dill and mint for this recipe.

English spinach is also known as chard, swiss chard, spinach beet, silverbeet or perpetual spinach.

Spanakopites are also known as spinach and feta triangles or spinach and feta rolls.
Ingredients
100 g fresh spinach
1 medium bunch of silverbeet (also known as swiss chard)
50 g of endives or dandelion (if you can't get these, just substitute with more spinach)
1 large onion
2 sprigs of dill
2 sprigs of mint
300 g feta crumbled into large and small chunks
4 tablespoons of olive oil
2 teaspoons of salt
puff pastry with real butter
| | |
| --- | --- |
| | Fresh dill |
| | Brown onion |
| | 'English spinach' |
| | 'Silverbeet' |
| | Fresh mint |
| | 'Swiss chard' |
Preparation
Dice the onion then caramelise in a pan with 2 teaspoons of salt and 4 tablespoons of olive oil, until golden

Wilt all greens in the pan of onions

Put in a colander to drain out juice (catch the juice and add it to a horta salad with lemon)

Put mix in a bowl and crumble in feta

Add olive oil and salt

Line a shallow pan 30 cm x 30 cm with grease paper and lay the pastry sheets down

Add the mix on top of the pastry and then lay a pastry topping to cover the mix

Pierce holes into pastry with a fork about 10 times

Pre-heat the oven at 100 degrees Celcius


Cook the pita in the oven for around 30 minutes or until golden brown



Slice of spanakopita - spinach and feta pie
---
Vegetarian Greek Recipes
Vegetable Mousaka

Vegetarian Greek Recipes - Mousaka Μουσακάς one of our home favourites is this comforting and crowd-pleasing dish.
The regular version has just as many vegetables as well as minced meat. We just take out the meat and enjoy the flavours of the vegetables. Every region and family has their own preferred combination of vegetables.

Ingredients for filling
1 large eggplant, thinly sliced
1 large zucchini, thinly sliced
2 potatoes, thinly sliced
1 tin (440 g) whole peeled tomatoes, chopped
220 g soft lentils
1 onion, sliced
1 clove garlic, chopped
2 tablespoons of Cretan olive oil
1 tablespoon white vinegar
1 teaspoon dried Greek oregano
2 tablespoons fresh parsley, chopped
125 g feta cheese, crumbled

salt and pepper to taste
Ingredients for sauce

60 g butter
60 g plain flour
600 ml milk, warmed
100 g kefalograviera cheese, grated
1 egg, beaten
extra cheese, grated
Preparation

---
---
Vegetarian Greek Recipes
Chick Pea Soup

Vegetarian Greek Recipes - Chick Pea Soup Ρεβιθόσουπα - the health benefits of legumes are well known, they are full of vitamins and high in fibre. This is a family favourite.

Ingredients
1 cup soft chickpeas

or dried chick peas soaked for 12 to 16 hours  

1 onion, chopped

extra virgin olive oil from Crete

1 teaspoon dried Greek oregano   

1 teaspoon dried parsley   

8 cups water   

salt to taste

fresh ground black pepper to taste   

quarter of a cup of fresh-squeezed lemon juice + zest to taste
Preparation
Wash the chickpeas and let them soak in cold water overnight,  12-16 hours
Drain the chickpeas and throw away the water. Place the chickpeas in a colander and rinse very well with water. Rub the chickpeas in your fingers to ensure they are clean
Place the chickpeas in a large pan with cold water 4cm above the chickpeas
Bring the whole pot to the boil slowly, scoop off the top of the water gradually as you boil them for the next 20 minutes or so
Drain the chickpeas again and ensure they are clean
Cover with new water, olive oil, chopped onion and oregano, and bring slowly to simmer for 1-2 hours, adding water as necessary
Add parsley, lemon, pepper and salt and zest to taste, serve warm

---
Vegetarian Greek Recipes
Dakos Salad from Crete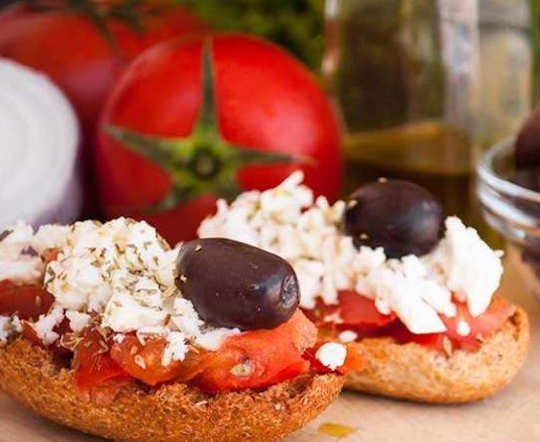 Dakos on paximadia with fresh tomato
Vegetarian Greek Recipes - this is not so much a recipe as a way of making food from what is at hand. Now this humble village food has become internationally well-known and served in many up-market restaurants in Crete and indeed, around the world. This is a very healthy snack at any time of day or accompaniment to a main meal.

Ingredients
paximádia - rusks
tomatoes
feta cheese
onion
oregano, salt and pepper to taste

extra virgin Cretan olive oil

Preparation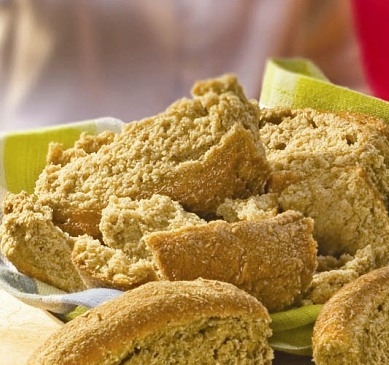 Paximadia or rusks used to make Dakos Cretan salad
---


More about Food and Drink of Crete...
Where to See Olive Farms in Crete...
---