Greek Seafood - Octopus Recipe

This page may contain affiliate links, see our disclaimer here.

---
Greek Seafood - Octopus Recipe - the essence of Greece is the sea, the seafood and sitting relaxing in a seaside taverna, eating, most likely, octopus!

The sight of octopus drying by the harbour limani captures all those feelings, these images remind of us of the fresh breezes of the sea, endless sun, and the promise of a tasty feast with good company, maybe some Mediterranean seafood; fresh fish and grilled octopus.
The word for octopus in Greek is octapodi χταπόδι, which of course means 'eight feet'. Those feet are the tentacles that become delicious morsels when grilled.


On the Rope, Antiparos, Greece


All over Greece you will see fishermen seeking octopus, and ecstatic when catching one on the line. The most unromantic thing about fishing for octopus is catching one, as it needs to be killed and wacked on the rocks repeatedly. Arggghhh! Of course this is partly how it is tenderised to get it ready for eating.

This famous dish and also the crunchy little baby fish known as marides, and kalimari or squid are favourites, as well as a wide variety of other fish, it just depends on the catch of the day and what the taverna is offering.

---
Grilled Octopus Recipe


Octopus Recipe - this can be prepared in a variety of ways including warm salads, fresh salads, octopus in vinegar marinade, or pasta bake, many people like it on the grill or BBQ after braising it and soaking in marinade, as follows:
Marinade for Grilled Octopus - Χταπόδι Σχάρας
5 cloves garlic
4 lemons
1 cup olive oil
1 cup red wine vinegar
1 tablespoon oregano
salt and pepper to taste
Preparation

1 kg octopus, add to a pot, put the lid on
On medium, heat octopus for up to 1 hr
Water from the octopus will come out so don't add water or salt
Cook till its medium firm - easily chewable
Place into a hot pan - preferably a skillet, sear until it darkens a little
Add olive oil and cook for around 5 min
Add seared octopus to marinade
Enjoy, enjoy, enjoy!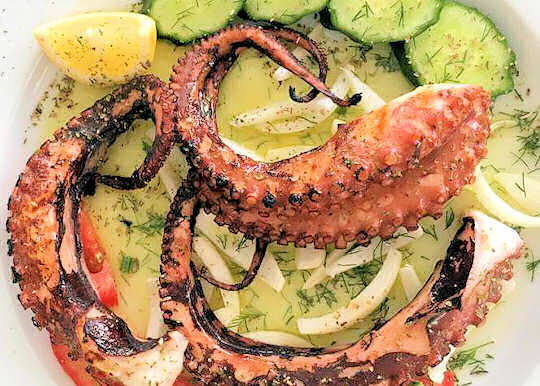 Grilled octopus at Scala Taverna in Matala, Crete

Order your fish on the grill sti skara too, as it is fresh, juicy and delicious.

In Crete try the Psarotaverna Papadakis in Kastelli Kissamos, and Zepos Taverna on the waterfront in Chania town, Zefyros Taverna in Rethymnon Scala Fish Taverna in Matala or Taverna Spinalonga in Plaka near Elounda, and see our suggestions below.
Kali Orexi !!   Καλη 'Ορεξη  !!
---
Octopus by the Sea

Octopus Drying near Blue & White Fishing Boat, Gythio, Greece


An octopus drying outside a fish taverna in Heraklion, with the old port in the background


Octopus by the Limani, Ios, Greece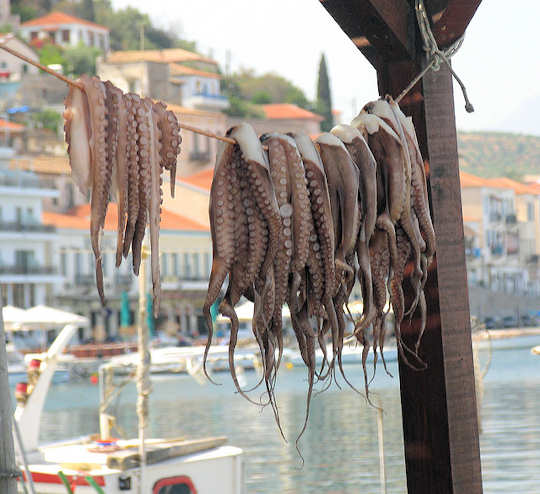 Fresh Octopus by the Taverna, Gythio, Greece


Taverna Colour, Santorini, Greece


Getting Up Close and Personal with Fresh Octopus, Thassos, Greece


No Doubt About It! Plaka, Crete, Greece
---
Where to Enjoy Octopus in Crete
One of the pleasures of summer in Crete is to sit at a seaside taverna and while away the hours for lunch or dinner near the water. Fresh seafood, crisp white wine and hearty thick bread or paximadia, with a few little plates of mezedes....now that is the way to enjoy it!
We can suggest the following little traditional tavernas right by the water in Crete...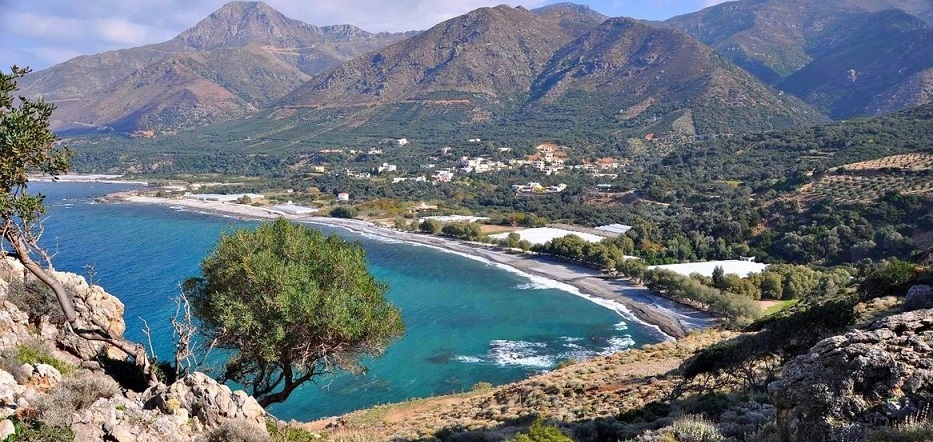 Captain Fidias on Sfinari Beach, western Crete. Eat with your feet in the sand. Swordfish, Blackfish, Red Mullet, lobster and calamari.
Taverna Marmara near Loutro, south-western Crete. Walk into this remote spot and be rewarded with a traditional taverna and paradosiaki local cuisine.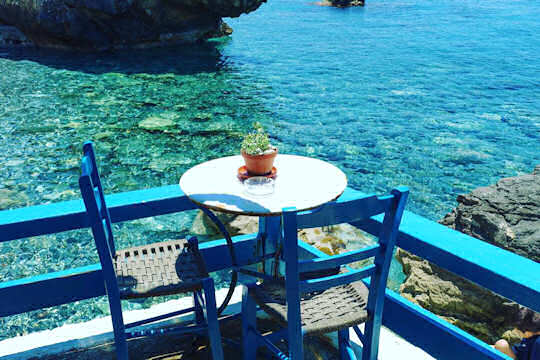 Agia Fotia Taverna on Agia Fotini Beach, southern Rethymnon. A friendly family-run taverna in a little remote location. Relax, sit, eat, relax again.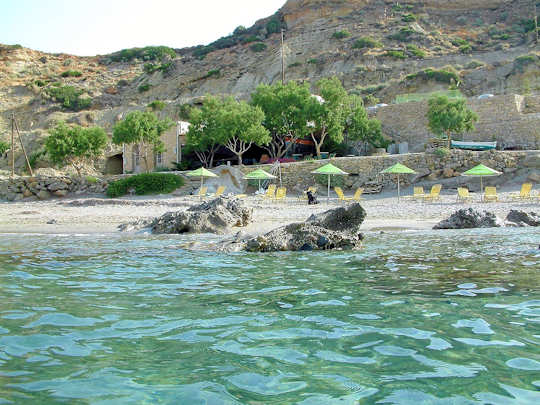 Apanemia Taverna on small Triopetra Beach, south Rethymnon. Take a relaxing 2 hour drive from Rethymnon town through the valleys and mountains to arrive at this pretty cove, enjoy a swim and laze on the beach then a long slow lunch - ahh.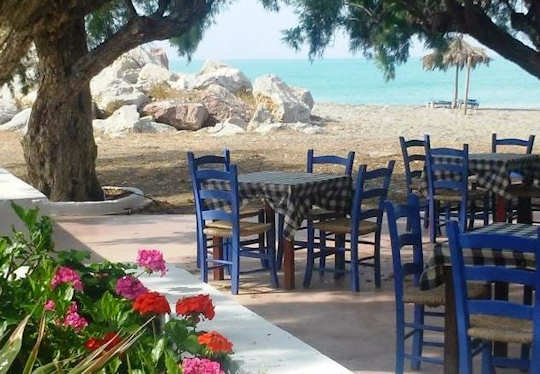 The Red Castle Fish Taverna - on Kokkinos Pirgos Beach in southern Heraklion. Another destination worth driving to, head south from Heraklion town on the national road 70 km to Mires then Timbaki on the south coast, you will find this wide long beach and fishing village. Underneath the shady trees, relax and put yourself in the capable hands of Giannis and Michalis, who know their seafood.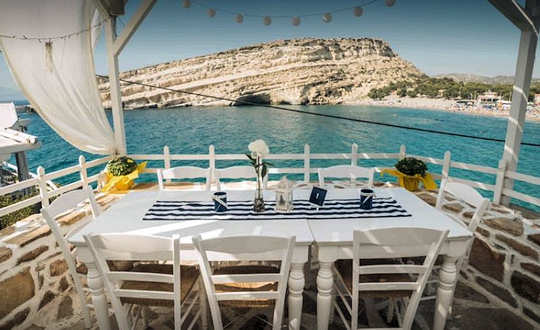 Scala Fish Taverna on Matala Beach, southern Heraklion. Not only the hip place to be in Matala, but excellent views and fresh seafood, done in traditional style. Perfect for lunch or dinner, enjoy a bird's eye view of Matala.
Octopus recipe - see more about these tavernas by the sea in Crete - where you can enjoy fresh octopus by the Mediterranean Sea.

Kali Orexi !!   Καλή Όρεξη !!   Bon Appétit!!

---
Foodie Tours in Crete
Octopus recipe - discover Greek and Cretan cooking delights - take your pick from gastronomic gallavants on the island.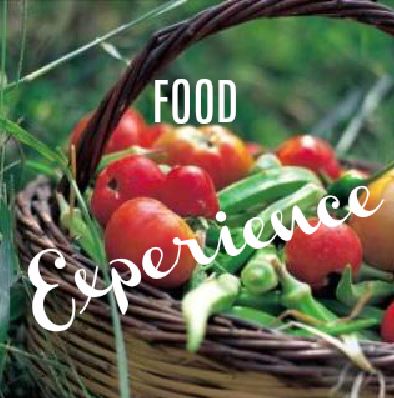 Crete Food Tour of Chania Old Town - a 3 hour walking tour of the picturesque Venetian town with food tasting. Be led by a local down little-known laneways to out-of-the-way cafes and try tidbits of Cretan cuisine. Try rusks or paximadia and koulouria, donut-shaped bread encrusted with sweetened sesame seeds, cheese, olive oil, olives and sweet pies.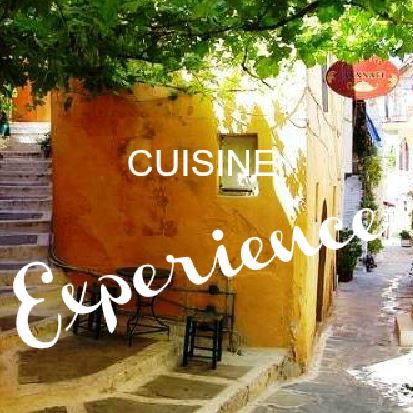 Street Stories of Chania Morning Tour with Samples of Raki and Mezedes - visit the local food markets and walk for 4 hours through the gastronomic highlights of this fascinating historic town, visit the old Jewish and Ottoman quarters and taste the local white spirit or raki. Enjoy mesedes which are little appetisers, part of the Cretan diet which is one of the healthiest in the world. Find out why.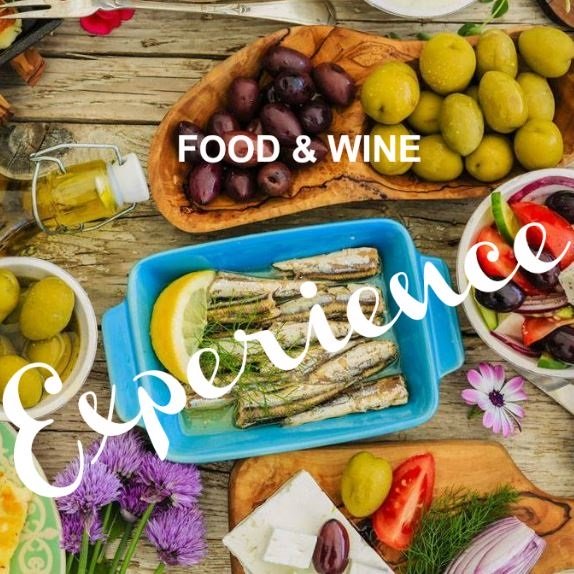 Small Group Gourmet Trail of Rethymnon - treat yourself to a 4 hour gastronomic exploration of this cosmopolitan town, with food and beverage tastings, hidden spots not in the guidebooks all through the old zone. Remember to ask for an octopus recipe. This is a 4 hour walk.
---
Getting Here
Octopus Recipe - enjoy octopus and seafood in Crete - visitors arrive into Chania International Airport CHQ or Heraklion International Airport HER from Athens on a 1 hour flight with Olympic Air or Aegean Airlines.
Many flights arrive into these two airports from hubs in Europe.
Ferries depart Pireaus port of Athens and arrive into Souda port at Chania or Heraklion port with a trip duration of around 9 hours.

See more details about flights and ferries below.
Car hire in Crete is a really good idea as it is a large island 60 km by 260 km. There is so much to explore.
When you book with our car rental partners - Rental Centre Crete - you are supporting a local company with excellent service and an easy online booking procedure. We are sure you will be well looked after by the team. Choose from hybrid or non-hybrid vehicles.
---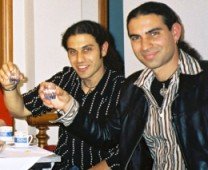 "We trust you have enjoyed these tips from the team at We Love Crete. Evíva!"
Contact us with further questions or feedback. We love to hear about your travels in Kríti and Greece. Let us know of any updates or additions, errors or omissions. Help us make this website the best it can be. Kaló Taxidí!

---