Village Hotels Crete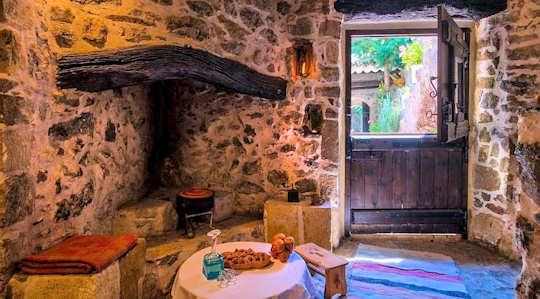 Village Hotels Crete - we answer a traveller's question below.
We are now planning to fly into Chania, not come in on the ferry to Kissamos. So we don't need to be near Kissamos for our first stop.
We're planning to be on Crete Sept 27-October 8.
Nearly two weeks.
We are thinking to book four sites, not three.
We want to stay in homes inside a village. Not separated from a village. We want to see village life. So we don't want an isolated home for our accommodation.
Chania: We're thinking the first place should be within reasonable driving distance of Chania. September 27-30.

Rethymnon: In the Rethymnon Region we're thinking to book the Meronas Eco House.  September 30-October 3.
Iraklion: In the region near Iraklion, we're thinking to book the Pension Aretoussa in Pitsidia thru you.  October 3-6.
Lasithi: In the region of Lasithi, we're looking at the Vilaeti guesthouse in Ayios Konstantinos. October 6-8.
Then we'd take the ferry on October 8 to Santorini.
Does this plan make sense? How do we book these? Happy to have your comments.
Thanks, Charlie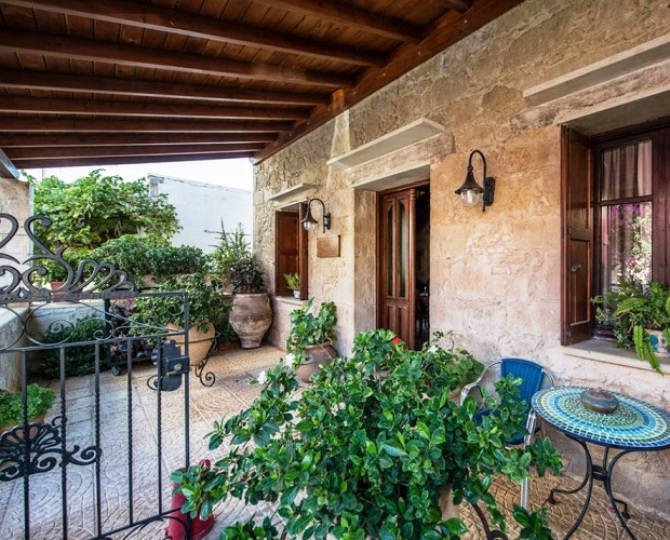 We supply suggestions for village hotels and guesthouses, with links for bookings below. As we are not a travel agent, we are a family who love Crete, we include these links to accommodation booking platforms which give you peace of mind for safe bookings. That is the simplest way to book.
In the west we suggest Villa Archontariki as it is within Kaliviani village and within driving distance from Chania. This is a good location for visiting Elafonisi, Falasarna and Balos Lagoon. Here Fotini will look after you and show you true Cretan hospitality. This impressive property of stone with traditional architecture and wooden ceilings has modern comforts including a pool, yet step out your door and you are in a friendly small village.

Yes, in Rethymnon we suggest Meronas Eco House, it is within a village and Manoli will look after you. This is a good central location in the abundant Amari Valley. Here you will have fresh fruit and vegetables from the garden and home-cooking. Here you will feel like one of the family.

Yes, the Pension Aretoussa in Pitsidia is within the village which is back away from the coastal hubbub of Matala Beach. Here the Spinthakis Family – Angelos and Kerstin - will look after you, in a small village community.

In the east in the very traditional village of Agios Konstantinos you will have an authentic Cretan experience with Georgos and Aliki - Vitaeli Guesthouse. This is a good choice to explore the gorges, mountains and Psychro Cave. Lasithi Plateau is the vegetable bowl of the island surrounded by dramatic mountains, a lovely choice of location in the east of the island.

Vitaeli Guesthouse - Village Hotels Crete
---
Village Hotels Crete
A Personalised Itinerary

Village Hotels Crete - a personalised itinerary is suggested below, we have included village guesthouses and some points of interest within driving distance of each village, however you may wish to just stay and enjoy village life and, of course, take suggestions from the villagers. The locals are the best ones to ask about good quality traditional tavernas in each location.
Day One - Sept 27
Arrive Chania Airport
Pick up hire car
Chania to Kaliviani 63 km
Stay Kaliviani
Stay Villa Archontariki
Day Two - Sep 28
Possible visits to mountains, gorges, Falasarna or Elafonisi Beach, Balos Lagoon and Kissamos Town
Stay Kaliviani
Stay Villa Archontariki
Day Three - Sep 29
Possible visits to Chania Town, Ano Vouves (old olive trees) or beaches
Stay Kaliviani
Stay Villa Archontariki
Day Four - Sep 30
Drive from Kaliviani to Meronas 132 km
Possible visits to Chania Town, Theriso Gorge and Village, Lake Kournas, Georgioupolis Beach
Stay Meronas Village
Stay Meronas Eco House
Day Five - Oct 1
Possible visits to Arkadi Monastery, Margarites Village, Spili Village, Rethymnon Town or Plakias Beach
Stay Meronas Village
Stay Meronas Eco House
Day Six - Oct 2
Enjoy village life or Amari Valley or Bali Beaches
Stay Meronas Village
Stay Meronas Eco House
Day Seven - Oct 3
Drive from Meronas Village to Pitsia via the Amari Valley and south 50 km
Stay Pitsidia
Stay Pension Aretoussa
Day Eight - Oct 4
Enjoy Gortyna and Phaistos archaeological sites, Matala Beach, Kamilari Village
Stay Pitsidia
Stay Pension Aretoussa
Day Nine - Oct 5
Relax and enjoy
Stay Pitsidia
Stay Pension Aretoussa
Day Ten - Oct 6
Drive from Pitsidia to Agios Konstantinos 120 km
Via Knossos Palace and the national road to the north
Visit Krasi Village with big plane tree in the plateia
Stay Agios Konstantinos
Stay Vilaeti Guesthouse
Day Eleven - Oct 7
Possible visits to Lathisi windmills, Psychro Cave, Katharo Plateau, walking trails and Selakano Forest
Stay Agios Konstantinos
Stay Vilaeti Guesthouse

Day Twelve - Oct 8
Drive from Agios Konstantinos to Heraklion Port 58 km
Take Ferry to Santorini – depart 8.40 am – arrive 10.25 am
Stay Mystique Resort in Oia

Above is the family-run Pension Aretoussa in Pitsidia, south of Heraklion

---
Village Hotels Crete
Information Pages

Information pages for this trip route and village hotels Crete: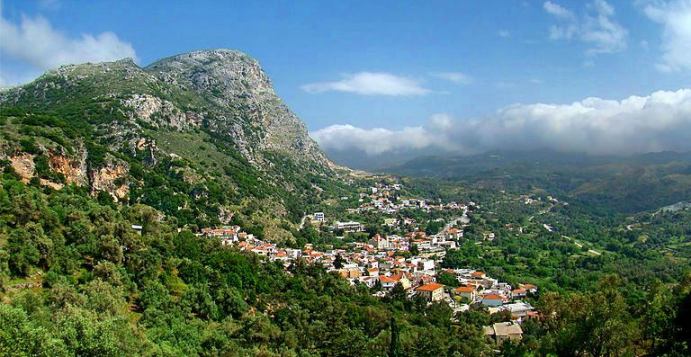 Experience real village life in Crete