Heraklion Car Rental

This page may contain affiliate links, see our disclaimer here.

---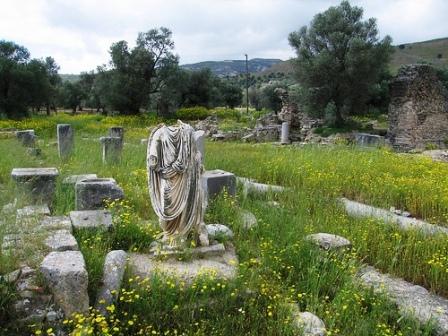 Heraklion Car Rental is best to visit the ancient sites of Crete - this is Roman Gortys
Tips for Your Self-Drive Holiday

Heraklion Car Rental - A Trip in Crete - We Answer our Visitor's Questions



Hi, your website is great and I just wanted some opinions on my upcoming trip.
I am 28 and am going with my Dad (62, but very active and fit) to Crete, Santorini and Mykonos June 28th - July 5th.

Crete is our first stop and I just have no idea how to start planning this trip. Everything looks so gorgeous it's hard to pick. We will be flying from Rome (I currently live there) into Heraklion airport. We would like to hire a car and see the ancient sites like Knossos and Phaistos.
I've read that the northern part of the island is a bit more touristy than the south. Is this true? For Crete we'd like to stay somewhere a little more private and not as busy.
Any help or direction would be greatly appreciated.
Thanks in advance
Laura, UK


---
Trip Summary


Yes Laura, to see Crete it is better to hire a car. It is a large island 260 by 60 km and there is so much to see, especially in the ancient sites you have mentioned, which are some distance apart, and the hillside villages, back roads, olives groves and mountains.
As you have only a few days in Crete, you and your Dad will benefit from hiring a vehicle and exploring the region of Heraklion.
Heraklion Car Rental in Crete or search below.


At Car Rental Centre Crete we are confident that you will be looked after by Harry and his team. You can have a vehicle ready for you at Heraklion Airport. Their upfront fees are clear and there are no hidden costs, it is an easy online booking system and a very good service by a local business.

---
A Personalised Itinerary for History Lovers

The partially reconstructed site of Knossos is controversial for its modern touches - just 5 km from Heraklion town
Heraklion Car Rental - we have prepared a three day itinerary in Crete for you, with an option for four days, and some suggestions for your trip to Santorini and Mykonos.
Day One - June 28
Arrive Heraklion Airport
Pick up your hire car
Drive to Phaistos archaeological site via national road 64 km
or via back roads 75 km (via Arhanes, Houdetsi, Inia and Mires)
Allow two hours to explore the site (there is a cafe there for morning tea or lunch)
Visit Gortyna archaeological site site 23 km
Stay just outside Kerasia village 25 km
We suggest Villa Kerasia (pictured below) for you and your Dad
This lovely bed and breakfast is very centrally located for visiting all the historic sites of Heraklion, Crete
Villa Kerasia sits in the countryside just outside Kerasia Village in central Crete - just 27 km to town with Heraklion Car Rental
Day Two - June 29
Take a drive to Knossos Palace archaeological site early to avoid the crowds
Villa Kerasia to Knossos via national road 25 km
Villa Kerasia to Knossos via back roads 34 km (Via Kerasia, Venerato, Tsagkaraki, Agios Sillas & Vasilies)
Allow two hours for the visit - tips for Knossos here
Visit Heraklion town for lunch 5 km
See the Archaeological Museum
Stay in town or in Kerasia
We suggest Lato Hotel for you and your Dad (nice and central to everything and wonderful service)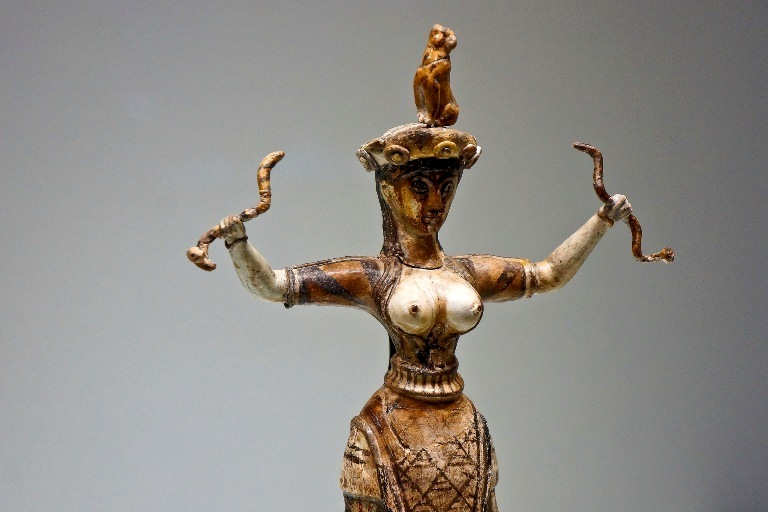 Snake Goddess Figurine - part of the extraordinary display at Heraklion Archaeological Museum
Day Three - June 30
Drive to Malia Palace archaeological site
Heraklion to Malia Palace 43 km
Stay near Avdou Village 20 km
We suggest Velani Country Hotel for you and your Dad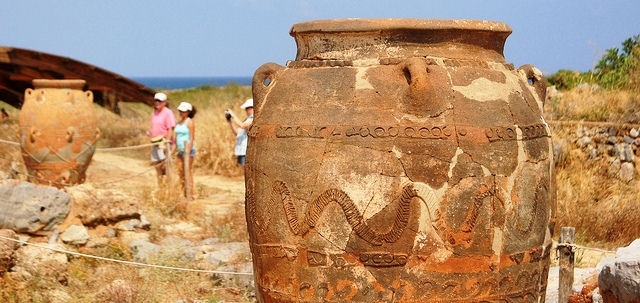 Malia Palace is one of the four Minoan Palaces of Crete - 43 km drive from Heraklion town with Heraklion Car Rental
---
Santorini & Mykonos

Day Four - July 1
Stay in Crete or take your ferry to Santorini
In Crete we suggest the mountain villages of Anogia or Zaros
Or the beaches at Agia Pelagia just 23 km from Heraklion

Day Five - July 2
Take the ferry from Heraklion to Santorini (under 2 hours)
Depart 8.40am arrive 10.25am
Stay at Perissa Beach (black beach)
This is a little away from the capital which is more to your liking, but be warned that Santorini is a heavily touristed island and July is high peak season
We suggest Villa Dimitris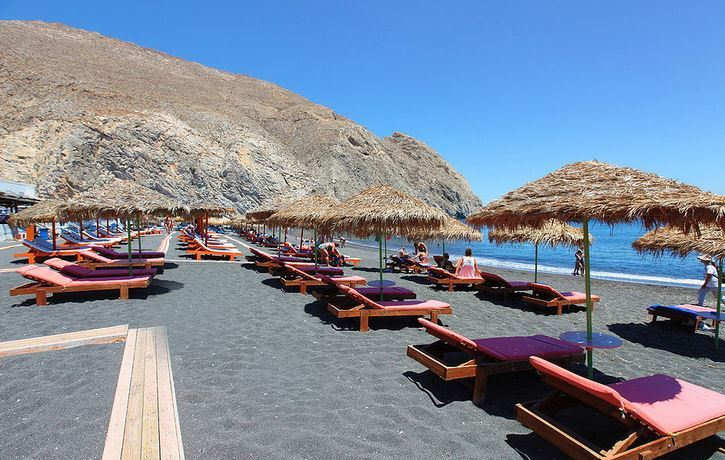 Perissa Beach in Santorini - is also called Black Beach
Day Six - July 3
Stay in Santorini
Stay at Villa Dimitris

Day Seven - July 4
Early morning – explore Santorini
Depart 10.45am on ferry Santorini to Mykonos – arrive 1.05pm
Explore Mykonos Chora
Stay centrally at Matina Hotel – small and traditional for you and your Dad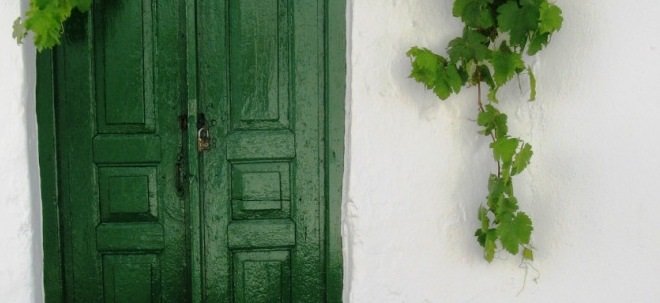 Exploring the laneways of Mykonos Chora is a visual feast
Day Eight - July 5
Stay another day and explore Mykonos Island
Or Depart to Mykonos to Athens by ferry 2 hours 15 minutes
Depart 14.40 arrive 16.55
Or Depart from Mykonos Airport to Athens by air 40 minutes
There are five departures per day
---
Heraklion Car Rental in Pictures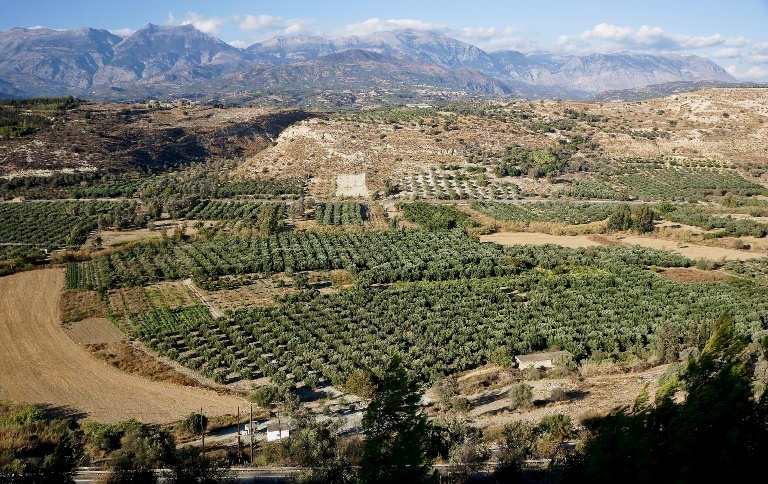 Phaistos looks towards the Psiloritis Mountain range
Heraklion Car Rental - above you can see the view from the road approaching Phaistos Minoan Palace Archaeological Site looking west towards the Psiloritis Mountains. Phaistos itself is located in the Messara Valley, on a rise which would have been a fertile and strategic location for the settlement in Minoan times.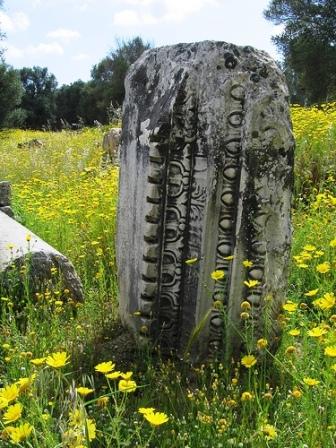 Gortys is a Roman ancient site dating from first century AD
Gortyna Archaeological Site (pictured above) dates from much later than Phaistos or the Minoan history of Crete, as it is mainly ruins of a Roman settlement. This was the richest city on the island from the 1st to the 5th Century AD, under the Romans.
Highlights include the Odeon from 1st Century AD, the display of the Gortyn Law Code from 5th Century BC, and the Church of St Titus, dating from the 6th Century AD.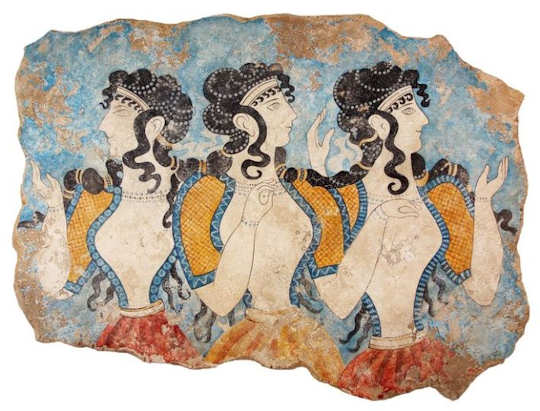 Knossos Palace is famous for its frescoes...
Knossos has been partially reconstructed and a few frescoes can be seen on the site, however most of the frescoes, such as the 'Ladies in Blue' pictured above, can be seen at the Heraklion Archaeological Museum, which houses the majority of the historic collection on the island.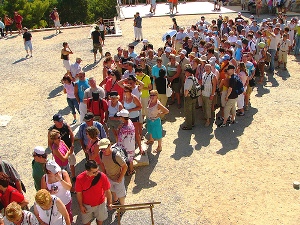 ...and for its queues!
Get to Knossos early!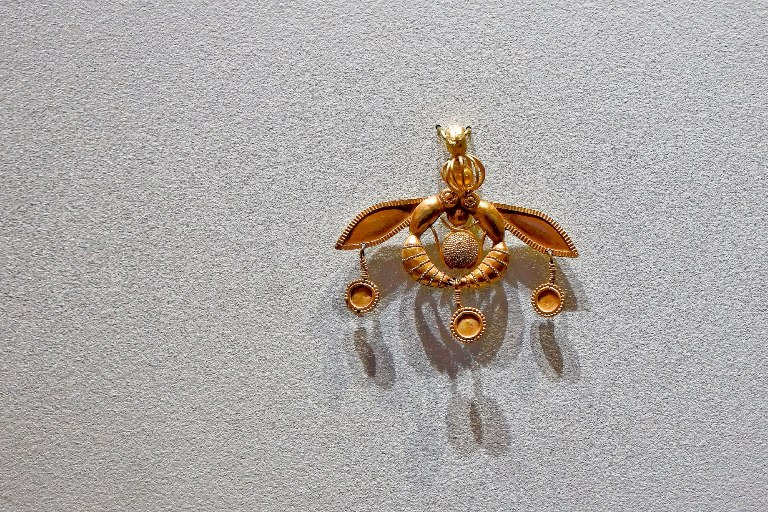 The Bee Pendant was discovered at Malia Palace ancient Minoan site and is displayed at the Heraklion Archaeological Museum
Villa Kerasia makes a great base for exploring central Crete with a vehicle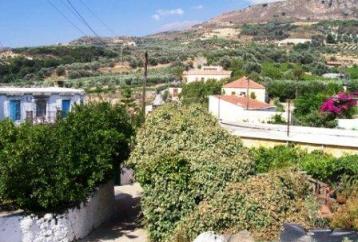 Kerasia is a very friendly village in central Heraklion region
It is in the small villages of Crete that you will find the true hospitality and culture of the island, above is the village of Kerasia near Venerato just 23 km south of Heraklion town. There are a couple of places to stay near here, and one or two little shops. This is a small, quiet village where life is full of the healthy, relaxed Greek way of life. History buffs will enjoy this location from which to explore many ancient sites.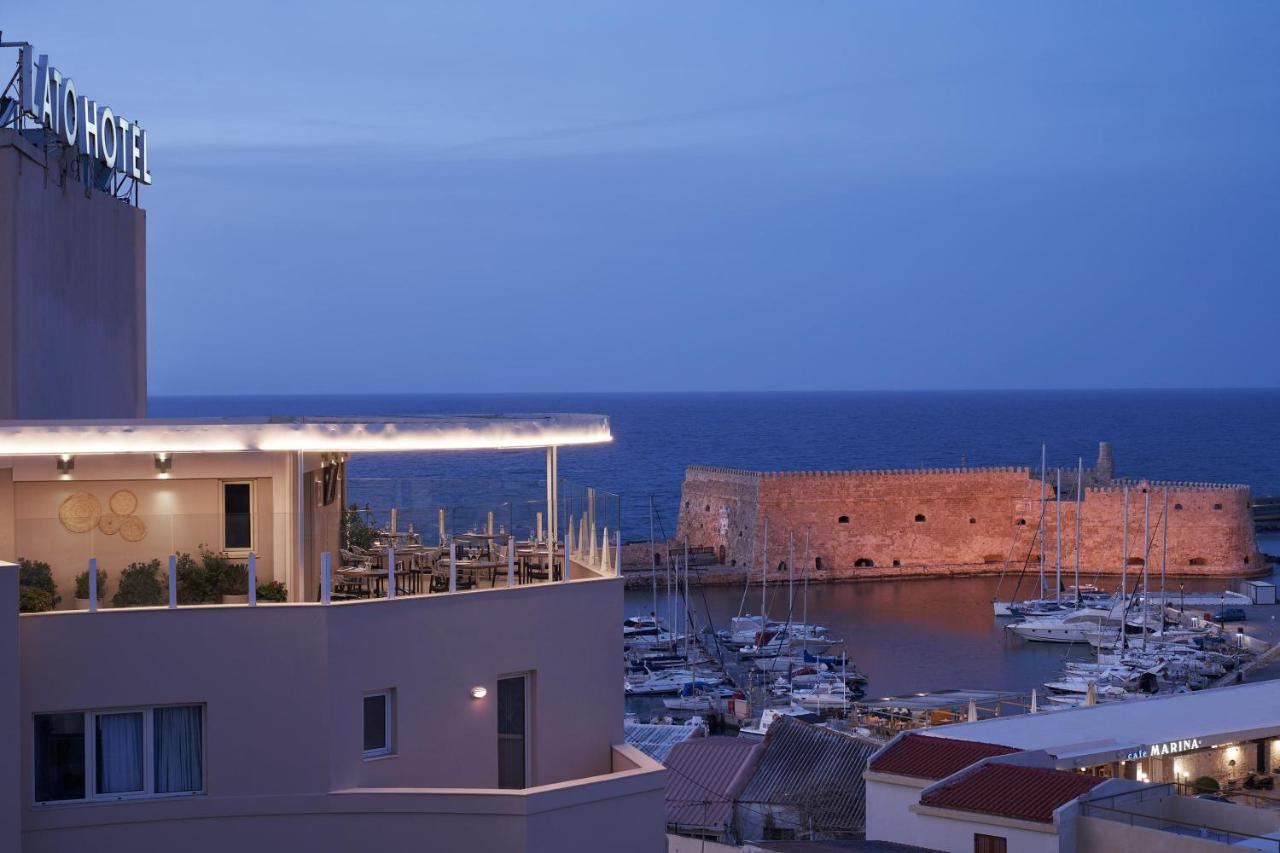 The Lato Hotel in downtown Heraklion is centrally located and looks over the old port and Venetian Fortress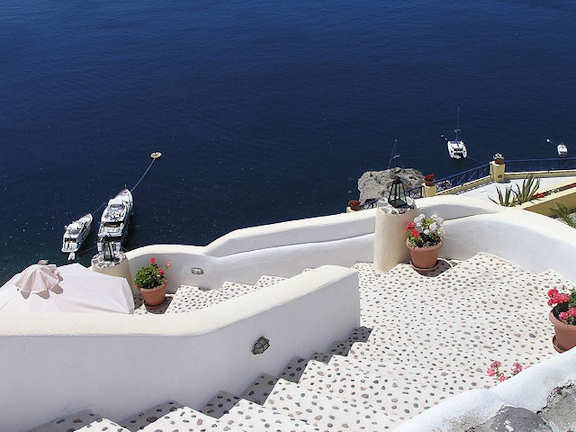 Get to Santorini from Crete in less than 2 hours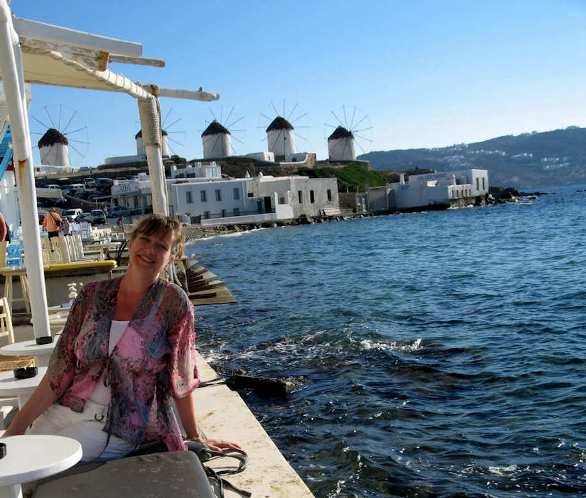 Enjoy the seaside cafes in Little Venice, Mykonos whilst gazing at those famous windmills...
Bon Voyage - Kalo Taxidi!