Avdou Village
This page may contain affiliate links, see our disclaimer here.

---
In Central Crete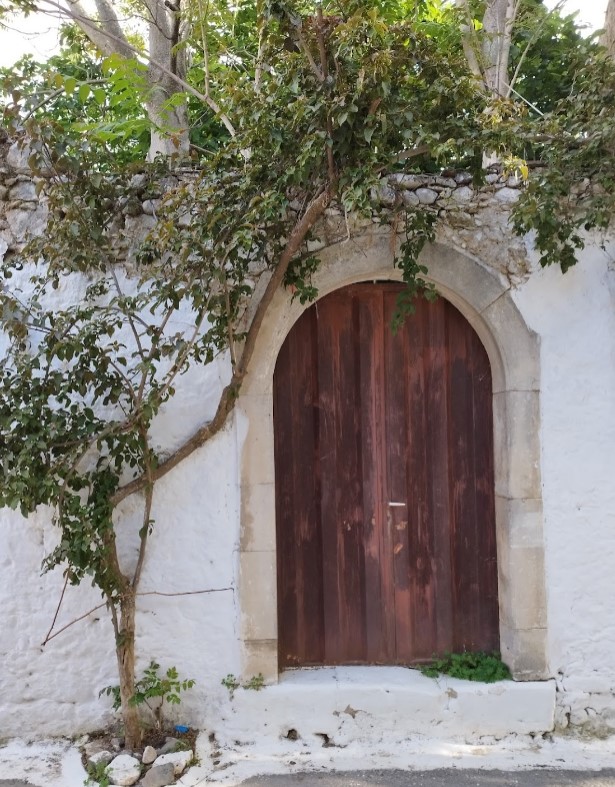 Avdou is a rural village in Crete in Greece, located 33 km from Heraklion town. In Greek the name is written Αβδού. It is in the Heraklion region.

---
About the Village
There are six Byzantine chapels here.
The village is also named Capetanochori or Captain's village in respect of the many leaders and revolutionaries who fought against the Ottoman rule until late in the nineteenth century, and for their bravery during the Second World War.
The village sits just 15 km from the beach, but is a lifetime away from the tourist playgrounds and nightclubs. This is a place to seek peace and quiet, healthy food and the outdoors. Dotted around are fruit trees such as apricots, oranges and tangerines, and the silver-grey of olive groves. Even more exotic fruit such as kiwis grow here, and organic vegetable gardens thrive.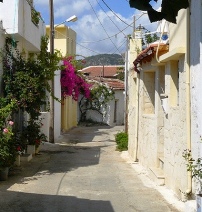 Situated in the pretty Lagada Valley, this is a good spot for horse-riding, hiking, walking and bird-watching. Its position on the way to Lasithi Plateau means that day trips from this village into the mountains are a natural choice. From there the more adventurous can try mountain climbing, caving and para-gliding.
---
Accommodation
There are lovely places to stay in the village and nearby, places that show you the real, slow life of Crete, where you can relax and breathe softly and quietly, and experience the countryside and the village at your own pace.

Casa Di Fiori - a characteristic 4 bedroom house in the village with full kitchen, modern comforts and outdoor area with wood fire pizza oven. Enjoy the terrace, this makes a wonderful base in the north of Crete. 40 km from Knossos.
Hotel Velani is less than 3 km out of the village and has its own horse riding stable. Many people come here to ride, however many come to simply relax. Run by Sabine and Manoli with endless hospitality, this is a real Cretan experience. An oasis of calm with a pool and extensive gardens. Enjoy a meal with beautiful views across the valley from the stylish Restaurant Velani.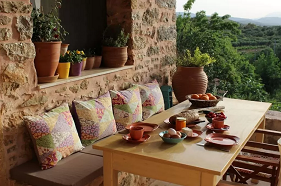 The House on Organic Orgon Farm is  a short 24 km drive from Avdou in the surrounding valleys, and is a peaceful retreat perfect for a relaxing holiday. The house welcomes 6 guests, with views of the countryside and the village of Apostoli very close. 15 km from Knossos Palace. Manolis is a true Cretan host.

---
Local Olive Oil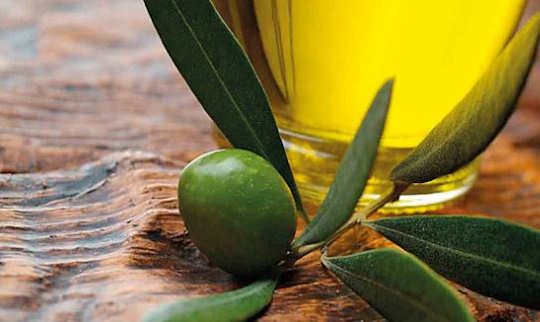 In the village of Avdou is 'Saveurs de Crete' a local store of the Assargiotakis Olive Oil Company. This olive oil is exported all over the world from these valleys. Enjoy the local olives, extra virgin olive oil, soaps and thyme honey. Try the honey with orange and the lemon infused olive oil.

---
Local Cretan Food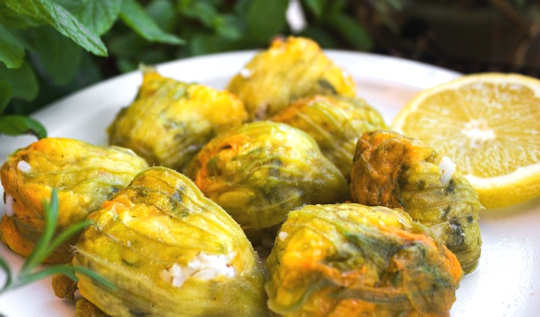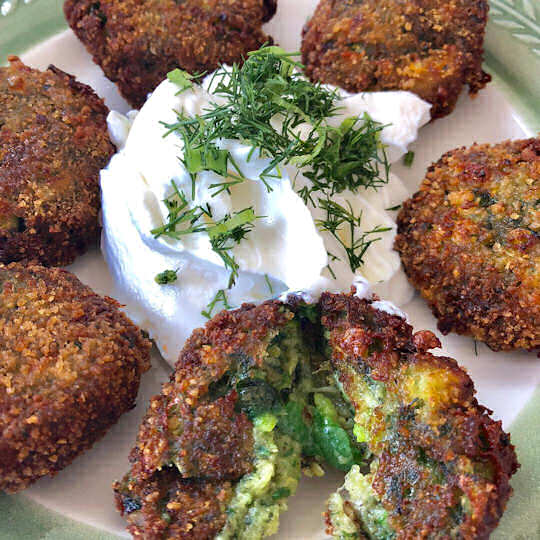 In the village of Avdou is a kafenion and a taverna offering the best of local experience.

Just 1.5 km from Avdou on the outskirts of the village of Gonies is Taverna Gonies serving traditional Cretan food, home style, cookied in a wood-burning oven. Kostas and Maria will look after you. An amazing setting with views to the Lassithiotika mountains.
Try the mezedes, fresh and simple like chorta or wild greens, a rustic salad choriatiki salata or stuffed zucchini flowers kolokithakia yemista, the spinach pitas spanakopita, fried zucchini balls kolokithokeftedes, and so much more.
---
Images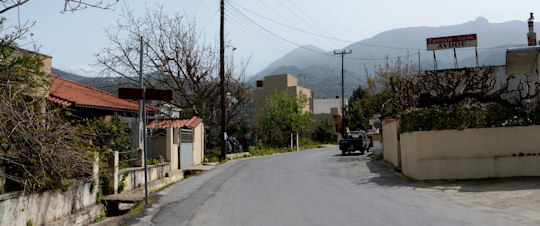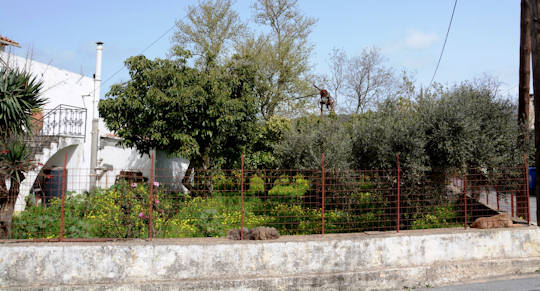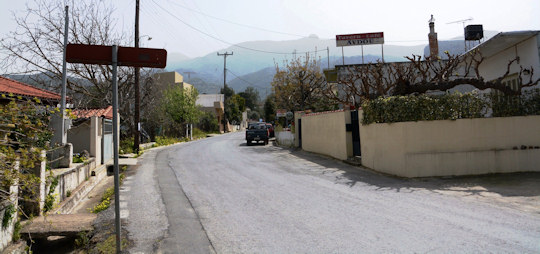 ---
Video Above the Village
Below is a video of tandem paragliding in the skies above the village.
And paragliding above Avdou with vultures.

---
Heraklion Town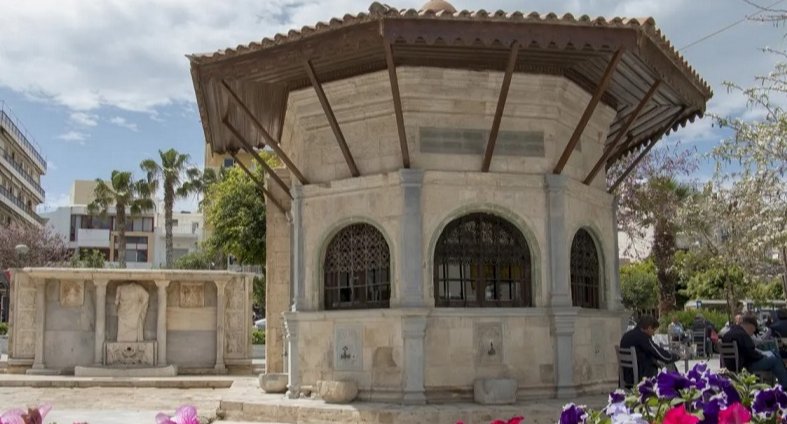 If you do fly into Crete via Heraklion Airport, you may want to visit to enjoy the highlights of Heraklion town, which include:
Liondaria Fountain
Heraklion Archaeological Museum
Old Venetian Harbour and Koules Fortress

Agios Titos Church and Square

Pedestrian Shopping Streets
1866 Local Market
Koraii Cafes and Bars
Memorial to Eleftherios Venizelos
Kournarou Square
---
Exploring around Avdou
Another beautiful inland village, Archanes, is a comfortable 46 km drive through northern Heraklion prefecture. This village is full of history and local culture, surrounded by wineries and just a blink away from Knossos Palace.

Lasithi Plateau is about 18 km drive, surrounded by the Dikti Mountains this makes a lovely day's excursion, perhaps to stop for lunch in the village of Tzermiado on the plateau.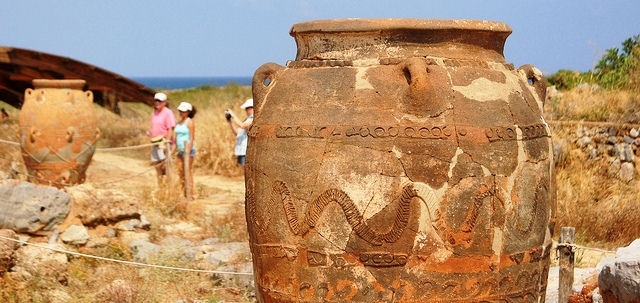 Just 18 km from the village is Malia Crete, which is one of four ancient palaces of the Minoan civilisation on Crete dating from around 2000 BC.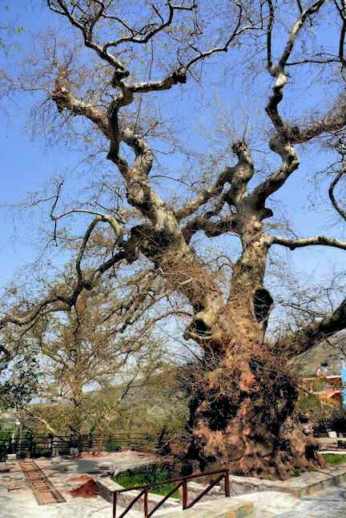 Ancient plane tree in Krasi Village
When heading east from the village, drive through to Gonies then continue on a road which meanders up the slopes of Mount Dikti, taking a side trip to the village of Krasi, which has a most relaxing plateia with a fountain, and an ancient plane tree (pictured). Relax under the platanos tree, enjoy a local coffee from one of the many kafenia and perhaps a tsikoudia. This village is especially cool and refreshing in summer because of the running water and many trees.
---
Heraklion Region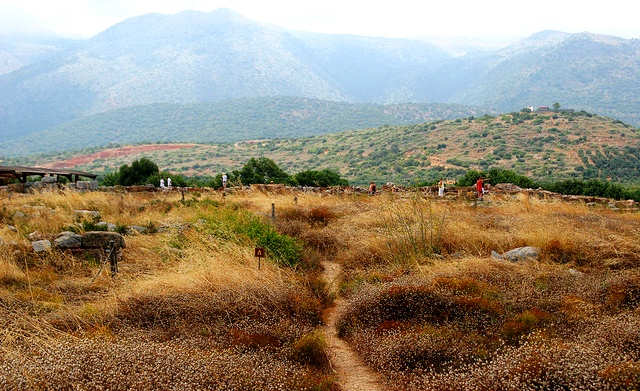 In the region of Heraklion, there is just so much to explore:
---
On the Map
See the location of the village on the map of Crete below.
---
Getting Here
Arrive into Heraklion Airport and drive just 40 km along the national highway and through valleys to Avdou.
From Athens there are many flights per day to Heraklion with both Olympic and Aegean airlines. The flight time is 1 hour. More details below.
From Athens port of Pireaus there are ferries every day and the crossing duration is approximately 9 hours. More details below.
From Santorini ferry crossing duration is 2 hours. More details below.
Flight and ferry frequencies differ in summer and winter seasons.


Car hire in Crete is a really good idea as it is a large island 60 km by 260 km. There is so much to explore.
When you book with our car rental partners - Rental Centre Crete - you are supporting a local company with excellent service and an easy online booking procedure. We are sure you will be well looked after by the team. Choose from hybrid or non-hybrid vehicles.
---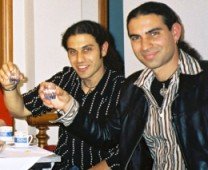 "We trust you have enjoyed these tips from the team at We Love Crete. Evíva!"
Contact us with further questions or feedback. We love to hear about your travels in Kríti and Greece. Let us know of any updates or additions, errors or omissions. Help us make this website the best it can be. Kaló Taxidí!

---