Crete Villa
This page may contain affiliate links, see our disclaimer here.

---
Crete Villa - Choose your villa from our suggestions below - from west to east take your pick of rural villas with charm. Relax with the whole family in a spacious villa in Crete.

A Villa in Chania

A spacious rural villa not far from Chania town, explore history, art, museums and architecture in the town and find local beaches or vineyards, olive groves and tiny mountain villages, all from the comfort of your family villa.
Arrive by air into Chania Airport or by ferry into Souda Port.
Provarma Home - this villa home is like a large village house with all modern fittings and fixtures where your group or large family can gather to experience Crete with the convenience of a large villa with pool, terrace and a handy location in Chania.

This large home can welcome 20 guests with 9 bedrooms and 7 bathrooms.
Host your seminar, study group or family reunion in comfort here, just 19 km from Chania Town, 13 km from Chania Airport and only 9 km from Kalyves Beach. 

---
A Villa in Rethymnon

Crete Villa - Kaloniktis
Stratos Villas are located in rolling hills in the central north of the island, only 7 km from the beach.
Sitting on a small hill 12 km from Rethymnon town on the north coast of Crete, Stratos Villas are 82 km from Chania town and 70 km from the international airport, in the very centre of the island. This makes a perfect location from which to explore the whole island of Crete.
Arrive to this villa via Chania Airport CHQ or ferry into Souda Port.
Villa Stratos is run by a local family. Eva Kapetanakis says:
"This is a family business. Villa Stratos has taken its name from my husband Stratos, Villa Fouli from my eldest daughter Fouli and Villa Maria from my younger daughter Maria.
We make our best for our guests, in order to have relaxing and unforgettable holidays here in Rethymnon".
The location of the villas just outside a small village, surrounded by agricultural land, makes it perfect for agrotourism adventures.
Whether it is walking tour or cycling in the nearby leafy paths, or hiking on the lush hills and discovering beautiful plane, oak and olive trees as well as various aromatic plants, bushes and herbs, there is plenty to do here.
A small river 100m away from Stratos Villas is a relaxing spot for watching frogs, crabs, turtles, ducks and birds or simply meditating in nature.
From April to December there is gardening to enjoy, whilst in May, June and July there is sheep shearing and in November the new season's wine tasting is open to guests.
Are you interested in cooking Cretan food? Evangelia, the now famous family cook, will be very pleased to show you the way pure traditional Cretan dishes and sweets are made.
Pure virgin olive oil, home-made wine and raki, fruits and vegetables are produced in the house gardens. Plenty of other locally grown foods are also delicious.
Kaloniktis is an unspoilt farming village with narrow lanes and beautiful traditional Cretan architecture and Venetian buildings including a mill. The surrounding countryside is wonderful for walking.
---
Exploring Rethymnon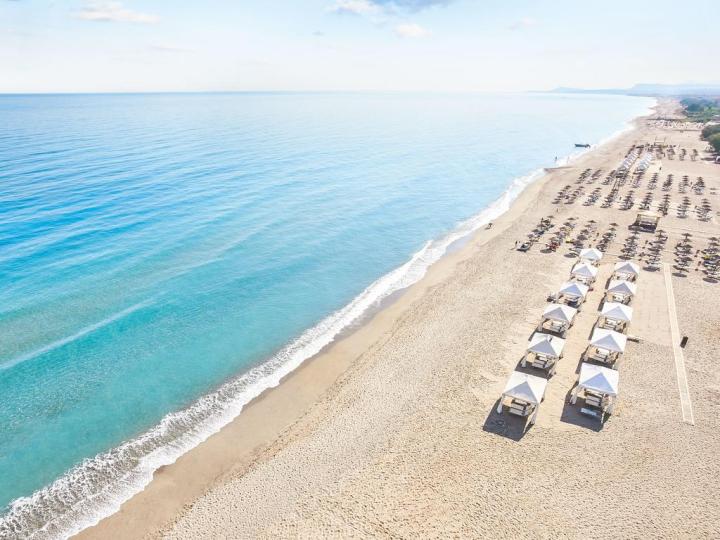 Rethymnon Beach
From here you can visit:
---
Heraklion in the Centre
Crete Villa - Heraklion - visitors come to the centre of the island to visit Knossos Palace, the beautiful beaches and the Heraklion Archaeological Museum.
Arrive by air into Heraklion airport HER or by ferry into Heraklion Port.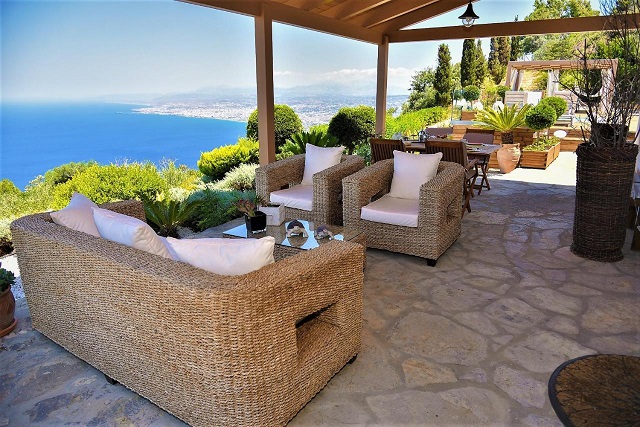 Villa Rodea sits high above Agia Pelagia just 10 km from Heraklion town with ocean views, fresh air and that beautiful sensation of space from every angle in the villa. Start your mornings on the terrace. The villa welcomes 8 guests in style with 4 bedrooms, 1 bathroom, a large kitchen and a lovely pool.

---
Lasithi in the East

Crete Villa - Lasithi - the east of Crete is lesser known than other regions yet holds the secrets of many stunning beaches, beautiful bays, wild mountains, ancient historic sites and three major towns.
Arrive by air into Heraklion Airport HER or by ferry into Agios Nikolaos or Sitia.

Ammoudara Mediterranean Villa is just 3 km from Agios Nikolaos in Lasithi. This villa is private with relaxing spaces very close to the beach. This homey space is charming and well cared for, with open plan features, it feels open and airy.
Enjoy sea and mountain views with 5 guests in comfort.
Stroll just 200 metres to Ammoudara Beach for your morning dip.

---
Crete Villa - Find it on the Map

Crete Villa - see the location of your villa on the map below

---
Getting Here
When you book with our car rental partners - Rental Centre Crete - you are supporting a local company with excellent service and an easy online booking procedure. We are sure you will be well looked after by Harry and his team. Choose from hybrid or non-hybrid vehicles.
---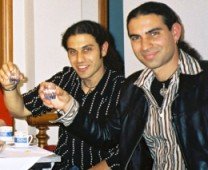 "We trust you have enjoyed these tips from the team at We Love Crete. Evíva!"
Contact us with further questions or feedback. We love to hear about your travels in Kríti and Greece. Let us know of any updates or additions, errors or omissions. Help us make this website the best it can be. Kaló Taxidí!

---