The Villages of Crete
It is the inland villages of Crete, untouched by mass tourism, that are the essence of Crete. Travellers and visitors are always welcome. Hospitality is ingrained in the Cretan way of life, it is respected and understood.
Village by Village

Theriso is a mountain village just 18 kms from Chania where an important historical uprising took place in 1905. In this beautiful gorge country is the real essence of Kriti.

Chora Sfakion located 75 kms south of Chania, in the proud Sfakian region.

Margarites village in the centre of the island, 30 kms south-east of Rethymnon Town, is a beautiful village offering pottery and plenty more.

Fodele the birthplace of El Greco, is in a lush valley full of mandarins and oranges. The village huddles over the rushing stream amongst shady trees.

Zaros is a mountain village in Iraklion nomos, close to Lake Votomos and Rouvas Gorge.
Kerasia is a small modern village set in the rolling foothills of Psiloritis in Iraklion nomos, surrounded by grapevines, olive trees and perivólia.

Dafnes is 18 km south of Iraklion town and home to a vibrant wine industry.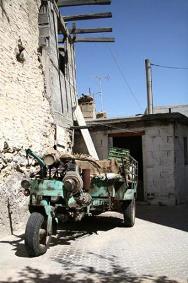 Agia Pelagia is a loveable beach village 20 km west of Iraklion town, surrounded by sparkling turquoise bays.

Archanes Village in the central north of the island, is 14 kms from Heraklion town and only 7 kms from the ancient Minoan Palace of Knossos. A beautiful village with many beautifully restored buildings, it sits amongst wine country.

Matala is an interesting beach village on the south coast of the island with a colourful history and unusual rock formations.

Avdou is located in a pretty valley just 18 kms from Malia in the north of Crete. Surrounded by gardens, orchards and olive groves, it is a centre for organic farming.


Tzermiado is a small village on the beautiful Lasithi Plateau, surrounded by fertile gardens and ringed by the Dikti Mountains.
Elounda sitting on a bay 11 kms from Agios Nikolaos in Lasithi, is one of the most luxurious villages in Crete.
Kritsa is 10 kms from Agios Nikolaos in the foothills of the Dikti Mountains. A proud Cretan village of Lasithi.

Palekastro near Vai beach in the west of the island, is a lovely village of Crete.
---
Return from Villages of Crete to We Love Crete Homepage
---