Villa Rental in Crete
Looking for a quiet, self-contained
villa to rent in Crete?
Here we show some great choices for villa rental in Crete; villas available for short-term rental, with the character of Crete and modern touches.
Luxury Villas in Crete...stylish villas in Elounda, Agios Nikolaos and Rethymnon.
Choose your villa by location on the map below...
---
Villa Markos Chara
Just 14 km to the east of Rethymnon Town in the centre of the island is the village of Asteri, set in rolling hillsides and only 11 km from from the famous Arcardi Monastery. Nearby is the village of Pangalahori. Gorges nearby to explore include Mili, Prasanos and Tsirita. The lovely beach of Stavromenos is 5 km from Asteri.
There are two lovely villas to rent near this village; so central to the whole island of Kriti, each of which would make a good base from which to explore the island with a vehicle.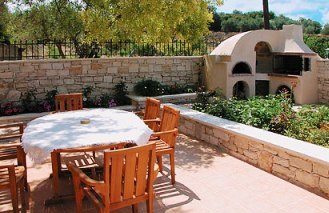 The large villa of Markos Chara sleeps ten people or can be divided into two villas, Markos and Chara.

Stone built in two stories with rustic wooden fittings and simple tastes, the villas have been fitted with modern touches including air conditioning and jacuzzi.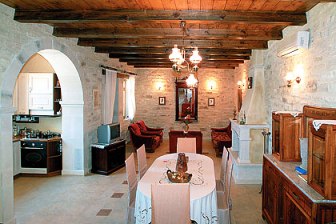 There is a pool and outside ovens to enjoy the outdoors, dishwasher and coffee machine, and satellite TV to enjoy indoors. That is, of course, when not out exploring beautiful Kriti.



Villa details and rental information for Villa Markos Chara
---
Myrtia Villa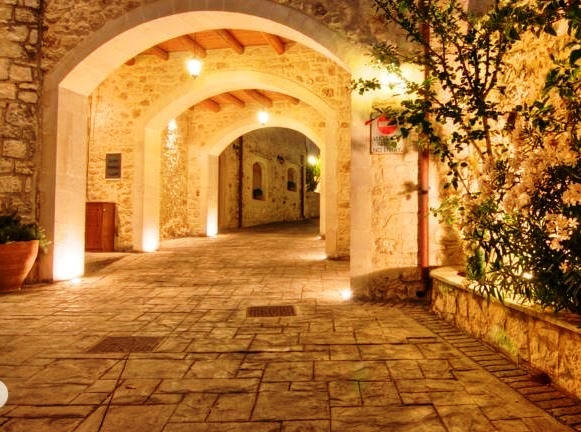 Myrtia Villa, near the village of Atsipopoulo, sleeps eight, with a large pool and outdoor area, a private terrace and BBQ, this lovely villa is surrounded by olive groves with views to the sea. It features two bathrooms, traditional stone style and features, air conditioning and quality appliances. Owners Maria and George will look after your every need.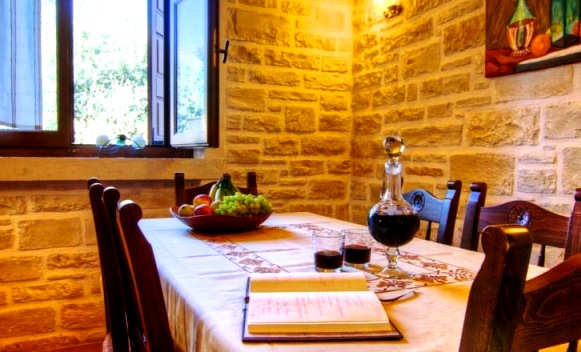 Myrtia Villa is 5 km from Atsipopoulo and 7 km from the nearest beach, and only 2 km from historic Rethymnon Town. Very central to the whole of Crete, this comfortable villa would make a good base from which to explore Crete by car.

Villa details and rental information for Myrtia Villa
---
Villa Hektor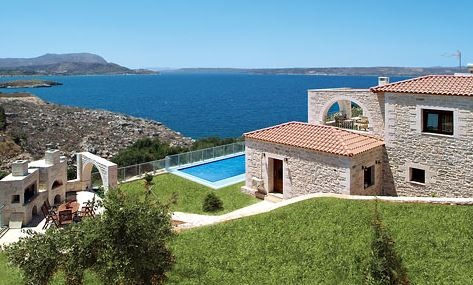 The village of Plaka is located 24 km from Chania Town in the west of Crete. Set on a cliff top overlooking the stunning scenery of Souda Bay, this villa is only 1.5 km from the small village of Plaka with its seaside beach village Almirida only a few miles away. Almirida has an organised beach, tavernas famous for their tasty food and calm waters ideal for families.
Villa Hektor sleeps six, with three bedrooms and three bathrooms, this modern built villa keeps the traditional Cretan style; the large terrace makes the most of the exquisite views.
Villa details and bookings for Villa Hektor...
---
Villa Rental in Crete
Stratos Villas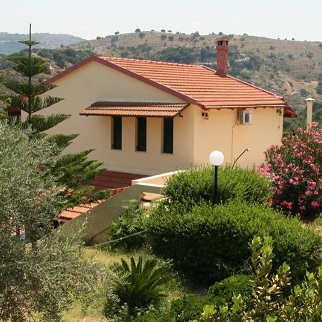 Stratos Villas are located near Rethymnon near the village of Kaloniktis only 7 kms from the beach. Run by a local family, Eva Kapetanakis says:

"This is a family business. Villa Stratos has taken its name from my husband Stratos, Villa Fouli from my eldest daughter Fouli and Villa Maria from my younger daughter Maria."
---
On the Map...
Villa rental in Crete by location - see the interactive map below - with markers for our specially selected villas:
---
---
Rental Tips...
Some reminders to make villa rental in Crete easier –
Location - be sure you know exactly where your villa is situated, what access roads are available and the route used to travel to and from the villa. Use our map (above) to help you locate your villa and your corner of Kriti.
Book Well Ahead - especially for summer season - June July and August - villa rental in Crete is booked well in advance. Book well ahead to avoid disappontment.
Deposit – each villa rental in Crete will require a deposit with your booking.
Cancellation Fees – please check the cancellation fees when making your booking.
Insurance - We strongly recommend all those booking villas to have travel/cancellation insurance.
Payment by Credit Card – when paying for your villa rental in Crete, be aware that some services charge an extra percentage for payment by credit card. Check this as you proceed through the internet payment system.
Personal Details – ensure you are comfortable with the security of the website you are booking with as your personal details will be required to make a booking.
Late Arrival and Early Departure – again this will be best if the renters have travel insurance.
Swimming Pools – if renting outside of summer season please check beforehand as to the status of the pool, do not assume it will be open and available.
Washing Machines / Airconditioning / Heating – it is advisable to check these details before booking your villa. Each villa is different and some variations in services are found. Extra costs for heating or airconditioning may be charged, so check beforehand.
Feedback & Reviews – At We Love Crete we have done our best to put renters in touch with reputable firms with excellent service and wonderful accommodation choices for villa rental in Crete. If you have feedback, or if you are particularly happy with your experience of villa rental in Crete, please let us know via our secure contact form.
---
Disclaimer - We Love Crete does not rent villas and cannot be held responsible for individual decisions or transactions made from the information contained on this site about villas. We Love Crete suggest that you please ensure to double-check all details and arrangements for your own information.
Every care has been taken by We Love Crete web authors in compiling the all the information included in this web site. However, all information about the properties has been provided by the advertisers or owners  and is provided in good faith. Enhance Living Synergy will not be held liable for any errors, omissions, misunderstandings or claims arising from the advertisement or any arrangement or booking made by a guest with an advertiser.
When booking a property for a villa in Crete, we would just suggest that  you ensure all details, including booking conditions, are confirmed by e-mail or in writing with the owner.
---