Accommodation Crete
Our Top Picks...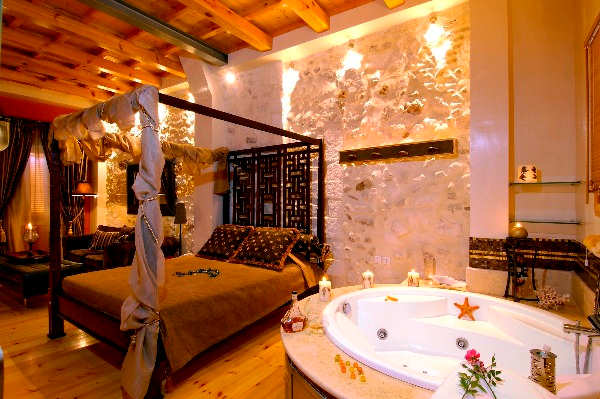 Avli Lounge Apartments - Rethymnon
Accommodation Crete - we present all our selections for hotels, guest houses, cottages, small inns, rural eco-tourism experiences, domatia, beachside hotels and luxury spa resorts all over Kriti...

Looking for a pad by the beach?
Perhaps a quiet rural escape?
A unique historic hotel in the old quarter?
Our individual choices tend towards small, family-run places with authentic feel of the real Crete.
Each accommodation selection takes you to our partners Hotels Combined or Booking.com for further information and rates.

These are great tools for finding cheap rates via the web. The site searches through hundreds of internet sites and brings you back the best rates for the dates you have chosen.
It saves a lot of hours surfing the web, we also find the layout, the info, the photos and the booking systems very user friendly and helpful. Our visitors find them easy to use and reliable.
---
Accommodation Crete - Villas
For those seeking a private villa for an extended stay or a family gathering, perhaps a reunion or wedding, we have partnered with international villa managers and offer many exquisite villas all over Crete.
Or you may choose the family run Stratos Villas in rolling hills just 12 km south of Rethymnon.

Crete is renown for her high quality luxury villas, we have chosen a few here that provide exceptional experiences such as Almond Tree Villa, Merope Villa near Elounda and Lotus Villa in Rethymnon.
In Chania - we provide a range of villas within driving distance to your beach destination - choose your beach first then see the villas that could satisfy your romantic or family holiday.

We also have several information pages about beautiful villages all over the island, and the mountainous areas as well as the beaches, towns, history, food & wine and literature of Crete.
---
| | |
| --- | --- |
| | Greek Islands travel tips - our personal tours of Santorini, Mykonos, Rhodes, Karpathos and many other beautiful islands - plenty to explore with our top accommodation picks for each island. |
---
Accommodation Crete - Top Picks
Here are our top picks across the island...we like to choose small places with local character, run by local families with excellent locations and service...
In Chania...
In Chania we suggest you choose the Alcanea Boutique Hotel near the old harbour, a perfect experience of the quintessential character and charm of the old town of Chania.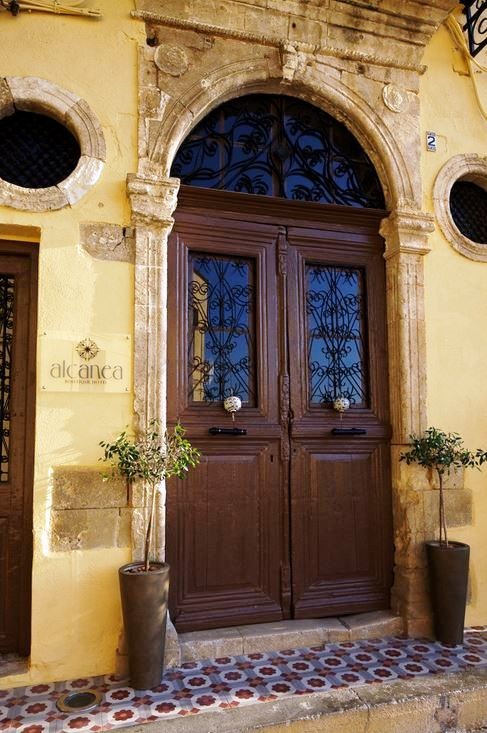 Accommodation Crete, Alcanea Boutique Hotel, Chania
---
Accommodation Crete -
Rethymnon....
We suggest spending your nights within the walls of the old town of Rethymnon, soaking up the Venetian charm all around you. The Casa Moazzo suites are exquisite...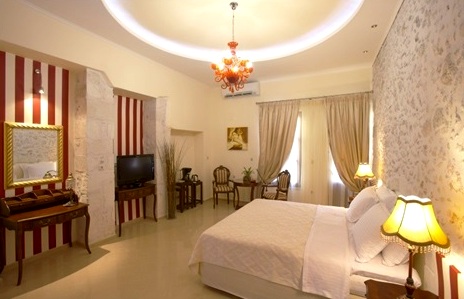 Casa Moazzo Suites, Rethymnon
---
By the Beach...
This unique building is beautifully situated on a point next to a cove & beach. If you are looking to write your next novel, or even your first novel, this could be the peace and quiet you are searching for...
The Stone House is a beautifully restored store house used for seaside deliveries, with its own private sandy cove...
Karavos Beach is 10 km east of Agios Nikolaos in the east of Crete, this house makes an ideal base for exploring eastern Crete.
The Stone House - right on the water
---
Restored Rural Beauty...
Just 5 km from Knossos and close to both Heraklion and the Heraklion International Airport, the delightfully atmospheric rural village of Archanes is renown for its character and architecture.
The Arhontiko Studios make the most of a restored aristocratic house, offering plenty of authentic local flavour.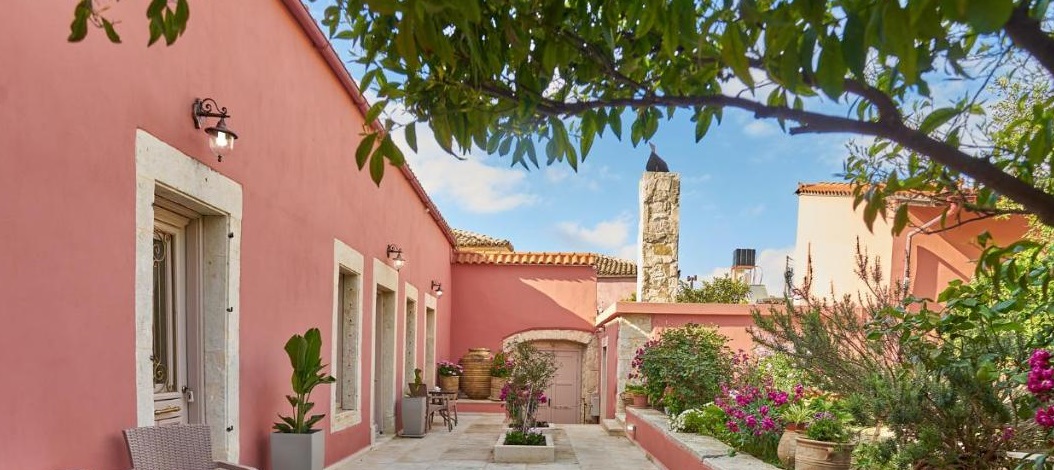 ---
Ready for Love? Amor Villa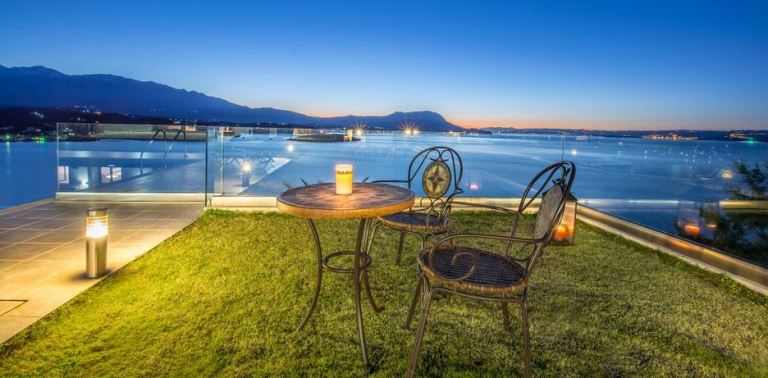 Amor Villa in Plaka, Crete
This beautiful villa overlooking Souda Bay near Chania sleeps 8, is only 1.5 km from the beach and 27 km from Chania Town. Beautifully appointed and recently renovated, this villa with it's infinity pool will uplift your spirits with such a wide view of big blue open skies and fresh perspective.
This villa is an easy 34 km from Chania International Airport.

More information and bookings for Amor Villa...
---
Of course if you have any further questions about any of the places we suggest, please contact us.