Cheap Holidays to Crete

This page may contain affiliate links, see our disclaimer here.

---
Budget Options for Independent Travellers

Cheap Holidays to Crete - choose your best budget accommodation and travel options, yet still enjoy the real Crete with her beaches, villages, music and nightlife.
Below we show you how to find a cheap flight to Crete, ferry options, camping and low-cost accommodation in Chania, Rethymnon, Heraklion and Lasithi, and how to get around on low-cost local buses.

This is the budget symbol.


---
Cheap Flights

Cheap holidays to Crete - find flights into two airports in Crete from all over Europe. Or fly in via Athens, with a connecting flight with duration of 1 hour to Chania or Heraklion.

---
Ferries to Crete

Cheap holidays to Crete - take an overnight ferry from Pireaus, the port of Athens, with a duration of 9 hours, take a ferry to Chania or Heraklion from Athens.
Ferries run from Santorini (Thira) to Crete into Heraklion port with duration less than 2 hours from May to September. At other times the year the crossing takes 6 hours.
---
Camping Accommodation
Kissamos


Cheap holidays to Crete - in western Crete stay on the beautiful Bay of Kissamos at Camping Nopigia. This accommodation sits directly on the beach 5 km from Kissamos town where there are lots of services - buses, supermarkets, tavernas and cafes - and beautiful beaches. The view over the picturesque Bay of Kissamou is expansive and this location puts you close to Balos Lagoon as well as Falasarna Beach.
This camping ground is in a non-commercialised setting just 45 minutes on the bus from Chania town. It has its own pool and kids pool, and tents for rent, a little convenience store and taverna, as well as a camp kitchen so you can self-cater.  Open from May to September only, it is a 15 minute walk to the bus stop.
Camping Nopigia - Kissamos Crete - right on the beach
---
Rethymnon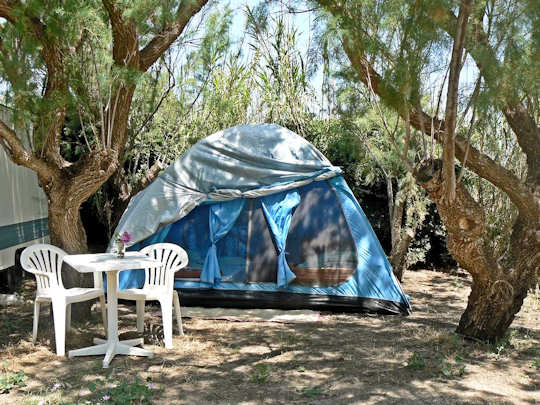 Camping Elizabeth - near Rethymnon - tent site

Cheap holidays to Crete - in the central west of Crete, stay at Camping Elizabeth with budget rates yet in a fantastic location; close to everything.
Just 4 km from Rethymnon Old Town, walk along Rethymnon Beach or through Perivoli to get to town which has everything you need to self-cater. Spend days exploring the twisted, narrow streets of Rethymnon and absorbing the history and café culture.Explore the Rethymnon region on local buses.

Fly into Chania Airport CHQ. From the airport get the intercity bus to Rethymnon, then get the local bus and ask the driver to let you out at 'Camping Elizabeth' or the take the taxi from the bus station which costs around 8 Euros.
With its own taverna bar, a convenience store nearby, here you can rent a tent or a bungalow or bring your own tent or campervan. This is a fun, family, cheap place to stay in the very centre of Crete. Did we mention it is right on the beach. I mean right ON the beach!


Camping Elizabeth is on the beach
---
Koutsounari
Camping Koutsounari is a clean and well organised camp ground just 5 minutes from the beach

Cheap holidays to Crete - in the east of Crete is Camping Koutsounari just 10 km from Ierapetra.
Fly into Heraklion Airport HER. From the airport take the intercity bus to to Ierapetra, then change for the local bus to Koutsounari-Ferma . The whole journey will take approximately 3 hours and cost under 15 Euro.
Rent a campervan site, a tent site or a bungalow just 5 minutes walk from the beach. The camping ground has its own large pool, taverna and bar and a supermarket very close by for self-catering.


A wooden tent is a cheap and comfortable option
---

Budget Accommodation

Frangokastello
Coral Guesthouse with its own beach

55 km south of Rethymnon lies the seaside village of Frangokastello named after the 'Francos Castle' that was built here by the Venetians centuries ago. 'Francos' was the term for the invading Catholic settlers. This castle had a violent history, and today sits in ruins next to the sandy beaches. Coral Guesthouse is a small family-run pension with good, cheap rates, located right on the beach.
Snacks and drinks are served right on the property at Ouzeri Corali and a convenience store can be found only 50 metres from the pension. There is a bar looking over the sea, with its own little beach, only 300 metres from the centre of this little seaside village. Visit the ruins of the castle which are rumoured to be haunted, explore the mountains inland and the proud region of Sfakia.
Great food, friendly staff and the local cat make this a peaceful and relaxing holiday spot with a low price tag. There are four tavernas within walking distance. Stretch out your warm summer days in Crete.

The view from the bar of Coral Guesthouse, overlooks the Libyan Sea
---
Cheap Holidays to Crete
Get Around on the Local Buses

Save money on transport by using the very reliable and comfortable local buses. Taking the KTEL buses on Crete will enable you to keep costs down and travel all over the island.

---