Crete Books
This page may contain affiliate links, see our disclaimer here.

---
Crete Books is proud to present one of the most well known writers of Cretan literature, Nikos Kazantzakis, and to show travel memoirs and modern historic novels which weave the threads of time into a contemporary understanding of this most complex island.
---
Literature of Crete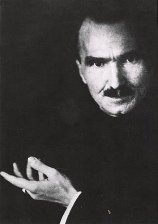 Nikos Kazantzakis
Nikos Kazantzakis… poet, novelist, essayist and playwright is one of Greece's most famous writers.
Kazantzakis Καζαντζάκη wrote many diverse works, including the novels for which he is commonly known.
Kazantzakis was born in 1883 during the Ottoman occupation in city of Heraklion, Crete and died in 1957 in Freiburg, Germany.

Kazantzakis was an existentialist, to say the least. Having being born during a period of such hard times in Crete, Kazantzaki explored the human existential experience in his work.
Regardless of being born into a farming family in Crete, Nikos began his schooling at the Franciscan school of the Holy Cross on the island of Naxos during the Cretan revolt of 1897. He then went on to study law at Athens University and continued his studies in Paris where he studied philosophy until 1909.
During 1912–1913 Kazantzakis volunteered to fight with the Greek army in the Balkan Wars, during this period Kazanzakis was very patriotic to Greece, his country of birth.
After the Balkan wars, Nikos began travelling in 1912 through Europe, the East and Asia. He continued to travel for the rest of his life. During his travels, Kazanztakis delved into the cultures he came across. He explored communism, Buddhism, the writings of Nietzsche and Bergson.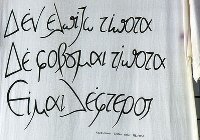 Constantly questioning traditional western religion and sociology, Kazantzakis, through this international cultural experience, developed universal ideologies. Kazantzakis grew away from his Greek nationalistic ideals during these years of his life.
Beginning in 1906, Kazantzakis wrote essays and plays, during his travels he fashioned philosophical texts. He published a modern sequel to Homer's Odyssey in 1938.
Most of his life Nikos was not recognized for his genius as he published his work in Greek. Because of this Nikos resorted to writing novels, Greek primary school texts & translations of European works. It was only when Nikos published his novels at the later end of his life that he became internationally recognized.
He died of leukemia in 1957 in Germany after visiting China & Japan. By reading any of Kazantzakis works one cannot help but awaken the universal desire to achieve freedom in one's life.
"He loved Crete like a living, warm creature with a speaking mouth and weeping eyes; a Crete that consisted not of rocks and clods and roots but of thousands of forefather and foremothers who never died. "
"Four hundred and thirty six years have now gone by since I was killed. I lie beneath the earth & await for justice. "
Quotes are from "Freedom & Death" 1950.
Following is a chronologic list that covers most of Kazantzakis' work.

1906 Serpent and Lily - Όφις και Κρίνο - a narrative
1909 Comedy - Kωμωδία – a play
1910 The Master Builder - Ο Πρωτομάστορας - a tragedy
1927 Salvatores Dei - Askitiki – Ασκητική - a philosophical text
1924 The Odyssey - Οδύσσεια – a novel published in 1938
1927 – 1941 Travelling – Ταξιδεύοντας - travels in Cyprus, Spain, Italy, England, Russia, Jerusalem, Egypt, Sinai, China and Japan

1938 – 1948 plays
• Prometheus - Προμηθέας
• Capodistrias – Καποδίστριας
• Kouros or Theseus - Κούρος ή Θησέας
• Nikiforos Fokas - Νικηφόρος Φωκας
• Constantinos Palaeologos - Κωνσταντίνος Παλαιολόγος
• Christopher Columbus - Χριστόφορος Κολόμβος
• Sodom and Gomorrah - Σόδομα και Γόμορα
• Buddha - Μποúντα
• Melissa - Μέλισσα

1946 Zorba the Greek - Βίος και Πολιτεία του Αλέξη Ζορμπά
1948 Christ recrucified or The Greek passion- Ο Χριστός Ξανασταυρώνεται
1950 Freedom & Death - Καπετάν Μιχάλης
1951 The Last Temptation of Christ - Ο Τελευταίος Πειρασμός
1953 God's Pauper or St. Francis of Assisi - Ο Φτωχούλης του Θεού
1961 Report to Greco - Αναφορά στον Γκρέκο
---
Crete Books - Travel Memoir
Crete books as travel memoir - there are many different approaches to life in Crete from an outsider's perspective.
In this genre of travel narrative or travel memoir, we often see the powerful effect of Crete and Cretan life on travellers or seekers, drawn to her from many miles away.
Whether life-changing or smooth sailing, humourous or lyrical, many have shared their experiences, poetry and philosophies about Kriti.
Which is your favourite? Do you have a special connection to a story about Kriti? Let us know at Crete Books on the contact form.
• 1941 - The Colossus of Maroussi by Henry Miller
• 1973 - Villa Ariadne by Dilys Powell
• 1974 - Winds of Crete by David MacNeil Doren
• 2001 - A Still Life In Crete by Anthony Cox
• 2003 - Taste of Honey, Crete on the Half Shell by Byron Ayanoglu
• 2007 - Crete by Barry Unsworth
• 2008 - Crete - Discovering the 'Great Island' by John Freely
• 2008 - The Golden Step: A Walk Through the Heart of Crete by Christopher Somerville
• 2019 - Uniquely Crete by Melanie Crane
• 2020 - Perspective: A Greek American finding his way in Greece by Peter Manouselis

---
Crete Books - Historical Fiction & Modern Memoir

Crete's fascinating history has inspired many novels of drama, love and intrigue interwoven with accurate events.
• 2004 - The Angel Tree by Alex Dingwall-Main
Landscaper to the very rich - Alex Dingwall-Main chronicals the consultancy of a lifetime - 'find the oldest living olive tree'. His search takes him all over the Med, including to Crete. A light and fun read.
• 2006 - The Island by Victoria Hislop
• 2012 - The House of Dust and Dreams by Brenda Reid
• 2014 - The Ring of Minos by Frederick J Dixon
• 2013 - The Girl Under the Olive Tree by Leah Fleming
• 2021 - One August Night by Victoria Hislop

---
Reviews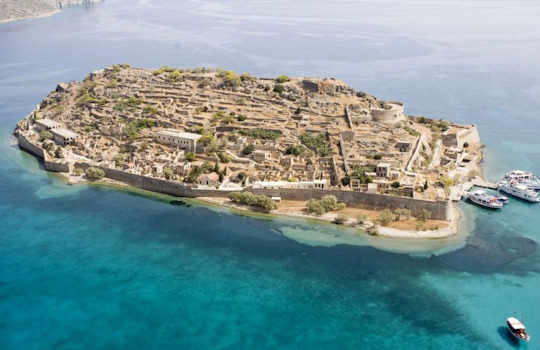 Spinalonga Island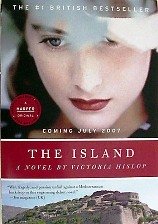 Review for Crete Books from Elisabeth of Bavaria

I'm sure, many people know the 'old' book "Winds of Crete" (1974) by David MacNeil Doren. There is a rather new one, written by the English author Victoria Hislop, (meanwhile also translated to German):
"The Island" - here's the copy of a recension I've found: "When beloved schoolteacher Eleni is diagnosed with leprosy, she is exiled to the Greek island of Spinalonga.

Left behind on Crete are her husband and two beautiful daughters, headstrong Anna and dutiful Maria. Years later, Eleni's great-granddaughter Alexis returns to Crete to find answers to her family's mysteries. Conveniently, a witness to her family history is still alive to tell her - and us - the dark story".

The novel is a romantic page-turner, but I found it a little shallow. For example, the Nazi occupation of Crete becomes a plot device to turn the boy next door into a hunk, and, after much tribulation, the good are rewarded and the bad punished.
It's not so bad to read this book, to understand what happened just half a century ago there, where now so many tourists enjoy the beaches!!!
Remember, it has been just a few years ago. Reading this book I've been touched deeply!
See more about the island of Spinalonga and this novel here.
Would you like to write a review for Crete Books? Please contact us 
---
Crete Books - Holiday Reading

The Girl Under The Olive Tree by Leah Fleming
Set in Crete in the 1940s - this is historical fiction at its best, touching, emotional, its filaments interlaced throughout true events, it reveals to a new audience the stories of Crete and the second world war.

---
Getting Here
Take a 1 hour flight from Athens to Heraklion with Aegean Airlines or Olympic Air, with many flights available per day.
Or take a 9.5 hour overnight ferry from Pireaus port of Athens to Heraklion port.
More on flights and ferries below.
Car hire in Crete is a really good idea as it is a large island 60 km by 260 km. There is so much to explore.
When you book with our car rental partners - Rental Centre Crete - you are supporting a local company with excellent service and an easy online booking procedure. We are sure you will be well looked after by the team. Choose from hybrid or non-hybrid vehicles.
---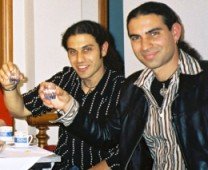 "We trust you have enjoyed these tips from the team at We Love Crete. Evíva!"
Contact us with further questions or feedback. We love to hear about your travels in Kríti and Greece. Let us know of any updates or additions, errors or omissions. Help us make this website the best it can be. Kaló Taxidí!

---