Crete Self Catering Accommodation

This page may contain affiliate links, see our disclaimer here.

---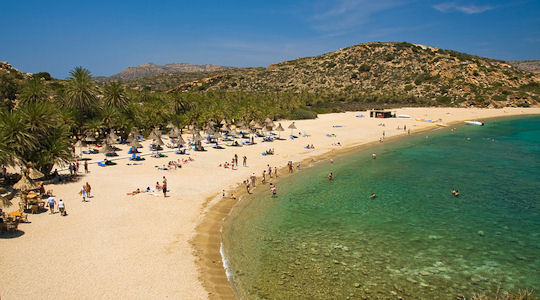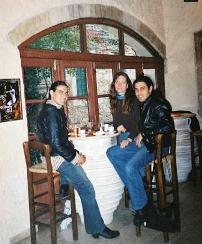 Crete Self Catering Accommodation - for couples, families or solo travellers, our family has tips for you.
Stay in the west or the east of Crete, near the beach or surrounded by olive groves, rent a home or find budget accommodation.

Arrive in the west by the airport or ferry port at Chania. Get to the east by the airport and ferry port at Heraklion or port at Agios Nikolaos. In the east arrive at Sitia Airport.

Crete Self Catering
for Couples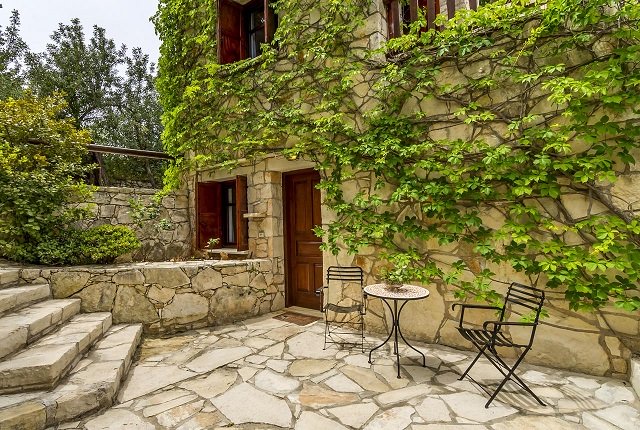 Manoli's House in Douliana is perfect for couples, completely private and self contained, surrounded by nature yet in a small village. Just 27 km from Chania town and 2.8 km from Kalives Beach in the west of Crete.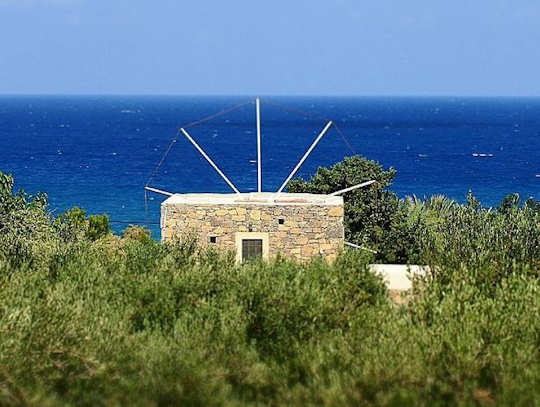 The Sitia Windmill is perfect for couples because of the privacy. Secluded in a luxurious garden, with all cooking facilities, this authentic stone windmill has been converted to a very comfortable, homey pad. Close to Sitia and beaches. East Crete.

Crete Self Catering
for Solo Travellers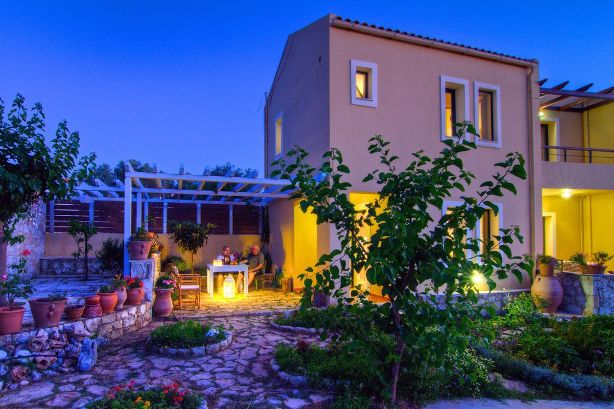 Diktamos Villas - 1 bedroom and 2 bathrooms with a warm traditional villa style yet in a completely modern setup with a gorgeous shared pool. Only 5 km from Rethymnon and close to the national road and beaches, this makes a perfect spot from which to explore the island.
This is a great choice for solo travellers because Kostas and Maria will look after you with true Cretan hospitality, and you are in the lovely village of Atsipopoulos. West Crete.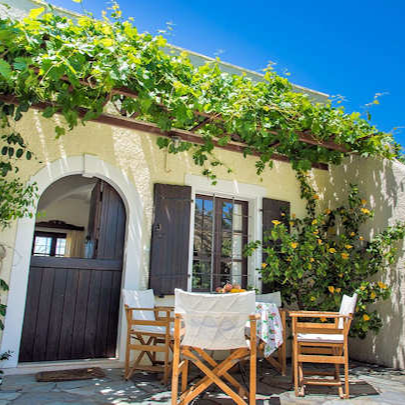 Jasmine House is a home away from home with a lovely kitchen and all facilities you need to explore the beautiful region of Sitia. This location is best visited with a car. Close to Sitia town and airport, also close to the extraordinary Vai Palm Beach. Visit the nearby Toplou Monastery to taste their locally grown wines, the Kazarma in Sitia and Erimoupolis Beach nearby. East Crete.

Crete Self Catering
on a Budget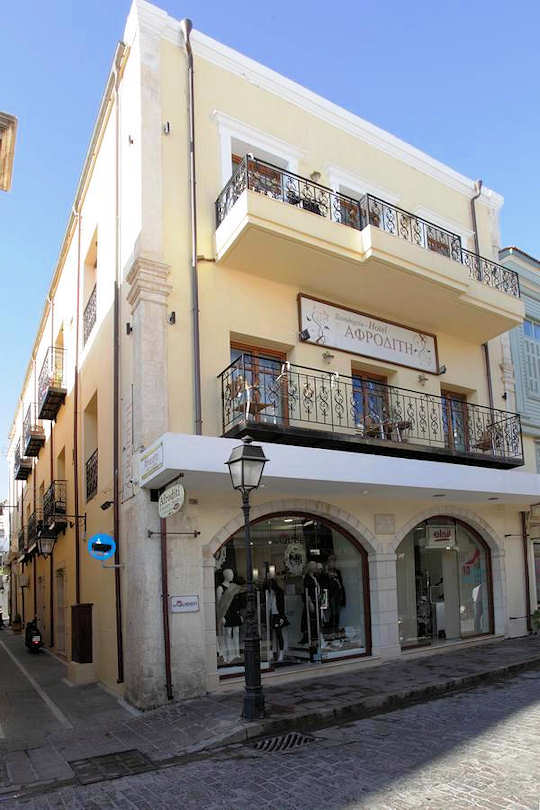 Afrodite Aparthotel is your budget self-catering choice within the walls of the old town of Rethymnon. All rooms include a large, fully equipped kitchen. Be in the centre of the old zone, step out to explore the history, museums, enjoy the cafe scene and tavernas.
The Venetian Old Port is ringed with restaurants, we suggest heading to the seaside where you can still try fresh local seafood without the busy laneways.
See local Kritiki Musiki in the tavernas at night. The fast rhythms of lyre and loutos vibrate throughout the evening, and the unique sounds of Cretan folk music will enter your soul.


At Evridiki's House you will be able to self-cater and visit the southern beaches easily. A typical traditional Cretan house, in the village of Pitsidia away from the tourists but close to Matala and other beautiful beaches. Central Crete.
At Matala Beach, see the ancient caves in the rock cliffs, and the beautiful beach which drew hippies in the 60's and 70's. Enjoy crystal clear waters and many cafes, restaurants and tavernas. Try the fresh seafood, or walk to nearby beaches.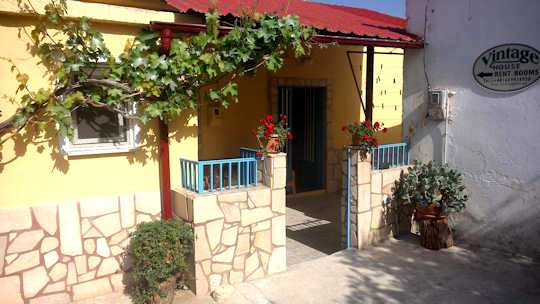 Also in the centre of the island, in the historically significant village of Vori, is the Vintage House, another budget self-catering gem. Experience the real Crete, enjoy this thriving community yet be close to beaches and the Libyan Sea. Close also to Phaistos Minoan Palace. Central Crete.
Vori village has been recognised as a significant historical village, and still retains a great deal of authenticity and charm. Relax in the village square.

Crete Self Catering
for Families 1-8 Guests

Irida's House is a modern yet rustic fairy tale home.

The house has magnificent views and sleeps 5 guests, it is very private, surrounded by trees.

A beautiful location just 6 km from Chania Airport and just outside the small village of Korakai on the Acrotiri peninsula, this lovely home is only 8 km from the Old Town of Chania.
The views across Souda Bay are magnificent, the outdoor terrace a wonderful gathering place for lunch, dinner or cocktails after a hard day of sightseeing around this gorgeous region of Chania. West Crete.

Villa Lemoni - sleeps 6 guests with a pool and plenty of space, and views to the mountains. Set on the edge of the village of Kamilari, you will need a car to enjoy this location. Central Crete, a comfortable drive from many of the local beaches and archaeological sites. Central Crete.
Kamilari village, so called because it sits on two hills that look like humps, is a busy, friendly village in the hinterland behind Matala. With many cafes and tavernas, you can enjoy village life with a breeze off the sea in the evenings. Central Crete.

Crete Self Catering
for Families 8+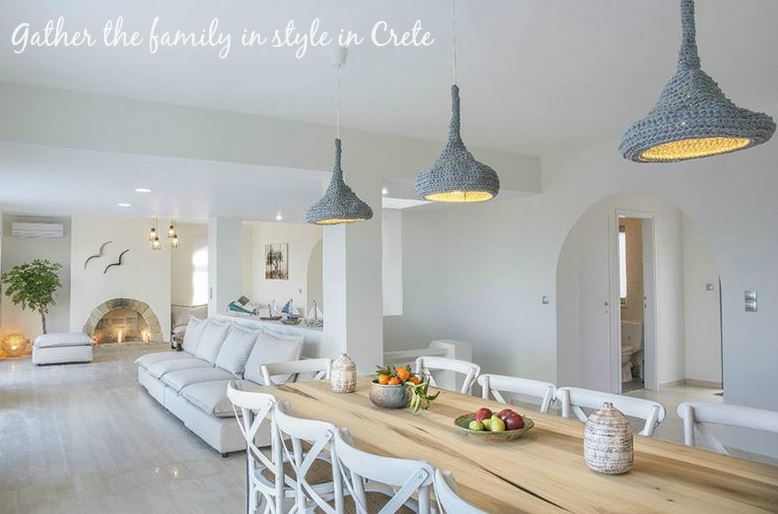 This stylish home with magical views is just outside of Plaka in Apokoronas in Chania, is 27 km from Chania Old Town in western Crete, and only 1.6 km from the beach at Almyrida.

With 7 bedrooms and 4 bathrooms Villa Ioanna easily accommodates 12 guests for a holiday in comfort.
Crete Self Catering Tips

Crete Self Catering Accommodation
---
Getting Here

When you book with our car rental partners - Rental Centre Crete - you are supporting a local company with excellent service and an easy online booking procedure. We are sure you will be well looked after by Harry and his team. Choose from hybrid or non-hybrid vehicles.
---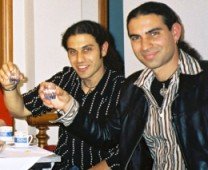 "We trust you have enjoyed these tips from the team at We Love Crete. Evíva!"
Contact us with further questions or feedback. We love to hear about your travels in Kríti and Greece. Let us know of any updates or additions, errors or omissions. Help us make this website the best it can be. Kaló Taxidí!

---
Self-Catering Accommodation