Vai Beach, Lasithi

This page may contain affiliate links, see our disclaimer here.

---
Vai Beach, Lasithi is my favourite beach in Crete.
by Alejandro, España

Vai beach for me is a tropical paradise nestled in the south east of Crete; a very long way from the pacifico.

I visited Vai with some friends for the first time at the beginning of the winter season on what happened to be a glorious warm day. I was able to see this paradise like very few people have.

Despite it being a beautiful day, we where the only people there. Being winter, of course all the facilities were closed for the season. This only added to the tranquility.

Vai beach for us was like a hidden paradise. The gentle lapping of the crystal waters up against the pale sand. The subtle rustling of the wind in the palm leaves overhead. Vai is the ideal beach setting. We were tired from our journey and we slept for two hours underneath the palm trees. A blissful sleep.

For me, she was reminiscent of my travels to pacific islands such as Vanuatu, yet only hours away from my home in Spain.

Vai has soft white sand, which is so rare in Greece. She has a tranquil forest setting and the natural beauty.

Since, I have returned many times during the summer. While I love Vai with its great cafe bar overlooking the sea and busy with people from all over Greece and the world, for me when I return home I like to always think of Vai as on that day when she was all our very own.

Vai is in the very far south-east of Crete.


---
Comment by Anastasi of We Love Crete

Yiasas Alejandro,
It's nice to know you enjoyed this in its quieter season, we agree it is a tropical sanctuary in the shoulder seasons.

Whilst Vai is fun during the summer season, it is something else to experience it in the off season. One gets to immerse in the tropical like magic that emanates during quiet time.
We visited once in winter, no-one at all was on the beach. We fell asleep beneath the palm trees, listening to the soft lull of the waves against the sand. We saw a little creature darting out of the forest on the road - we think it was a marten. We missed the last bus and hitched back to the next village. We wouldn't have missed it for the world!
We are glad you have taken with you the essence that is Vai Beach.

Thank you Alejandro for your contribution to We Love Crete.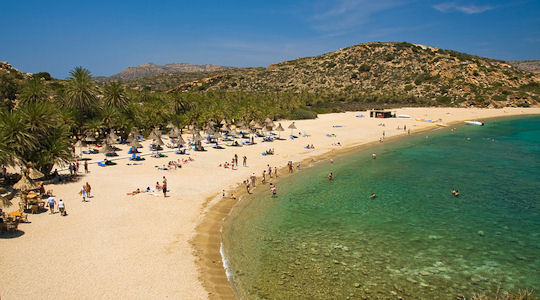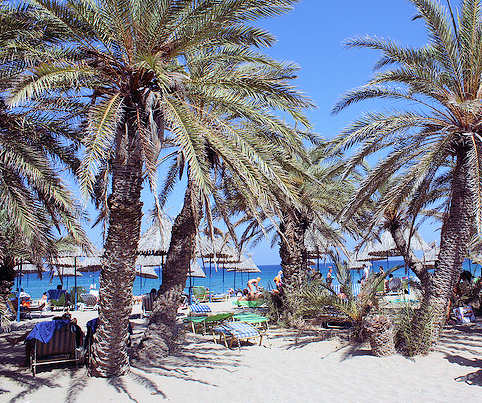 ---
Video
Enjoy our tips in our video about Vai Beach below.


---
Getting to Vai Beach
To get to Vai Beach, the closest international airport is Heraklion Airport with the code HER.
There is a smaller domestic airport in Sitia with code JSH, and you can fly here from Athens and some other islands in Greece.
From Heraklion, it is possible to take the KTEL local buses to visit Vai Beach, or to take a self-drive holiday with a hire car.
If you are taking the buses, go to Bus Station A by the port in Heraklion and take a bus to Agios Nikolaos, this journey has a duration of 90 minutes and cost of around €8. Then take another bus from Agios Nikolaos to Sitia, this journey is 1 hour and 45 minutes and cost is around €8.30
Then take a third bus from Sitia to Vai, which journey takes around 1 hour and cost is around €4. Be careful as there may not be buses on the weekends.
To drive, take the same route Heraklion to Agios Nikolaos to Sitia to Vai Beach, which is a total of 150 km and you should leave at least 3 if not 4 hours for driving, and this does not include stops and meals and exploring around.

---
Accommodation Near Vai Beach
As Vai Palm Forest and Beach is a protected area, there is minimal development in the immediate location. Stay away from the beach to preserve the environment and keep it natural.
Stay in the nearby village of Palaikastro which is only 9 km south, or in the town of Sitia which is 25 km west, we show some accommodation options below.


---
Looking Around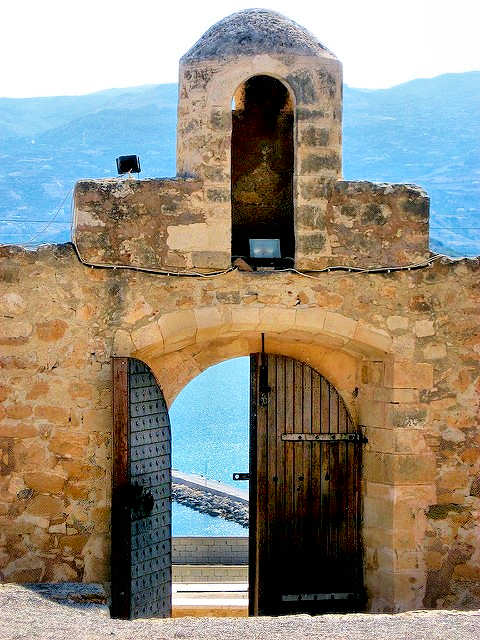 Looking around this area you will see the region of Lasithi, with fewer tourists than the rest of Crete, lovely beaches, olive groves and vineyards. Explore the local history.
Left is the Kazarma on the hill of Sitia. This is the old 'Casa de Armas' built by the Venetians during their reign on Crete.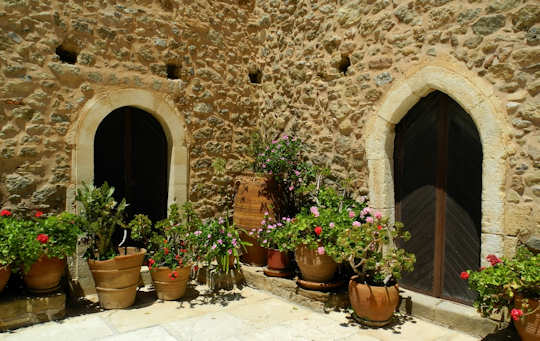 Toplou Monastery is an active monastery with a profound history interwoven with the political intrigue and rebellion of Crete. A visit to this historic building is not complete without a wine tasting, as the monastery makes a very fine wine.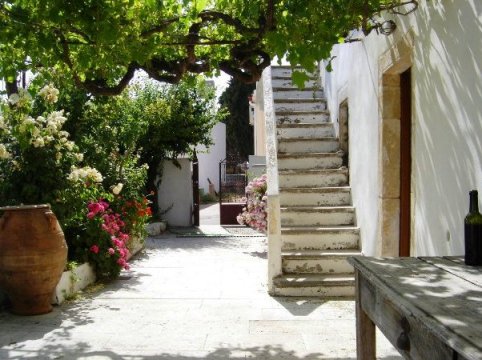 A visit to the Economou Winery at Ziros just 30 km from Sitia will entrance those who love wide open spaces, idyllic rural settings, fresh air and good wine. Call ahead as the cellar door is not always open.

---
Getting to Crete
Take a 1 hour flight from Athens to Heraklion with Aegean Airlines or Olympic Air, with many flights available per day.
Or take a 9.5 hour overnight ferry from Pireaus port of Athens to Heraklion port.
More on flights and ferries below.
Car hire in Crete is a really good idea as it is a large island 60 km by 260 km. There is so much to explore.
When you book with our car rental partners - Rental Centre Crete - you are supporting a local company with excellent service and an easy online booking procedure. We are sure you will be well looked after by the team. Choose from hybrid or non-hybrid vehicles.
---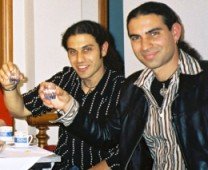 "We trust you have enjoyed these tips from the team at We Love Crete. Evíva!"
Contact us with further questions or feedback. We love to hear about your travels in Kríti and Greece. Let us know of any updates or additions, errors or omissions. Help us make this website the best it can be. Kaló Taxidí!

---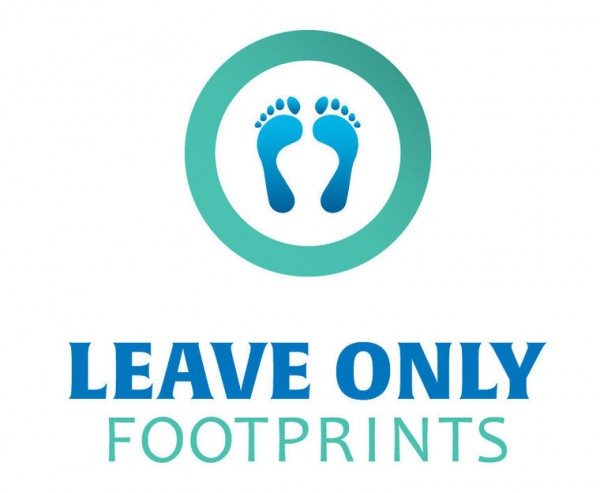 Please take all your rubbish with you and don't build any of those silly piles of rocks. Just leave it all as you found it and leave only footprints!