Visit Crete
Why Visit Crete? We hate top 10 lists. Crete is extraordinary. There, we said it.
Ela! Come and visit! These two videos will have you packing your bags in a hurry and answer your 'why?'
---
When is the best time to visit Crete?

This page may contain affiliate links, see our disclaimer here.

---
When is the best time to visit Crete?
Really there is no best time to visit, it depends what your priorities are, and what type of traveller you are, and what experience you are keen to get involved with. Crete is beautiful in all her seasons.

Crete has an average of 300 days of sunshine a year, so you are able to be confident of getting some rays.

Well, we think the best time is the quieter time, we like a bit of peace and quiet, hiking and natural beaches. Crete is such a large island that you can find space and fresh air any time of year. There are a few beaches that get crowded in summer, but it is easy to choose not to visit those particular spots.
Crete Weather
---
Holiday Planning

Here are the different months of the year and the tone of each...to help you decide when to visit Crete...

January to March This is deep winter time, it snows in the mountains and there are heavy frosts on the foothills. High temperatures of 16C and lows of 8C. Olive picking is in full swing and most families head to their patch of olives to bring in the harvest. Most of the seaside villages are pretty quiet and tavernas, cafes and pensions are closed.
Town accommodation is the preference, there is still plenty to enjoy in each town. This is a great time to visit Knossos, you won't have to put up with screaming kids and rude tourists, you can take in the sacred site in peace.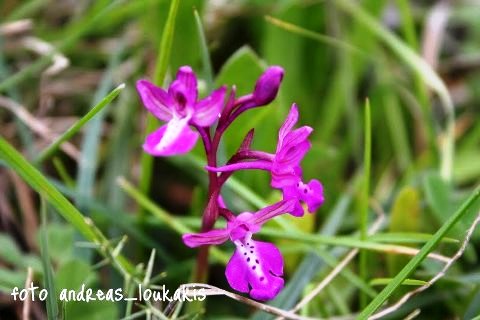 March & April  These months are still wintery and the weather can be hard to predict. There are some nice days but some rainy days. Highs of 18°C and lows of 11°C. Sea temperatures are 16°C meaning it is not swimmable. In April the wild flowers come out and hikers and nature lovers get a real treat. Greek Easter is a big deal and a really fun time to be celebrating with the locals. Fresh lamb is on the menu.
Some visitors start to arrive on the island and bus and ferry schedules increase a little from winter timetables. The winter rains mean that wild greens flourish, this is a good time to ask for horta at the local taverna.
May & June We think this is the best time to visit Crete, good weather, high temperatures of 24-28°C and lows of 15-18°C, a few rainy days, mild sea temperatures of 19-22°C, which is swimmable for sea-lovers. This is perfect walking and hiking weather and the wild flowers are still blooming. There are not too many tourists, queues are small and locals are well rested after winter, so more likely to have time for a chat. Spring is in the air! Life is good and happiness is infectious.
Samaria Gorge Walk opens in May as do many of the seasonal attractions, and ferry and bus services become more frequent. As occupancy may be low, it is possible to bargain on prices, within reason, of course. A fantastic time to visit Crete. Some of the summer festivals start in June, with a variety of local and international acts and shows in music, arts and just about every topic you can think of, from rock to flamenco. Our recommended season on Crete!
---
When to Visit Crete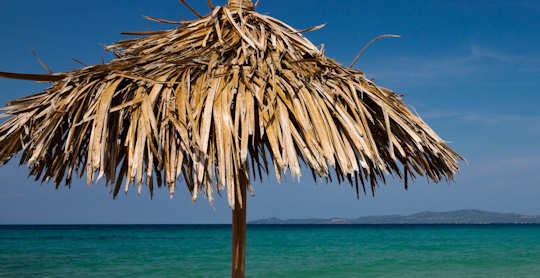 July & August The summer season! It is hot, hot, hot! The temperatures are 26°C during the day and not much cooler during the night, around 22°C . The water is warm and great for swimming at around 24°C. There is just no rain at all, sunny day after sunny day. This is the busiest time of year and accommodation gets very tight, best to book ahead.
The sites get crowded, some beaches get crowded and beach parties blast off on some selected beaches. You can still avoid the maddest places by heading south or east, generally. This is a good time to island hop because all the ferry services are running on maximum schedules.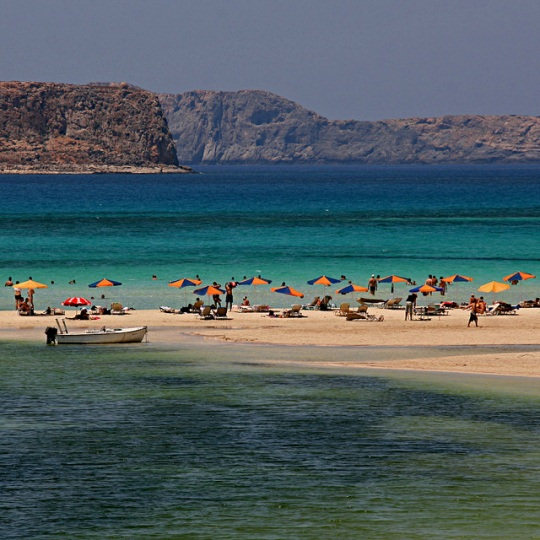 Summer in Crete

September & October These are mild months, with really good weather and not too hot. Highs from 27°C to lows of 19°C in September and 24°C to 16°C in October. This is good weather for rambling and hiking, and the water temperature is perfect at 23°C. There are far fewer visitors and transport services start to reduce in frequency. The locals who work in tourism services are a bit tired and some close up shop.
However, we have found a great deal still open and enjoyable in these months, and again you can politely bargain for good rates at small hotels and pensions. Those locals with vineyards are gathering in the grape harvest, both for wine-making and sultaninas or sultanas. Look out for foot stomping on the grapes to make the mustalevria! This is also the season of the kazani or local still, making 'rocket fuel' from the remains of the wine harvest - tsikoudia.
November & December The weather is still mild and the water is swimmable. Tourist levels are much reduced due to the end of charter flights. Bus and ferry schedules are reduced and many of the tavernas and shops in smaller villages close down. Chances of good weather are high, yet some rainy days may need to be endured.
Highs of 20°C and lows of 12°C. It is a good time to experience the real life of the island. Some olive picking starts in December. Lambs and pigs are killed for the feasts of Christmas and New Year. It is a great time to visit Crete.
---
Climate of Crete

Below  you can see the 7 day forecast in Heraklion. If you click on the meteoblue link this will lead to a wealth of climate information such as 14 day forecast, highest temperature and lowest temperature, Fahrenheit forecasts, hourly forecasts, wind details, general climate for other months and much more...
---
Plan Your Trip
For more details about travelling in Kriti and to plan your trip to visit Crete, check out:
---
Getting Here
Take a 1 hour flight from Athens to Heraklion with Aegean Airlines or Olympic Air, with many flights available per day.
Or take a 9.5 hour overnight ferry from Pireaus port of Athens to Heraklion port.
More on flights and ferries below.
Car hire in Crete is a really good idea as it is a large island 60 km by 260 km. There is so much to explore.
When you book with our car rental partners - Rental Centre Crete - you are supporting a local company with excellent service and an easy online booking procedure. We are sure you will be well looked after by the team. Choose from hybrid or non-hybrid vehicles.
---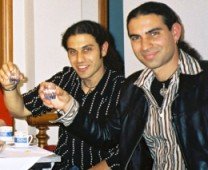 "We trust you have enjoyed these tips from the team at We Love Crete. Evíva!"
Contact us with further questions or feedback. We love to hear about your travels in Kríti and Greece. Let us know of any updates or additions, errors or omissions. Help us make this website the best it can be. Kaló Taxidí!