Exploring New Places
Chania Travel
This page may contain affiliate links, see our disclaimer here.

---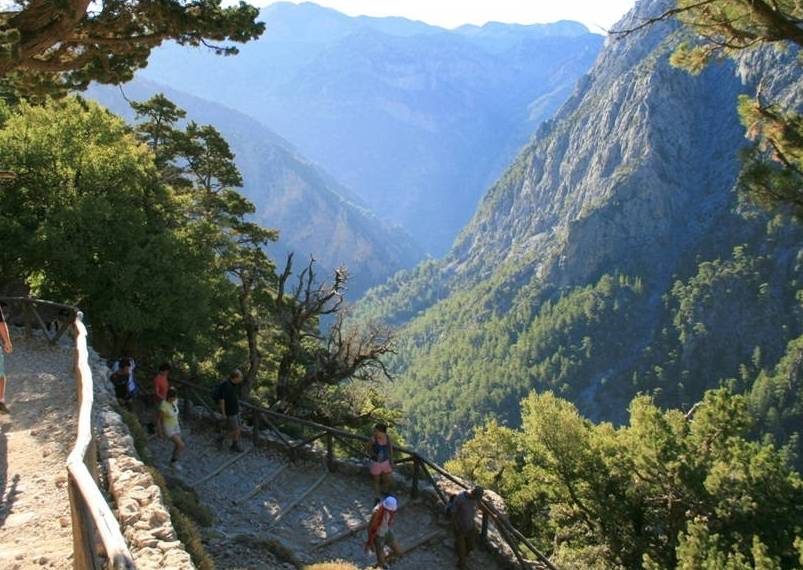 Chania Travel - we share some of the best destinations in western Crete, for those who like to get away from it all and into nature in Χανιά.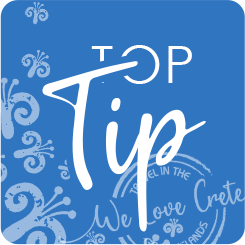 ---
Chania Travel - Elafonisi Beach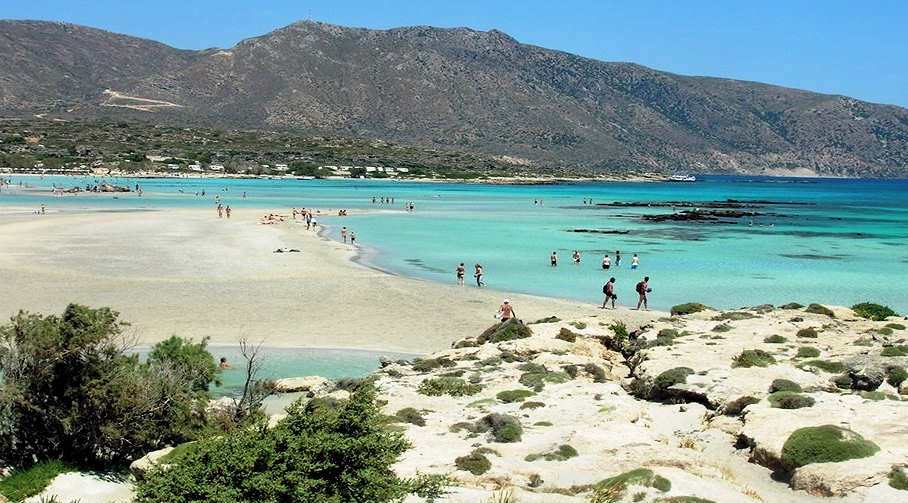 Elafonisi Beach - an undeveloped beach in the south-west of the island
This beach is located on the south-west corner of Crete, 72 km from Chania Town.
Elafonisi or Ελαφονήσι is a beautiful, remote beach, with endless white sand dunes, crystal clear turquoise waters, with islets to explore (see above) with low lying coastal plants and rocky mini coves, perfect for private picnics and lazing in the sun... 

This protected and undeveloped area is becoming better known, and many people come during the day to explore the waterways and find the mysterious pink sand... there are areas of the beach with umbrellas and chairs. It is still possible to get away from all this and wander into your own part of this paradisical seascape...

It best to drive here by car, through the dramatic gorges and stunning scenery of Chania, as outlined in our route guide to the west of Crete.
In summer there are local buses, but be careful not to lie dosing on the sand and miss the last bus back (around 4 pm)!
See Katia's story of Elafonisi here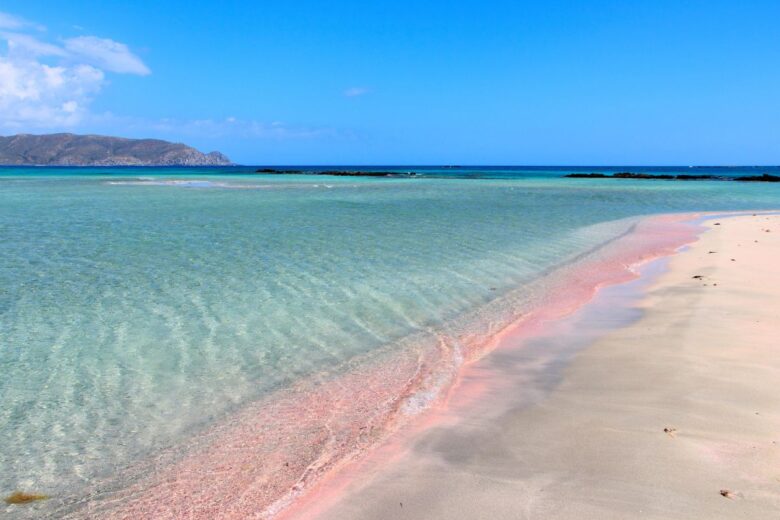 Elafonisi is known for its unusual pink sand
---
Samaria Gorge National Park

Walking the Samaria Gorge or Φαράγγι Σαμαριάς is one of the most popular activities in Crete, it is here, away from the cities and beaches, that the true character of the land can be experienced.
The Samaria Gorge National Park protects some of the island's unique ecological communities and species including the Kri-Kri Capra aegagrus cretica or Cretan mountain goat.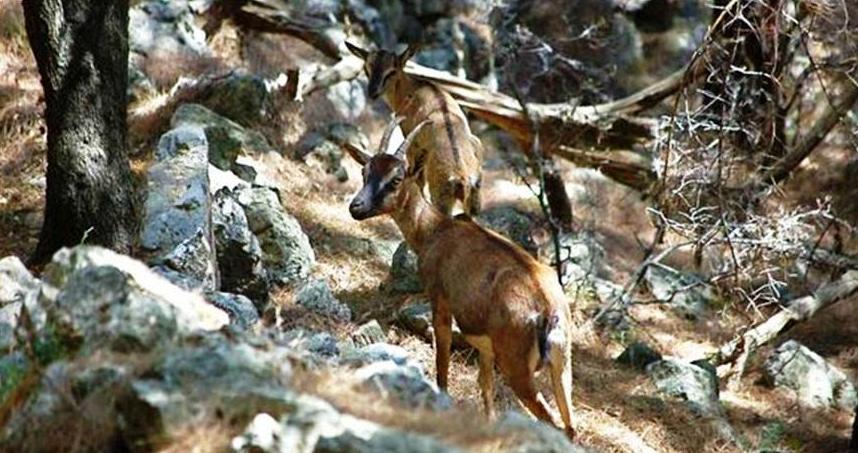 Kri-Kri (Capra aegagrus cretica) or Cretan mountain goat
The walk is 16 km - ending at the small seaside village of Agia Roumeli. The walk runs north to south and is a one-way walk, most people catch a ferry in the afternoon from Agia Roumeli back to Chora Sfakion and then a coach back to their hotel in Chania or Rethymnon. This is why it is best to do this as a day tour, because of the logistics of the transport.

The other way to approach the walk is to take a ferry from Paleochora in the west of Chania and arrive into Agia Roumeli, then walk from the seaside into the gorge. In this way you can experience the walk without too many other walkers, and get to the 'Iron Gates' more quickly, turn around and be back to your tavern for breakfast. Ferry-hopping along the south coast, or walking the E4 European Walking Path along the south coast, takes some time, so this is a good way to see the gorge if you have a longer holiday in Crete.

---
Balos Lagoon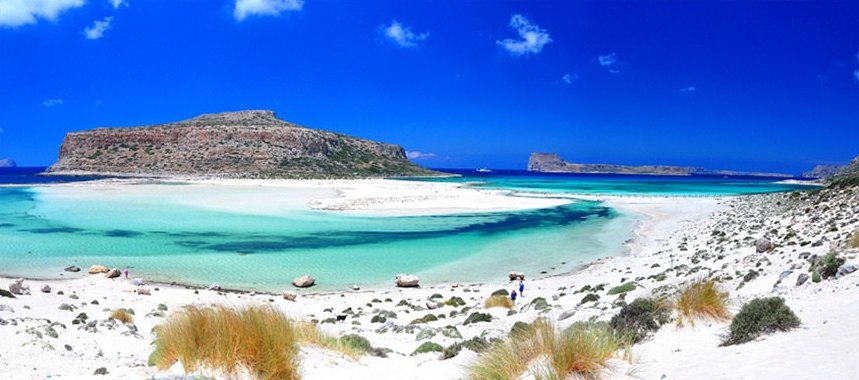 This really is one of the most beautiful experiences in the Mediterranean! This remote, untouched bay on the north-western tip of Crete is perfect for lolling about in the shallows, resting in the crystal clear waters, lying on the perfect white sand.
Gramvousa or Γραμβούσα Islet was the scene for pirate activity in history, and the Venetians built a fortress up there, the ruins can still be seen, but who wants to go rushing up there when you can stay in the water? Relax on the beach!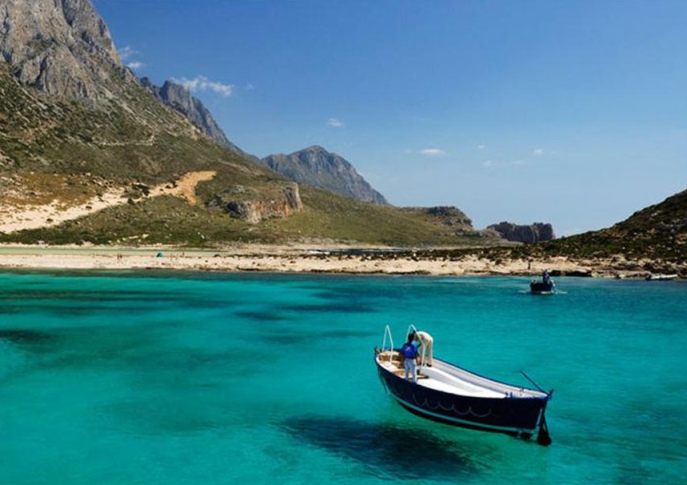 To get to Balos Lagoon or Λιμνοθάλασσα Μπάλου - take a day tour from Chania or a boat trip from Kastelli Kissamos, or hire a 4WD jeep and drive over dirt track to the end of the peninsula, it is about a 15 km drive and then 1.5 km from the car park down to the lagoon. If you do drive there in summer, leave early as the car park is really small and you could end up having to hike for quite a way before you get to the lagoon. There are no trees so take care in the sun.


---
Chania Travel - Loutro

Chania Travel - Loutro or Λουτρό is a tiny, remote fishing village with a few white buildings still untouched by mass tourism. If you like the quiet and like natural beaches, come and relax in Loutro.
This really is a wonderful Greek experience, away from it all.
Located in the south coast of Chania in a region named Sfakia, the crystal clear waters of Loutro and surrounding beaches of Sweet Water, Timios Stavros, Marmara and Pervolaki will enchant your senses.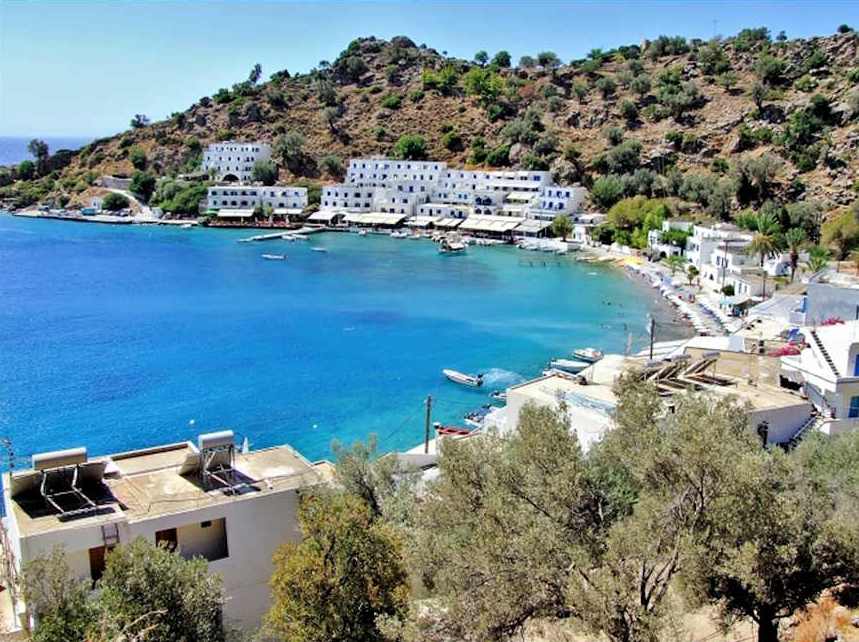 Accessible only by walking tracks and ferries, remember to book well ahead because the small hotels do get booked out quickly in summer.
Sit at the local tavernas in the evenings for a lovely fresh seafood meal, beautiful wine and the most romantic setting watching the sun set over the Libyan Sea.

---
Chania Travel - Lake Kournas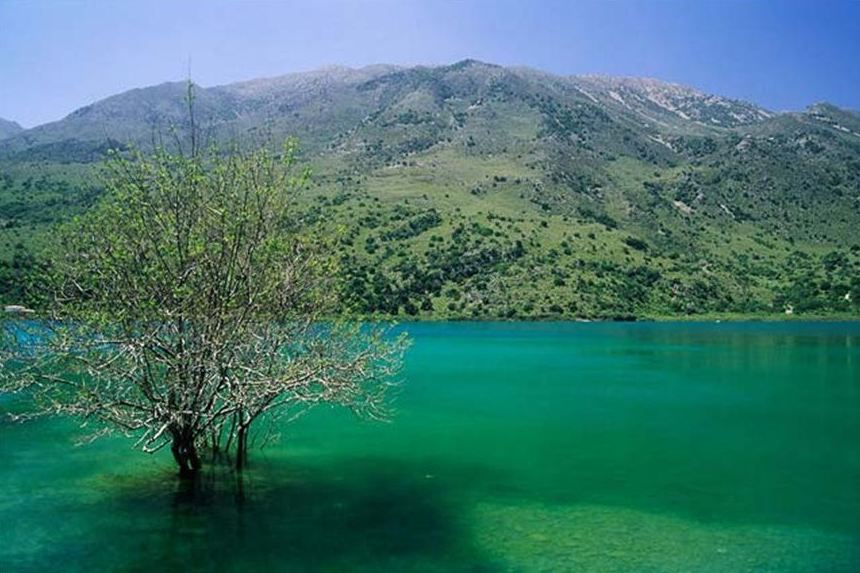 Chania Travel - the freshwater Lake Kournas or Λίμνη Κουρνά is located 45 km from Chania Town and 25 km from Rethymnon Town in the central west of Crete.
This beautiful fresh water lake is circled by the steep rocky foothills of the White Mountains, the harsh hillsides folding down into the lake which has some vegetation around the edges, making it a wonderful nature getaway - good for a dip or bird watching or paddle boating. In summer and winter this is a fresh spot to relax and take a break to admire the colours blue, green and turquoise of the waters.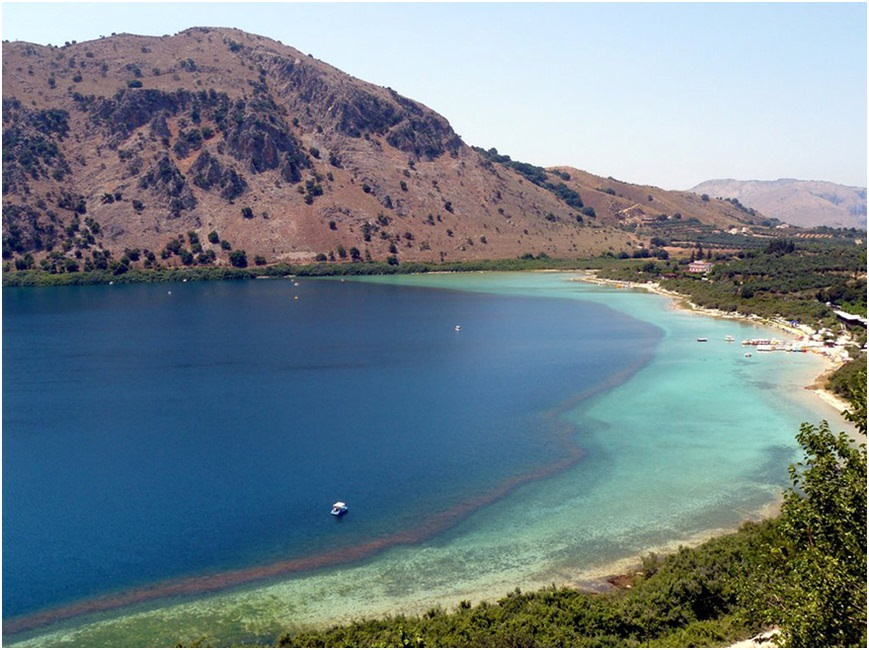 As the lake is 5 km from the picturesque beach of Georgioupolis or Γεωργιούπολη and then a 5 km scenic drive from the village of Kournas, this makes a lovely day drive, with lunch at one of the tavernas on the lake, perhaps a coffee in a cafe at the village and a stop at Kournas Cave, with great views back down to the lake.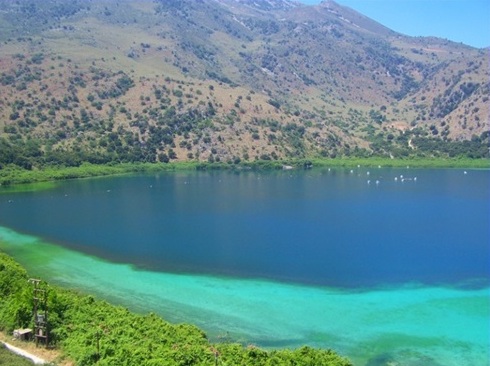 Chania Travel - when in the west of Crete, visit these out-of-the-way places and experience the beauty and serenity; the true character of Crete.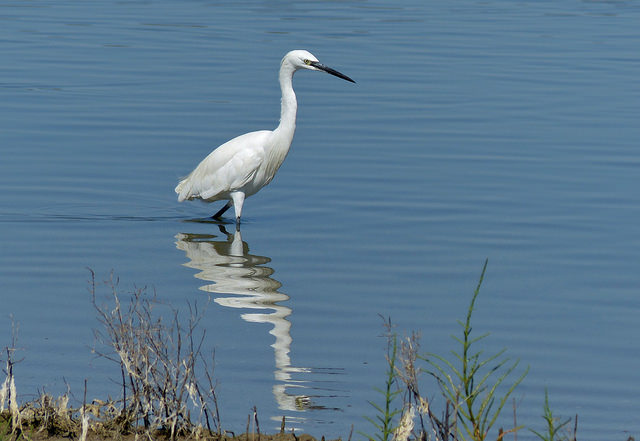 Little Egret - Egretta garzetta - at Lake Kournas, Chania
---
Accommodation in Chania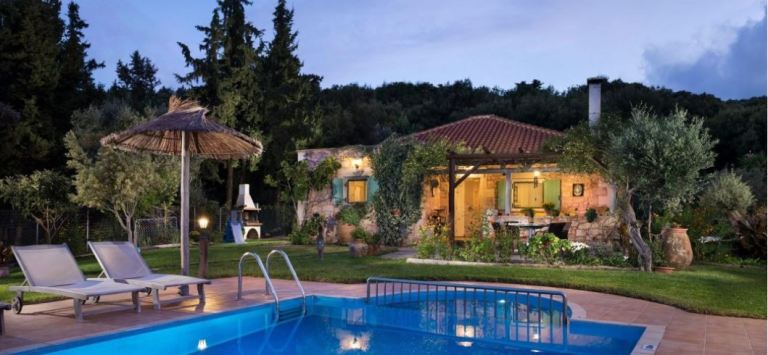 Villa Petra in Chania Crete

Chania Travel - hire a vehicle to see all these wonderful places in Xania region, and you may consider staying in a villa such as Villa Petra, which is very central to everything, private and comfortable and just like living in a local home.
With 3 bedrooms and 2 bathrooms, this home can welcome 6 guests in comfort, with modern design combining with the solidity of an old-fashioned country stone building.
Located in the quiet countryside, minutes from the hamlet of Maza or Μάζα  and 3.4 km from the village of Vrysses, you will lack for nothing at this home and be close to the national highway to explore Chania.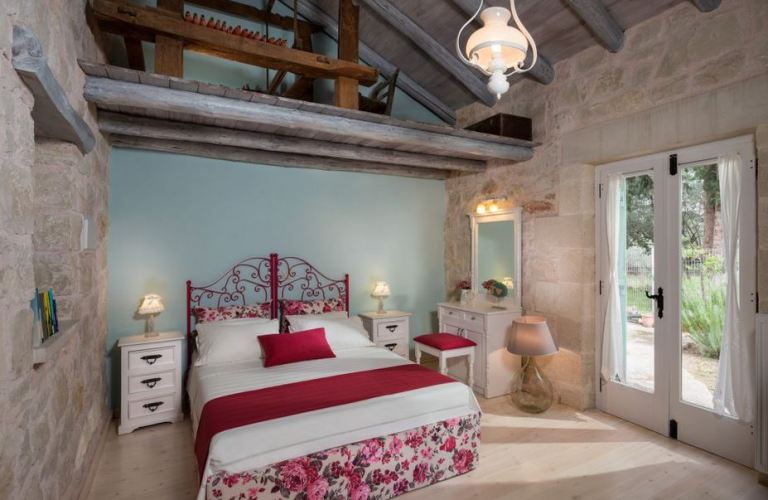 Villa Petra in Chania Crete, is close to Georgioupolis Beach
---
Getting Here
Take a 1 hour flight from Athens to Heraklion with Aegean Airlines or Olympic Air, with many flights available per day.
Or take a 9.5 hour overnight ferry from Pireaus port of Athens to Heraklion port.
More on flights and ferries below.
Car hire in Crete is a really good idea as it is a large island 60 km by 260 km. There is so much to explore.
When you book with our car rental partners - Rental Centre Crete - you are supporting a local company with excellent service and an easy online booking procedure. We are sure you will be well looked after by the team. Choose from hybrid or non-hybrid vehicles.
---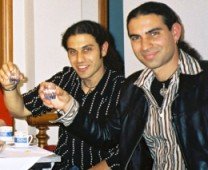 "We trust you have enjoyed these tips from the team at We Love Crete. Evíva!"
Contact us with further questions or feedback. We love to hear about your travels in Kríti and Greece. Let us know of any updates or additions, errors or omissions. Help us make this website the best it can be. Kaló Taxidí!

---