E4 European Walking Path in Crete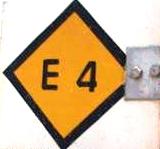 The E4 European Walking Path is a strolling, walking, hiking and trekking path that begins in Tarifa in Spain and ends in Crete in Greece. The whole path is 10,450 kms long, created by the European Ramblers Association and marked (in some places) by yellow markers.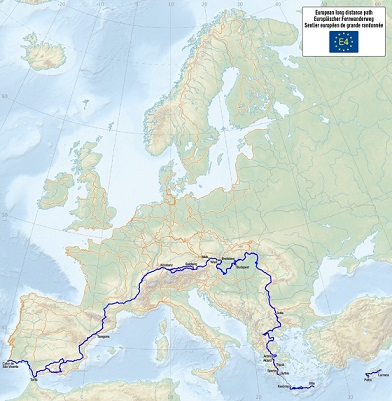 The European Ramblers Association (ERA) is an umbrella organisation for over 55 rambler's associations across Europe and was formed in 1969. It participates in the Council of Europe as a non-government organisation. From the website, the ERA aims are quoted below.
In Greece the E4 path is looked after by the Hellenic Federation of Mountaineering and Climbing and their website is www.eooa.gr.
The E4 European Walking Path in Crete is 320 kms in total, beginning at Kastelli-Kissamos in the west and ending at Kato Zakros in the east. The path takes in some of the most beautiful scenery and interesting hiking country in Crete, it is a hard path with a choice between an alpine section and coastal section and is for experienced trekkers.
Really it is not organised like most walking in Crete and you must be careful as there are not complete trails and not always signage. Always ask the locals before you walk, always walk with a group.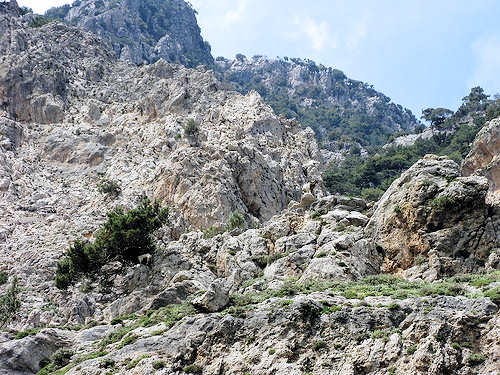 Here in our website we-love-crete.com, we have touched on many places that include the E4 walking track. The path leads from Kastelli-Kissamos south through Elafonisi and Paleohora and then inland to the Lefka Ori mountains, the Omalos Plateau, Nida Plateau and Zeus Cave, Psiloritis mountain range, then the Rouvas Gorge (pictured above) and the village of Zaros and the picturesque village of Kerasia.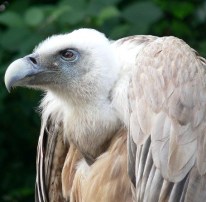 In the east the E4 visits the Dikti Mountains, the Lasithi Plateau and Dikti Cave, then finally ends in the aptly-named 'Valley of the Dead' or Zakros Gorge, where hikers can put their feet up in the seaside town of Kato Zakros for a well-deserved rest. This is the end of the beautiful E4 European Walking Path.
Aims of the ERA
"• the layout, marking and maintenance of 11 European long distance paths across Europe
• the layout, marking and maintenance of cross-border paths (at least across two states)
• understanding and protecting the countryside and the promotion of the principles of sustainable development
• a knowledge of European history and culture and the protection of its heritage
• the preservation of the right of free access to the countryside with respect for the environment
• cross-border cooperation
• the organisation of pan-European events." Quoted from ERA website.


A good place to get maps of Crete and walking or hiking maps is Taxidiotiko Bibliopolio on Handakos street in Iraklion town
Also see our interactive map of Crete.

More information from European Ramblers Association
---
---

Return to Cretan Nature pages

Return from E4 European Walking Path to We Love Crete Homepage
---