South East Crete

This page may contain affiliate links, see our disclaimer here.

---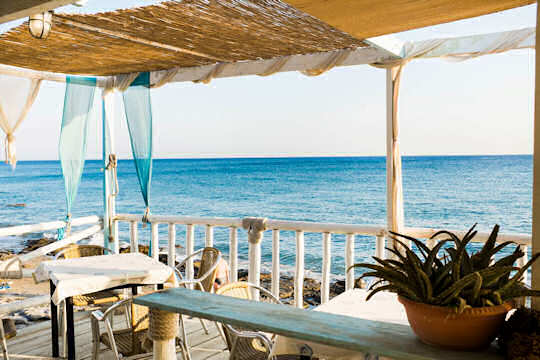 South East Crete - the eastern region of Crete island in Greece is named Lasithi Λασίθι or Lassithi. The area is home to hundreds of relatively undeveloped beaches as well as the town of Ierapetra, Chrissi Island and Makrigialos Beach.

---
Agios Nikolaos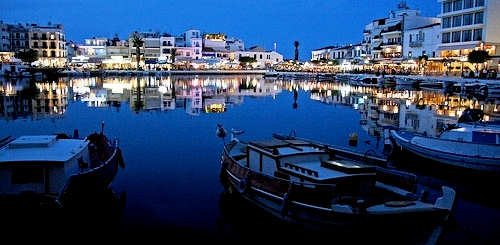 Agios Nikolaos is the capital of Lasithi in Crete

To get to this region of Crete, you will most likely need to travel through Agios Nikolaos town. This pretty, modern town has a ferry port with ferries arriving from Rhodes and Karpathos via Sitia. The town sits around the lake pictured above, which is linked to the sea port, and surrounded by cafes and tavernas, making a romantic lakeside location for an evening stroll, cocktails and a meal.

See more information about Agios Nikolaos here.

Our picks for accommodation in town here.


---
Ierapetra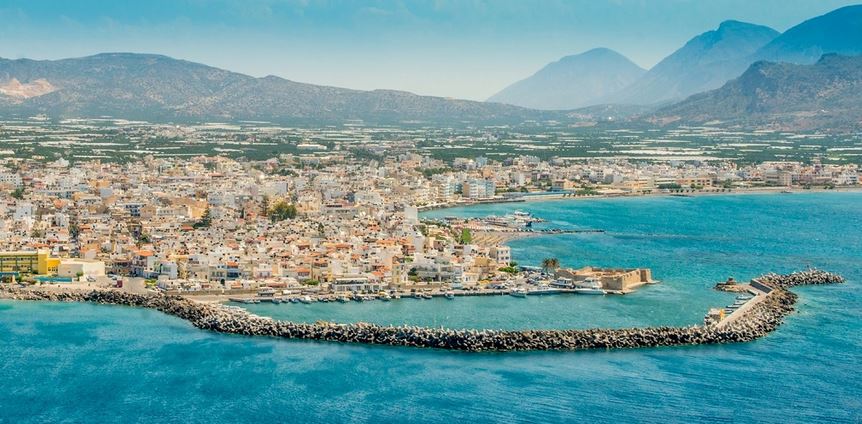 Ierapetra town on the south coast of Crete

The town of Ierapetra is located just 36 km from Agios Nikoloas in the south of Lasithi, with access via the major highways and on the local buses.
This town is a seaside holiday destination, with fine beaches, a ruined Venetian fort, a wide esplanade, folk museums and seafront tavernas with fresh seafood. This is the departure port for the remote and uninhabited golden sands of Chrissi Island.
You may arrive on the plane or the ferry into Sitia, which is located 61 km to the north east of Ierapetra.

---
Makrigialos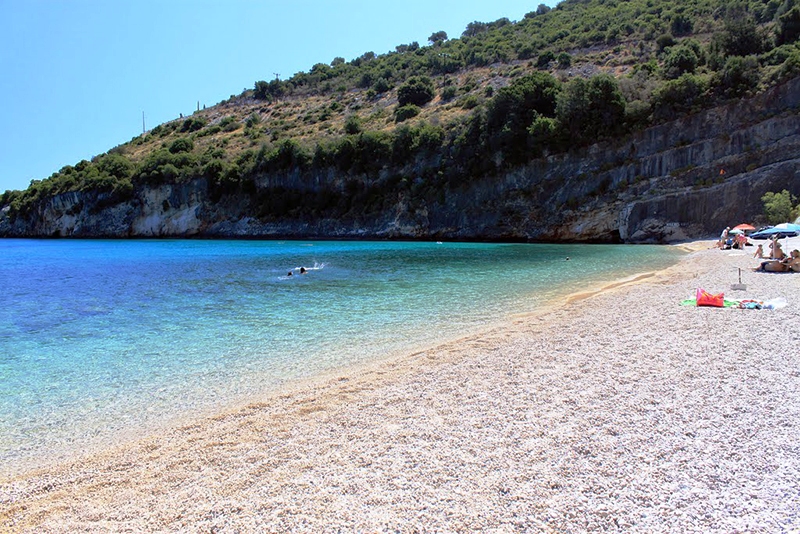 Makrigialos Beach is 26 km east of Ierapetra

Makrigialos Beach
Μακρύ Γιαλός or Makri Gialos or Makry Gialos is a beautiful beach located 58 km from Agios Nikolaos and 23 km east of Ierapetra.This is also the name of the Minoan ancient site located just west of the village.
There is a lovely long beach of Analipsi, formed around a wide bay, with fine sand and pebbles. There are numerous coves and little beaches to explore such as Diaskari and Ammoudi Beaches.
The area is busy with agriculture, with olives growing on the hillsides and vegetables produces in numerous greenhouses dotted all around, there are many hotels and pensions on the beachfront as well as tavernas and cafes, and all sorts of conveniences such as mini markets and ATMs.

The beach lies at the entrance to Pefki Gorge, which provides good hiking and the inland villages of Agios Stefanos, Pefki and Aori are to be explored on high back roads.

The E4 European Walking Path crossed through Pefki Gorge, which means 'pine' and is full of lush green forest. Start the Pefki Gorge walk in the north, as the village of Pefki, and walk 4.5 km downhill and south, ending in Aspros Potamos, 2 km north of Makrigialos.

---
South East Crete
Chrissi Island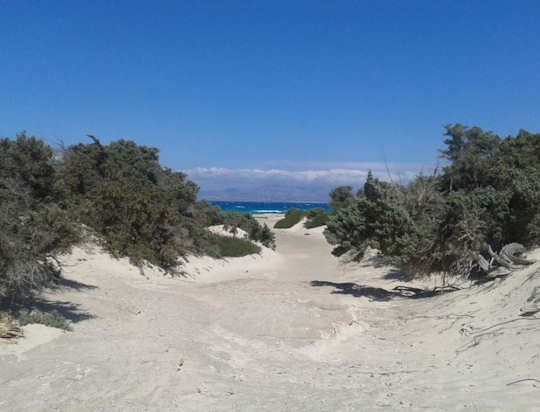 Chrissi island is completely natural
The name Chrissi or Χρυσή means 'golden' and refers to the stunning sand on this uninhabited island south of Crete.
This is a small, undeveloped, low-lying island about 7 km by 2 km and only 30 metres high, at its highest point. This stunning island has many coves and may be visited from spring to autumn. There is no access to the island but cruises take you swimming in the clear waters.

The island is south of Ierapetra in south-eastern Crete and can be reached by a short ferry ride - see more about the island here.

---
Accommodation in South East Crete

Select from beachside, mountain or town accommodation below. We choose small guesthouses or pensions, family-run small hotels and beautiful locations.


Pezoulia Mountain Retreat is surrounded by the Selekano Forest high in the mountains of Lasithi. Get away from it all and enjoy the fresh mountian air and cozy privacy.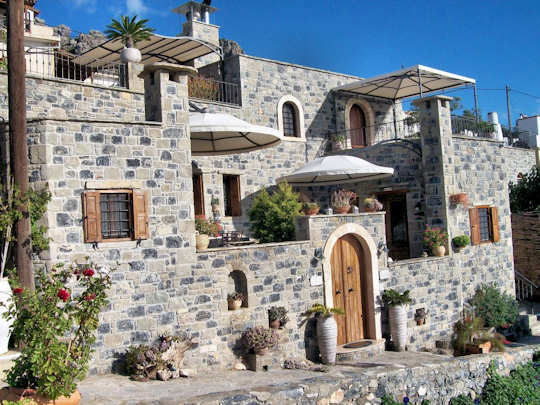 At Diktynna Mountain Villas just inland from Ierapetra in a small traditional village you will find authentic Cretan hospitality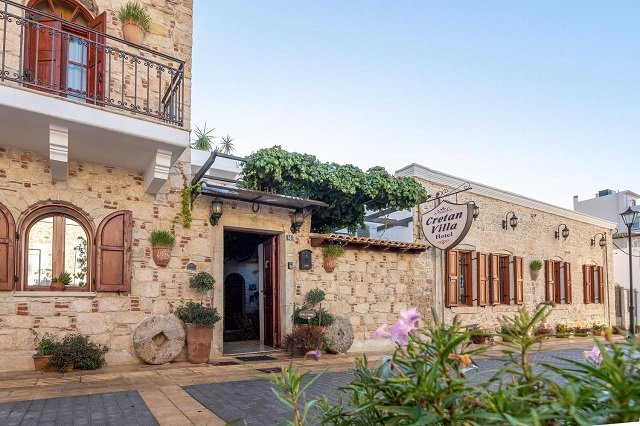 The Cretan Villa Hotel is in the centre of Ierapetra town with easy access to the port for a day trip to Chrissi Island.  A restored 18th century building with loads of character makes the perfect base for exploring south east Crete.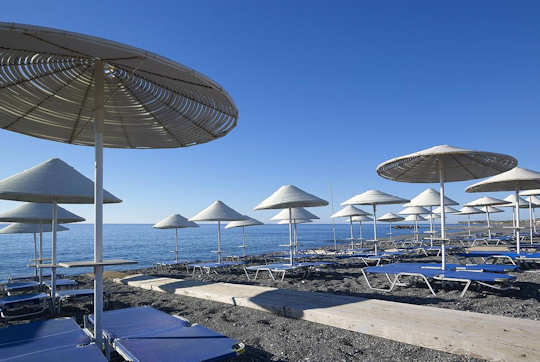 Coriva Beach Hotel and Bungalows on Koutsounari Beach with direct access to the lovely long sand and pebble beach. A peaceful resort with its own large pool, and Pelagos Seaside Restaurant and bar by the beach. Located 9 km east of Ierapetra, this is a quality hotel ideal for romantic holidays. With a day spa, free parking and easy access, this makes a wonderful choice of accommodation in south east Crete.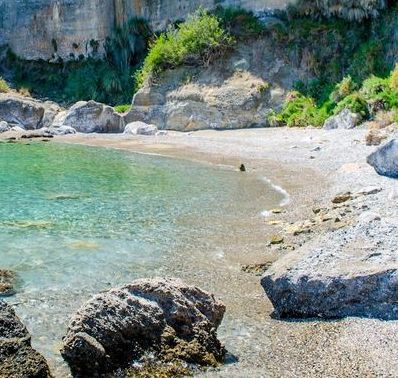 Carob Villa has three private beaches shared only with one other villa.
This splendidly secluded home is on 5 acres of gardens. Be surrounded by nature to enjoy a family holiday or romantic getaway.
Located on little known coves, not far from Agia Fotia, just 8 km from Ierapetra.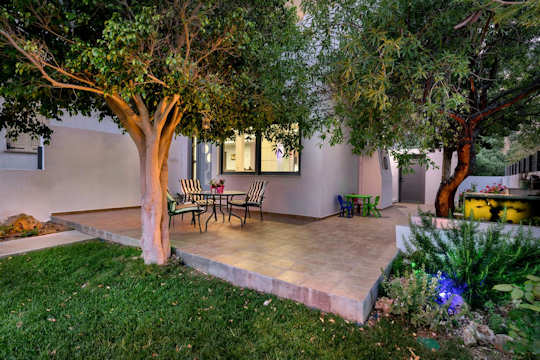 Mayla House is 11 km from Ierapetra in south east Crete, near Ferma. Set a little bit back from the beach, this is a modern stylish home-away-from-home with a relaxing garden setting.

---
Exploring South East Crete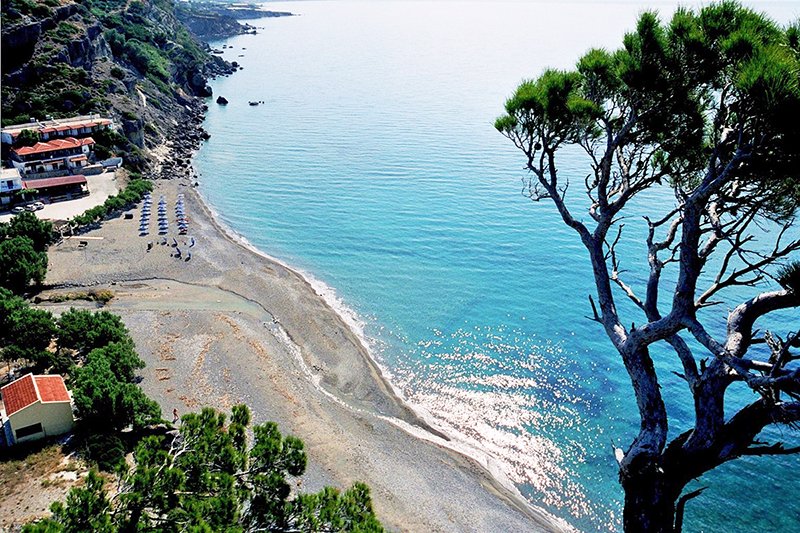 Agia Fotia Beach

Agia Fotia Beach (pictured above) is made of fine sand and is an excellent choice for swimming. The tall pine trees make it unique, and it is generally a quiet place to visit.
There are lots of places to explore in this region including

Koutsounari Beach

Xerokambos Beach
Koufounissi Island
Ha Gorge
Havgas Gorge
Pefki Gorge and Village
Economou Winery located on the Ziros Plateau inland from Xerokambos

---
Getting to South East Crete

Take a 1 hour flight from Athens to Heraklion with Aegean Airlines or Olympic Air, with many flights available per day.
Or take a 9.5 hour overnight ferry from Pireaus port of Athens to Heraklion port.
More on flights and ferries below.
Car hire in Crete is a really good idea as it is a large island 60 km by 260 km. There is so much to explore.
When you book with our car rental partners - Rental Centre Crete - you are supporting a local company with excellent service and an easy online booking procedure. We are sure you will be well looked after by the team. Choose from hybrid or non-hybrid vehicles.
---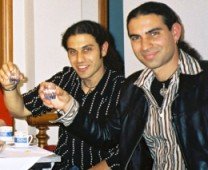 "We trust you have enjoyed these tips from the team at We Love Crete. Evíva!"
Contact us with further questions or feedback. We love to hear about your travels in Kríti and Greece. Let us know of any updates or additions, errors or omissions. Help us make this website the best it can be. Kaló Taxidí!

---