Marine Crete
The Underwater World of the Med...

Marine Crete is rich and varied. We mention some of the endangered species and conservation projects on our dedicated conservation pages.
Crete is surrounded by the Mediterranean Sea, and each local sea, gulf and bay has its own name. In the south lies the Libyan Sea, swells ariving from Africa. Trade and transport routes have included Crete for centuries, and her sea creatures harvested for just as long.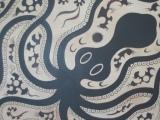 The most famous of these sea creatures is of course the octopus, of which there are still plenty around Crete, sea urchins and sponges, which are becoming much rarer, turtles, fish, squid, cuttlefish, dolphins, whales and seals.
Don't forget the delicate creatures that also make up the marine ecological landscape, such as corals, sea horses, lobsters, crabs, eels, rays, shrimps, jelly fish, star fish, molluscs and sea snakes.
The Mediterranean Monk Seal, Monachus monachus is one of the most critically endangered species in our oceans, and Crete is one of their natural habitats. There are fewer than 600 individuals surviving around the world.
Seal hunting began in ancient times, peaked in Roman times and continued in the 20th Century. Because of their trusting nature, seals were easy prey for hunters using clubs, nets and spears. Today, the remaining seals seek refuge in inaccessible caves along remote coasts with cliffs.
To learn more about all the sealife of Crete, take a visit to Aqua World on the north coast. Here you will see turtles, groupers, wrasse, eels, scorpion fish, weever fish, rays and a collection of native reptiles. Take this opportunity to get to know more about the wonderful marine life of Crete.
The scorpion fish has poisonous spines that are dangerous to humans.
Below you will see some of the inhabitants of Cretan waters, with their Greek and scientific names.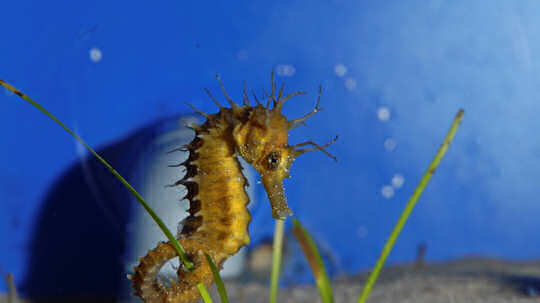 Seahorse at Crete Aquarium
---
Marine Crete - Species
Mediterranean Monk Seal Monachus monachus
Leatherback Turtle Dermochelys coriacea
Green Turtle Chelonia mydas
Loggerhead Turtle Caretta caretta
Sperm Whale Physeter macrocephalus
in Azores by Pedro Madruga
www.espacotalassa.com
Striped Dolphins Stenella coeruleoalba
by João Quaresma
www.joaoquaresma.com
Scorpion Fish - scorpidi Scorpaena scrofa
Silverside - atheriná Atherina hepsetus
Ornate Wrasse - gílos Thalassoma pavo
Saddled Sea Bream - melanoúri Oblada melanura
Salema - sálpa Sarpa salpa
Sinagrída Dentex dentex
---
Aquarium in Crete - Seaworld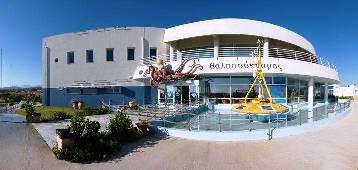 Marine Crete - Aquarium

The Cretaquarium - Thalassocosmos in Gournes, in the central north of the island, with marine life managed by the Hellenic Centre for Marine Research. A great day out for all the family with a wonderful collection of sea life, cafe and complete modern facilities, located at Gournes Heraklion 71003.
Take an audio tour, a guided tour or a behind the scenes tour. Children under 4 are free, children 4 - 17 years are only €6 and adults €9.

---
Five Days in the West of Crete by Car or Motorcycle e-book
28 pages
Only
€2.48 EUR
---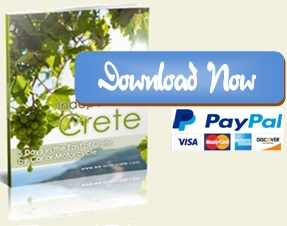 Five Days in the East of Crete by Car or Motorcycle e-book
28 pages
Only
€2.48 EUR
---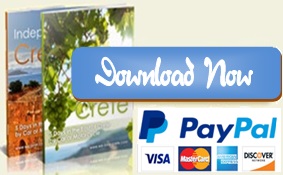 Two e-book Bundle
56 pages in two books for car travel
Only
€4.60 EUR for two books
---
10 Days in the West of Crete by Bus e-book
55 pages
Only
€2.58 EUR
---