Crete Location Map

This page may contain affiliate links, see our disclaimer here.

---
Crete Location Map

Crete Location Map - here is the location of the island of Crete in the south of Greece.
This is the largest island in Greece with hundreds of beaches, four capital towns, three mountain ranges, forests, olive groves, vineyards and rugged gorges to explore. We love Crete for her beauty and her people, and we are delighted to show you around. We have created this website as a hub for those who love Crete, and to share our personal rediscovery of the island of our heritage, of our grandparents and family.


---
Buy a Map
Good maps of Crete to buy online. We like the Anavasi maps and found them very useful for general touring. 
---
E4 Walking Path Guide with Maps



E4 walking path in Crete - an overview
Crete Location Map - the E4 European walking path Cretan section starts in the west of the island at Kastelli-Kissamos and tracks 320 km through some of the most beautiful countryside in Crete. It finishes at Kato Zakros in the east. Or, of course, you can do it the other way around, or do bits at a time. The trail is not always marked, it has some yellow and black E4 markers along the way. It is always good to check with the locals before starting any hike or walk in Kriti, especially in the mountains.
Walkers will choose the 1:25,000 Anavasi maps to detail these routes.



The Cretan Way by Luca Gianotti is an invaluable guide for this trail. It has detailed descriptions of the route, maps, GPS references and more.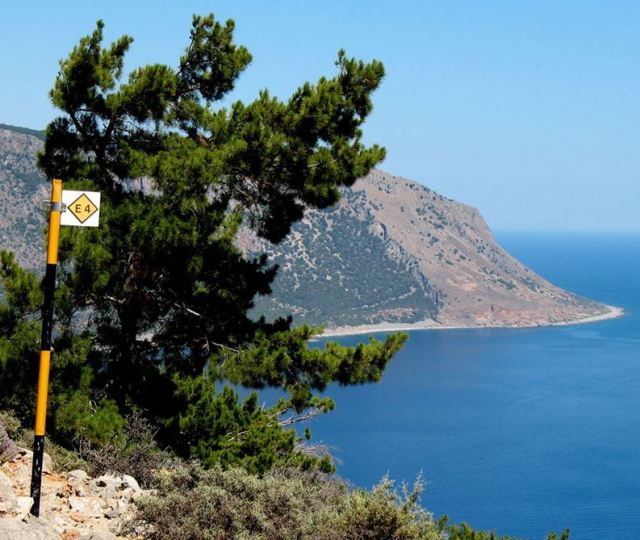 E4 Walking Path in southern Crete
---
Trip Ideas Booklets with Maps
by We Love Crete
Looking for trip ideas in the west of Crete?
Or do you prefer to travel to the east of the island?
We have written these mini guides with the best of those regions into a five-day trip for independent travellers...
Take some time and a car and you can explore the rugged, beautiful interior of the island of Kriti, as well as visit some sandy beaches.
Everyone knows Crete as a seaside and beach destination, and that an average of 300 days of sunshine a year means more chances of bliss on the shore. As an independent traveller, who wants to do more than just laze on the beach, it can be difficult to plan a great route without local knowledge of the island. That is where we come in...

Our e-books Five Days in the West of Crete  and Five Days in the East of Crete solve that challenge for those travellers with a car.
Our e-books West Crete by Bus and East Crete by Bus give practical routes for independent travel by local bus.

---
Town Maps of Crete
Crete Location Map - the four regions or peripheria of Crete from west to east are:
The capital town of each are shown below, each with their own map with our selection of accommodation for your stay in Crete.


Regions of Crete Location Map
---
Below you will find interactive maps for the four major capital towns, Chania, Rethymnon, Heraklion and Agios Nikolaos...

Chania Town

See the map below for our accommodation selections in Chania town...
Here are some excellent online maps of Chania town...from the Chania local government website...

---

Rethymnon Town

The map below shows our personal accommodation selections in Rethymnon town for you...
---

Heraklion Town

The map below shows the accommodation selections we have chosen for you in Heraklion town...
---
Agios Nikolaos
The map below shows our accommodation selections for you in Agios Nikolaos...
---
Where to Find Hard Copy
Maps in Crete...
Crete Location Map - where to find real hands-on, physical, hard-copy, old-fashioned maps in Crete.
In Chania visit Mediterraneo Bookstore at 57 Akti Kountourioti Street on the western side of the old harbour. They have a wide range of guides and maps, walking maps and hiking maps. And a good map of Chania town.
In the Old Town of Rethymnon visit Mediterraneo Editions at 41 Palaiologou Konstantinou Street, just around the corner from the leondaria, for a wide range of books and maps including hiking maps.

A good place to find a wide range of excellent maps is Taxidiotiko Bibliopolio ~ Travel Bookstore on 29 Chandakos Street in Heraklion (just walk down between the trees from the liondaria). You can find road maps, walking maps and hiking maps with good detail. Here is also a good map of Heraklion town.
In Agios Nikolaos visit Karteri at 5 Roussos Koundouros Street on the eastern side of the harbour. Here you will find a wide range of guides and maps as well as foreign language books and Greek dictionaries in many languages.


---
Crete Location Map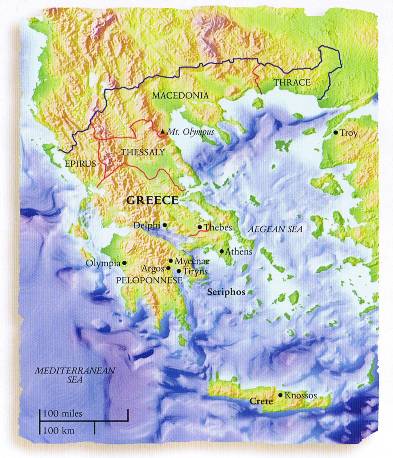 ---
Getting to Crete
Crete Location Map - many people get to Crete by ferry from Athens. Alternatively, the flight is only 1 hour duration and you can get to this beautiful island to begin your travels without the long overnight trip on the ferry  which is 6-9 hours duration.
Its your decision...
Once in Crete, it is also your call as to whether you hire a car or take the local buses. Both are totally viable and have their own pros and cons. The local buses are comfortable and efficient and a pleasure to ride on, and we have travelled all over the island easily on the buses. 
The local roads are good and it is easy to get around the whole island, with the added benefit of stopping where you like to take in the scenery or stop at a kafenio for a coffee and a chat with the locals...

See more about all forms of transport with information and booking options below.