Crete Holiday Rentals

This page may contain affiliate links, see our disclaimer here.

---
For Couples or Families

Crete Holiday Rentals - specially chosen with you and your family in mind. Are you looking for a small villa or holiday home:

family holiday
romantic holiday

self-catering vacation

rural and quiet surroundings

comfort and traditional style

authentic Cretan design?


---
---
Crete Holiday Rentals - specially chosen for couples and families - are shown below from west to east.


---
Holiday Rentals in Western Crete

Villa Archontaraki
Kaliviani Village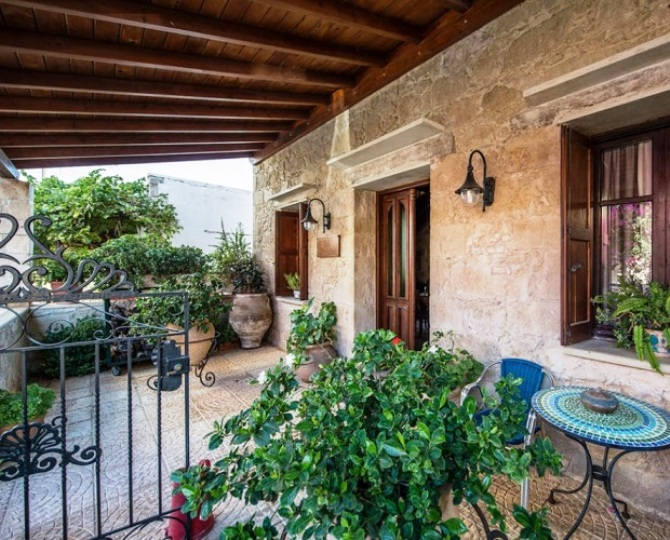 Villa Archontaraki is very central in the delightful village of Kaliviani, just like you are a local, step out into your community
Crete Holiday Rentals - within comfortable driving distance to Elafonisi Beach, Balos Lagoon and Falasarna Beach is the character-filled home of Villa Archontaraki.
Located in one of the central streets of this small village which has a good hubbub of cafes and tavernas within walking distance, this restored family mansion has its own private garden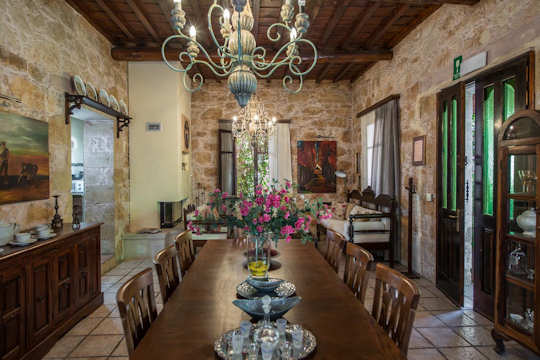 Archontaraki Villa is a comfortable family home with expansive kitchen and dining spaces
This is perfect for a large family group, accommodating 10 people in 4 bedrooms and 5 bathrooms, with a pool, jacuzzi and spacious private garden.
Find lots of outdoor space for eating meals together in the shady courtyards, by the pool with views over the Bay of Kissamos. Enjoy the elevation and expansiveness of being up high and the privacy of your own garden, yet be footsteps from local cafes and dining.

Enjoy the stone and wood traditional architecture with modern conveniences. Just 35 km from Chania town and 1 km to the nearest beach.

Explore the Chania region from this villa


---
Harmony Villa

Crete Holiday Rentals - create some harmony in the family in this beautiful villa in the countryside near Polemarchi in Chania.

The 4 bedroom Harmony Villa sleeps 10 guests with 5 bathrooms and loads of outdoor space, including a pizza oven, pool and children's pool. Built in the traditional country style of the region, it is splendidly designed in stone and wood.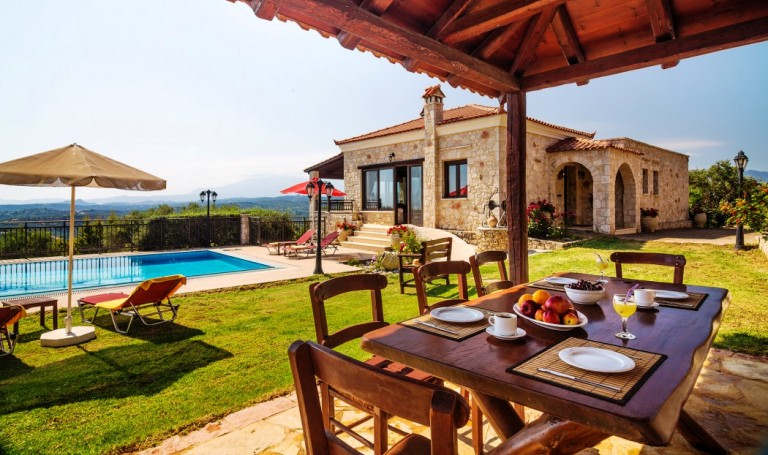 Eat al fresco with the family using the pizza oven
Close to the beaches of Chania's northern coast, visit Kolymbari, Maleme and Agia Marina beaches, or a little further visit Balos Lagoon and Falasarna Beach.
The town of Chania is 30 km and the airport only 39 km. In the small village of Tavronitis you will find a butcher, baker and patisserie, and local markets with fresh produce are held in Voukoulies village nearby.
Close by at Ano Vouves are some of the largest known olive trees and an Olive Museum.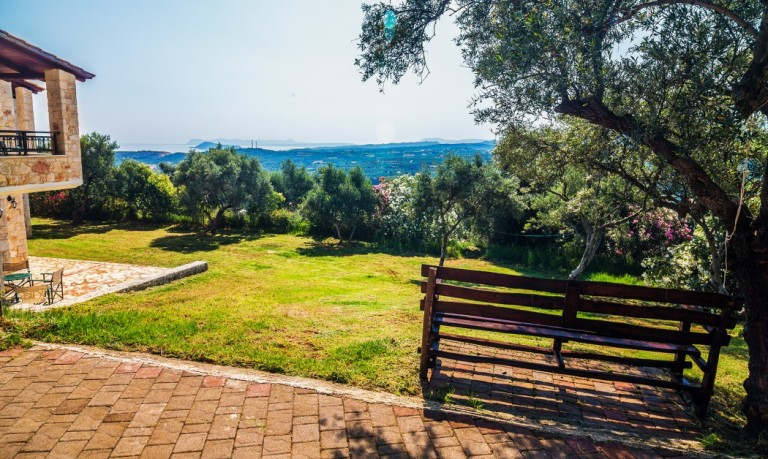 Harmony Villa, just relax and enjoy the views to the sea
---
Fairytale Villa
Fairytale Villa Perivolia - this charming cosy B&B near Elafonisi in Chania is set for welcoming fairies and guests in comfort. Nestled in the mountains in the small village of Perivolia, visitors will experience the natural life of Crete with authentic abundance. This villa is 56 km from Chania town.

"Great room, very quiet small traditional village, exceptional hospitality and amazing welcome drink and breakfast. Booked it because I wanted to visit Elafonisi (30 min drive), but the B&B was in a small non touristic village so it was very quiet and tranquil in the evening."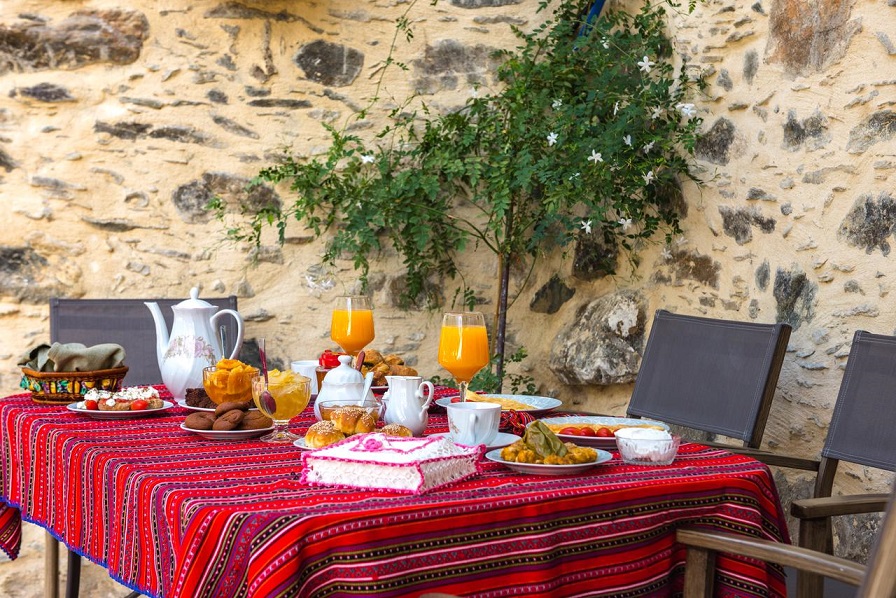 ---
Holiday Rentals in Central Crete

Palio Damnoni Seafront House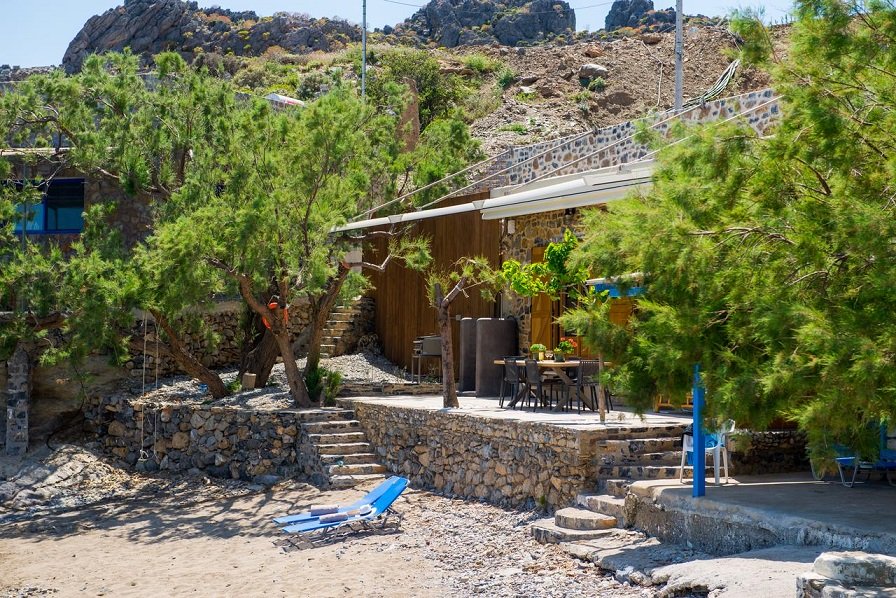 Crete Holiday Rentals -  Palio Damnoni Seafront House is a small traditional Cretan house located right on the beach in southern Rethymnon. Here you will have peace and privacy, and with a vehicle you will be in short distance from Plakias Beach and other small villages with tavernas offering local food. This house was an old fishing cottage which as been renovated by the grandson of the fisherman with love.

With 3 bedrooms and 2 bathrooms, this house welcomes 6 guests in modern comfort. Enjoy views from your own beach.

Located 35 km from Rethymnon town and 6 km to Plakias Beach in central Crete.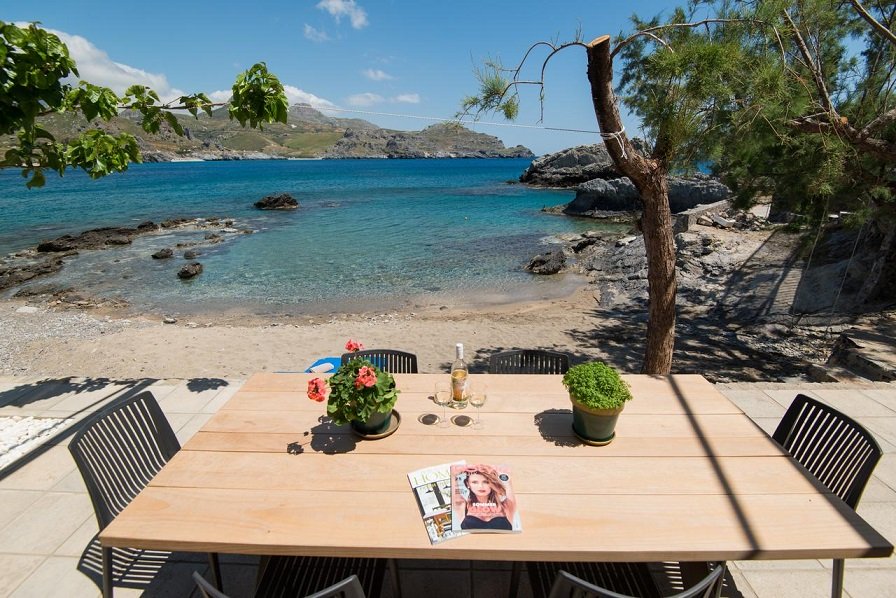 ---
Vederi Estate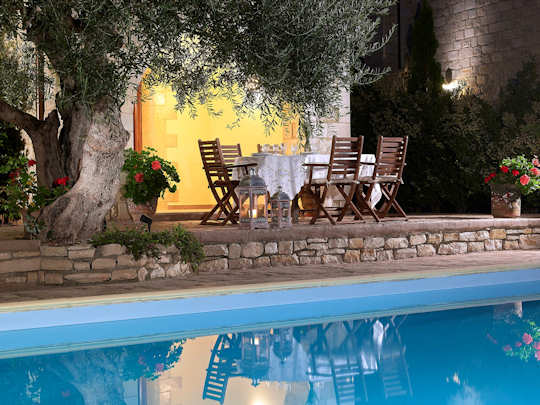 Vederi Estate is located in the countryside 3 km from the beach of Gerani and just 7 km from the Venetian Old Town of Rethymnon. These four  villas, made in the local stone and wood construction in traditional style, are set peacefully in an olive grove.
Set just outside of Prines village, visitors can experience Cretan food at local tavernas in that village, or visit Rethymnon for its plethora of dining and cafe choices.

Three of the villas welcome 6 guests easily and each has its own private pool, with terraces and BBQ facilities for al fresco dining.
Villa Melpomeni has 5 bedrooms, all with ensuites, and suits larger parties of 10 guests, with immaculate presentation, sea views, spa and pool.

The historic Arkadi Monastery is just 20 km away and this visit can be combined with a visit to the Amari Valley or Margarites Village for its ceramics.


---
Orelia Cretan Villas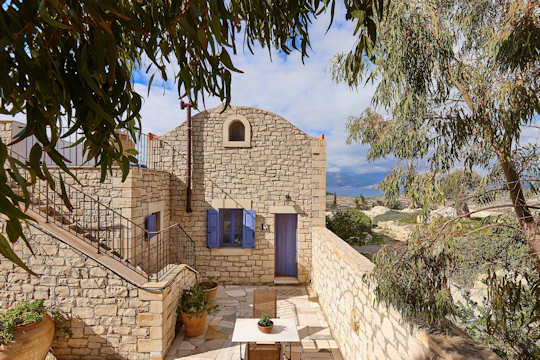 Sitting overlooking the sea in between the village of Kamilari and the beach of Kalimaki are the Orelia Cretan Villas, in the southern Heraklion Region.
Just 2 km from the beach, 4 km from the ancient site of Phaistos and less than 2 km to the small hubbub of Kamilari with many cafes, kafenions, restaurants and tavernas, this is an ideal location from which to explore the southern central zone of Crete.
Here you can choose from 2 brand new individual natural stone villas suitable for 2 guests or 3 renovated individual natural stone villas, suitable for up to 4 visitors. A combination of villas in this same estate is perfect for your next family reunion.
Enjoy the comforts of modern life with beautifully decorated villas touched by rusticity and country life, with views over the Med and over the valley to Mt Psiloritis.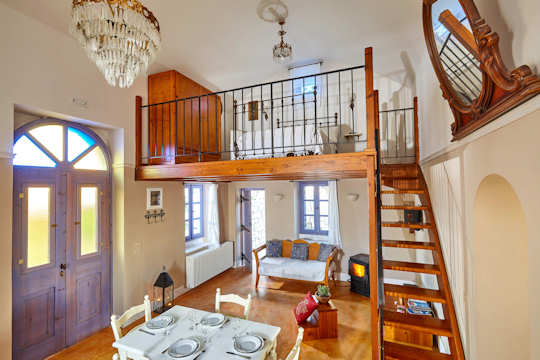 ---
Crete Holiday Rentals in the East

Plaka Beach Cottages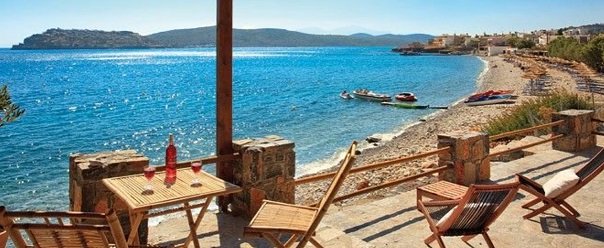 Plaka Beach Cottages - set directly on the sea with private beach. Enjoy your terrace overlooking Spinalonga Island. Just so simple and beautiful. These three cottages welcome 2 adults each. An easy walk from the hamlet of Plaka.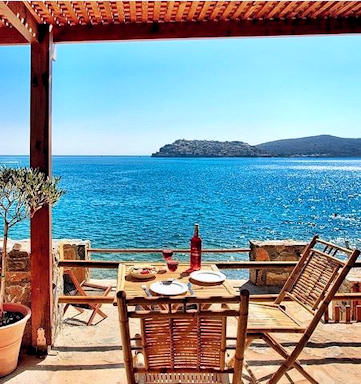 ---
Sitia Windmill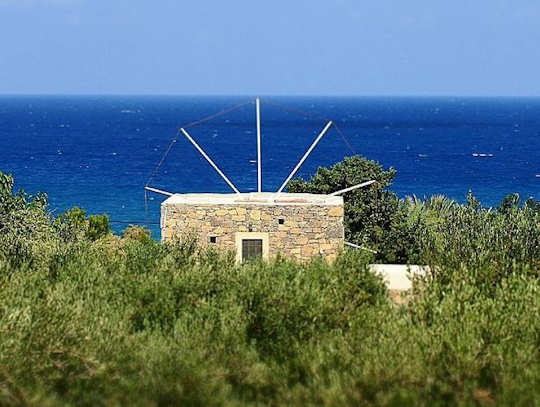 The Sitia Windmill is a romantic secluded home set by the seaside. This restored old stone windmill is now a comfortable nook for the perfect holiday in the east.
With 2 bedrooms and 1 bathroom, this unusual holiday home welcomes 4 guests in comfort, with loads of outdoor space for meals outside and enjoying the shady verandah.
It is best to have a vehicle to make the most of this location and explore the nearby town of Sitia, the exquisite beaches including Vai Palm Beach and the historic Toplou Monastery with its wine tasting room.
Surrounded by olive groves and a lovely lush garden, this is a romantic and authentic Cretan experience, one which will contribute to your feeling of the real Crete.


---
Terra Minoika Villas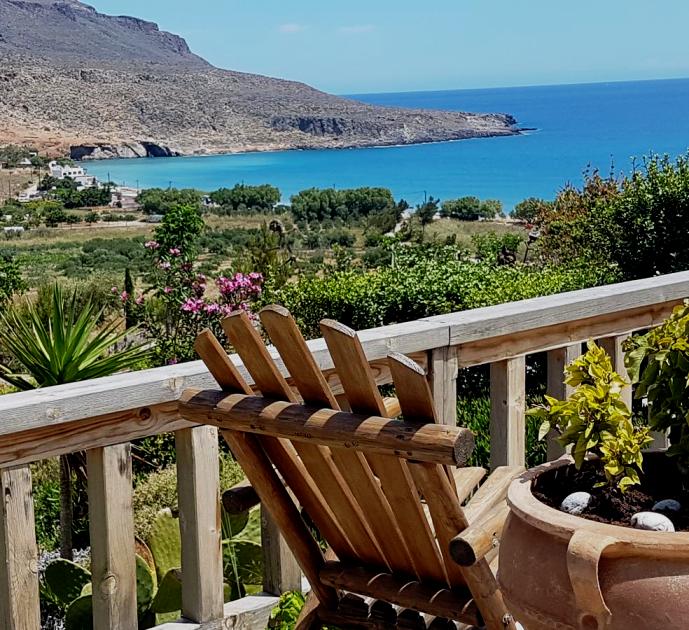 Terra Minoika Villas, in one of the prettiest locations of Crete, are built in traditional style of stonework and wood.
Sitting in gardens just 500m from the beach of Kato Zakros and seconds from the Minoan Zakros Palace, we have selected these villas as they provide the real Cretan feel and experience.
Owners Stella and Elias are crazy trekkers and climbers who fell in love with this region of Crete after visiting from their home in Thessaloniki. They are passionate about sharing all the natural beauty of eastern Crete with their visitors, and offering great hospitality at Terra Minoika.
The villas are beautiful creations of the Cretan earth, risen up in modern times to comfort visitors and provide a nurturing experience. Stella and Elias provide their wonderful hospitality.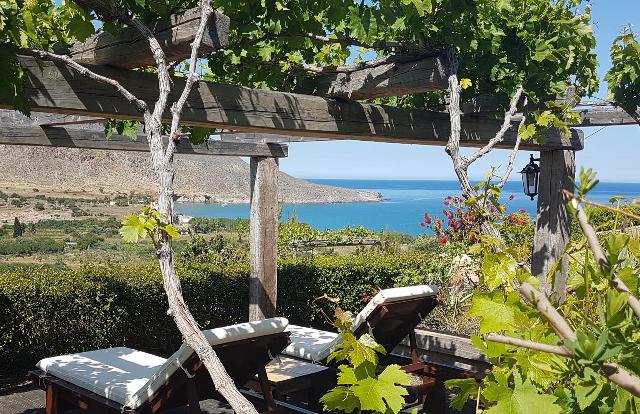 ---
On the Map

Choose your villa location on the map below:

---
Getting Here
Take a 1 hour flight from Athens to Heraklion with Aegean Airlines or Olympic Air, with many flights available per day.
Or take a 9.5 hour overnight ferry from Pireaus port of Athens to Heraklion port.
More on flights and ferries below.
Car hire in Crete is a really good idea as it is a large island 60 km by 260 km. There is so much to explore.
When you book with our car rental partners - Rental Centre Crete - you are supporting a local company with excellent service and an easy online booking procedure. We are sure you will be well looked after by the team. Choose from hybrid or non-hybrid vehicles.
---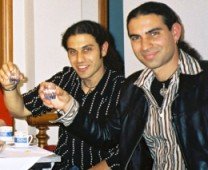 "We trust you have enjoyed these tips from the team at We Love Crete. Evíva!"
Contact us with further questions or feedback. We love to hear about your travels in Kríti and Greece. Let us know of any updates or additions, errors or omissions. Help us make this website the best it can be. Kaló Taxidí!

---