Crete Flowers & Flora Guides
This page may contain affiliate links, see our disclaimer here.

---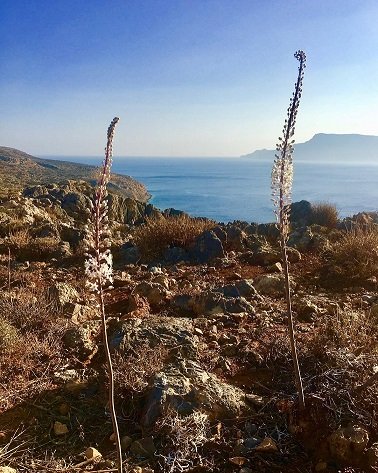 The Beautiful Flowers of Crete
Crete Flowers - from tiny ground covers to brightly coloured orchids, the unusual ecosystems of Crete are host to many unique flowering plants, some of which are only found on Crete, and it takes a guide to point them out when walking in the mountains and gorges.
More on the flora of Crete here

In the towns and villages colourful cascades brighten many houses and corners everyday.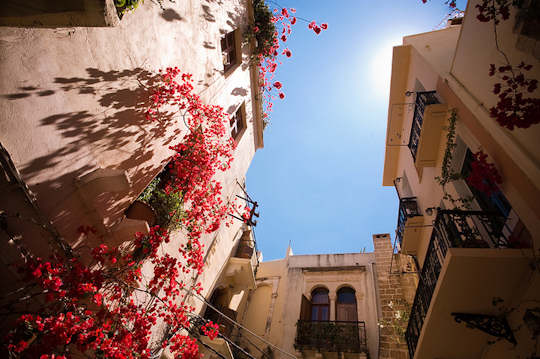 Old Town of Chania - a cascade of flowers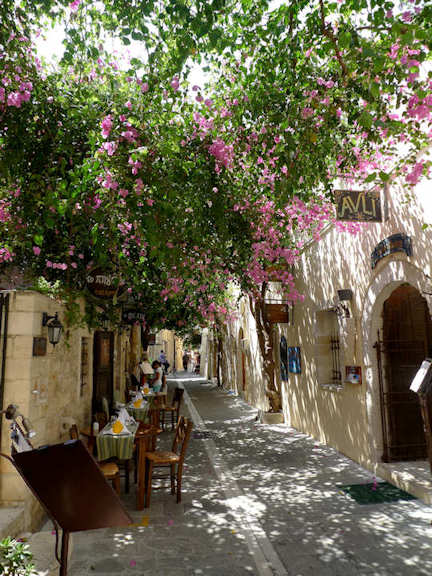 Rethymnon Town - a narrow laneway with flowers
---
Walking Tours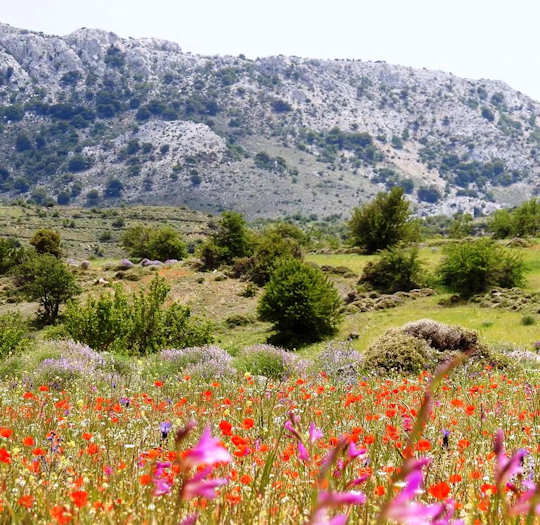 The meadows burst with spring flowers all over Crete in May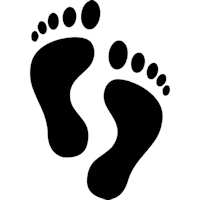 Crete flowers - walking tours are available all over the island, many have spring-time walks to enjoy the flowers with botanist guides, or a photography guide, or both.
The Happy Walker - is a company based in Rethymnon that offers many different walks, including a different walk each day of the week. Many of these walks are rated as 'easy' grade.
Aori Walks is a small trekking company based in the White Mountains in Chania. Anne Deckel guides the walks through the highest points of that mountain range with her local knowledge. These walks range from one day to two weeks.
Flowers of Crete tours are run by passionate flower lovers Julia Jones and Rosemary John, they take visitors on walking, photography and art explorations and hold symposia on the ecology of Crete. Food foraging trips are very popular and help to share the traditions of Crete, precious knowledge handed down from yiayia about how to collect sage, rosemary, thyme, origanum, wild vine leaves and wild greens!
A Botanical Guided Walk in and around the village of Vamos on the Apokoronous Peninsula in Chania. George Xatzidakis, born and raised in Vamos, has excellent knowledge of local history, culture and customs. He is able to show you beautiful places you would otherwise never find, and this walk will stimulate your senses exploring the garden of healing and aromatic herbs, olive groves and native flora.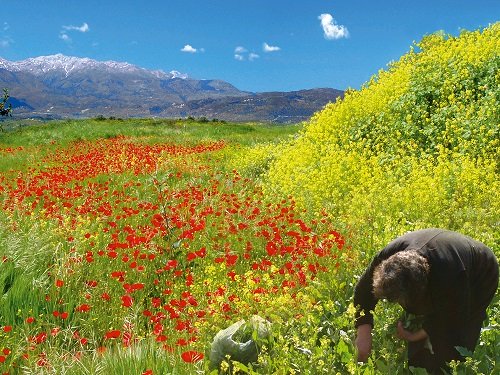 Gathering Wild Greens - in and around Vamos village near Chania - with a local knowledgable elder - this is a seasonal activity. Learn how to identify edible green soft herbs in the wild. Learn how to prepare and cook them in delicious local meals.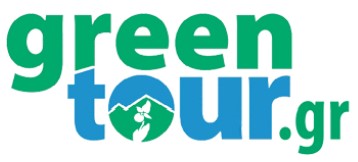 Green Tour - offer 1 day and 8 day botanical walks exploring the native flora of Crete. The experienced is based in the Amari valley, half an hour south of Rethymnon, and focuses on orchids and endemic tulips of the Amari Valley and the Gious Kampos plateau.
---
Gorges and Forests

There are many parklands and national parks in Crete. The most famous is Samaria Gorge, however there are many other gorges with beautiful plants and flowers, such as Agia Irini Gorge in the west and Zakros Gorge in the east.

The Mediterranean woodland scrub of the island is dotted with many species such as pine forests with Brutia Pines Pinus brutia. Holly Oak Quercus coccifera woodlands are widely spread. Higher up are cypress woodlands, where the local evergreen Maple Acer sempervirens grows, and thorny cushion shrub lands.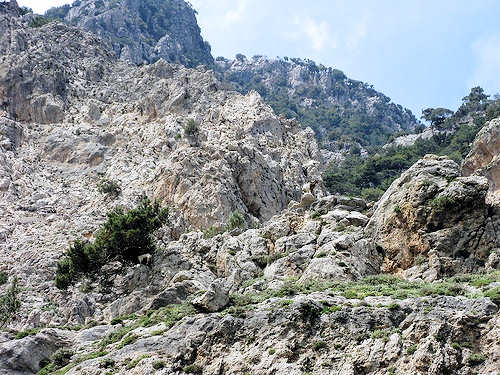 Rouvas Gorge in Central Crete - where are the flowers?

Rouvas Gorge (above) in central Crete is rocky and dry like much of this island, it is only in the deep gorge hollows and the Rouvas Forest (below) that those untrained will find flora. Of course experienced botanists and mountain folk will see unusual small plants and flowers even in the most remote rocky outcrops.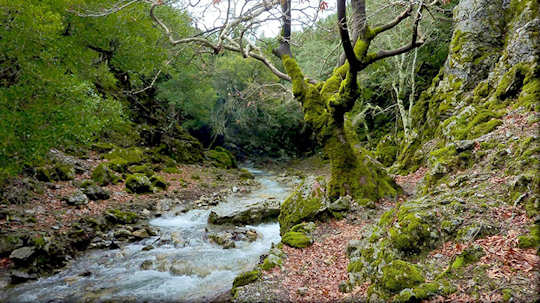 Rouvas Forest is just north of Zaros Village in Heraklion region
---
The Stunning Flowers of Crete

Crete Flowers - below we show just a few of the unique flowers endemic to Crete or part of the natural ecosystem in our photo collection.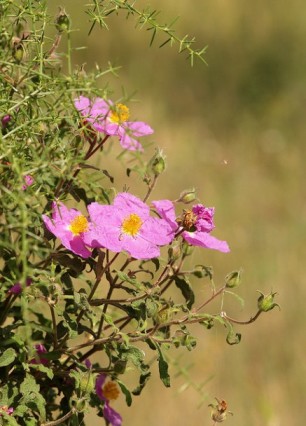 Cretan Rock Rose Cistus creticus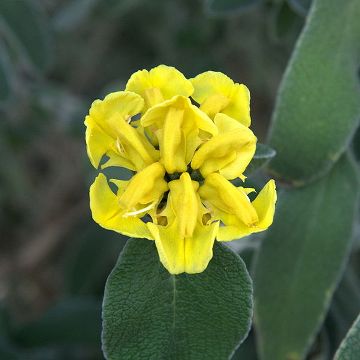 Jerusalem Sage  Phlomis cretica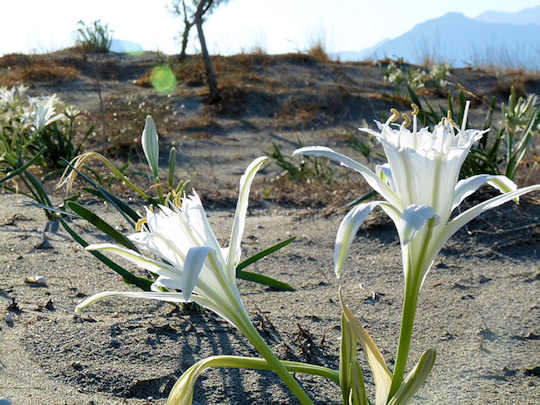 Sea Lily Pancratium maritimum, on the Beach at Plakias, Crete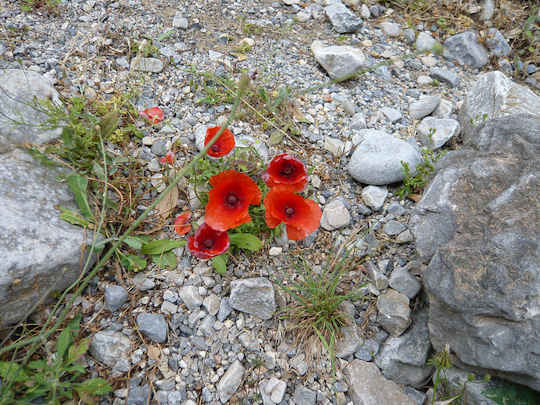 Surprising Poppies in the rocks Papaver rhoeas
---
Crete Flowers - Flora Guides
Useful flora guides for Crete are:
1970 - Flowers of Crete by Marina Clauser

1987 - Flowers of Greece and the Balkans by Oleg Polunin
1991 - Wildflowers of Crete by George Sfikas
1998 - The Orchids of Crete and Karpathos by Adonis Alibertis
2003 - Walks with Crete's Spring Flowers by Jeff Collman
2004 - Wildflowers of the Mediterranean by Grey-Wilson and Blamey
2008 - Flowers of Crete by Fielding & Turland
2011 - The Flora of Crete by James W Stanfield Jr
2012 - The Most Beautiful Wildflowers of Crete by Adonis Alibertis
2020 - The Earth Laughs in Flowers: A Journey through Cretan Plant Lore and Legend by Enda McMullen
Orchids of Crete & Dodecanese by Horst & Gisela Kretzschmar



In addition this book covers the ecology, history and geography of the island:
The Making of the Cretan Landscape by Oliver Rackham & Jennifer Moody
---
The Orchids of Crete

Crete flowers - the orchids of Crete are spectacular, some are endemic to the island, see some below with special thanks to our friend Andreas Loukakis, photographer and naturalist.
Of those endemic to the island, the Cretan Hooded Cephalanthera Cephellanthera cucullata, Cretan Lizard Orchid Himantoglossum samariense, and Epipactis cretica are listed as vulnerable or threatened.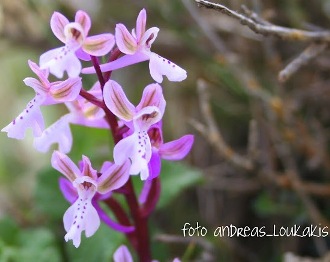 Sitia Orchid - Orchis sitiaca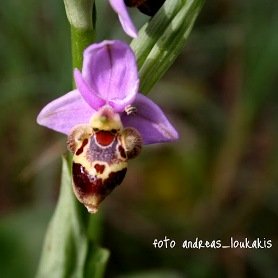 Cretan Bee Orchid - Orchis heldreichii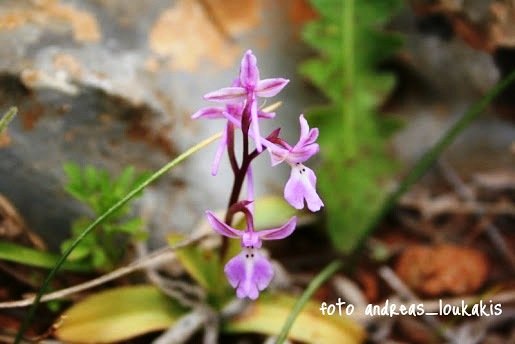 Four Spotted Orchis - Orchis quadripunctata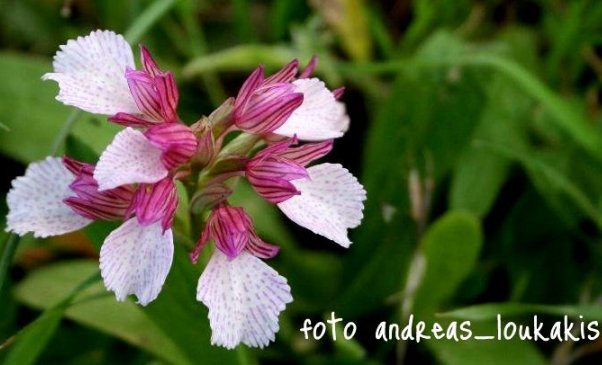 Butterfly Orchid - Orchis papilionancea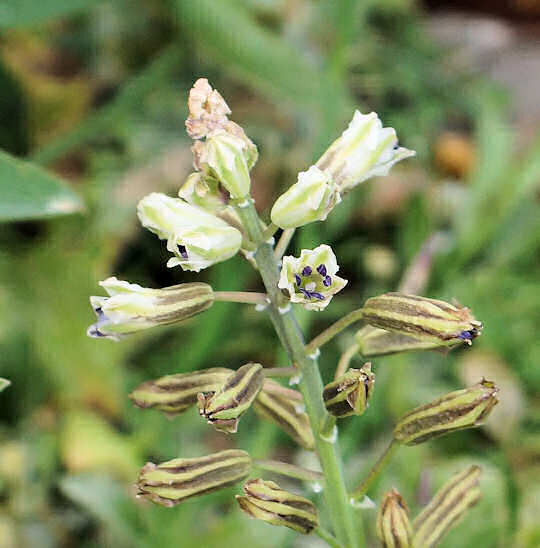 Bellevalia juliana - a new orchid species in Crete (image by Steve Lenton) - named after Julia Jones of Flowers of Crete
---
Getting to Crete
Crete Flowers - how to start your botanical trip in Crete.

Getting to the Village of Vamos - fly into Chania Airport and pick up your hire car. Drive south to Souda and join the national road then after 26 km take a turn towards Kalyves. Now you are hugging the coast, then drive up the hill after Almiryda to Gavalohori village then on to Vamos village. The total trip distance is 35 km.
Getting to the Amari Valley - fly into Chania Airport and pick up your hire car. Drive to Rethymnon town 72 km on the national road, then take the road south for 35 km to Amari Village.

Getting to Rouvas Gorge - fly into Heraklion Airport and pick up your hire car. Drive to south to Zaros Village 48 km then on another 13 km to Rouvas Gorge and Forest.

Take a 1 hour flight from Athens to Heraklion with Aegean Airlines or Olympic Air, with many flights available per day.
Or take a 9.5 hour overnight ferry from Pireaus port of Athens to Heraklion port.
More on flights and ferries below.
Car hire in Crete is a really good idea as it is a large island 60 km by 260 km. There is so much to explore.
When you book with our car rental partners - Rental Centre Crete - you are supporting a local company with excellent service and an easy online booking procedure. We are sure you will be well looked after by the team. Choose from hybrid or non-hybrid vehicles.
---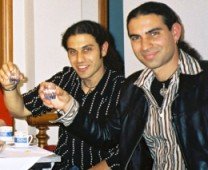 "We trust you have enjoyed these tips from the team at We Love Crete. Evíva!"
Contact us with further questions or feedback. We love to hear about your travels in Kríti and Greece. Let us know of any updates or additions, errors or omissions. Help us make this website the best it can be. Kaló Taxidí!

---