Beach Accommodation East Crete
This page may contain affiliate links, see our disclaimer here.

---
...just walking distance to the water...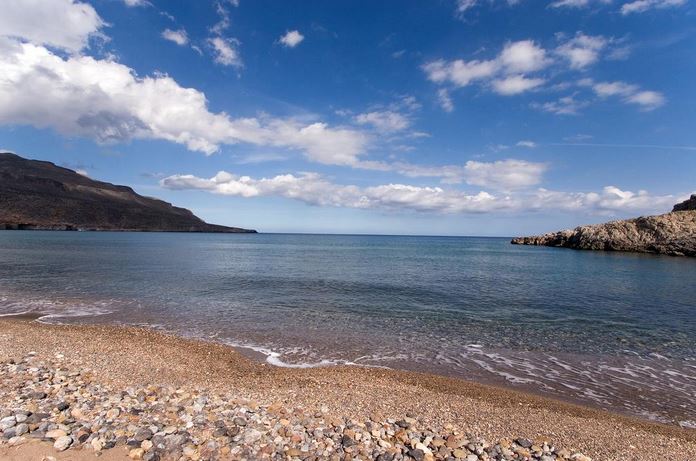 Kato Zakros Beach
Beach Accommodation East Crete

Lasithi, in the east of Crete, is full of surprises. With less development than the other parts of the island, it remains refreshingly unspoiled and open. The locals make their living from agriculture; olives are everywhere.

The history buff can visit the ruins of Minoan villages at Gournia, Makrigialos, Mirtos, Hamezi, naerby to Palekastro, and behind the lovely beach of Pachia Ammos.  In Lasithi is the Minoan Palace of Zakros.
The exquisite archeological finds are housed in the archaeological museums in Agios Nikolaos, Sitia and Ierapetra.
For a taste of genuine Cretan life and history, one can visit the folklore museums in Agios Nikolaos, Sitia and Ierapetra.
Other interesting sites are the Toplou Monastery in Sitia, the Venetian Fortress "Kazarma" in Sitia and the Kales Fortress in Ierapetra.
Nature abounds relatively untouched in Lasithi, including the spellbinding Palm Forest at Vai, the stunning Milatos Cave and the beautiful Zakros Gorge.
No trip to Lassithi is complete without a visit to the charming town of Agios Nikolaos to admire its lake, port and lively taverna nightlife, and of course, a visit to Elounda.
---

---
Beach Accommodation East Crete
Elounda
Elounda is one of our favourite places in Kriti,
Elounda is simply beautifully located; the bay surrounded by steep hills and peninsulas, overlooking Spinalonga island, nestled amongst ruins and surrounded by luxurious spas and resorts on some of the most beautiful beaches in Crete, indeed in Greece.
Just 11 km from the vibrant capital town of Agios Nikolaos and 70 km from Heraklion airport, Elounda is a beautiful gateway to Lasithi; the eastern province of Crete.
The stunning physical beauty is matched by facilities of world class standards; Elounda hosts some of the most luxurious accommodations in Greece. This leads to a blend of the natural and sophisticated in the village of Elounda. See more about Elounda Village here.
Elounda Beach is a play ground for mermaids, with underwater ruins, crystal clear waters and plenty to explore every day.
---
Beach Accommodation East Crete
Seaside Suite
Plaka, Lasithi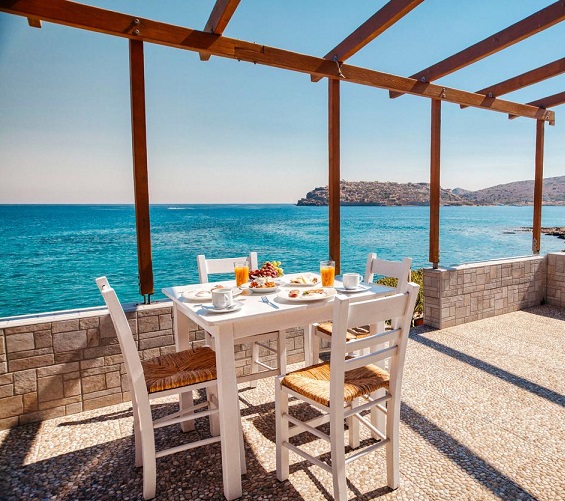 Are you looking for some peace and quiet, privacy and space? This studio next to the bay is perfect. A delightful seaside suite, just metres from the Mediterranean Sea, with expansive views over the bay to Spinalonga Island, is just made for relaxation.
A studio by the sea, to while away the hours doing next to nothing, to read a book from cover to cover, to spend time with loved ones, or indeed to explore the island of Crete, there couldn't be a more relaxing way to spend your holiday. This 2 bedroom home sleeps 5 with 1 bathroom.

A few steps over 80m take you to Plaka beach. Just minutes from the hamlet of Plaka, opposite Spinalonga, where there are tavernas and shops. 5 km from cosmopolitan Elounda Village and just 14 km from the main township of Agios Nikolaos.
More information and bookings for a Seaside Suite Plaka
---
Beach Accommodation East Crete
The Stonehouse
Karavos Beach, Lasithi
This traditional stone house is 30 metres from its own little cove and minutes from the long sandy beach of Karavos in an isolated spot on Mirabello Bay in Lasithi. To the west of the house is another sweet private cove. This region of Kalo Horio – Istron has magic views of the wide bay and the mountains beyond.
This is a spot for those really looking for peace and quiet...away from the busy town of Agios Nikolaos but still only 10 km by car. Dive into the sea from your doorstep, or wander to the small village of Istron amongst the olive groves, only 1 km away.
There are only three studios in this renovated store house, a traditional building like this is so unusual to find so close to the water, and modern building restrictions prevent any such new construction so close to the beach, so this is a real find. The thick stone walls and traditional style are simple and strong, in real Cretan style.
If you ever need to write that novel, that is still running around in your head, this would be the location of choice, so idyllic, remote and peaceful. Of course, it would also make a perfect romantic honeymoon destination.
This is special beach accommodation east Crete.

More information and bookings at The Stonehouse, Istron
---
Beach Accommodation East Crete
Villa Amalia, Palekastro
Lasithi
The east of Crete is often forgotten by travellers and tourists alike. It remains essentially Cretan…the Greek way of life runs smoothly on each day, with minimal disturbance by hire cars and tour buses.
This is wonderful for those wanting to get away from it all, lovers of open space looking for calm on the beach, solitary trekking or shorter queues at the historical sites.
Palekastro sits in the very east of Crete, 21 km from Sitia, 2 km from beaches and 6 km from the beautiful Vai Palm Forest and Beach
Villa Amalia is 2 km from Palekastro Village, perfectly positioned to take advantage of the views over olive groves to the sea.

The beaches nearby are sandy with excellent water quality; exploring Kouremenos, Karoumes, Vai, Itanos, Makrigialos and Xerokampos beaches will fill those summer days.
The villa, designed by the owners with individual flair and an eye for detail is a collection of small buildings with a modern yet traditional feel. Archways perfectly frame the view or the entrance to the courtyard, creating small personal spaces for relaxing.
Lush gardens with tropical flowering trees surround the villa, as do working olive groves with rough tracks down to the beach.
Amalia and Giorgos built the villas and offer the very best of local knowledge and guidance to all their guests, chatting and filling visitors in on the secrets of eastern Crete.
Apartments fully equipped for families and self-catering, as well as double rooms, are offered, and excellent hospitality and cleanliness standards always.
For those looking for active holidays, there is great trekking nearby in the fascinating gorges of Zakros and Chochlakies, and the Pelekita Cave for exploration.
Windsurfing is very popular here; a professional team runs the show at Kouremenos beach.
We congratulate Amalia and Giorgos on their beautiful villa and are proud to present Villa Amalia in our Beach Accommodation East Crete. 

More information and bookings for Villa Amalia
---

Beach Accommodation East Crete
Villa Plori - Beach Side
Makrigialos
This family-run pension could not get closer to the water! This is the essence of relaxing by the beach. Consider this our most beach side accommodation recommendation. Only minute's walk from cafes and the town, this will be a relaxing holiday, the rooms are simple, clean and the service warm and friendly.
This is what a holiday in Crete is all about. Eastern Crete is far less developed than other parts of the island and can still offer the authentic Greek way of life. There is plenty to see and do, if you can tear yourself away from the beach, that is!

Plori Beachside Studios - Info and Bookings
---
Choose by Location
Beach side accommodation is shown on the map.
---
Getting Here
Take a 1 hour flight from Athens to Heraklion with Aegean Airlines or Olympic Air, with many flights available per day.
Or take a 9.5 hour overnight ferry from Pireaus port of Athens to Heraklion port.
More on flights and ferries below.
Car hire in Crete is a really good idea as it is a large island 60 km by 260 km. There is so much to explore.
When you book with our car rental partners - Rental Centre Crete - you are supporting a local company with excellent service and an easy online booking procedure. We are sure you will be well looked after by the team. Choose from hybrid or non-hybrid vehicles.
---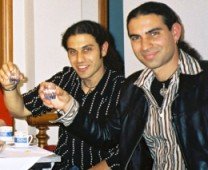 "We trust you have enjoyed these tips from the team at We Love Crete. Evíva!"
Contact us with further questions or feedback. We love to hear about your travels in Kríti and Greece. Let us know of any updates or additions, errors or omissions. Help us make this website the best it can be. Kaló Taxidí!

---