Famous Crete
This page may contain affiliate links, see our disclaimer here.

---
Famous Crete. These are some of the notorious, well-known, well-loved, talented or controversial figures of Crete, both from history and modern times. On our trivia pages we take a more light-hearted look at celebrities connected to Crete.
---
Domenikos Theotokopoulos
El Greco
El Greco - painter, sculptor and architect of the Renaissance, came to fame in Spain of the sixteenth century.
Domenikos Theotokopoulos Δομήνικος Θεοτοκόπουλος was born in Crete in 1541, studied and became a master painter in Iraklion as part of the Cretan School of art, flourishing in Post Byzantine culture.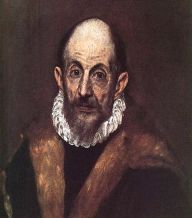 Theotokopoulos became known as "El Greco" when he went to study in Venice and later Rome in Italy, then to Madrid and Toledo in Spain.
See more about El Greco here.
---
Eleftherios Venizelos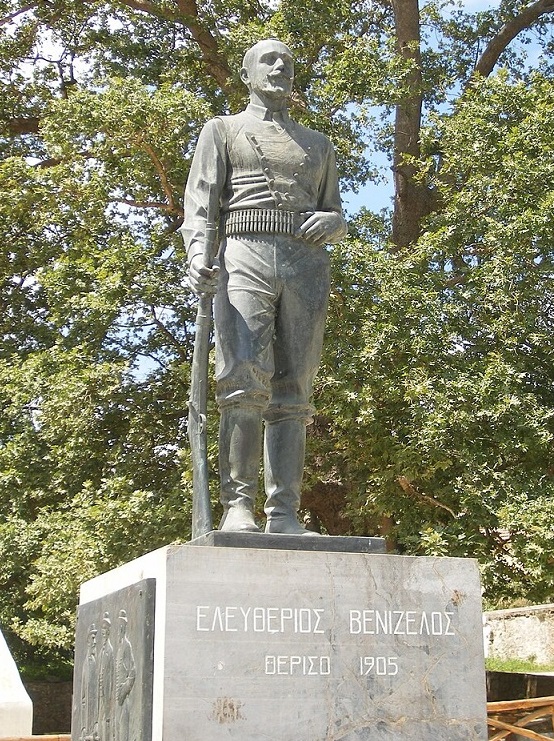 Statue of Eleftherios Venizelos at Theriso - remembering the uprising of 1905

Eleftherios Venizelos Ελευθέριος Βενιζέλος 1864 - 1936 was a political leader and statesman born in Crete in Chania. He lead many uprisings for freedom for the Cretan people and went on to become Prime Minister of Greece in 1915.
---
Famous Crete - Nikos Kazantzakis
Nikos Kazantzakis Νίκος Καζαντζάκης - poet, novelist, essayist and playwright is one of Greece's most famous writers.
Kazantzakis wrote many diverse works, including the novels for which he is commonly known.
Kazantzakis was born in 1883 during the Ottoman occupation in city of Heraklion, Crete and died in 1957 in Freiburg, Germany.
Kazantzakis was an existentialist, to say the least. Having being born during a period of such hard times in Crete, Kazantzakis explored the human existential experience in his work.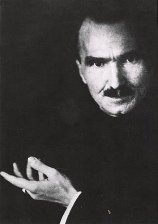 Regardless of being born into a farming family in Crete, Nikos began his schooling at the Franciscan school of the Holy Cross on the island of Naxos during the Cretan revolt of 1897. He then went on to study law at Athens University and continued his studies in Paris where he studied philosophy until 1909.
During 1912–1913 Kazantzakis volunteered to fight with the Greek army in the Balkan Wars, during this period Kazantzakis was very patriotic to Greece, his country of birth.
After the Balkan wars, Nikos began travelling in 1912 through Europe, the East and Asia. He continued to travel for the rest of his life. During his travels, Kazantzakis delved into the cultures he came across. He explored communism, Buddhism, the writings of Nietzsche and Bergson.
Constantly questioning traditional western religion and sociology, Kazantzakis, through this international cultural experience, developed universal ideologies. Kazantzakis grew away from his Greek nationalistic ideals during these years of his life.
Beginning in 1906, Kazantzakis wrote essays and plays, during his travels he fashioned philosophical texts. He published a modern sequel to Homer's Odyssey in 1938.
Most of his life Nikos was not recognized for his genius as he published his work in Greek. Because of this Nikos resorted to writing novels, Greek primary school texts & translations of European works. It was only when Nikos published his novel at the later end of his life that he became internationally recognized.
He died of leukemia in 1957 in Germany after visiting China & Japan. By reading any of Kazantzakis works one cannot help but awaken the universal desire to achieve freedom in one's life.
Nikos Kazantzakis is beloved by Cretans everywhere, contributing to famous Crete, and the international airport at Heraklion has been named in his honour.
Some quotes from his writings:
"He loved Crete like a living, warm creature with a speaking mouth and weeping eyes; a Crete that consisted not of rocks and clods and roots but of thousands of forefather and foremothers who never died." Freedom & Death - Καπετάν Μιχάλης
"Four hundred and thirty six years have now gone by since I was killed. I lie beneath the earth & await for justice."  Freedom & Death - Καπετάν Μιχάλης
Following is a chronological list that covers most of Kazantzakis' work.
1906 Serpent and Lily - Όφις και Κρίνο - a narrative
1909 Comedy - Kωμωδία – a play
1910 The Master Builder - Ο Πρωτομάστορας - a tragedy
1927 Salvatores Dei - Askitiki – Ασκητική - a philosophical text
1924 The Odyssey - Οδύσσεια – a novel published in 1938
1927 – 1941 Travelling – Ταξιδεύοντας - travels in Cyprus, Spain, Italy, England, Russia, Jerusalem, Egypt, Sinai, China and Japan
1938 – 1948 plays

Prometheus - Προμηθέας
Capodistrias – Καποδίστριας
Kouros or Theseus - Κούρος ή Θησέας
Nikiforos Fokas - Νικηφόρος Φωκας
Constantinos Palaeologos - Κωνσταντίνος Παλαιολόγος
Christopher Columbus - Χριστόφορος Κολόμβος
Sodom and Gomorrah - Σόδομα και Γόμορα
Buddha - Μποúντα
Melissa - Μέλισσα

1946 Zorba the Greek - Βίος και Πολιτεία του Αλέξη Ζορμπά
1948 Christ recrucified or The Greek passion- Ο Χριστός Ξανασταυρώνεται
1950 Freedom & Death - Καπετάν Μιχάλης
1951 The Last Temptation of Christ - Ο Τελευταίος Πειρασμός
1953 God's Pauper or St. Francis of Assisi - Ο Φτωχούλης του Θεού
1961 Report to Greco - Αναφορά στον Γκρέκο
Kazantzakis, a worthy representative of famous Crete.
---
---
Nikos Xilouris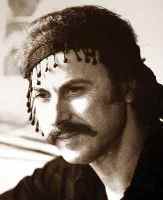 Nikos Xilouris Νίκος Ξυλούρης 1936-1980 was a musician and hero of the Cretan people. His voice and lyra music touched the hearts of Cretan and Greek people all over the world.  See more about his life and music here.



---
Gianna Angelopoulos-Daskalaki
Famous Crete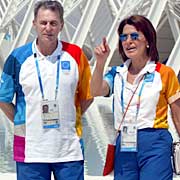 Gianna Angelopoulos-Daskalaki is a famous Greek politician and business woman who was born in Heraklion, Crete.
Seen here organising the Athens 2004 Olympics with Jacques Rogge, the President of the International Olympic Committee.
Gianna or Mrs A, as she is known, was the President of the Athens Organising Committee for the Olympic Games in 2004 and is widely credited with their success. She earlier was President of the Bidding Committee that won the games back to Greece.
Who is this powerful and successful woman of Greece, a modern woman of famous Crete?
Gianna Daskaláki was born to simple means in Heraklion in 1955, her mother was a cleaner and her father was a warden. She focussed on her studies and became a top student. Then she studied law at the University of Thessaloniki. In Athens she was elected as a municipal councillor then as a member of parliament in 1989 and 1990, on the side of the conservative New Democracy party.
In 1990 she married Theodore Angelopoulos, a Greek yachtsman and entrepreneur. She retired from politics and contributes to his shipping business, they also have three children. She is a member of the Athens Bar Association. In 1994, she was named Vice-Chair of Harvard University's John F. Kennedy School of Government.
In 1998 she was appointed Ambassador at Large for Greece. In 2001 she was ranked among the top 50 women managers by Forbes and Fortune magazines.
Gianna and Greece's outstanding success with the Olympic Games has inspired people all over the world, and why she is a part of famous Crete. In particular, Greece was being watched intensely and many anticipated she would fail at the delivery of the games. The infrastructure of Athens, the transport networks and many other aspects of the games, put a lot of pressure on Greece, especially after increased terrorist attacks around the world.
Gianna said "We wanted the Games to unify the people of Greece; to instil within us a new sense of pride; to push our economy ahead; and to make our capital city a more beautiful and liveable place. We asked that these Games resolve, once and for all, what I have called 'The Greek Paradox.'" With this achievement she has become a part of famous Crete.
"Personally, I am most inspired by the way Greeks of every background came together in pursuit of a single goal," she added. "This unprecedented unity, in the face of extraordinary pressure, is the surest proof yet that the Greek Paradox is rapidly becoming a relic of an earlier age." Quoted from a speech at Harvard University in 2005.
At that time she and her husband contributed to a new professorship in Public Health and International Development at the university.
In the very male-dominated political and business world of Greece, Gianna is a powerful role model for Greek women and a change agent for the country. Greece frequently ranks at the lower end of female representation in politics, trade unions and government amongst the European nations. Many rumours exist about Gianna becoming the President of Greece.
No matter about party politics, everyone enjoyed the Athens Olympic games and every Greek everywhere around the world was proud of the achievement. Now Greece has shown the world and herself what modern Greece is capable of, and she is evolving into a thriving modern European nation, shrugging off the economic ties and wounds of the 20th century and expressing her freedom in the 21st century.
Heraklion, which was part of famous Crete as a proud Olympic city during the games.
---
Famous Crete - Níkos Kaklamanákis



Nikos Kaklamanakis Νικόλαος Κακλαμανάκης lit the flame at the Athens 2004 opening ceremony. He is a proud Greek athlete, a medal-winning sailor and windsurfer. His father Theodoros Kaklamanakis is from Rethymnon in Crete.

He is a champion in Mistral class windsurfing, winning gold at Atlanta in 1996 and silver at Athens in 2004; just the highlights of a long and fascinating career as a sportsman.
He is sponsored by Alpha Bank, Puma and Jeep, and competed in China for the 2008 Olympics.
He spends holidays in Crete, at a secret, isolated windsurfing spot.
---
Famous Crete - Books
If you are looking to learn more about the notorious people that have shaped Crete and Greece, we have some reading suggestions and more about Kazantzakis here.


---
Getting Here
Take a 1 hour flight from Athens to Heraklion with Aegean Airlines or Olympic Air, with many flights available per day.
Or take a 9.5 hour overnight ferry from Pireaus port of Athens to Heraklion port.
More on flights and ferries below.
Car hire in Crete is a really good idea as it is a large island 60 km by 260 km. There is so much to explore.
When you book with our car rental partners - Rental Centre Crete - you are supporting a local company with excellent service and an easy online booking procedure. We are sure you will be well looked after by the team. Choose from hybrid or non-hybrid vehicles.
---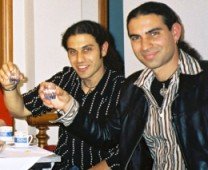 "We trust you have enjoyed these tips from the team at We Love Crete. Evíva!"
Contact us with further questions or feedback. We love to hear about your travels in Kríti and Greece. Let us know of any updates or additions, errors or omissions. Help us make this website the best it can be. Kaló Taxidí!

---