Biography of El Greco
Dom
énikos Theotokópoulos
This page may contain affiliate links, see our disclaimer here.

---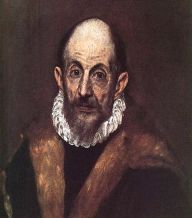 Biography of El Greco - Domenikos Theotokopoulos
Δομήνικος Θεοτοκόπουλος who became famously known as 'El Greco' was born on the island of Crete in 1541. He was a Renaissance painter, sculptor and architect. His style was unique and controversial.
The exact place of his birth is disputed to this day, however the village of Fodele in the north-west of Heraklion, claims him as its son.
The Byzantine empire fell in 1453, and many artists retreated to Heraklion, then under Venetian rule, with a flourishing culture including the arts. Theotokopoulos learnt from these artists and a natural next step was to study further in Venice.
He left Crete in 1567 to study in Venice under Titian. He spent 10 years in Italy until he went to Spain.
Laocoon 1610
In Spain his emotional style was well received and he was recognised, by being invited in 1579 to the court at Toledo, then the artistic and intellectual centre of the Iberian peninsula. He painted many acclaimed works there between 1577 and 1614.
He had one son, Jorge Manuel by his unmarried companion Doña Jeronima de las Cuevas. His son was also an artist.
Theotokopoulos died in 1614 in Spain.
---
The Works of Theotokopoulos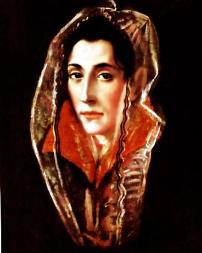 Portrait of a Woman

Biography of El Greco - whilst in Iraklion, Theotokopoulos studied Byzantine art, mainly religious in nature, and studied in the Cretan School; he then went on to be influenced by Titian, and other Italian renaissance artists.
His expression was distinct and not always understood during his lifetime or following generations. His style was dramatic and expressive, less realistic than his contemporaries.
The celebrated works of Theotokopoulos include:
"El Expolio" 1577-1579
"The Burial of Count Orgaz" 1586 (pictured right)
"View of Toledo" 1596-1600 (pictured below)
"Martyrdom of St. Maurice" 1580-1582
"Laocoon" 1610 (pictured above
"Opening of the Fifth Seal" 1608-1614
Below is a video presentation of many of the works of Domenikos Theotokopoulos set to the music of Vangelis.

---
Biography of El Greco
The Artist in Crete - Fodele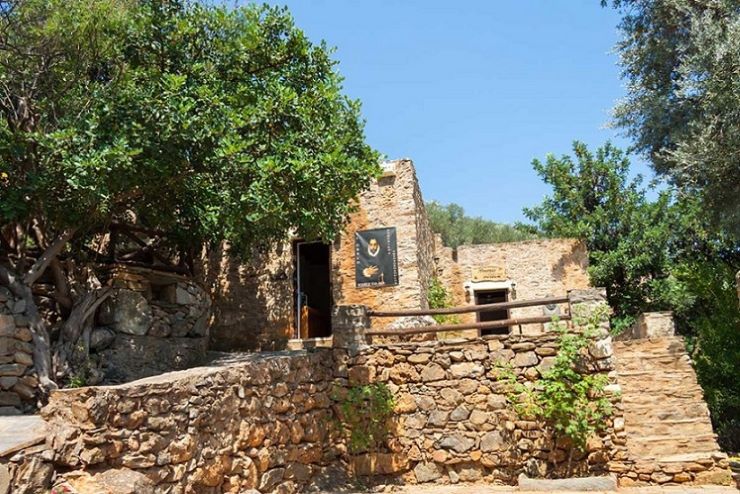 Museum of El Greco in Fodele Village, Crete
Biography of El Greco - in the charming village of Fodele in Crete, a monument to Domenikos Theotokopoulos can be found in the main street next to the Pandomandri river. The plaque was donated by the University of Valladolid in Spain in honour of the artist.
Just outside the village is the Museum of El Greco (above), which is located in the house said to be his birthplace. This beautiful restored building is open from April to October, managed by the Cultural Association of Fodele: https://psfodele.gr/en/museum/
This village is located 32 km west of Heraklion in the centre of Crete.


---
On the Map
See the location of the El Greco Museum in Crete on the map below.

---
The Historical Museum of Crete


In the town of Heraklion in Crete is the Historical Museum of Crete at 7, Lysimachos Kalokairinos. Two paintings by Domenikos Theotokopoulos are displayed in the Post Byzantine collection:
"The Baptism of Christ" 1567
"View of Mt. Sinai and the Monastery of St. Catherine" 1570
These are the only works by the artist on display on Crete.
The Museum has a small entry fee and is open from Monday to Saturday from 9am to 5pm, opening late on Wednesdays until 9pm. Visiting times may be shorter during winter season, so check details at: www.historical-museum.gr Plateia El Greco - Theokotopoulos Park

In central Heraklion is a lovely big square or plaza with a bust of Theotokopoulos in the centre. With plenty of seats, trees and bushes it makes a green, calm haven in the centre of the city. Nearby are some lovely cafes, including internet cafes, and cafe bars in the city. This plateia is not far from the Liondaria fountain.

---
---
Theotokopoulos

Around the World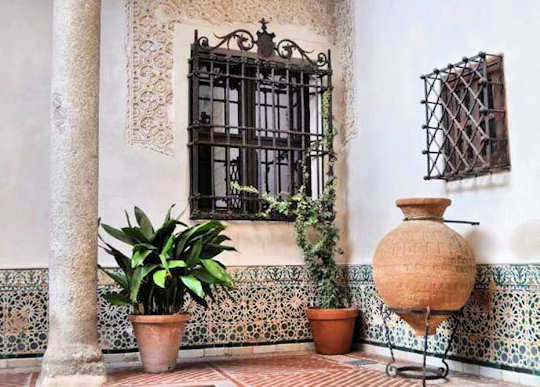 Museo del Greco in Toledo, Spain
Biography of El Greco - the works of Theotokopoulos are displayed in different museums around the world.
View of Toledo 1596-1600
In Toledo lies the Museo del Greco, which houses the some of his works. 
The Santa Cruz Museum in Toledo also houses works by Theotokopoulos.
In the church of Santo Tomé and the Convent of Santo Domingo el Antiguo are works by the artist.
"El Expolio" was painted in the Sacristy of the Cathedral of Toledo and can be visited there today.
Museo Nacional del Prado in Madrid houses Theotokopoulos paintings including his portraits. Works are also dotted around the country, in various museums, in Seville, Valencia and Avila, to name a few.

Below are three of the places you can see works by El Greco in Toledo, presented by Rick Steves.


---
El Greco in America

The Metropolitan Museum of Art in New York City houses "Opening of the Fifth Seal" 1608-1614
The National Gallery of Art in Washington DC houses many Theotokopoulos works, as does the State Hermitage Museum in St. Petersburg.
The Getty Centre in Los Angeles houses a European collection including 'Christ on the Cross' by El Greco.


---
El Greco The Movie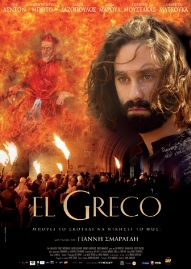 The movie, called simply "El Greco", was released in 2007; directed by Cretan born Iannis Smaragdis, with a score by Vangelis. Filmed in Crete, Rhodes, Athens and Spain, it follows the life of the artist amongst turbulent events of history.

Actor Nick Ashton plays the lead in this production of international flavours. The film is not historically accurate. It is an English-language film based on the novel by Dimitris Siatopoulous El Greco: The Painter of God.
Below are video introductions for the movie about the biography of El Greco:

An exhibition of Theotokopoulos's work was shown in Athens between October 2007 and January 2008 to coincide with the release of the film. Shown at the Museum of Cycladic Art, the exhibition was opened by Queen Sophia of Spain.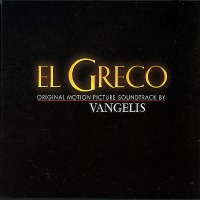 In 2007 Vangelis released the soundtrack of the movie on CD.
---
'The Greek of Toledo'
Biography of El Greco - in 2014, in the town of Toledo in Spain, where the artist lived and painted for the majority of his life, the Museum of Santa Cruz held exhibitions named 'The Greek of Toledo' to honour his memory and commemorate 400 years since his death. Exhibitions were also shown in Madrid at the Prado Museum and in Valladolid.
There are many debates and dialogues of art history surrounding Theotokopoulos. If you have an opinion or a question, feel free to post on our safe contact us page.
Getting to Crete
Take a 1 hour flight from Athens to Heraklion with Aegean Airlines or Olympic Air, with many flights available per day.
Or take a 9.5 hour overnight ferry from Pireaus port of Athens to Heraklion port.
More on flights and ferries below.
Car hire in Crete is a really good idea as it is a large island 60 km by 260 km. There is so much to explore.
When you book with our car rental partners - Rental Centre Crete - you are supporting a local company with excellent service and an easy online booking procedure. We are sure you will be well looked after by the team. Choose from hybrid or non-hybrid vehicles.
---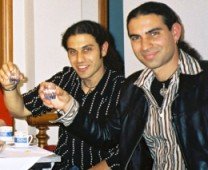 "We trust you have enjoyed these tips from the team at We Love Crete. Evíva!"
Contact us with further questions or feedback. We love to hear about your travels in Kríti and Greece. Let us know of any updates or additions, errors or omissions. Help us make this website the best it can be. Kaló Taxidí!

---