Beach Hotels in Rethymno Crete

This page may contain affiliate links, see our disclaimer here.

---
Walking distance to the water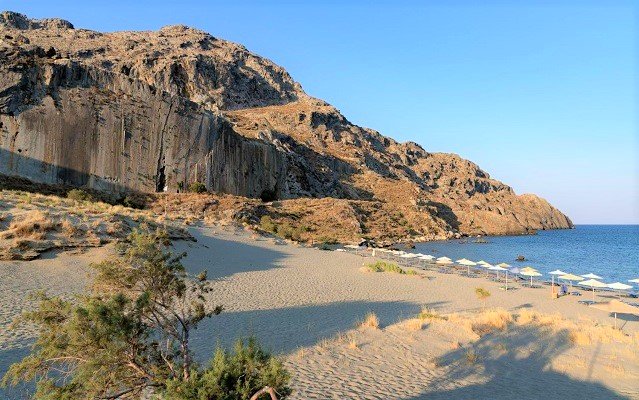 Beach Hotels in Rethymno Crete
The Rethymnon Region is the home of snow-capped, rugged mountains, dramatic gorges, endless historic adventures and seaside villages. Rethymnon town hums along with a modern air, full of artists, writers, performers and students at the University, and a trading hub for this agricultural island.
The old town provides the backdrop to one of Crete's most vibrant cities, whilst inland visitors seek physical activities of mountain climbing, caving and trekking. The beaches of Rethymnon are so beautiful many visitors go directly to their chosen beach and simply enjoy the clear waters and relaxation for their holiday.
We have selected hotels just walking distance to the beach on both the north and south coast of the region.




This is the budget symbol on We Love Crete.
---
Rethymnon Beach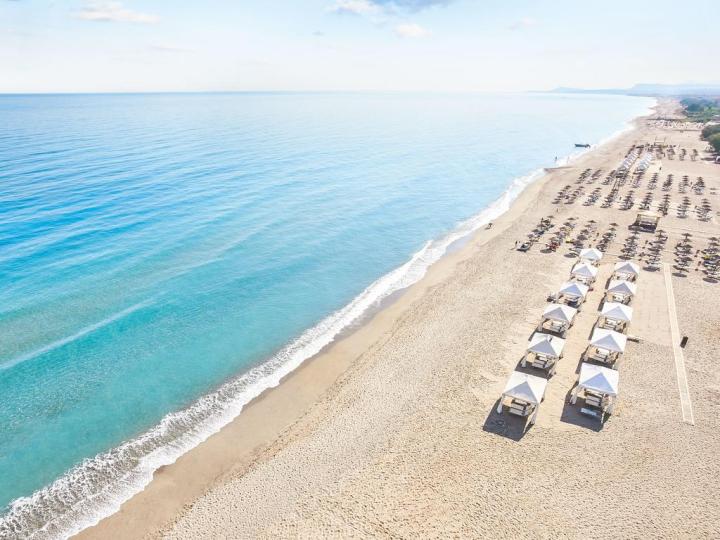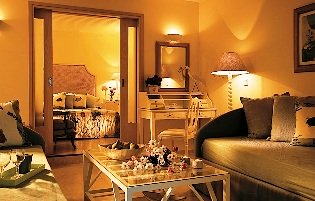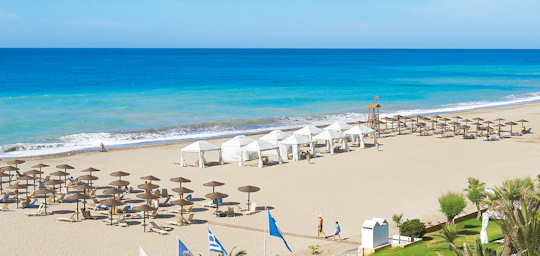 Creta Palace Resort is one of the best hotels on Crete, sitting on beachfront of the marvellous sandy Rethymnon Beach, it offers quality five-star accommodation with 10 in-house restaurants, cafes, bars, 2 pools and a day spa. This hotel is 4 km from town. This resort is 71 km from Chania Airport.
Choose from bungalows or suites dotted about in the gardens or guestrooms in the central hotel. Relax as there are plenty of activities organised for the children. Visit the organic farm that grows the food for all the restaurants here - Agreco Farm - about 6 km inland - to see the whole growing process, be a farmer for a day, bake bread, pick vegetables and visit the animals at the petting zoo. Enjoy fresh traditional Cretan food at the farm taverna.

Missiria, Rethymno
Palm Beach Apartments are located just a 10 minute walk from the old town on Rethymnon Beach. If you are looking for a resort hotel, this might not be the place, but if you are looking for a charming, friendly, personal, authentic experience with great people, food, drinks, and music, this is your place.
This family hotel is located right on the beachfront with a spectacular view to the endless Cretan Sea and charming Old Town with a marvelous Fortezza of Rethymnon. Renovated in 2012, the rooms are fresh, bright and modern.
Your hosts are twin brother and sister Natassa and Giorgos who will ensure you are looked after like one of the family. The café taverna on the beachfront serves fresh local cuisine and caters to all family needs.
---
Plakias Crete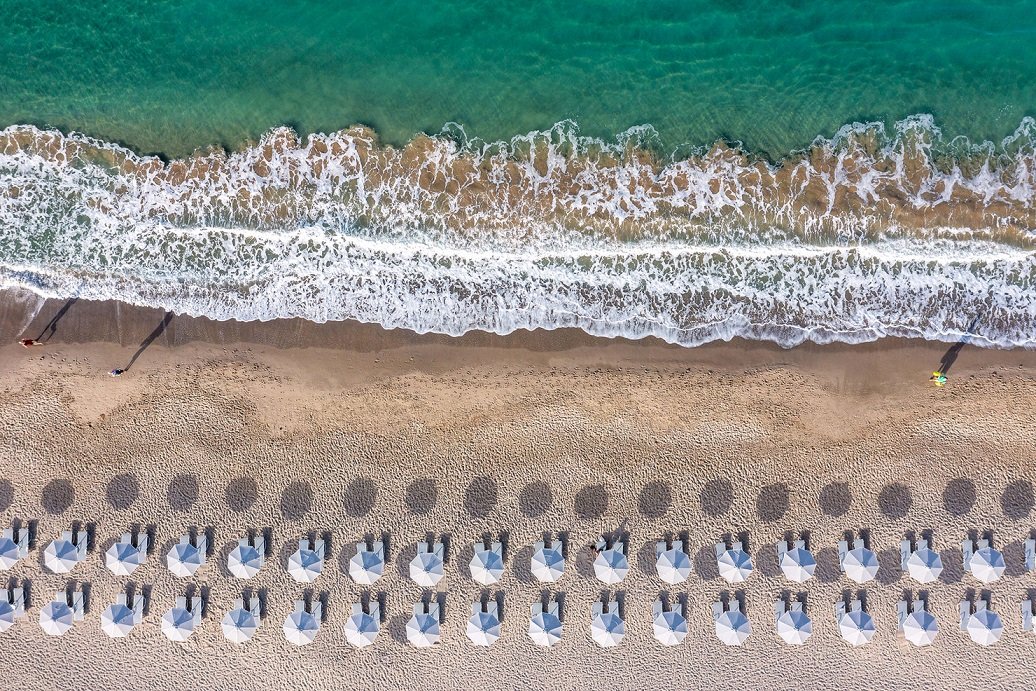 Beach Hotels in Rethymno Crete
On the south coast of Rethymnon, about 35 km from Rethymnon town, is the coastal village of Plakias. Nestled amongst steep hills rolling straight into the blue of the Libyan sea, the village enjoys beautiful sunsets tinting the bay. The villages of Selia, Mirthios and Mariou perch half way up the mountain side, between 2 & 3 kilometres inland from Plakias. The beach is a mix of pebble and sand, and the neighbouring beaches of Damnoni and Amoudi are within walking distance.
Walking and nature attract many visitors to the area. The sweeping deep bay is flanked to the west by Akrotiri Stavros and to the south is Kakomouri headland. Inland from Plakias runs the Kotsifos Gorge. Close by are Kourtaliotis Gorge and Fratianos Gorge. Looking south one can just see the Island of Gavdos.
Near Plakias are Preveli Beach and Preveli Monastery, both well worth a visit. Scuba diving is also popular in these clear, abundant waters, and the untouched beaches welcome their share of nude bathers.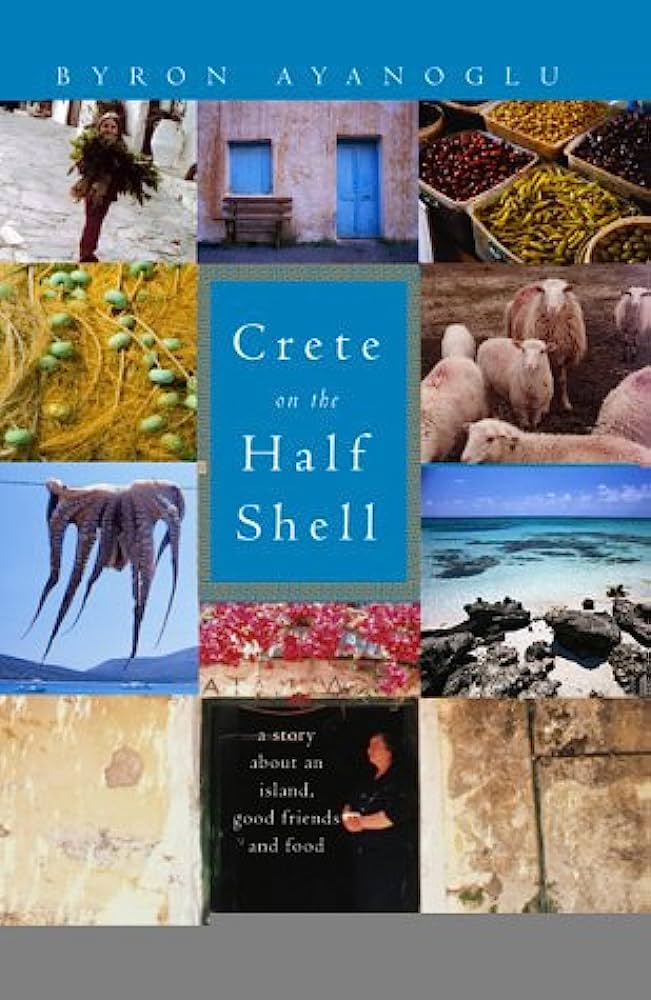 Plakias is the unsuspecting scene for a tragicomedy in true Cretan style, narrated by internationally acclaimed chef Byron Ayanoglu with charm and self-depreciating humour in Crete on the Half Shell also published as The Taste of Honey. It seems the town has recovered well, and the many tavernas continue to delight guests, not send them to hospital.
A hilarious holiday beach read.

---
Beach Hotels in Rethymno Crete
Plakias, Rethymnon


Our chosen places to stay in Plakias, whilst getting away from it all and soaking up the wide open spaces.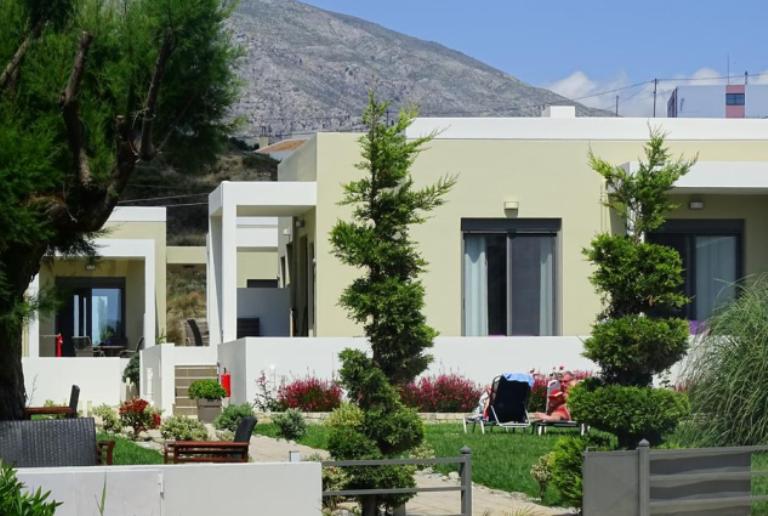 Plakias Suites - these six stylish suites are located at the eastern end of the bay of Plakias on a beach named Paligremnos. Damnoni and Schinaria beaches are close by. This accommodation is a little away from the centre of the village, making it nice and quiet and its little patch of beach is superb. In a ten minute walk you will reach the village of Plakias with its tavernas, cafés and a market if you want to self-cater.
There is a beautiful short stroll of only 100m across a small village road, from your fully-equipped suite to the beach and the glorious bay. This is a modern property, not like a hotel at all, more like a set of modern luxury apartments by the sea.
"What a little gem the Plakias Suites are. Our hosts George and Eleni were absolutely brilliant making us just so welcome and comfortable. Nothing was too much trouble and they would check that everything was satisfactory." Peter


Nerea Boutique Hotel is also at the eastern end of the beach, set a little back from the beach with a 700 metre walk to the sea. Modern, elegant, stylish accommodation with a shared pool, free parking and water and mountain views. Relaxing and comfortable chic.

Notus Suites are modern and funky beach chic meets relaxed Greek holiday style. Right on the beach, close to everything with a rustic ambience.
"Spacious, modern, comfortable apartment right in the heart of Plakias. This immaculate apartment has been beautifully furnished and tastefully decorated by the welcoming owners "

---
Beach Hotels in Rethymno Crete
Panormos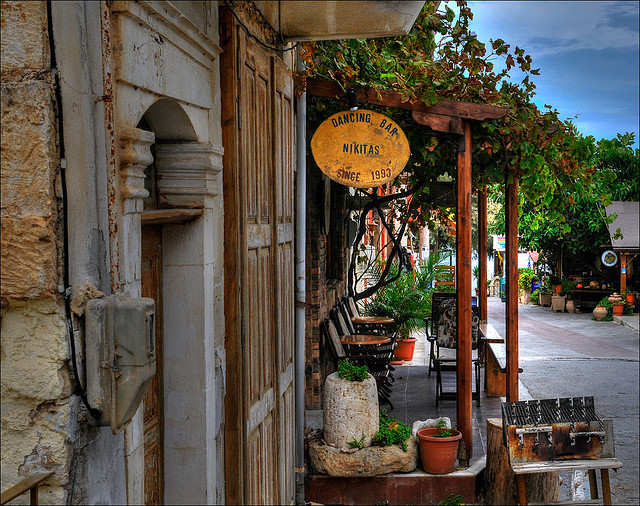 Panormos is an authentic Cretan village, with narrow streets and bright flowers in the windows. A wonderful place for those who want enjoy the peace and quiet of Cretan life.
We have chosen this as a location by the beach because in the village are cafés, traditional tavernas, a butcher, a baker and shops, all with reasonable prices. The local beaches are ideal for children, with sand and pebbles and shallow waters.

Captains House Hotels Suites & Apartments - In the small and inviting village of Panormos, 20 km east of Rethymnon town, sitting proudly overlooking the sea, is the grand Captain's House.
The house is over 115 years old, and was carefully and accurately restored in 1987, and converted into studio apartments. With another renovation in 2006, these studios are unique, showcasing the traditional seaside house, with plenty of large windows and balconies taking in the views and fresh air.
The Captain's House is only 50 m from its own little beach, and its own taverna overlooking the bay, serves fresh fish and seafood, best enjoyed with a little wine or retsina, chased down by a tsikoudia.
---
Beach Hotels in Rethymno Crete
Damnoni
Afrodite Christonaki will look after you in this small pension with six rooms and a taverna in the tiny, remote seaside village of Damnoni.
Just 33 km due south of Rethymnon town, this lovely horse-shoe shaped bay is the perfect place to get away from the hustle bustle and relax in the sun. The waters are turquoise and the sand is white, the only sound is your breathing as you melt into the sea.
Around the bay are tiny rocky coves with sweet little romantic beaches, all within walking distance of Damnoni, these are Ammoudaki and Kleisidi – perfect for getting away from the 'madding crowd'.

Akti Damnoni Pension - this is a small family-run pension; it is not flash but it is genuine, clean and close to the beach. If ever you wanted the beautiful Aphrodite to prepare your meal, and to eat it from a terrace overlooking the Mediterranean Sea, here is your chance. enjoy fresh local ingredients and authentic Cretan hospitality.
---
Bali Beaches
Beach Hotels in Rethymno Crete
Bali Crete - Μπαλί is located on the central north coast of the island in between the two capital towns of Rethymnon and Heraklion, part of Rethymnon region. It is 34 km from Rethymnon, 50 km from Heraklion and 100 km from Chania Airport.
Bali has many cove beaches – creating the little inlets of Livadi, Kouskouras, Limani (main harbour of Bali), Varkotopos and Karavostasis. These are all protected by the rocky peninsular and the calm seas are perfect for children; young families find these waters very relaxing.
Villa Nayana is located right by the beach. This exceptionally chic modern villa ticks all the boxes in a heavenly position on Livadi Beach

"Exceptional property. You cannot ask for more. Few steps from the beach and few metres from restaurants and beach bars. Special tanks to Manolis who made sure we have everything we needed."
---
Map of Beach Accommodation
---
Getting to Crete

Take a 1 hour flight from Athens to Heraklion with Aegean Airlines or Olympic Air, with many flights available per day.
Or take a 9.5 hour overnight ferry from Pireaus port of Athens to Heraklion port.
More on flights and ferries below.
Car hire in Crete is a really good idea as it is a large island 60 km by 260 km. There is so much to explore.
When you book with our car rental partners - Rental Centre Crete - you are supporting a local company with excellent service and an easy online booking procedure. We are sure you will be well looked after by the team. Choose from hybrid or non-hybrid vehicles.
---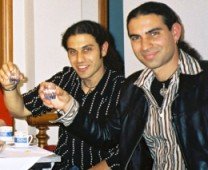 "We trust you have enjoyed these tips from the team at We Love Crete. Evíva!"
Contact us with further questions or feedback. We love to hear about your travels in Kríti and Greece. Let us know of any updates or additions, errors or omissions. Help us make this website the best it can be. Kaló Taxidí!

---