Rural Accommodation Chania
This page may contain affiliate links, see our disclaimer here.

---
Travel in Crete, Greece
Accommodation Chania - in the Country - from each of these locations you can explore the region of Chania with all its beauty and diversity. From beaches to mountains, country villages, gorges and the cosmopolitan corners of the old zone in town, you will find your days full of wonder in this stunning region of Crete.
Choose your accommodation by location from the map below.

---
Country Accommodation Chania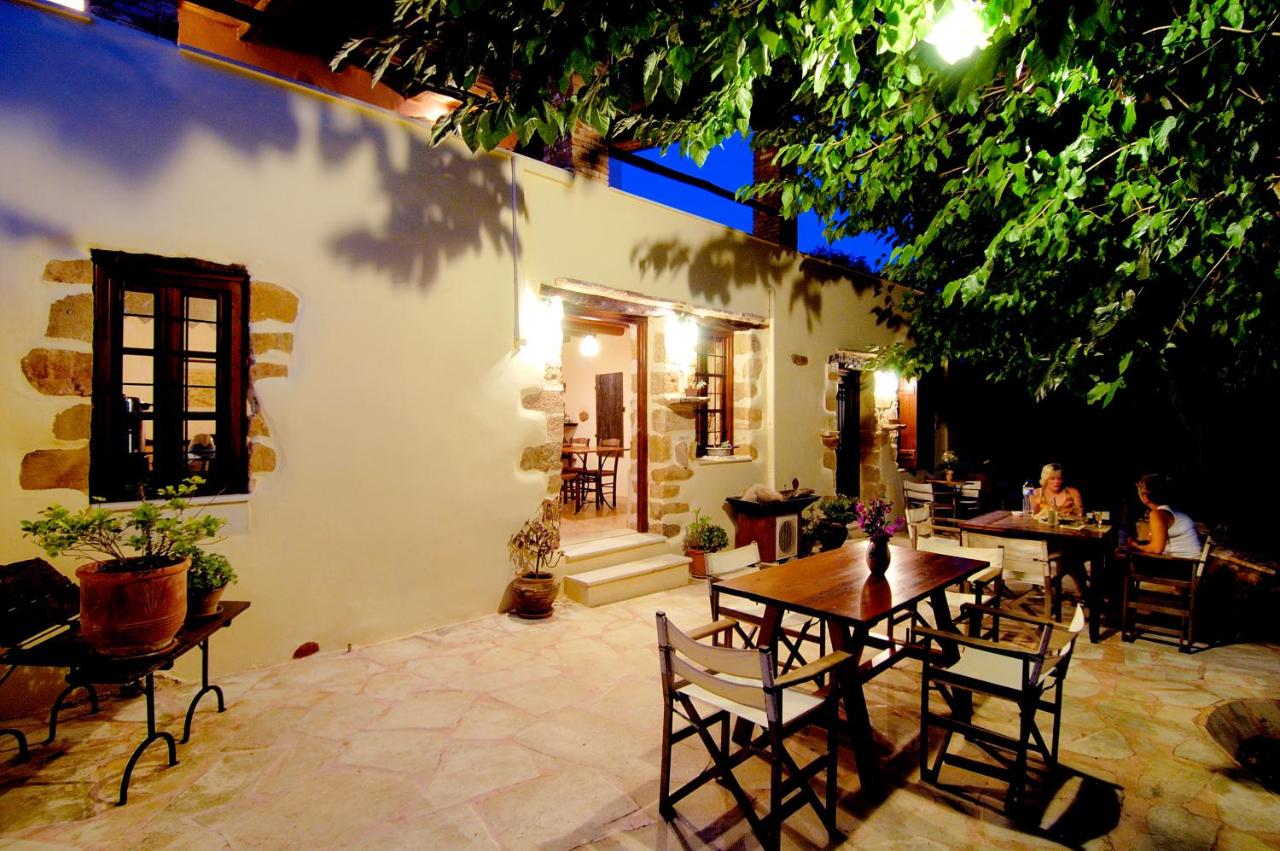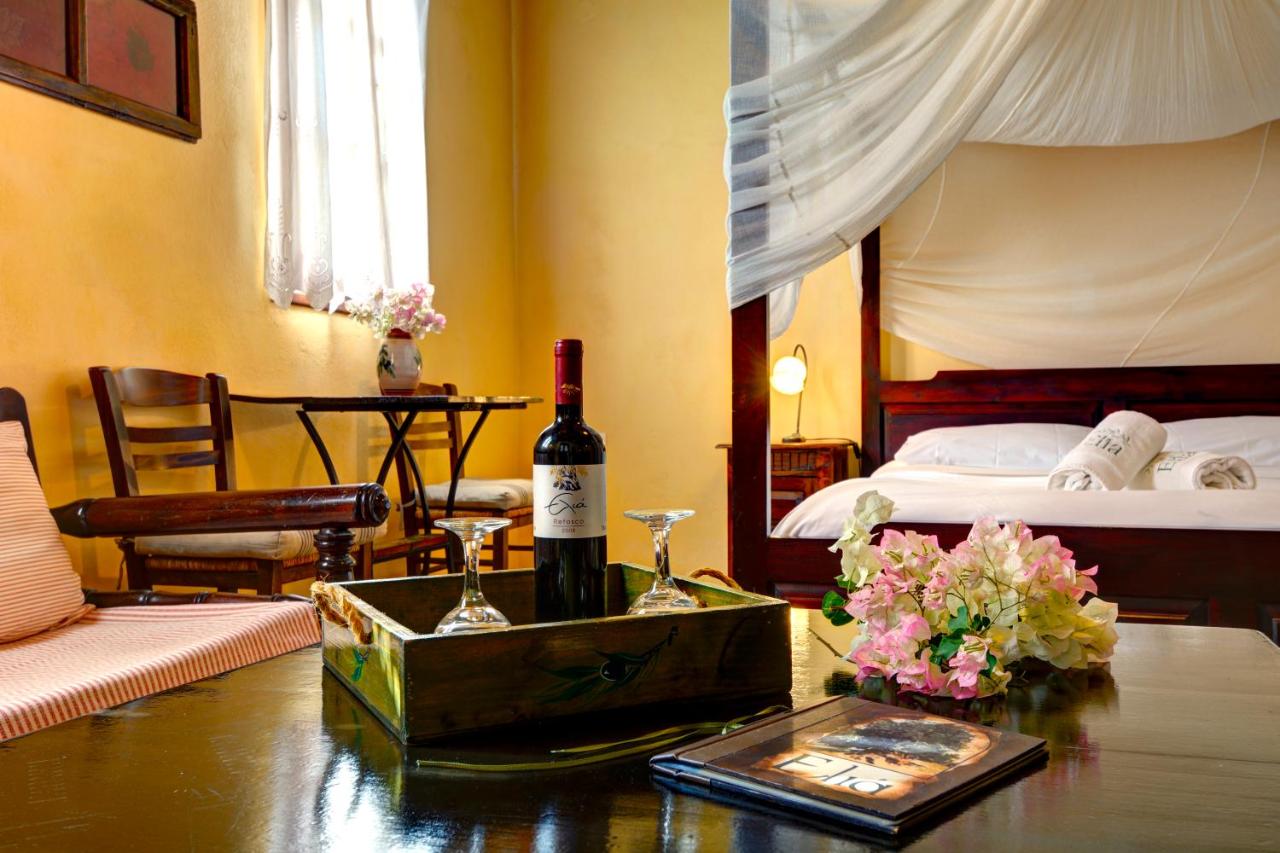 Located just inland from the town of Kissamos, the Elia Guesthouse is 25 km from Chania Town.
Sitting in rolling olive groves just outside of the village of Ano Vouves, the 200 year old restored farmhouse and estate offers a view to the Mediterranean, beautiful gardens, paths, courtyards and relaxing country walks.
The quest rooms in this old Venetian house are restored with charm.

Wholesome traditional food is served and adds to the therapies on offer such as massage, reiki, yoga, beauty treatments and revitalising baths.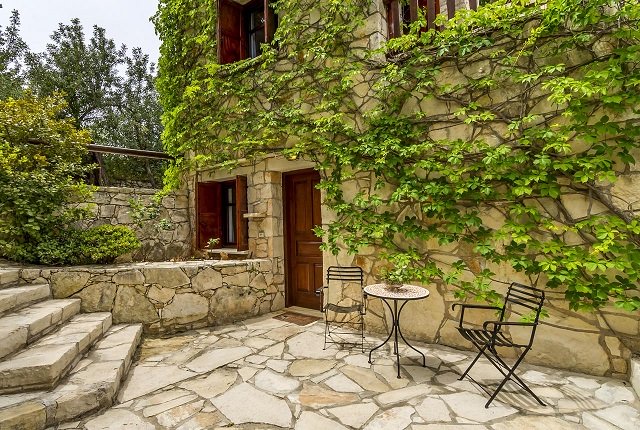 Manoli's House in Douliana is perfect for couples, completely private and self contained, surrounded by nature yet in a small village. Just 27 km from Chania town and 2.8 km from Kalives Beach in the west of Crete.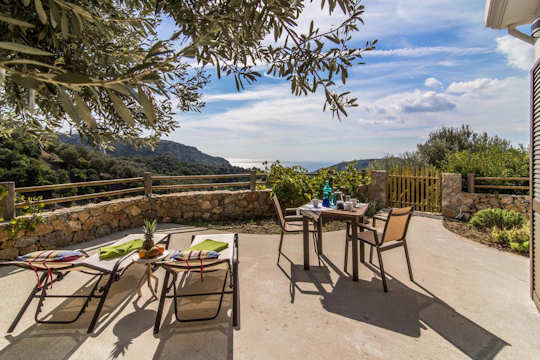 Christo's Place is a holiday home set in the hills inland, in Anidri village. In this location would be best to have a vehicle. Self-catering cottages with exposed beams, modern comforts and only 5.5 km from the main village and the beaches of Palaiochora.

The 1 bedroom cottage suits 2 guests, a 2 bedroom cottage sleeps 4 guests.

A secret gem hidden behind the olive trees, with expansive views across the sea.
---
Rural Accommodation Chania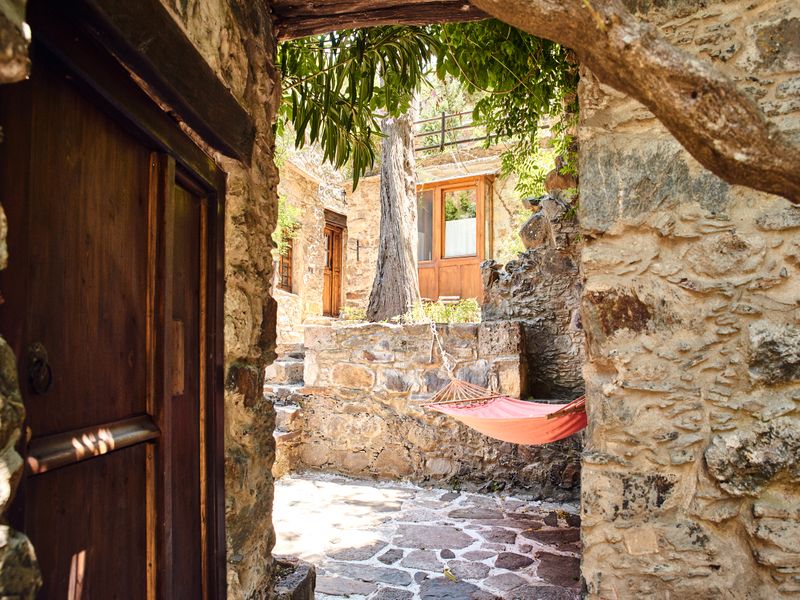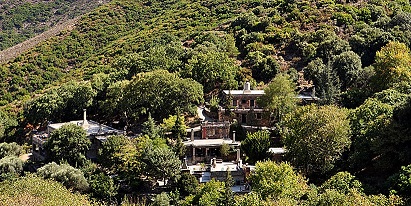 Accommodation Chania - this beautiful rural accommodation in Crete is chosen for its authentic architecture and small size, it is a peaceful rustic getaway for a real experience of Kríti. This community is also dedicated to sharing a real grass-roots environmental retreat, using organic farming and solar energy.
Located 60 km from Chania town in the west of the island, Miliá Μηλιά is a fully restored village built into the rocks of the beautiful Cretan mountains. The closest village is Vlatos 4km away.
Central to the scenic area of western Crete, the retreat itself persuades visitors to relax, breathe deeply and be at one with nature. Close by are the beautiful beaches of Elafonisi and Paleochora to the south and Falasarna and Gramvousa to the north.
Under 20 rooms or 'room houses' are offered, each one is unique. All are lovingly restored and simple. Candles are used at night. Time slows down. All houses have central heating, a fireplace or a wood stove for wintertime, en suite bathrooms, balconies, patios or roof-terraces.
The 120 hectares of Miliá offer plenty of walks and nature to explore. There are chestnut trees, plane trees, acorn trees and cone-bearing trees, and aromatic herbs, various flower-bearing bushes, olive trees, pear and wild pear, and carob trees. The rare vulture Gypaetus barbatus, the Bearded Vulture known for eating bones, lives in the area.
The organic gardens and many village buildings offer farm activities to those guests who choose to get really involved with the local produce, which is then served at the warm, family-like kitchen for guests of Miliá.
Traditional wholesome fare is served according to the rhythms of nature. Dishes offered could be rabbit with mizithra cheese baked in the oven; potato, chestnut and onion stew; pork with orange cooked in the woodstove; boureki zucchini and potato with mizithra cheese; or kalitsounia small cheese pies.
Contact Tassos at Miliá if you have any questions before booking your peaceful retreat.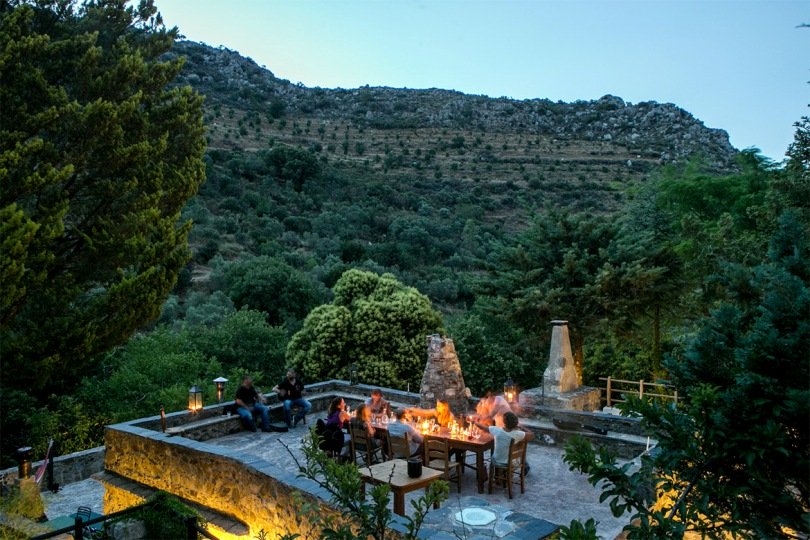 ---
Samonas Traditional Villas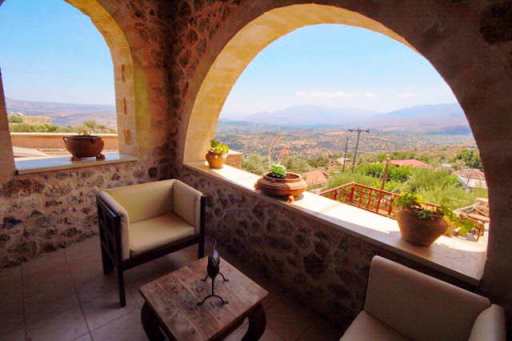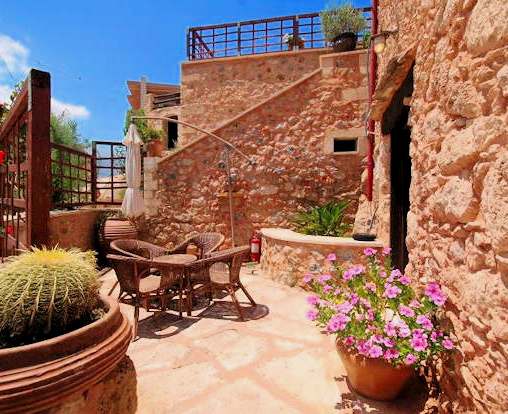 Just 45 minutes from Chania International Airport in the charming countryside of Crete is a small village named Samonas. This village sits on a rise, overlooking rolling hills of olive groves to the sea and has stunning mountain views as well.
This hill top village has been described as an eyrie, it certainly has a beautiful aspect, where some of the more elevated traditional village homes have been restored and augmented to create superb quality modern villas. Reflecting the local architecture, the villas are made of stone and wood in the local style, with verandas and extra higher levels to take advantage of the expansive views.
Ideally located in the centre of Chania province, this is a quiet rural getaway with five villas accommodating four guests each, showing individual characteristics of the previous use of each building such as wine store or stables. The Aetifolia Taverna (Eagle's Nest) in this village, is well known locally for its traditional fresh food – international visitors love it for its authenticity and fantastic views.
Konstantinos and Eva will welcome you with open hearts and true Cretan hospitality to Samonas Traditional Villas, helping with packed lunches and local knowledge, directions to the beach (12 km) and to Chania town (25 km).
If you want a string of tavernas, don't come here. If you want nightclubs and bars and 'doof doof' music, don't come here. If you want to breathe fresh air, relax and experience the real Crete, this is a great choice of accommodation in western Crete. Great home-cooked breakfasts too!


---
Map of Accommodation Chania

Choose your quiet country getaway by location on the map below. For destinations in the west of Crete, such as Chania and Rethymnon, use Chania International Airport CHQ, for the central and eastern destinations, use Heraklion International Airport HER.


---
Getting Here
Take a 1 hour flight from Athens to Heraklion with Aegean Airlines or Olympic Air, with many flights available per day.
Or take a 9.5 hour overnight ferry from Pireaus port of Athens to Heraklion port.
More on flights and ferries below.
Car hire in Crete is a really good idea as it is a large island 60 km by 260 km. There is so much to explore.
When you book with our car rental partners - Rental Centre Crete - you are supporting a local company with excellent service and an easy online booking procedure. We are sure you will be well looked after by the team. Choose from hybrid or non-hybrid vehicles.
---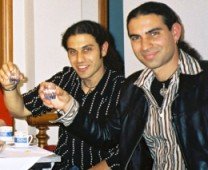 "We trust you have enjoyed these tips from the team at We Love Crete. Evíva!"
Contact us with further questions or feedback. We love to hear about your travels in Kríti and Greece. Let us know of any updates or additions, errors or omissions. Help us make this website the best it can be. Kaló Taxidí!

---