Capital of Crete
Iraklio, Iraklion or Heraklion Crete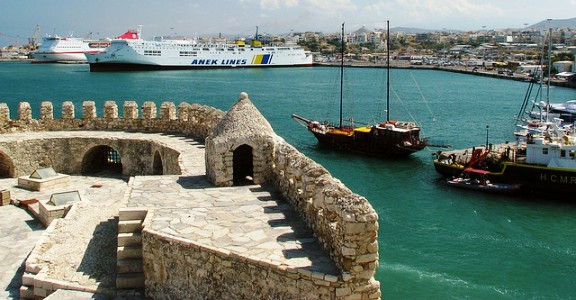 Heraklion Ηράκλειο
The Capital of Crete has many names Heraklion, Heraklio, Iraklio, Iraklion, and in the past Handax and Candia.
The township has a colourful history and is located in the central north of the island. As the main administrative capital, it has many government buildings, a hospital, a university, as well as an international Crete airport and huge ferry port.
With a population of over 200,000, it is the capital of the region also called Heraklion, as well as the capital of the island.
Heraklion has the largest archaeological museum in Crete, which is one of the most fascinating on the island, and the site of the Palace of Knossos lies just 5 kms outside the city.
Iraklio is a modern town, with a lot of history interwoven amongst its bustling streets. From the central Morosini Fountain to the beautiful Kornaros Square and Eleftherias Square, the architecture, monuments and museums are surprising amongst the concrete.
At the old harbour side lies the ruined Venetian fortress, and large Venetian arsenals form wide arcs. Traditional fishing boats ring the harbour side, and fishing nets trip up the tourists as they wander by. Good fish tavernas can be found here.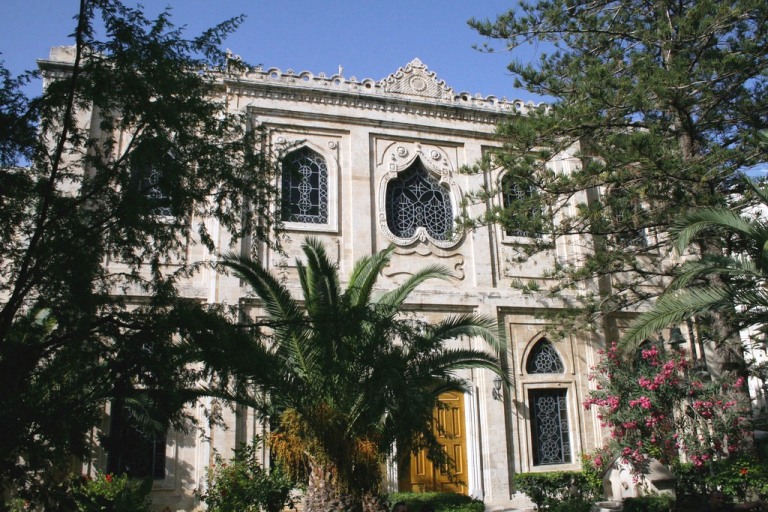 Agios Titos Church, Heraklion Crete
Capital of Crete
Walking along 25th of August Street from the port to the city centre reveals much of the city's character, with charming restored Venetian buildings on either side, a large and beautiful tree-lined plateia in front of the exquisite Agios Titos church (above), and as one approaches the square of the Liondaria, the beautiful Venetian Loggia (below) is on your left.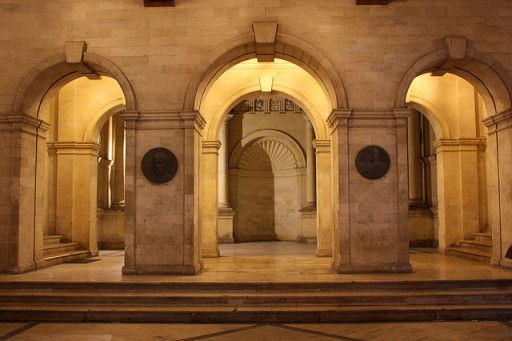 The Venetian Loggia on 25 August Street
Near the Liondaria is a perfect spot to sit and enjoy a bougatsa Greek pastry and Greek coffee, then continue on to explore the local markets on 1866 Street.
In the evenings, the cafe bars of the Koraii district are full to overflowing, a loose and friendly atmosphere prevails, one thousand conversations are all happening at the same time, these narrow pedestrian streets are wonderful to explore in the evenings.
See a walking guide of Heraklion here...
See more about the museums of Heraklion here...
---
Accommodation & Map of Heraklion

Here is a map of Heraklion with our suggestions for accommodation marked.
---
A video homage to Heraklion, modern life woven with the threads of time...
"Where the Thread of History Begins"