Syros Island Greece

In the Cyclades

This page may contain affiliate links, see our disclaimer here.

---
Syros Island Greece - Ermoupolis Harbour

The Greek island of Syros Σύρος is located in the Cycladic group in the sparkling Aegean Sea. Sitting just 145 km from Athens and 150 km from Santorini, the island is very central to all of Greece.
Yachts in Ermoupolis Harbour

Σύρος remains an essentially Greek island, with a natural rhythm of life progressing all year long. Of course, in summer, her beaches and crystal clear waters draw travellers from around the world.
Syros Island Greece - Azolimnos Beach

The main town of Ermoupolis, the capital of the Cyclades, has a rich history, her marble streets tell tales of her past wealth.
Below we share some of our favourite places on the island:


---
Ermoupolis
Ermoupoli Ερμούπολη - is simply a beautiful and vibrant Greek town, a pleasure to visit; full of treasures and surprises.
This is a busy port, for ship-building and commercial activities, as well as passenger ships and leisure craft.
The wide, sweeping bay invites the visitor for the stroll along the foreshore, to experience the sun-filled shoreline before stopping for coffee at one of the many seaside cafes.
Until roughly 1860 she remained one of the leading commercial ports of Greece, busily rebuilding her fleet after the war.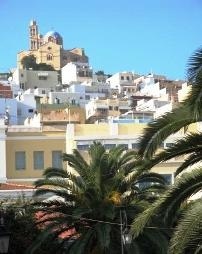 Rising sharply behind the town are two hills, both with a cathedral, looking out over the town. Ermoupoli was built between 1821-1830, as a capital for the newly freed Greek nation after the revolution of 1821.
The Catholic cathedral of St George, dating from 1824, was originally built on the hill of Ano Syros in the 1200s.
For centuries both the Catholic and Greek Orthodox communities lived peacefully together in Ermoupolis. The beautiful Orthodox cathedral of St Nicholas dates from 1870.
Exploring the marble streets of Σύρος will take you to many sweet shops with the delicious loukoumi λουκούμη for which the island is famous.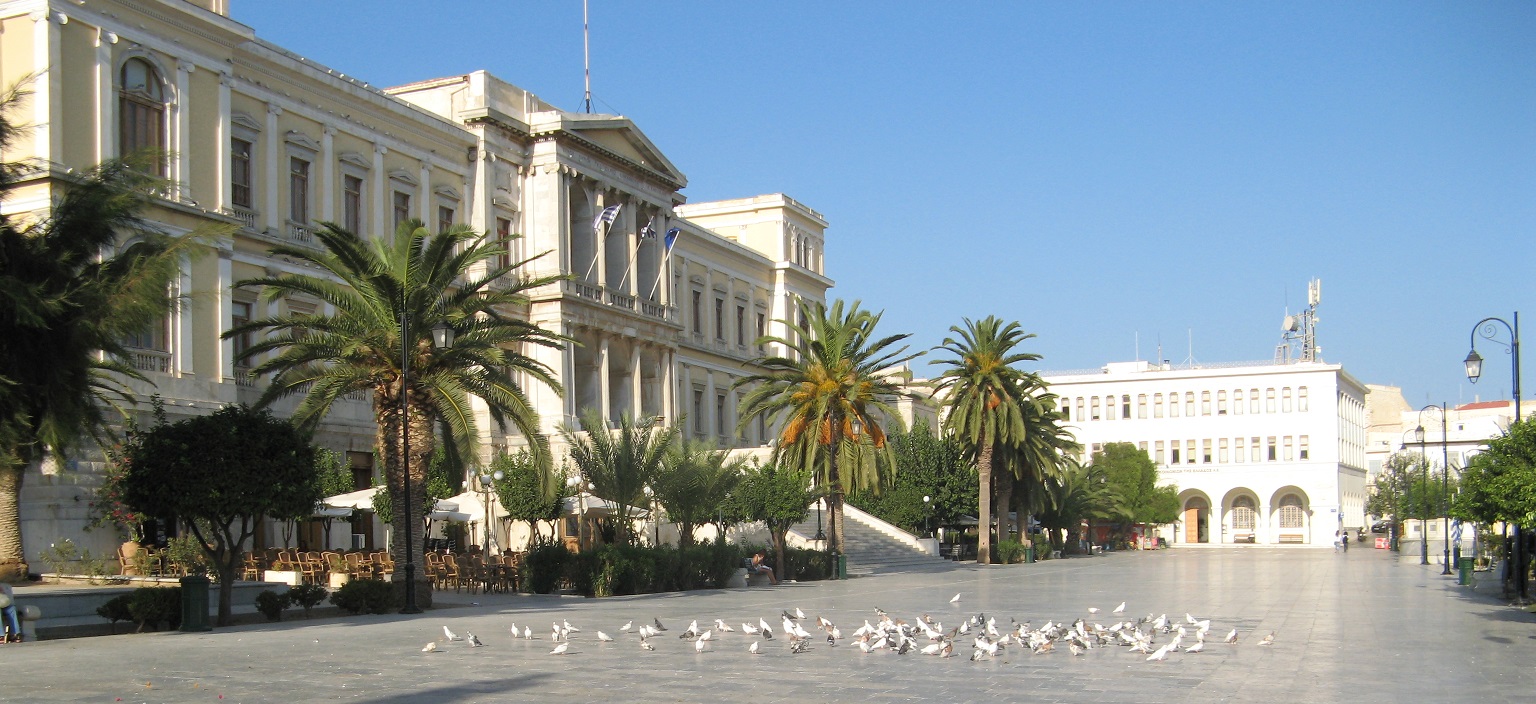 Syros Island Greece - Central Plateia of Ermoupolis

Enjoy strolling the wide pedestrian streets with fresh fruit markets, fashion boutiques, home wares and jewellery stores before emerging into the expansive Plateia Miaouli Πλατεία Μιαούλη crowned by the impressive town hall Δημαρχείας which dates from 1898, an exquisite neoclassical building with timeless colonnades.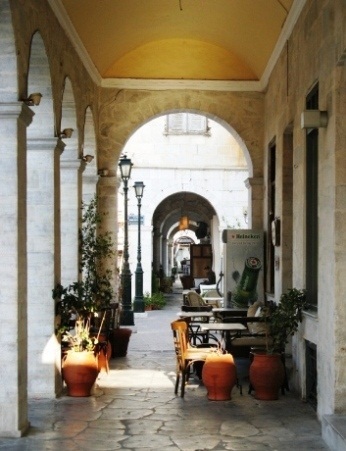 Syros Island Greece
The plateia is gracious and stately, surrounded by luscious palm trees and stylish cafes, this is where the real life of Ermoupolis is lived, and in the small arcades and lane ways leading off from the lovely central square.

The Apollon Theatre, not far from the square, was built at the height of the predominance of Ermoupolis as a political and cultural capital of Greece, in 1864. Its design by Italian architect Campo is a smaller version of the beautiful La Scala theatre in Milano.
---
Ano Syros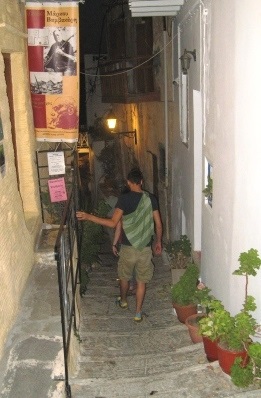 Syros Island Greece - the steep narrow steps of Upper Syros
The hilltop town of Ano Syros Άνω Σύρος was built by the Venetians in the 13th Century and maintains is medieval atmosphere with tiny steep lanes and Catholic church.
It is well worth a visit to stroll around and look over the whole of Ermoupolis and see the islands of Tinos, Delos, Mykonos, Paros, Andros and Naxos in the distance.
The well-known Rembetiko musician Markos Bambakaris Μάρκος Βαμβακάρης, 1905-1972, was born in Άνω Σύρος and here a museum and plateia are dedicated to his art.
The trick here is to take a taxi to the top and walk down, as the lanes are so narrow no cars can access Ano Syros.
Before heading down we suggest you visit the wonderful Lili's Taverna, with views over the whole town, sit, relax, watch the twinkling lights and experience some delicious traditional Greek food.
---
Dining in Ermoupolis
A collection of little lane ways near the plateia has many traditional tavernas and plenty of buzz. Explore amongst Stefanou Street, Emmanouli Roïdi Street and Androu Street.
For atmosphere and the complete traditional taverna experience, relaxing under the pink bougainvillea, try To Petrino and Oinopnevmata for excellent food and great service, Syros style.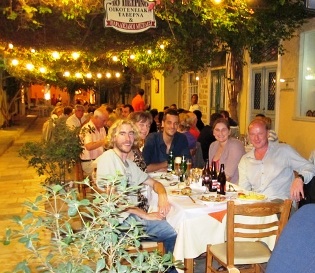 Syros Island Greece - outdoor taverna
Another taverna located in the romantic lane ways is Stin Ithaki Tou Ai. Again wonderful, traditional Greek taverna food and service.
A funky, modern restaurant in the laneway of Androu is Kouzina Κουζίνα (left), serving an organic and interesting menu:

"We support the slow food movement for tasty, clean and honest food. We support organic producers and give emphasis to healthy cooking by using only organic vegetables and organic extra virgin olive oil for our salads."



For something a little different and a sweeping ocean view, try the cosmopolitan Oneiro Restaurant in Vapori. Condé Nast traveller has already discovered this place, and says "Ingenious dishes and immaculate service... The team behind this gourmet restaurant ran some of the best places to eat in Santorini before moving here."

My parea were a little less sophisticated and said "This place will knock your socks off! We loved it! We thought it was the most romantic and touching spot in Ermoupolis, with a wonderful menu and fresh food".
---
Café Bars
You will never be left wanting for a café or bar in Ermoupoli; those next to the harbour offer wonderful atmosphere. Sip your drinks with lights reflecting on the water and yachts tethered close by.
Our favourites are Mazie Mas near the ferry port and stylish gallery-café Delice, with lovely sweets and free internet, behind the plateia.
For a late night drink beside the harbour try Polis Café-Bar.
For a wonderful atmospheric dining experience try Stis Ninottas – this bohemian cafe is an ouzeri, sweet shop and kafenion. Try it for a dessert of freshly made Greek specialities. Emmanouli Roïdi Street.
Syros Island Greece
---
The stylish shopping streets running parallel to the limani are Protopapadaki and Stamati Proiou; an evening stroll along these wide pedestrian streets is very enjoyable, with wonderful shopping.
On Chiou Street, a small street running from the limani to the plateia, is where you will find the local market with fresh fruit and vegetables, fresh fish, newly baked pastries, local herbs and dozens of small shops; worth a visit.
On Melinas Merkouri Street, leading from the main plateia to the theatre, you will find plenty of interesting trinkets, fashion, jewellery and art work. Try Art Therapy, Nice Day Nice Things and Notos...just to get you started...
For artwork, handcrafts, gifts and worry beads, visit Dimitra Karigianni at Areion, Stamati Proiou 50, for wonderful service and an eclectic range of unusual gifts.
Mastic Spa has now opened in Ermoupoli; the resin from the mastic tree can only be collected on the Greek island of Chios. Its unusual scent, taste and healing properties are now incorporated into just about any body product you can imagine. See the full range at the new store in Ermoupolis - Stamati Proiou.
---
Ermoupolis Hotels & Guesthouses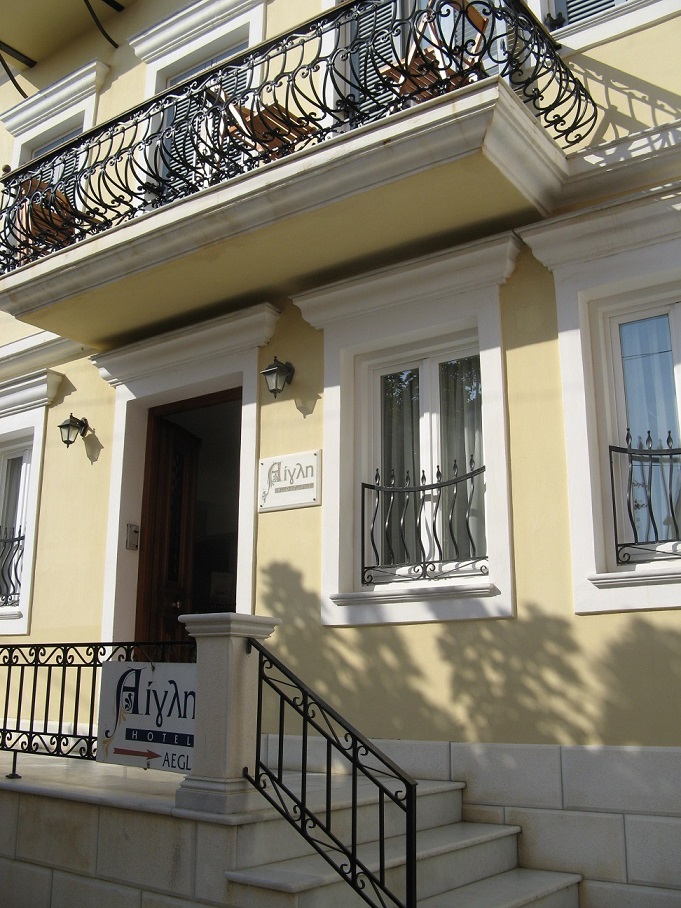 There are so many lovely places to stay in this stylish capital....
The neo-classical mansions of wealthy traders have been beautifully restored in the Vaporia seaside district.

---
Getting to and from
Syros Island Greece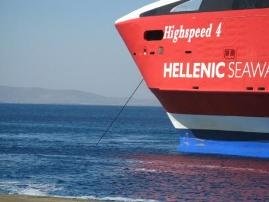 By Ferry - Σύρος is so close to all the Cycladic islands that it makes island hopping very easy from here. The port is well serviced with many good travel agents who can help you book at ticket.
Getting to Syros from Athens:

From Syros Island Greece to Pireaus, the port of Athens, is a crossing of 3 hours and 30 minutes. The crossing from Syros to Lavrio (via Kythnos and Kea) takes 5 hours and 10 minutes, and the mainland port of Rafina can be accessed via Andros.
Ferry companies operating in these routes include Blue Star, Anek Lines, Aegean Speed Lines and Hellenic Seaways.
Below is an example of the ferry services in the Cyclades, however routes and frequencies will change depending on the time of year. Faster and more regular services run during summer months.
Ferry Athens to Σύρος – many times per day – 3 hours
Ferry to Tinos – many times per day – 40 mins
Ferry to Andros via Tinos - many times per week – 2.5 hours
Ferry to Mykonos – many times per week – 1.5 hours
Ferry to Paros – many times per week – 1 hour 10 mins
Ferry to Naxos via Paros – many times per week – 2 hours

With further journeys you can explore the Cycladic islands of Thira, Ios, Amorgos, Sikinos, Folegandros and Milos.
From Crete, take a ferry from Heraklion to Thira, then to Mykonos and Syros. Many companies service these routes.
By Air – Olympic Airways offers daily flights to and from Syros in summer. Check this during the winter season.
By Yacht – Many different cruising and yacht charters and tours are available. Start with Variety Cruises offering of the exquisite motor yacht Galileo.
---
Exploring Syros Beaches
The largest villages are Galissas, Finikas, Vari, Mana, Kini and Posidonia. There are hundreds of beautiful beaches all around the island, each with crystal clear waters and a different aspect of the iridescent Aegean Sea.
See our beaches and accommodation page for marvellous guesthouses, pictures and tips about exploring Syros.


---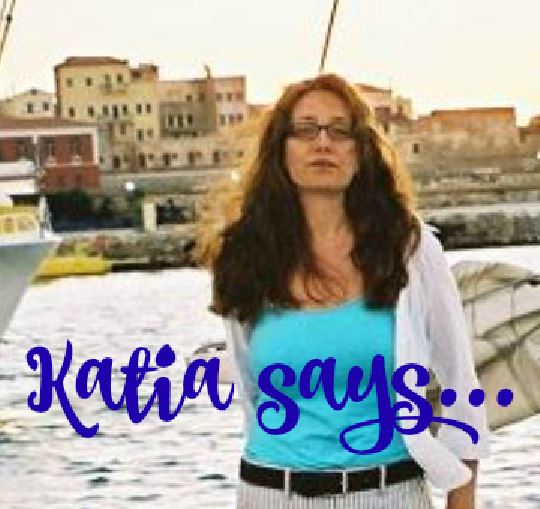 "I think of Ermoupoli with great affection; her stylish streets, adorable laneways, great food and great company on those warm summer nights. Watching the moonlight over the sea, sipping a cocktail and listening to the waves lap on the limani... mmm... unforgettable. My favourite places were Oneiro and Kouzina".
---
Images of Syros
Here are some more beautiful images of Ermoupolis: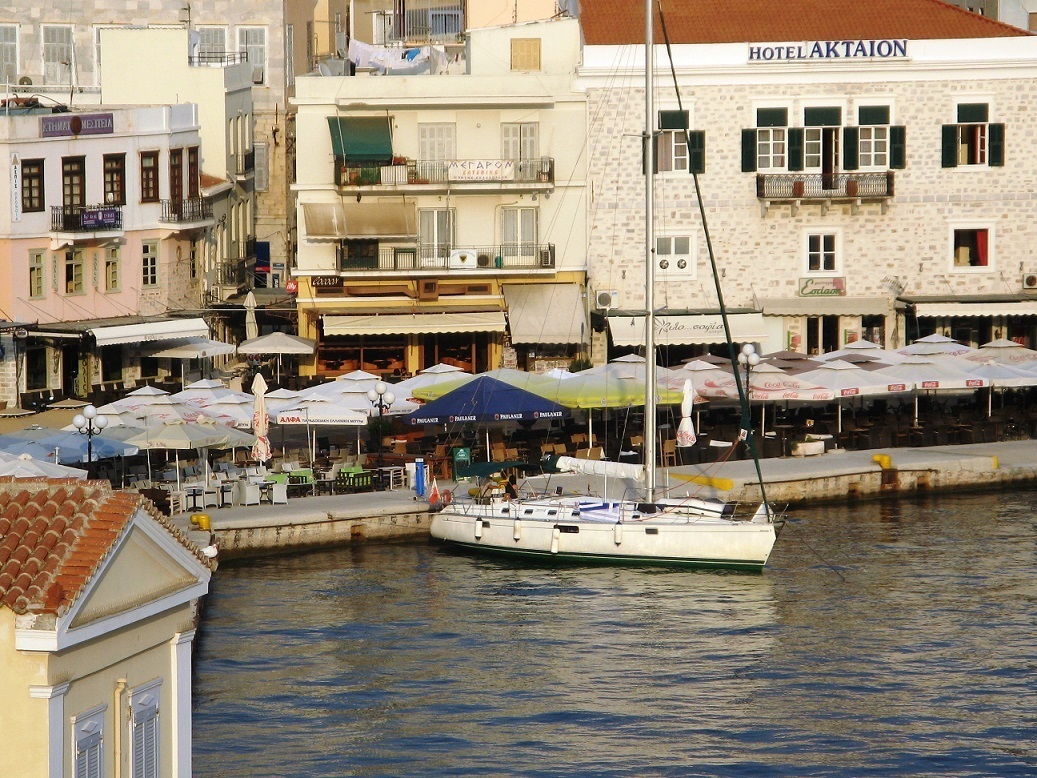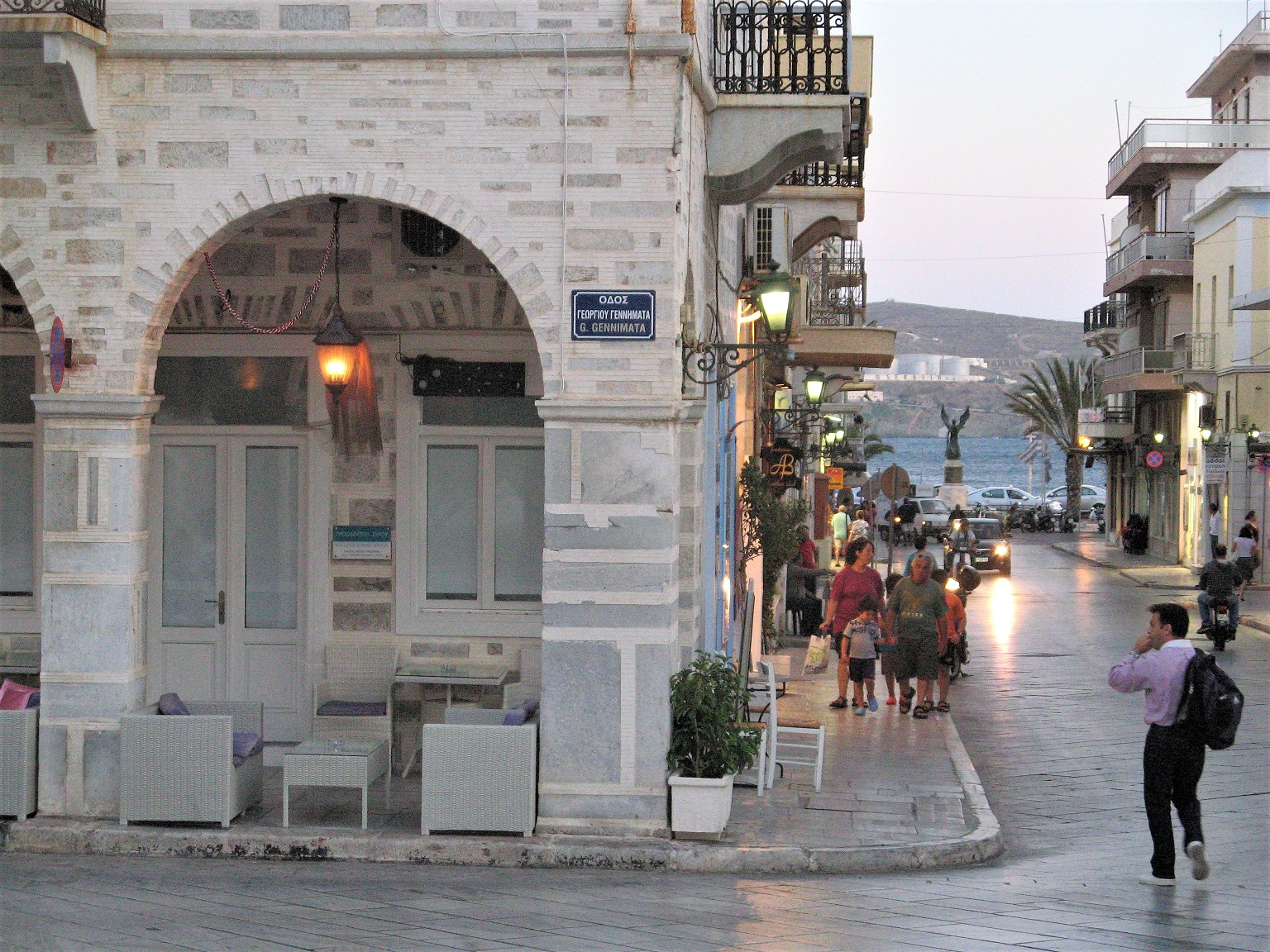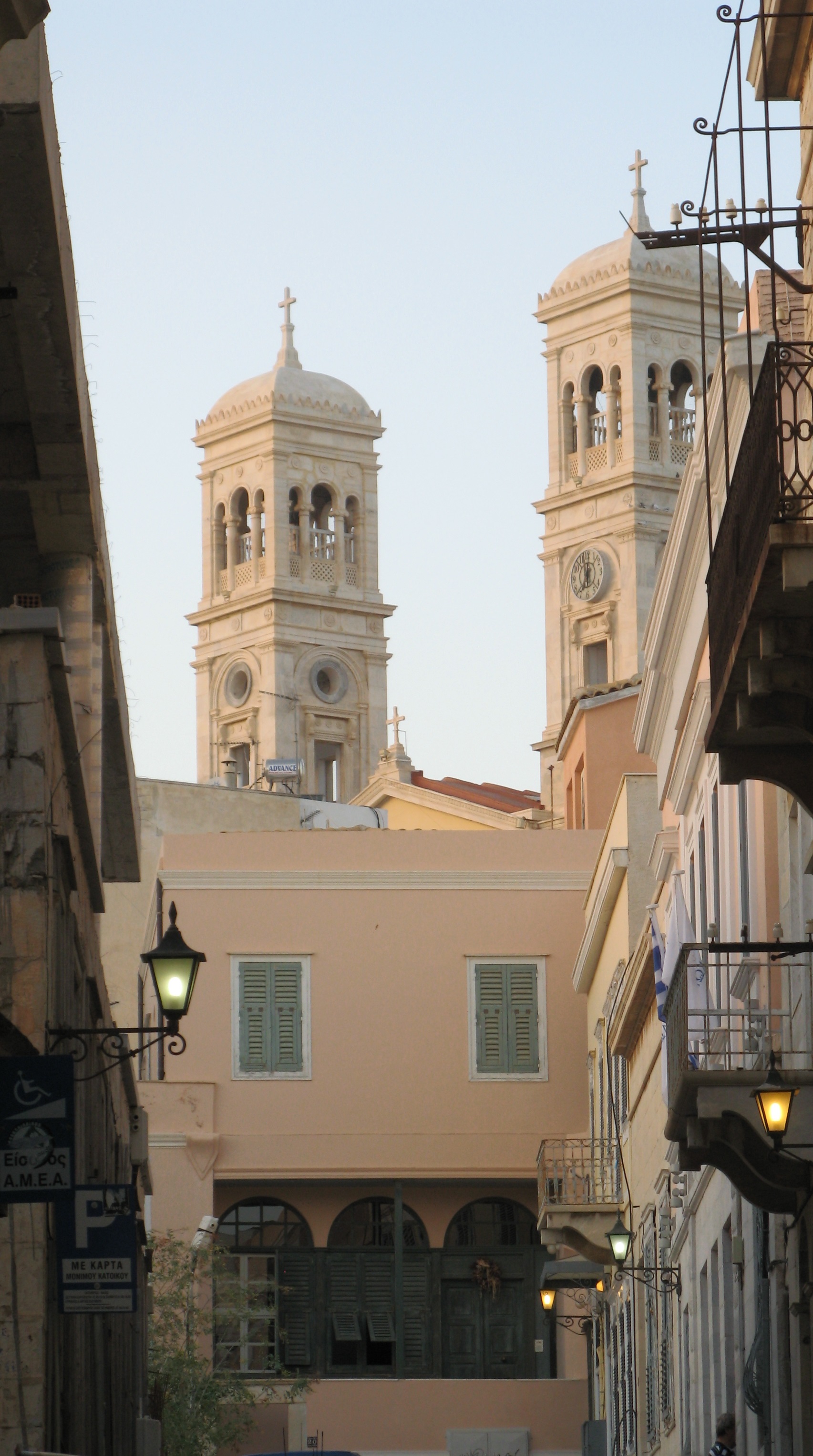 ---
Videos of Syros Island

And here is a wonderful video of the Syros Island Greece including Ermoupolis and Ano Syros.
Below is a trailer for an interesting documentary about the electric car made on Syros Island Greece in 1973, yet how is it that the world has never heard of this?...an interesting tale entwined with this history of this island... the film is entitled 'A Tale of Two Isles' and was released in 2014.
---