Syros Beaches
This page may contain affiliate links, see our disclaimer here.

---
Syros Beaches - this island in the centre of the Cyclades has plenty of beautiful beaches.
Fine sand beaches ringed with shady tamarisk trees, surrounded by tavernas, cafes and bars and offering that relaxed Greek island summer experience; great fresh food, including seafood.
---
Syros Beaches - Azolimnos

At Azolimnos, you will find a lovely sandy beach with plenty of amenities and wonderful cafes and tavernas, Azolimnos in 6 km from the capital town Ermoupolis and only 3 km from the airport.
I went swimming in the crystal clear, soft, safe waters; it was refreshing and calm.
I sat next to the sea and for my first coffee of each day...
Gazing across the blue in the early morning...

Or watched the locals discuss business in relaxed style down by the bay...
Check out Iguana Bar for drinks, icecreams or for that late night drink - under the tropical palms in Azolimnos.
In Azolimnos, let Vaso serve you delicious traditional Greek mezes at Zefiros Taverna. This is as far as you need to go to find great, fresh island food and wonderful hospitality.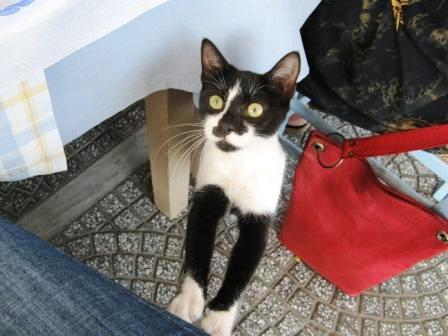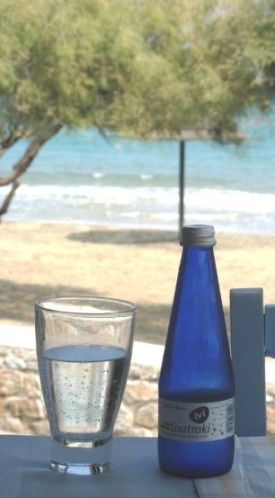 In Azolimnos, Angelos will look after you at Senso Bar, with wi-fi and endless coffees, milkshakes and drinks, right next to the water, with great service and plenty of atmosphere...
---
Syros Beaches - Kini

Kini Beach is a calm protected harbour with a sandy beach and plenty of space to spread out around the bay.
If you want to party, in Kini, check out Cougar's Cafe-Bar next to the water. This fantastic place is ready to party day or night.
---
Syros Beaches - Galissas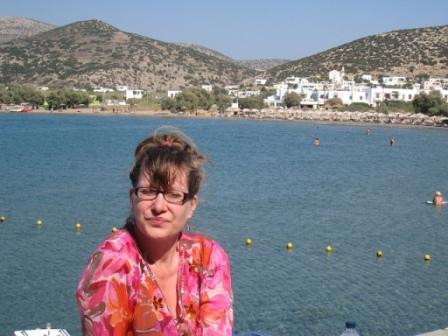 That is Galissas Bay and beach in the background...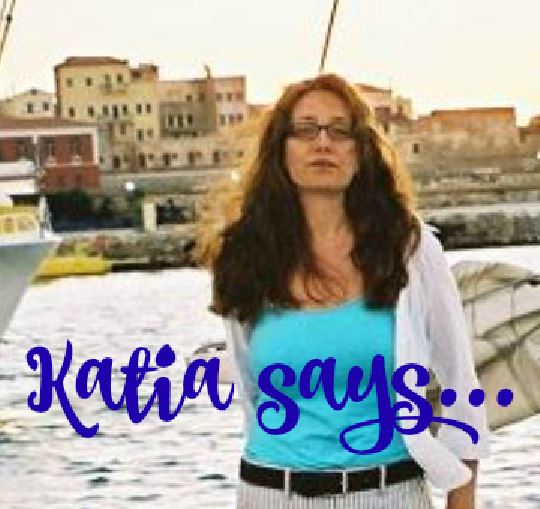 At Galissas on the west coast of the island, you will find a lovely sandy beach in a perfect U shape, in a pretty protected harbour ringed with tamarisk trees. This beach is 8 km from the capital Ermoupolis, and 8.5 km from the airport. From Galissas you can take a day trip out with a boat, and explore the fine, sandy, untouched beaches on the west coast of Syros.
In Galissas, dine in style with the wonderful food at Iliovasilema Sunset Seafood Taverna. This dining experience is like taking a summer holiday within your holiday. This taverna has been voted by travellers as the best in Galissas. A setting amongst the long grasses of the sandy beach dunes, soft romantic candlelight, great service, great company and great food, can you ask for more?
Tavernas and cafes ring the bay dotted with tamarisk trees and beach lounges. This beach is miles from the hustle bustle and the perfect place to get away from the stress of the modern world, enjoy days filled with sunshine and delicious Greek food.

The Dolphin Bay Hotel in the beautiful seaside village of Galissas offers beachside accommodation by the azure bay.
This is a very beautiful and affordable hotel in one of the prettiest bays of Syros.
The bright blue and white colours adorn the bright sunlight and relaxing in the crystal clear waters couldn't be easier.
---
Accommodation Azolimnos
Syros Beaches Accommodation - B&Bs and small pensions by the sea...

Oasis Pension - rooms are all clean, the complex is small and perfect for a summer holiday by the beach.
Echo Pension is across the road from this gorgeous beach in Azolimnos. Mr Giorgos Tz. Possolatos will look after you, here is the view from the garden...
...and below is the view from the beach looking back up to the pension.

---
Accommodation in Ermoupolis

Visit all Syros beaches with a car using the beautiful capital Ermoupolis as your base. Find what you are looking for in the stylish capital - guesthouses and B&Bs in town.

---
On the Map
Below you will find an interactive map of the island with Syros Beaches and varied accommodation suggestions in Ermoupolis and Galissas.
---
From Crete to Syros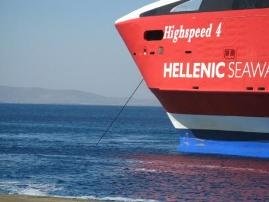 ---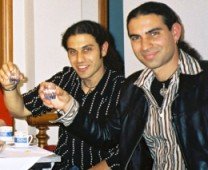 "We trust you have enjoyed these tips from the team at
We Love Crete. Evíva!"
Contact us with further questions or feedback. We love to hear about your travels in Kríti and Greece. Let us know of any updates or additions, errors or omissions. Help us make this website the best it can be. Kaló Taxidí!

---