Sejour Crete

This page may contain affiliate links, see our disclaimer here.

---
Island Hopping in Greece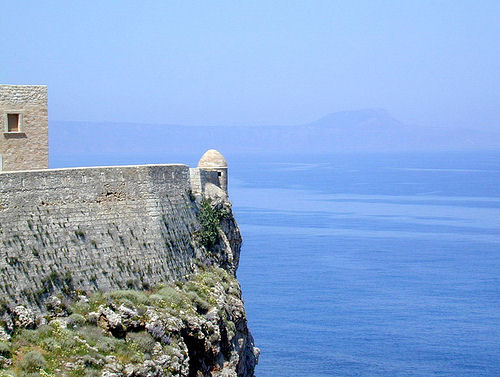 Sejour Crete - A Trip in Crete - We Answer our Visitor's Questions

Bonjour, I am interested in travelling to Greece with my partner for a short trip on our way to Israel. We will be in Athens on October 24 and would like to spend a few days on the islands.
We would like to be back in Athens on Sunday October 30 so we can fly out on October 31 to Israel. Where would you suggest we go and stay? Do you plan the ferries?

We want this to be a beautiful relaxing experience.

Looking forward to hearing from you,
Regards,
Luc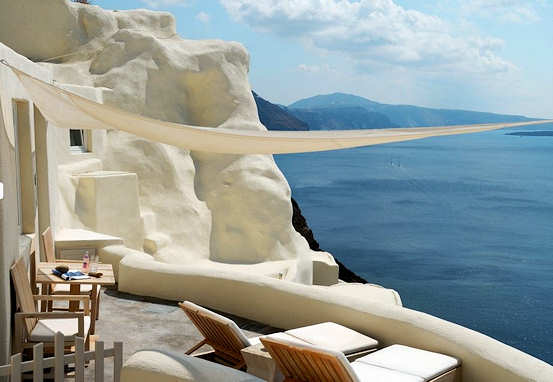 Santorini Greece
---
A Customised Itinerary


Yiasas Luc,

For October the ferries all over Greece run less frequently, so you may need to take a flight, due to your tight holiday schedule.

Sejour Crete - an itinerary is suggested below which includes Crete, Santorini & Athens.
Taking a late flight from Santorini to Athens and staying in an airport hotel the night before your forwarding flight is an easy way to enjoy a full day on the island but making the best of the evening time to travel.The flight is only one hour, and there are convenient hotels right at the airport.

Day One - 24 Oct
Depart Athens - fly to Chania, flight time 1 hour
Stay in Chania Old Town
Stay at Casa Delfino Boutique Hotel

Day Two - 25 Oct
Pre-booked day tour to Samaria Gorge
or Pre-booked day tour to Balos Lagoon
Stay in Chania Old Town
Stay at Casa Delfino

Day Three - 26 Oct
Pick up your hire car
Touring - visit Georgioupolis and Lake Kournas
Stay in Rethymnon Old Town
Stay at the Avli Lounge Apartments

Day Four - 27 Oct
Touring, visit Knossos Palace
Allow 2 hours for the visit
Visit the Heraklion Archaeological Museum
Stay in Archanes Village
Stay at the Villa Arhontiko

Day Five - 28 Oct
Archanes to Heraklion Airport 14 km
Fly from Heraklion to Athens
Fly from Athens to Santorini
Stay on Santorini
Stay at the Mystique Hotel

Day Six - 29 Oct
Stay in Santorini
Stay at the Mystique Hotel

Day Seven - 30 Oct
Day in Santorini, late flight to Athens
Stay at an Athens Airport hotel - this gives you the most time on the islands
Stay at the Sofitel Athens Airport

Day Eight - 31 Oct
Depart Athens
Fly to Israel



---
Sejour Crete - Info for Your Trip

Sejour Crete - information pages for this itinerary: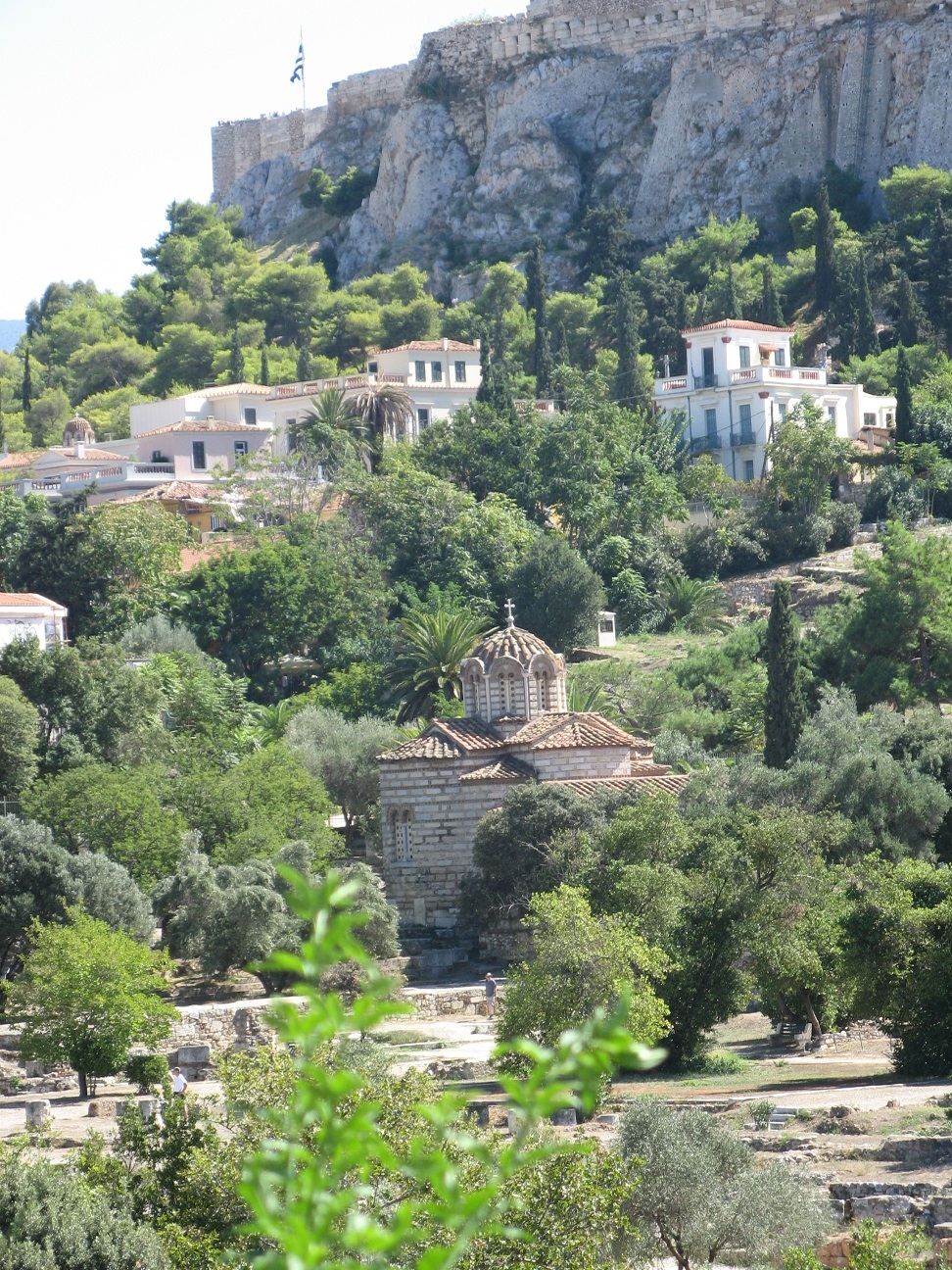 Athens Ancient Agora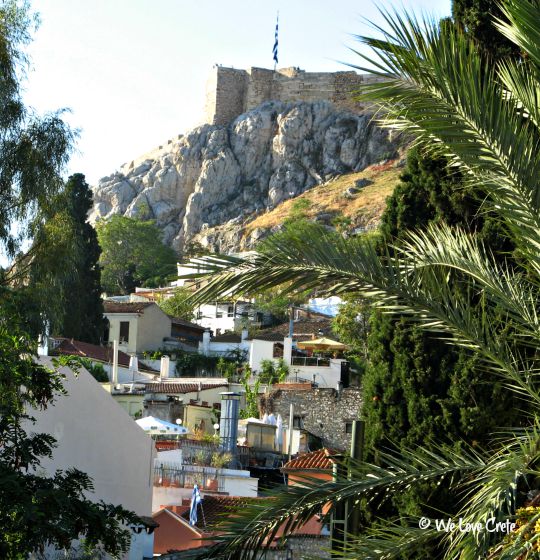 View from my Plaka Hotel - Athens
---
Your Itinerary in Pictures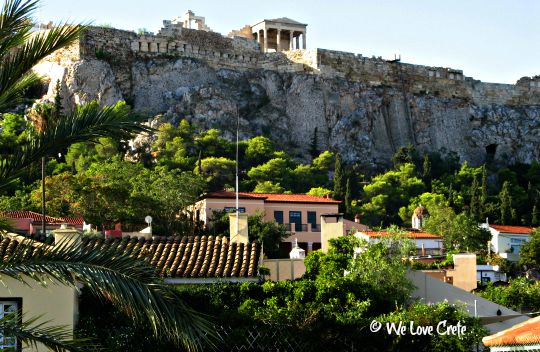 View from your breakfast table in Athens - we suggest staying in Plaka with a view to the Acropolis
Tips for visiting Athens - we suggest staying in Plaka (pictured above) at the base of the Acropolis, and choosing a hotel with a view to the Parthenon. We have chosen some lovely small hotels in this location here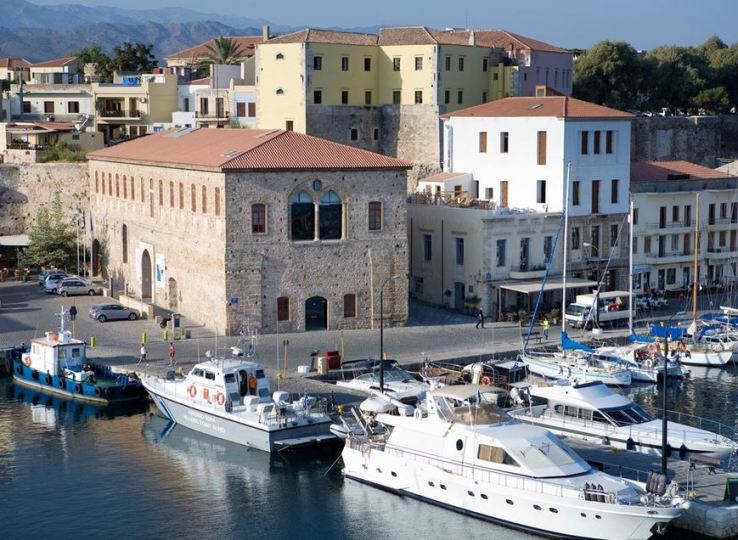 Chania Crete - the old harbour
The Old Town of Chania is nestled around the Venetian Harbour, and many of the old Venetian buildings and structures such as this Arsenal building (pictured above) have now been restored, and house a variety of historic and artistic exhibitions.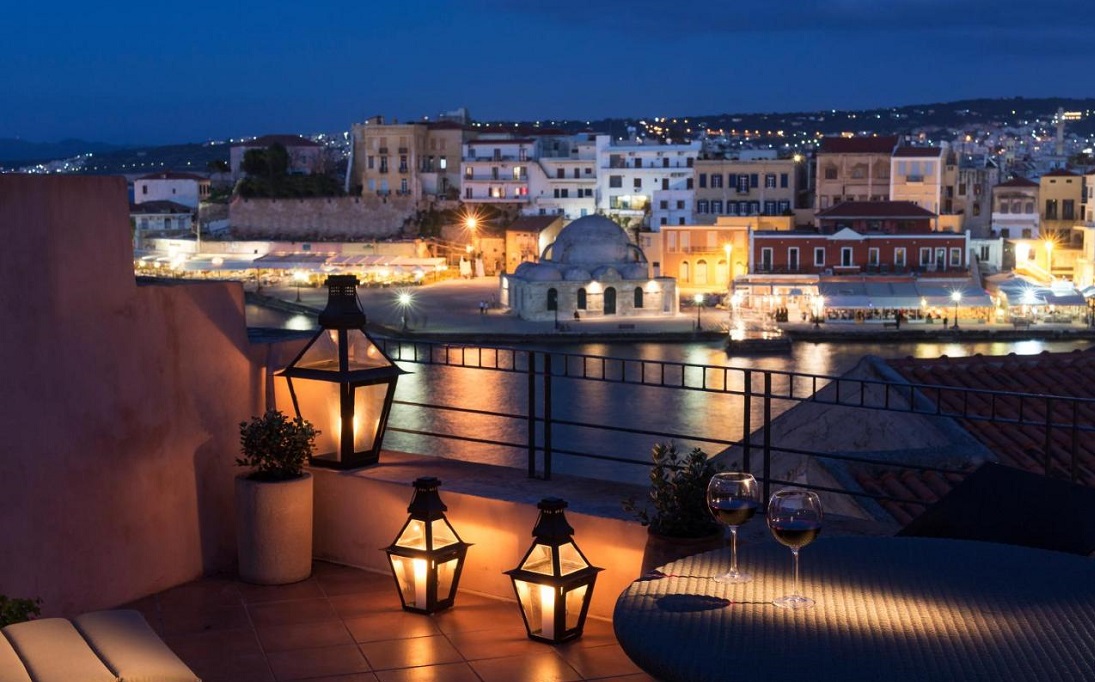 View from Casa Delfino in Chania, Crete, it is best to stay within the walls of the old town to absorb the atmosphere

Sejour Crete - the Casa Delfino Hotel (pictured above) has a lovely rooftop with a view over the Old Town and the Old Harbour. This beautifully restored 17th Century Venetian mansion is located in the back streets of the Old Town, close to everything yet tucked away in the romantic tiny laneways. This is one of the finest experiences on offer within Chania Old Town and the memories will stay with you forever.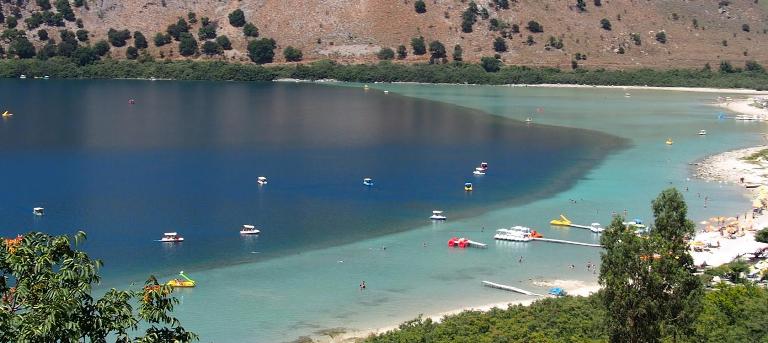 Lake Kournas is 25 km from Rethymnon in Crete

Lake Kournas is a welcome cool fresh water lake just inland from the sea near Georgioupolis, about half way between Chania town and Rethymnon town and makes a wonderful stop for lunch or a drink before stopping for lunch in Georgioupolis by the sea. Take a relaxing peddle boat ride (peddling with your feet) or laze by the water, or enjoy one of the many lakeside tavernas.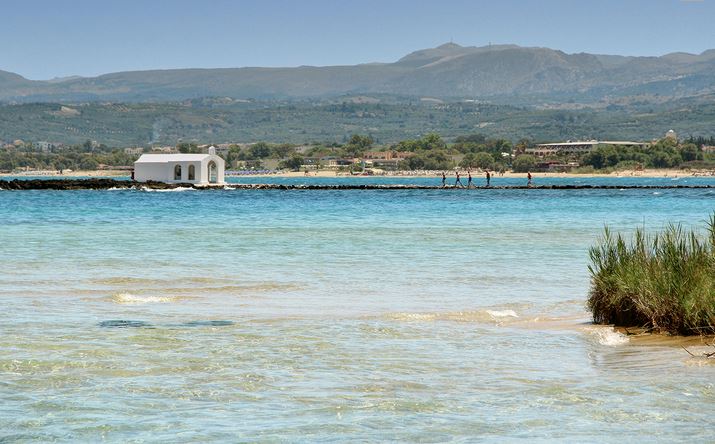 Georgioupolis Beach and chapel

Sejour Crete - Georgioupolis Beach is a wide sandy beach which stretches for 9 km along the north coast of Chania close to Rethymnon, and is home to one of the most picturesque little white chapels in Crete (pictured above).
The village of Georgioupolis sits at the confluence of the river and the sea, and is shaded by eucalyptus trees, making a very pleasant village atmosphere to enjoy a stroll by the fishing harbour and along the rock wall to this little chapel of Agios Nikolaos (saint of fishing).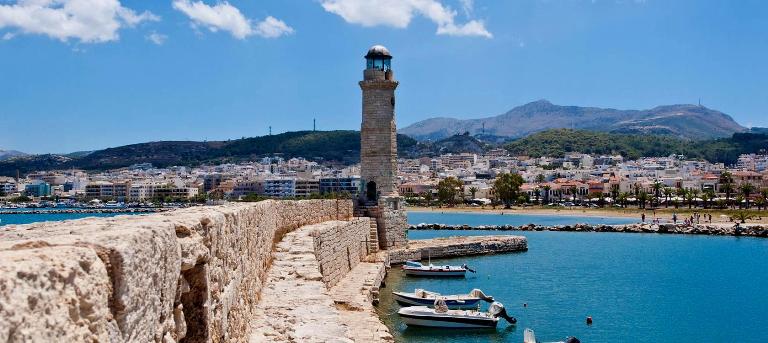 The lighthouse of the old harbour of Rethymnon, Crete

Sejour Crete - the Old Town of Rethymnon is well worth a visit, take a stroll through the narrow laneways and see the Old Harbour and Lighthouse (pictured above) as well as admiring the many Venetian doors and gateways throughout the town, visit the Venetian Loggia and ruins of the Fortezza. Take lunch next to the sea at 'En Plo' for seafood or at the tight little Old Harbour at 'Zefyros Fish Taverna', amongst the hubbub.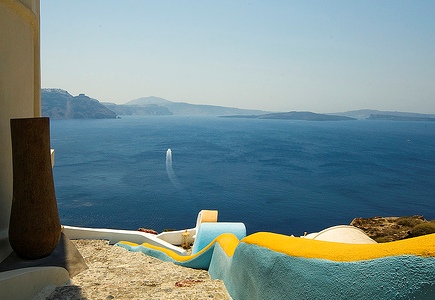 Views are everywhere in Santorini

Sejour Crete - depending on the season, fast ferries from Heraklion take less than 2 hours to arrive into Santorini. Then you are surrounded by classic Cycladic white-on-white architecture, with a few splashes of colour thrown in here and there (pictured above), and views across the edge of the island, with the steep cliff drop-off caused by the volcanic eruption, centuries ago.
Choose your accommodation carefully to enjoy the views from Oia, Imerovigli, Firostephani or Fira.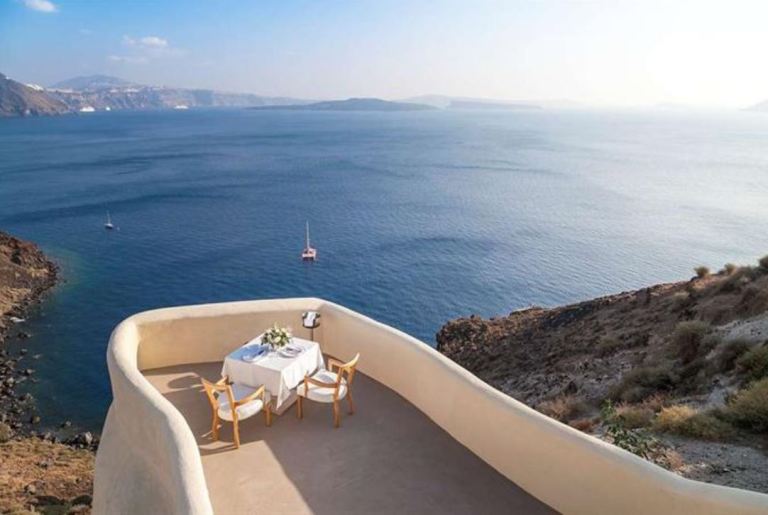 Mystique Boutique Hotel in Santorini
---
Booking Flights and Ferries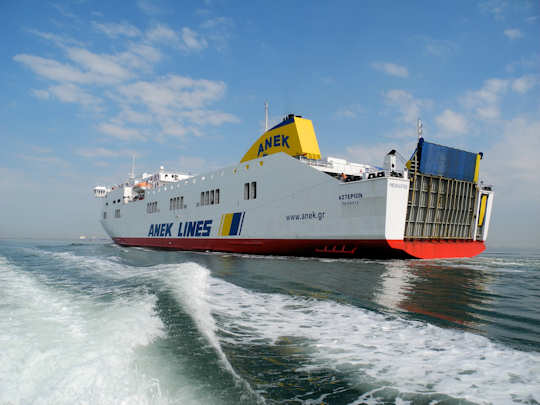 If you would like to book a ferry, see the links below, but please be mindful of the duration of the ferry journeys, as you have only a short time in Greece.
From Athen's port of Pireaus the ferry to Chania duration is 9 hours. The ferry from Santorini Thira to Pireaus or Rafina is 8 hours.

Flight times are much quicker, as from Athens to Chania in Crete is 1 hour's flight time. From Santorini to Athens is less than 1 hour's flight time.


---
Getting to Crete
Take a 1 hour flight from Athens to Heraklion with Aegean Airlines or Olympic Air, with many flights available per day.
Or take a 9.5 hour overnight ferry from Pireaus port of Athens to Heraklion port.
More on flights and ferries below.
Car hire in Crete is a really good idea as it is a large island 60 km by 260 km. There is so much to explore.
When you book with our car rental partners - Rental Centre Crete - you are supporting a local company with excellent service and an easy online booking procedure. We are sure you will be well looked after by the team. Choose from hybrid or non-hybrid vehicles.
---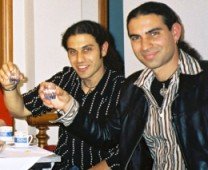 "We trust you have enjoyed these tips from the team at We Love Crete. Evíva!"
Contact us with further questions or feedback. We love to hear about your travels in Kríti and Greece. Let us know of any updates or additions, errors or omissions. Help us make this website the best it can be. Kaló Taxidí!

---