Kerames to Kato Zakros
This page may contain affiliate links, see our disclaimer here.

---
Trip Planning

for Crete


Kerames / Plakias to Where? - Trip Planning

Your Very Own Crete Travel Guide


Many people ask us their holiday questions and we are more than happy to help... below we answer one of our visitor's questions...and offer five different options to consider for her trip in the west of Crete.
---

Hi,
I like your very useful website. I would be grateful for some advice. My husband and I are flying in to Heraklion, hiring a car, and hope to stay for a week in the Kerames / Plakias area, and then ... what?
We don't know whether to drive westwards or eastwards for the second week.
We like quiet, beautiful places, by the sea, self-catering or B&B. A friend has recommended the Kissamos area, from where we could explore south to Elafonisi. But we are also interested in the eastern end of Crete, particularly from your description of Kato Zakros beach. We also don't want to spend too long driving. What would you recommend?
Secondly is there a ferry running along the south coast of Crete, and would that be a way of getting from say Plakias to Elafonisi? How frequently does that run in July?
Sam

---
---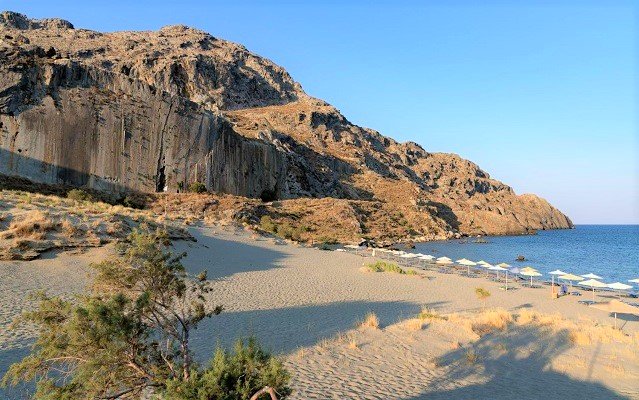 Plakias Bay, Rethymnon
Kerames Crete - Travel Options

Yiasas Sam,
Thanks for writing to us at We Love Crete.
So, your holiday sounds great so far.
We also cannot decide which direction would be best for you to explore...so we will provide some more information for you to contemplate...
Option One
From Kerames to drive to Sfakia takes 1.5 hours then from there the ferry goes west along the south coast, ending at Palaiochora. From Palaiochora you can take an organised day tour to Elafonisi.
There are some nice beaches in Palaiohora and some nice hotels, it is a busy village and perhaps not the style you desire.
Then you would still have to go back and get the car. Not very practical.
Option Two
To drive to Kissamos from Plakias you would drive to the north coast then on the national road, past Chania town and arrive in Kissamos in around 2 hours.
There are some nice beaches near Kissamos town, but it is a busy town and not really what you are after, and it is necessary to do a day tour to Elafonisi, as it is a protected area and no accommodation is allowed. This is a lovely one hour drive, obviously 2 hours return.
Option Three
Staying at a villa on the west coast within a shorter driving distance to Elafonisi, you would still need to drive 2 hours from Plakias to Kissamos then approximately half an hour to your villa. Then you could visit Elafonisi and the other remote beach Falasarna.
Option Four
The east of Crete is far less developed than the rest of Crete. There are endless surprises and plenty to explore. Kato Zakros is a heavenly little cove. The drive from Plakias would be 6 hours if you do it all in one day, which journey could be broken by a nice stay in Agia Pelagia in Heraklion prefecture (north coast) or Elounda near Agios Nikolaos.
More on south-east Crete here


---
Accommodation Options
Artemis Studios - these affordable studios are located just 300 m from the sea at the eastern end of Plakias bay, on Paligremnos Beach. This means a walk of 1 km to Plakias Village.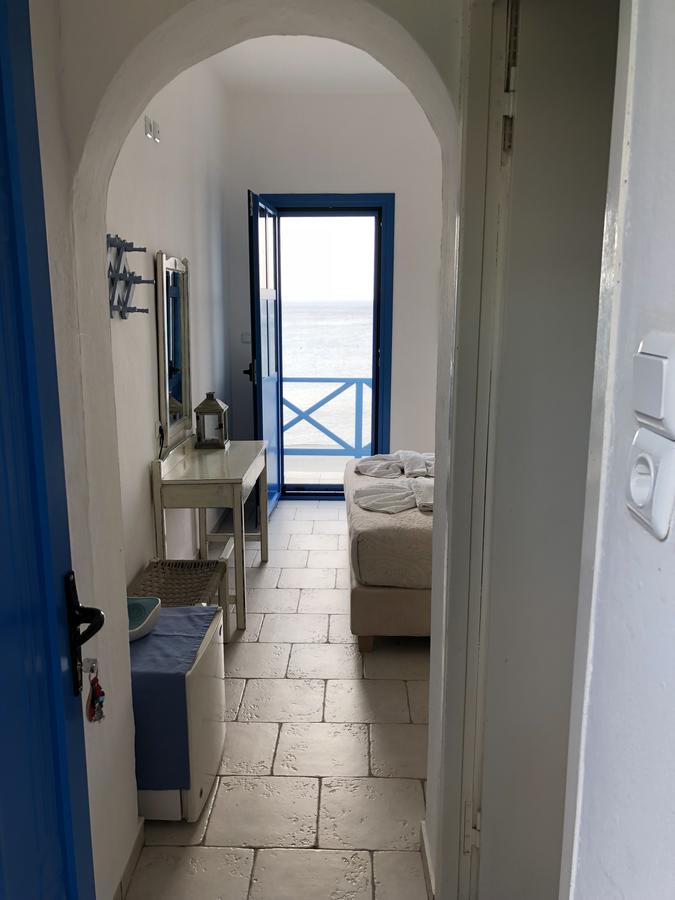 Rooms at Agia Fotia Taverna - real and simple, comfortable double rooms with sea views and just a few footsteps to your breakfast, lunch, dinner and beach. Fall asleep with the sound of the sea. Relax in a tiny hamlet away from everything. Let the blue and white get into your soul. Here you will find the kindness of the Perakis family, a warm welcome, great food, peace and quiet and free wifi. 4 km from Preveli Beach. This location is good for hiking and swimming, snorkelling and being alive.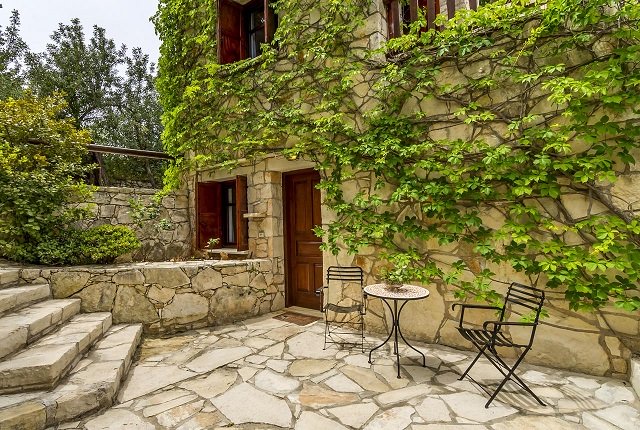 Manoli's House in Douliana is perfect for couples, completely private and self contained, surrounded by nature yet in a small village. Just 27 km from Chania town and 2.8 km from Kalives Beach in the west of Crete.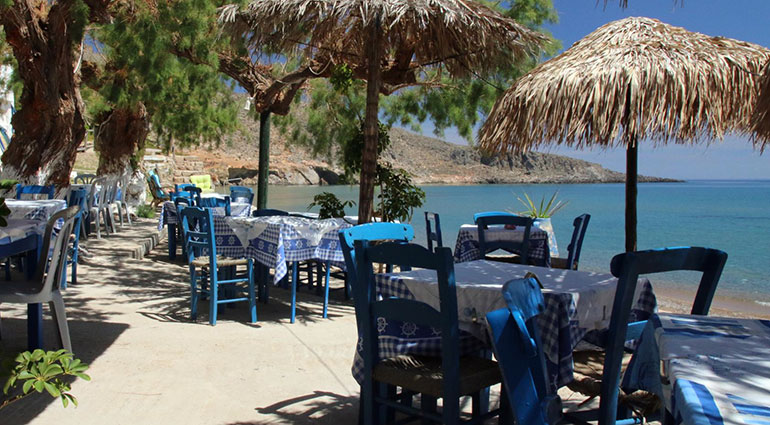 In Kato Zakros a lovely place to stay is Yannis Retreat, with characteristic stone and wood architecture, leafy gardens and budget prices. Explore the Minoan ruins of Zakros Palace, the Gorge of the Dead, and relax at tavernas with your toes in the sand.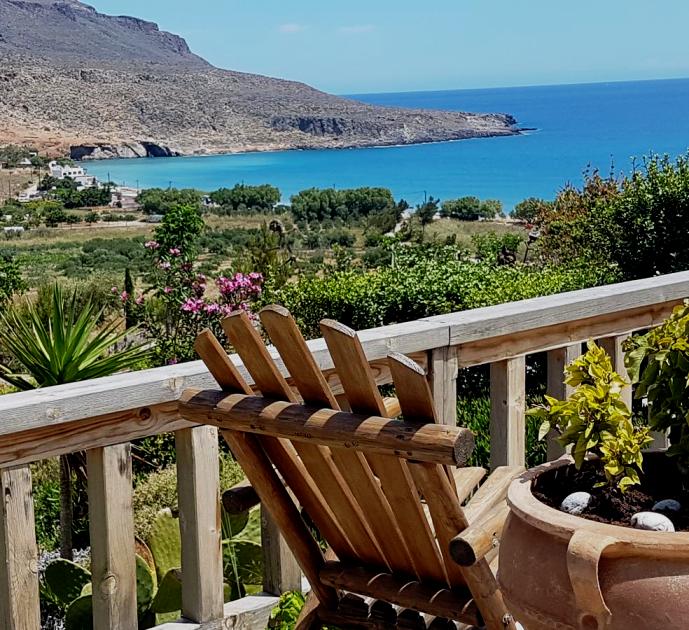 These villas, in one of the prettiest locations of Crete, are built in traditional style of stonework and wood.
Sitting in gardens just 500m from the beach of Kato Zakros and seconds from the Minoan Zakros Palace, we have selected these villas as they provide the real Cretan feel and experience.
Owners Stella and Elias are crazy trekkers and climbers who fell in love with this region of Crete after visiting from their home in Thessaloniki. They are passionate about sharing all the natural beauty of eastern Crete with their visitors, and offering great hospitality at Terra Minoika.
The Terra Minoika Villas are beautiful creations of the Cretan earth, risen up in modern times to comfort visitors and provide a nurturing experience. Stella and Elias provide their wonderful hospitality.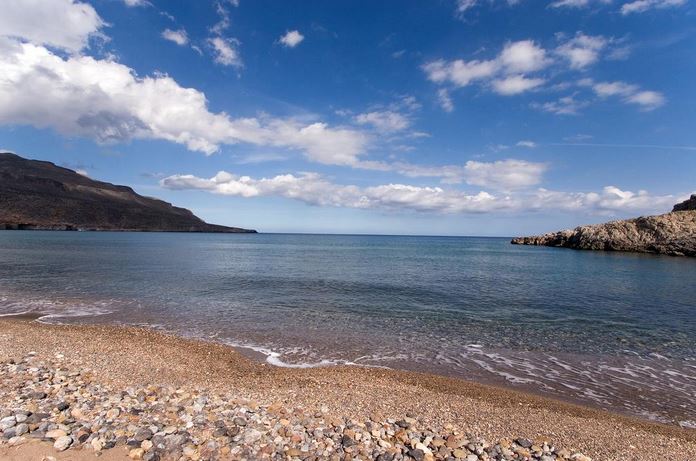 Kato Zakros Beach
So, Samantha, we have given more options and more information and trust you will be able to decide amongst the wonders of Kriti and plan an enjoyable holiday.
---
Getting to Crete

Take a 1 hour flight from Athens to Heraklion with Aegean Airlines or Olympic Air, with many flights available per day.
Or take a 9.5 hour overnight ferry from Pireaus port of Athens to Heraklion port.
More on flights and ferries below.
Car hire in Crete is a really good idea as it is a large island 60 km by 260 km. There is so much to explore.
When you book with our car rental partners - Rental Centre Crete - you are supporting a local company with excellent service and an easy online booking procedure. We are sure you will be well looked after by the team. Choose from hybrid or non-hybrid vehicles.
---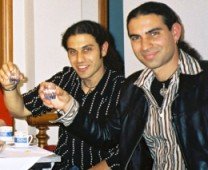 "We trust you have enjoyed these tips from the team at We Love Crete. Evíva!"
Contact us with further questions or feedback. We love to hear about your travels in Kríti and Greece. Let us know of any updates or additions, errors or omissions. Help us make this website the best it can be. Kaló Taxidí!

---