Kerames to Kato Zakros
This page may contain affiliate links, see our disclaimer here.

---
Trip Planning

for Crete


Kerames / Plakias to Where? - Trip Planning

Your Very Own Crete Travel Guide


Many people ask us their holiday questions and we are more than happy to help... below we answer one of our visitor's questions...and offer five different options to consider for her trip in the west of Crete...



---

Hi,
I like your very useful website. I would be grateful for some advice. My husband and I are flying in to Heraklion, hiring a car, and hope to stay for a week in the Kerames / Plakias area, and then ... what?
We don't know whether to drive westwards or eastwards for the second week.
We like quiet, beautiful places, by the sea, self-catering or B&B. A friend has recommended the Kissamos area, from where we could explore south to Elafonisi. But we are also interested in the eastern end of Crete, particularly from your description of Kato Zakros beach. We also don't want to spend too long driving. What would you recommend?
Secondly is there a ferry running along the south coast of Crete, and would that be a way of getting from say Plakias to Elafonisi? How frequently does that run in July?
Sam

---
---
Plakias Bay, Rethymnon
Kerames Crete - Travel Options

Yiasas Sam,
Thanks for writing to us at We Love Crete.
So, your holiday sounds great so far.
We also cannot decide which direction would be best for you to explore...so we will provide some more information for you to contemplate...
Option One
From Kerames to drive to Sfakia takes 1.5 hours then from there the ferry goes west along the south coast, ending at Paleochora. From Paleochora you can take an organised day tour to Elafonisi.
There are some nice beaches in Paleohora and some nice hotels, it is a busy village and perhaps not the style you desire.
Then you would still have to go back and get the car. Not very practical.
Option Two
To drive to Kissamos from Plakias you would drive to the north coast then on the national road, past Chania town and arrive in Kissamos in around 2 hours.
There are some nice beaches near Kissamos town, but it is a busy town and not really what you are after, and it is necessary to do a day tour to Elafonisi, as it is a protected area and no accommodation is allowed. This is a lovely one hour drive, obviously 2 hours return.
Option Three
Staying at a villa on the west coast within a shorter driving distance to Elafonisi, you would still need to drive 2 hours from Plakias to Kissamos then approximately half an hour to your villa. Then you could visit Elafonisi and the other remote beach Falasarna.
Option Four
This villa is on the north coast just 8 km from Chania and may suit you: Pasiphae Villa
Option Five 
The east of Crete is far less developed than the rest of Crete. There are endless surprises and plenty to explore. Kato Zakros is a heavenly little cove. The drive from Plakias would be 6 hours if you do it all in one day, which journey could be broken by a nice stay in Agia Pelagia in Heraklion prefecture (north coast) or Elounda near Agios Nikolaos.
More on south-east Crete here...



| | |
| --- | --- |
| | In Kato Zakros the lovely place to stay is Yannis Retreat, with characteristic stone and wood architecture, leafy gardens and budget prices. Explore the Minoan ruins of Zakros Palace, the Gorge of the Dead, and relax at tavernas with your toes in the sand. |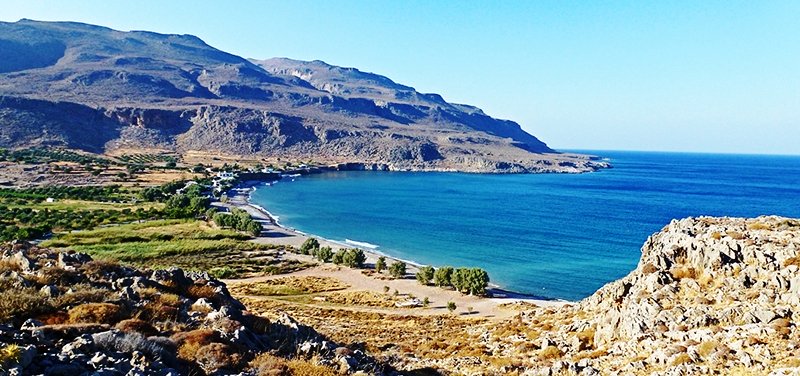 Kato Zakros Beach
So Samantha, we have given more options and more information and trust you will be able to decide amongst the wonders of Kriti and plan an enjoyable holiday.