Search This Site
This page may contain affiliate links, see our disclaimer here.

---
Yiasas! Ela! Come explore the island of Crete in Greece.
Search: here you can quickly find what you need on We Love Crete.com
We have pages for travellers, with information about accommodation, getting around and what to see...
We have pages for your travel stories and photos, your questions - no matter how small, places to see and beaches to enjoy in Crete...
We have pages about life in Kriti, our heroes and our history, modern figures and musicians, facts about Crete and her mountains, her nature, her animals and birds, about living in Crete and learning Greek, and so much more...
Search this site...
Looking for a specific place? Have a look at our interactive map.
Join us in our love of this most beautiful island.
---
Trip Planning...
We have lots of information pages to help you plan your visit to Crete.
---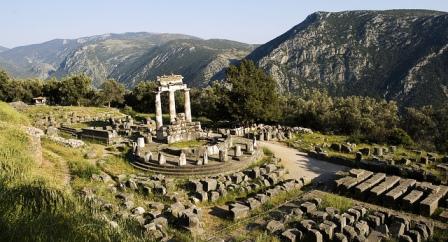 Delphi on the slopes of Mount Parnassus, on the Greek mainland
Explore Greece

We have wonderful information to plan your complete Greek holiday...Greek Islands...
Visit Athens, Delphi or Nafplion on the Greek Mainland...
---
Accommodation
Find accommodation all over the island of Crete:
---
We have so many different topics on the site, and it is growing all the time.
Is there something that you wanted to see but didn't find?
Do you have something to contribute?
If so, we would love to hear from you.
Simply complete the form below.