Cretan Olive Oil
This page may contain affiliate links, see our disclaimer here.

---
The Local Character

Cretan Olive Oil - in addition to tasting great, this golden liquid is rich in monounsaturated fats and can decrease the risk of heart disease.

For our readers at home we have some beautiful olive oil products for sale below, for our travellers we have some wonderful suggestions on how to get to know the local olive oil in Crete, from tree to table.

---
Cretan Olive Oil
Products for Sale

Stone Milled Organic Extra Virgin - Biolea's Olive Oil with olives harvested from estate olive groves in Kolymbari in Crete.

---
Olive Oil Stone Milled with Fresh Lemons - Biolea's Olive Oil Stone Milled with Fresh Lemons consists of Koroneiki olives harvested from Astrikas estate olive groves in Crete, stone milled and cold pressed together with locally grown fresh lemons. This fabulous oil explodes with zesty lemon aroma and a lasting aftertaste of freshly crushed lemons.

---
Organic Extra Virgin Olive Oil from Crete 500ml by TerraCreta - This Extra Virgin Olive Oil not only bears all the positive characteristics of olive oil, but, along with its certification of quality and origin, it is produced from olive trees that are cultivated exclusively with traditional methods, devoid of chemical substances and fertilizers. And as such, it further bears the seal of the Greek government as to its biological cultivation through The Greek Organization for the Certification of Organic Products.


---
Cretan Olive Oil
Organic Greek Extra Virgin Olive Oil 500ml by Taste of Crete - Certified as organic by the European Union, Taste of Crete Organic Olive Oil is made from the famous Koroneiki olives of Crete. Handpicked and pressed almost immediately, these olives create an oil of exceptional flavor and quality. Like all Taste of Crete oils, this organic oil carries the PDO - Protected Designation of Origin - seal.
This is a highly coveted status given by the European Union to identify food products that due to traditional processing techniques, local climate, or particular indigenous plant life are unique to a given area. As the PDO seal suggests, this oil from the Kolymvari area of Western Crete is made using traditional methods, little changed in hundreds of years. Olive oil is the backbone of the healthy Cretan diet. Our Taste of Crete Organic Olive Oil will be your path to healthier eating. Use it in salads with vinegar or lemon juice, on steamed vegetables, drizzled over fish, or as a tasty base for sauces and dips.
We trust you can find here the quality Cretan olive oil you are looking for.


---
Extra Virgin Olive Oil 500ml - 2 bottles by Aria - Made in Crete, Greece, Aria extra virgin olive oil comes from the sun-rich soil and sea-salt air in which olives are nurtured to perfection. This delicious, first cold pressed olive oil is harvested when the olive just turns green to capture the freshness of the fruit. A winner of National Association for the Specialty Food Trade (NASFT) "Outstanding Olive Oil", Aria Extra Virgin Olive Oil is a fine example of the freshness and purity of premium quality Cretan olive oil.

---
The Secret of Good Health - Olive Oil By Nikos and Maria Psilakis - 150 recipes 175 pages. This book will give you a great overview of the history of olive oil and some of the many ways it has been used through the centuries in addition to it being a vital food source. It goes into depth about the studies on the diet of Crete and how healthy  its inhabitants are in relation to other countries. It then covers how olive oil is made, the right way to store and use it in cooking. Last but not least, there are 150 recipes using olive oil, from sauces/dips, main dishes to sweets. Cook Greek food from one of the great Greek cookbooks by two Cretan writers.

---
Where to See Olive Farms and Taste Olive Oil in Crete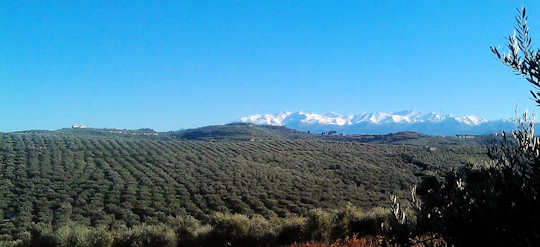 Terra Creta Estate in Kolymvari, Chania

All around the island are dotted olive farms and production mills, here we list some of them that take visitors and provide farm tours or tastings, or both, in Chania, Rethymnon, Heraklion and Lasithi regions of Crete. Including some interest in the ancient olive trees of Crete.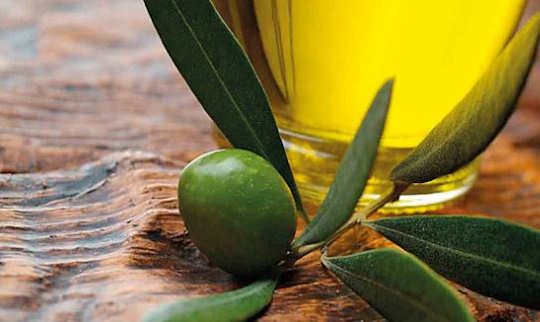 ---
Olive Tours in Crete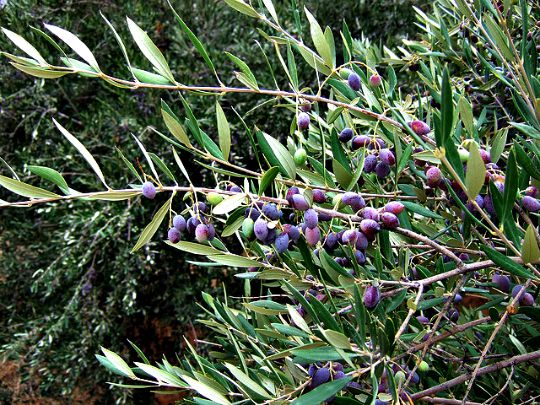 Olives on the branch in Crete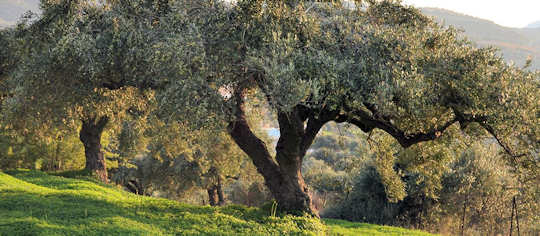 Olive and Wine Day Tour

Cretan Wine Tasting and Tour with Lunch in a small group from Heraklion:
Cretan olive oil and wine day tour
Meet winemakers, and enjoy a private tasting with 15 different local wines
Taste olive oil and learn about olive oil from tree to table
Enjoy a traditional lunch, several plates of cold and warm items to share
This small group tour is limited to 8 providing a more personal experience
Hotel pick-up and drop-offs are included from Heraklion and surrounds
---
Terra Creta - Olive Oil Farm Tour in Chania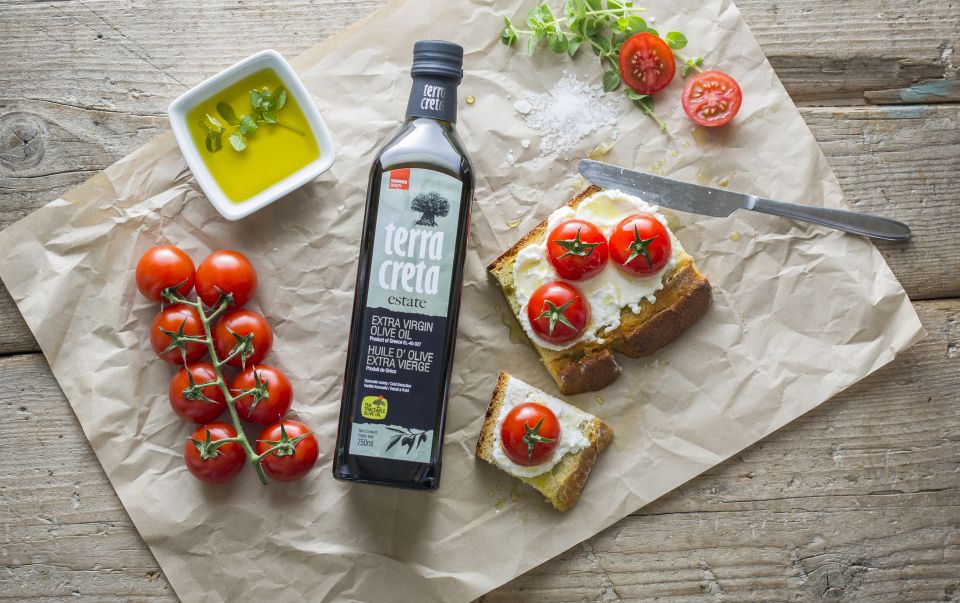 Visit an olive oil factory and learn about production from the olive tree to the final bottle
Enjoy a guided tasting of 3 olive oils
Visit the shop and purchase some local olive oil products to take home
On this 1-hour tour you'll enjoy a total olive oil experience at Terra Creta, located in the heart of the Kolymvari region. Visit the innovative, state-of-the-art facility and learn about the process from harvesting to production.


---
Getting Here
Take a 1 hour flight from Athens to Heraklion with Aegean Airlines or Olympic Air, with many flights available per day.
Or take a 9.5 hour overnight ferry from Pireaus port of Athens to Heraklion port.
More on flights and ferries below.
Car hire in Crete is a really good idea as it is a large island 60 km by 260 km. There is so much to explore.
When you book with our car rental partners - Rental Centre Crete - you are supporting a local company with excellent service and an easy online booking procedure. We are sure you will be well looked after by the team. Choose from hybrid or non-hybrid vehicles.
---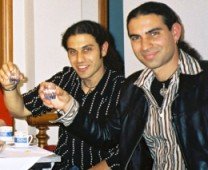 "We trust you have enjoyed these tips from the team at We Love Crete. Evíva!"
Contact us with further questions or feedback. We love to hear about your travels in Kríti and Greece. Let us know of any updates or additions, errors or omissions. Help us make this website the best it can be. Kaló Taxidí!

---