Crete for Travellers
Information
Crete for Travellers... We Love Crete and Greece, and we love journeying around Crete. Over the years we have found some great information for independent travellers.
Below we share some links to authentic guides, artists, services, and interesting people in some fascinating corners of Crete. From Apokoronas in the west to Kato Zakros in the east, Tarrha Glass in Anogia and Tourline which offers many services all over Crete, these resources will help you in your travel in Kriti.
---
Crete for Travellers - Apokoronas
Apokoronas...a region in Chania, Crete, is the cross point between Chania, Rethymnon and Sfakia. Full of splendid nature, a huge mountain range, the biggest part of the Lefka Ori. A deep blue sea starts from Souda Bay passes through Drapanon peninsula and Almiros Bay, meets the sea of Rethymnon in Episkopi Beach. A true regional web page. Information includes accommodation, gastronomy, transport and art as well as events.
---
Kato Zakros
Kato Zakros...a tiny village in the very east of Crete, Kato Zakros is one of the prettiest places on the island, with wonderful rugged country to explore inland, this regional website has loads of local information. An ancient Minoan site sits overlooking the bay, and the Gorge of the Dead lies inland, just waiting to be explored.
---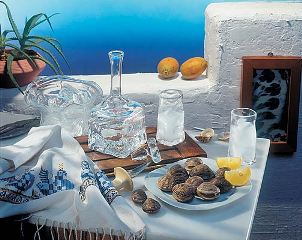 Tarrha Glass...stunning local glass. A hot glass workshop based in Anogia near Heraklion, Crete specializing in glass table ware, unique pieces and architectural glass. Inspiration comes from stone, wood, water and sea shells; vivid modern designs with originality result. Marios Chalkiadakis and Natassa Papadogamvraki have open studio days from time to time. Their glass mainia is infectious! It is best to phone before you visit this village in the hills above Heraklion.
---
Tour Online...is a great resource for holidays in Crete, including hotels, traditional houses,  apartments, villas, day trips and car hire. Try a day tour to Knossos and Lasithi Plateau. How about Samaria Gorge the lazy way?
---
More info about Crete here...  including:
Agia Pelagia a lovely beachside village just 23 km from Heraklion
Paleochora in south-west Crete
Sougia - a gorgeous beach on the south coast
Hiking and walking trips with 'The Happy Walker'

More good info about Crete...   including:
A guide to Crete
Wild Herbs of Crete
Mountain Flora
Incredible Crete by The Region of Crete
If you have a business in Crete that we have not yet included here please contact us via our safe form. We are always happy to support local quality businesses and artists, with good information about Crete for travellers.