Crete for Travellers

Chania harbourside
Crete for Travellers... We Love Crete and Greece, and we love journeying around Crete. Here we share some unique and traditional Cretan activities and information for you to explore and enjoy Kriti.

Culinary Heritage - Foraging Tours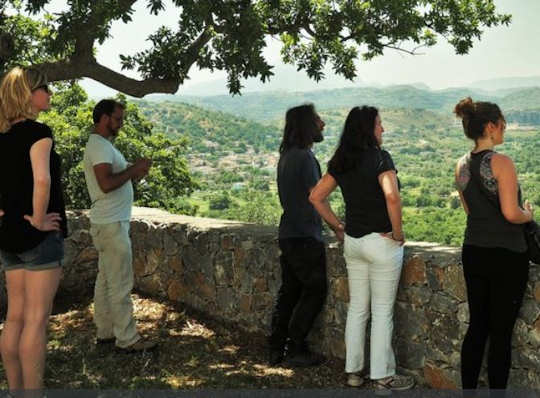 Castello Taverna 8 Day Foraging Tour in Rethymnon Crete
Enjoy the local food and knowledge at Castello Taverna in Rethymnon, take a foraging tour to learn more about the traditional ways of eating and living off the land in Crete.
More information about 8 Day Foraging Tour - Crete
Knowledgeable and multilingual guides
Learn how to forage wild herbs and vegetables
Make olive oil, local wine, raki, and cheese at the host farm
Visit to the ancient archeological sites
Daily breakfast and four days of lunch included
Accommodation 7 nights included
Let Vassilis, Andy and Jurgen show you the real meaning of Cretan hospitality and impart the traditions of this land. Depending on the season, you will be picking edible wild asparagus, celery, thistles, flowers, oregano, thyme, mint, figs, blackberries, and many other fruits and herbs for tea.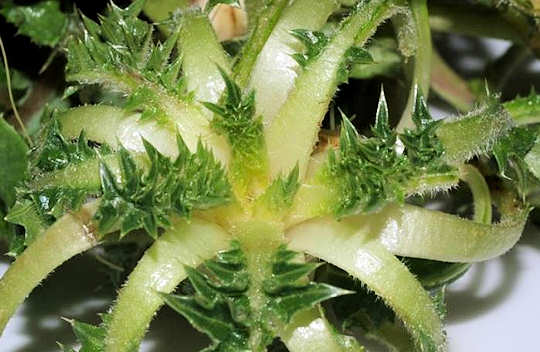 Castello Taverna 8 Day Foraging Tour in Rethymnon Crete - pick wild herbs
---
Local Handmade Glass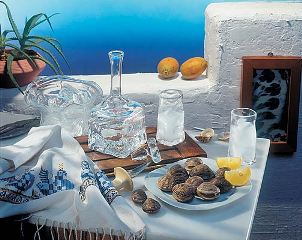 A handmade decanter with glasses and the traditional Cretan dish of snails
Tarrha Glass...stunning local glass. A hot glass workshop based in Anogia near Heraklion, Crete specializing in glass table ware, unique pieces and architectural glass. Inspiration comes from stone, wood, water and sea shells; vivid modern designs with originality result. Marios Chalkiadakis and Natassa Papadogamvraki have open studio days from time to time. Their glass mainia is infectious! It is best to phone before you visit this village in the hills above Heraklion.
Tarrha Glass - a handmade jug, a decanter, some glasses and an ice bucket with mezedes by the sea in Crete
---
Crete for Travellers

More info about Crete here...  including:
Agia Pelagia a lovely beachside village just 23 km from Heraklion
Paleochora in south-west Crete
Sougia - a gorgeous beach on the south coast
Hiking and walking trips with 'The Happy Walker'

More good info about Crete...   including:
A guide to Crete
Wild Herbs of Crete
Mountain Flora
Incredible Crete by The Region of Crete
If you have a business in Crete that we have not yet included here please contact us via our safe form. We are always happy to support local quality businesses and artists, with good information about Crete for travellers.