Where to Stay in Athens

This page may contain affiliate links, see our disclaimer here.

---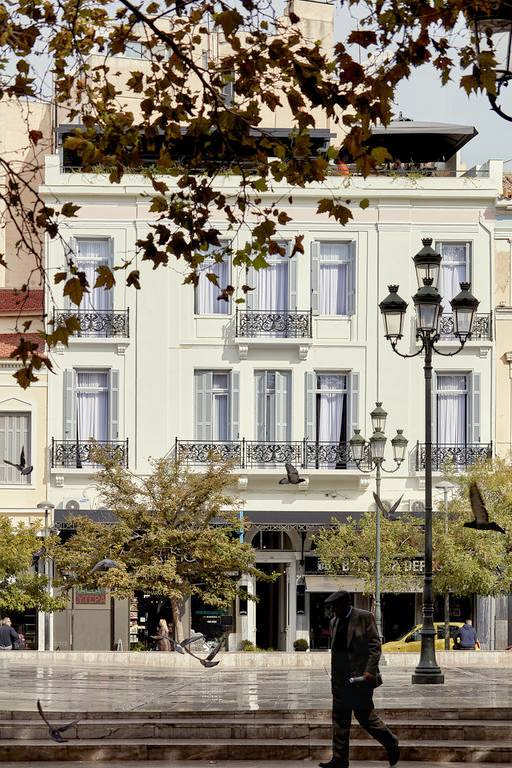 Where to Stay in Athens - delightful small hotels with character located in the centre of the city. Our picks and tips for you to enjoy the capital with less fuss.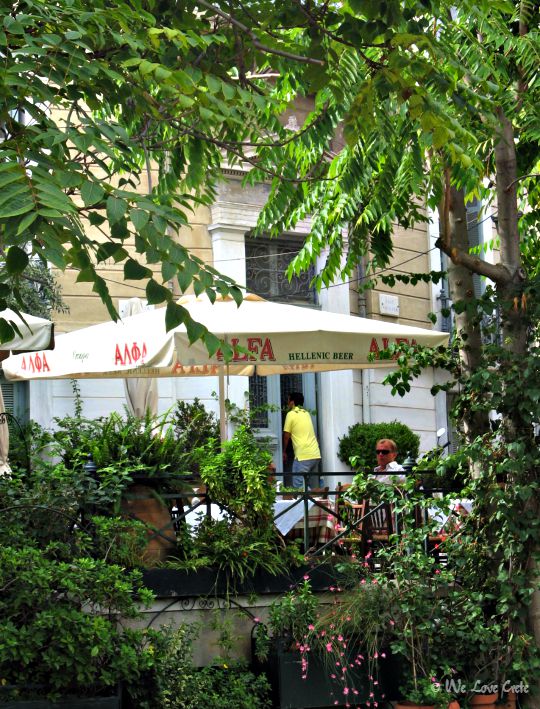 Choosing a hotel for your Athens stopover
Where to Stay in Athens - we suggest the relative quiet and charm of Plaka (above and below) at the base of the Acropolis and central to Athens. Choosing this location will make such a difference to the quality of your stay in Athens.
We choose smaller hotels this way:
in Plaka
with 30 or so rooms
with a rooftop terrace, where we can enjoy the view to the Acropolis
we also like hotels with atmosphere and beautiful architecture
This location is handy to explore the following sights on foot:
Plaka and Anafiotika
Ancient Agora
The Acropolis the the Parthenon

Monastiraki markets
Kolonaki
Acropolis Museum
Below you will find some budget hotel options, as well as some stylish inner city hotels. Of course in summer availability is a challenge, so we can't emphasise enough to book ahead for July and August.
The Downside - we must remind you that Athens is a noisy, busy, big, modern, hustly-bustly city. The traffic, taxi drivers and noise can be an issue, and pickpockets, even if the famous smog nefos, is ancient history, excuse the pun, since the Olympic cleanup of 2004.
Athens Weather - what to expect in each season.


---
Where to Stay in Athens
Small Hotels
Where to Stay in Athens - see all our selected hotels on the map below:

---
Zillers Boutique Hotel - see Athens in style from this funky hotel - centrally located yet very quiet, with views and ambience encapsulated at the modern rooftop restaurant.

Set in a restored neoclassical building in the characteristic streets of Plaka, with attention to detail taken into every architectural detail, this hotel is an experience.
---
A for Athens - rooms and apartments just so close to Monastiraki Metro stop and Plaka and the Acropolis. Acropolis views. Modern and crisp with smooth lines, a very comfortable stay.

A for Athens - Rooms and Apartments



---
| | |
| --- | --- |
| View from my breakfast table | Adrian Hotel. This small hotel is in Plaka and represents good value. It is a small hotel with only 34 rooms. Make sure you request a balcony with a view to the Acropolis, perfect for an Athens stopover. The terrace for breakfast has a wonderful view of the Acropolis and this starts off the day in a special way. This hotel is a bit shabby but is in an excellent central location for exploring Plaka. |
---
| | |
| --- | --- |
| | Metropolis Hotel. This small very centrally located hotel is near the Athena Cathedral in Plaka. Also near Ermou Street, a popular shopping street, it has only 21 rooms and lots of features for the discerning traveller, such as air conditioning and double glazed windows, which help with the noise of Athena. |
---
| | |
| --- | --- |
| | Acropolis Select Hotel - this hotel has a terrace with Acropolis views, and again is a small stylish hotel. An excellent location with everything in walking distance and a more up market three star hotel, ideal for an Athens stopover. |
---
Hotel Philippos -this hotel is within walking distance of Plaka and again is a delightful small hotel. Some of the rooms have views from the balcony so be clear when you are booking to request one with an Acropolis view. Very safe and handy location and a good three star hotel.

More details for the Hotel Philippos


---
Art Hotel - a little outside our usual location and may require a taxi or metro ride to stroll through Plaka, for those looking for a luxury boutique hotel. A renovated neoclassical building from the 1930s, an eclectically decorated interior and a modern hotel. Some great rates are available...

More info and rates for the Art Hotel


---

Intro to Athens
If you are travelling to Crete, with a stopover or a layover to stay in the ancient capital, we have put together this guide for you, to enjoy your Athens visit including:

Introduction to Athens
Tours
Museums
Kifissia

Flights to Athens
Pireaus Port

Books and Guides
Athens Festivals

Images
Videos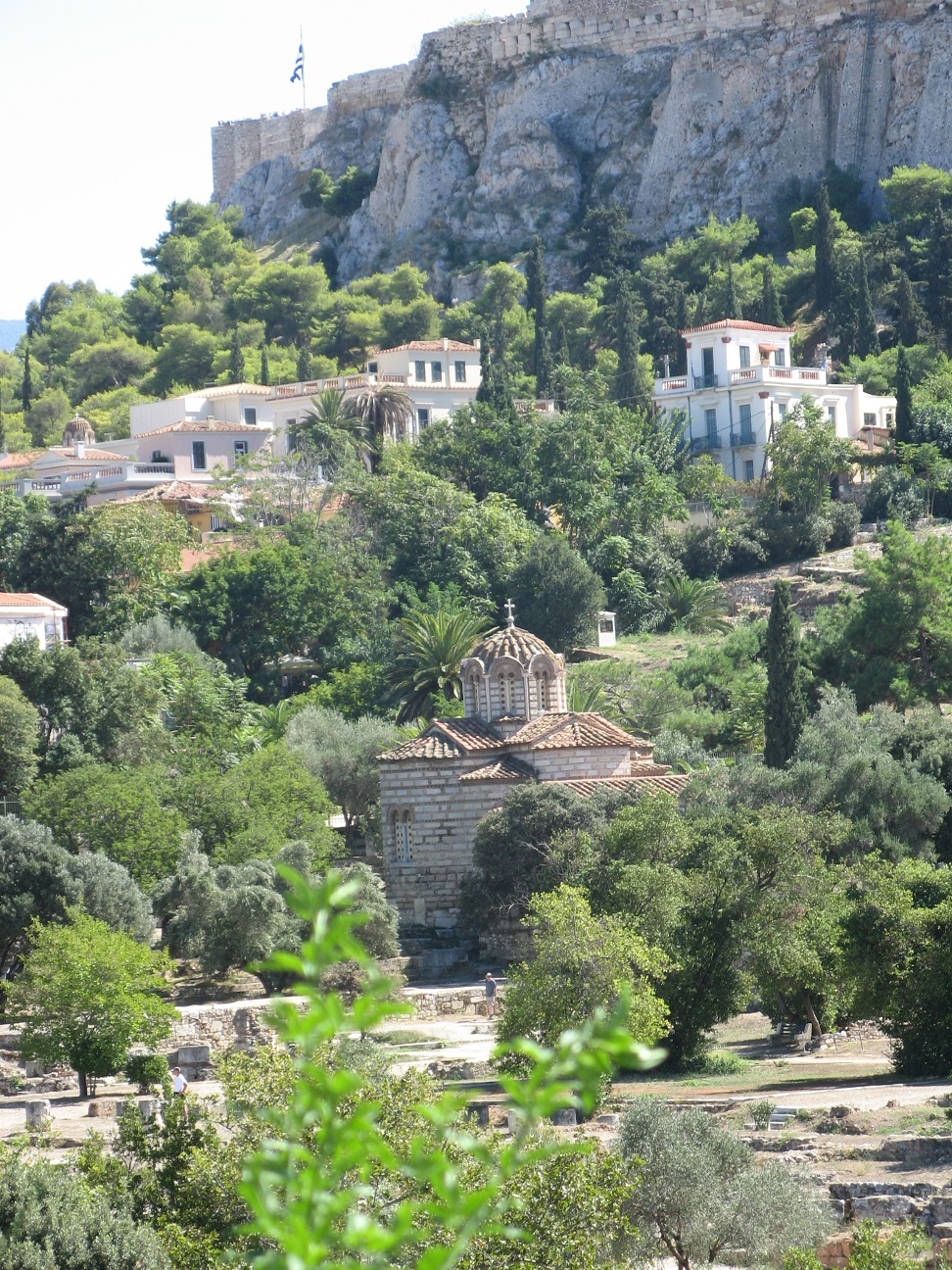 The Ancient Agora - at the base of the Acropolis next to Plaka
---
Where to Stay in Athens
Guided Tour Suggestions
---
Where to Stay in Athens
Kifissia in the North
To the north of the city is Kifissia, a 30 minute ride on the metro and train line. It is a peaceful, leafy, green area, known for its cool temperatures and great shopping.

See our Kifissia page with modern hotels, cafes, shopping and tips for enjoying this relaxed northern suburb.
---
On to The Greek Islands
---
Flights to Athens
---
Convenient Transfer Hotels

Where to Stay in Athens - close to the airport and Rafina port for transfers after a long haul flight or after arriving from the Cyclades Islands on the ferry...

Sofitel Athens Airport is ideal for a very quick transfer

Sofitel Athens Airport - at the airport, make life easy on your way to or from Crete - stay at the airport at the Sofitel and rest those weary travellers bones.

With 5-star accommodation, bar, restaurant, free wifi, a beautician and indoor pool and sauna, you can pamper yourself before or after your Greek holiday.

This is a good option if you are flying the next day, because the airport is 25 km from Athens city centre and unless you are making a full day of it, perhaps it is best to rest.


Myrto Hotel - just 2.5 km from Rafina Port, this is an ideal transfer hotel if you have come in from the ferry from Mykonos or Syros or Amorgos, indeed any of the Cyclades islands.

Rafina is a smaller, more relaxed port than Pireaus and closer to the airport. If you want,  skip Athens city altogether and enjoy a relaxing transfer before your long flight home.

With a pool, outdoor bar and relaxing gardens, unwind in style before taking a taxi 17 km to the airport, without rushing, with assistance of staff at the 24 hour reception.

---
Plaka Athens

Where to Stay in Athens - below you can see why we choose to stay in Plaka in downtown Athens. It is so beautiful, full of history and really is part of the authentic experience of the capital, the monuments, sites, markets and thrum of city life.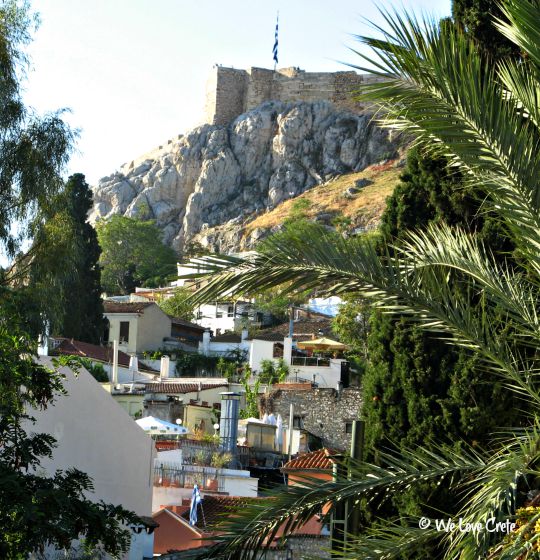 Where to Stay in Athens - the morning view from my hotel in Plaka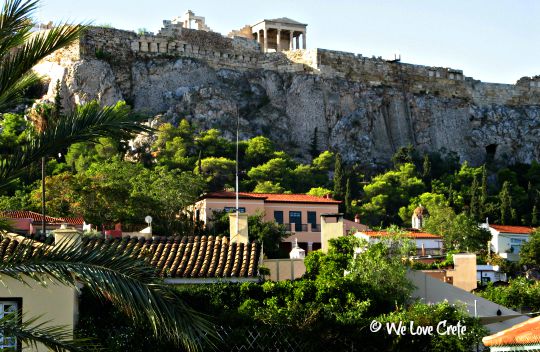 The view from my breakfast table in Plaka, getting ready for a day exploring Athens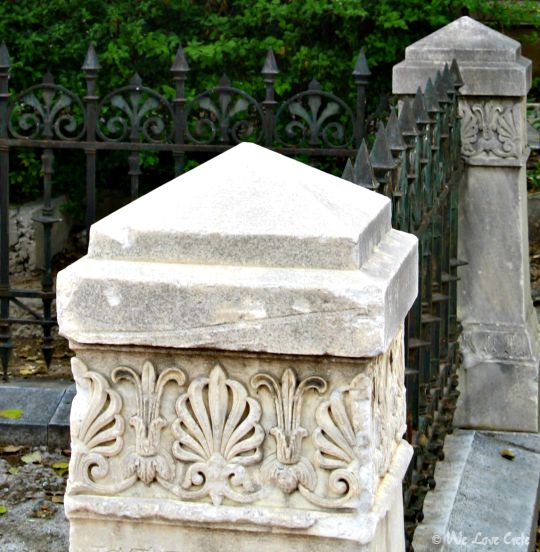 As I was exploring Plaka, I enjoyed the surprise details in architecture and history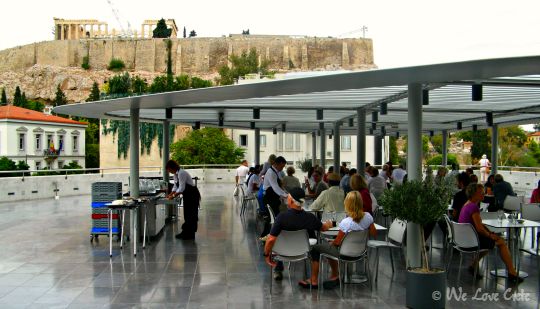 Enjoy the sweeping views to the Acropolis from the Museum cafe on the rooftop - well worth a visit
---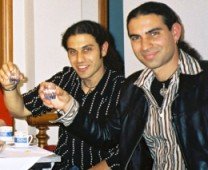 "We trust you have enjoyed these tips from the team at
We Love Crete. Evíva!"
Contact us with further questions or feedback. We love to hear about your travels in Kríti and Greece. Let us know of any updates or additions, errors or omissions. Help us make this website the best it can be. Kaló Taxidí!

---